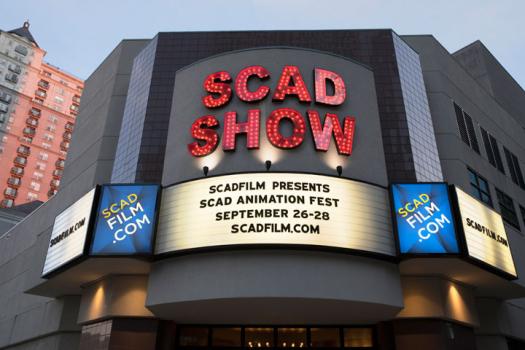 Paula Wallace is the President and Founder of Savannah College of Art and Design (SCAD).
Every spring, Savannah College of Art and Design (SCAD) sends hundreds of brilliant young animators out into the world. And each September we invite some of them back to share their wisdom at our own AnimationFest at SCAD Atlanta. What better place to gather than Georgia, where more than 3,000 SCAD alumni contribute to the multibillion-dollar film and television industry? SCAD alumni and faculty have won Oscars, Grammys, Emmys, Golden Reels, Tonys, Annies, and more, and I am over the moon to get a chance to catch up with them at events like AnimationFest.
Here are three dazzling alumni who will be joining us this time around. These SCAD Bees will participate in the Alumni Voices panel at 1 p.m. on Friday. They are distinguished animators at the height of the industry, and they were kind enough to give me a sneak peek at their stories.
***
Becki Tower (B.F.A., computer art, 2004; M.F.A., animation, 2009) is animation department head at Pixar and played basketball for SCAD. She's worked on Up, Toy Story 3, Cars 3, Brave, Finding Dory, Coco, and more. Most recently, she led a team to animate Bo Peep in Toy Story 4. In the 7th grade, Becki wrote to then-Disney CEO Michael Eisner to ask him for a job animating. He sent her a packet with a list of skills to learn! Becki chose SCAD because here she was able to pursue her dream of animation and love of basketball.
WALLACE: You've talked about how being an athlete helped you develop a "team mentality," which has benefitted you both at SCAD and at Pixar. Could you talk about what teamwork looks like at Pixar?
TOWER: I'm a huge advocate for any team sport — I'm an advocate for any way for someone to develop the natural tendency to put the team first. That's what it's like at Pixar. Everyone's there to play for the group and win the game. If you don't have the ability to gut-check and put the group's needs before your own, you're not going to succeed. As I became a lead, I saw this idea constantly reinforced: the higher I go up, the more it's not about me — it's about lifting up your team. It's about leveraging their individual talents in different ways.
It's not about the individual, that's the core of what I'm saying. Your team environment should be inclusive, accepting, supportive, and provide people with a strong ability to grow in whatever craft they're doing. If you as an individual are showboating, trying to do it all on your own, you're going to alienate yourself from the group — you've become corrosive. If it's only your vision going into the film, you're losing the ability to make a unified vision on the screen.
***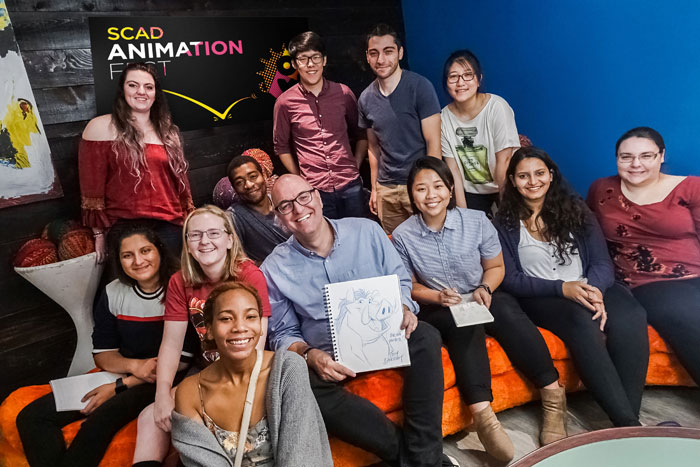 Jalysa Leva (B.F.A., animation, 2015) is the animation director for Primal Screen. She is particularly interested in character animation for feature films and television, but Leva enjoys every stage of an animated project. She animated with a number of studios before alighting at Primal Screen. Leva is also an accomplished cellist who has played Carnegie Hall, twice. Additionally, she is the owner and designer of Dinsky Doodles, a "Kandinsky, Bauhaus, Memphis, and pop culture sandwich." She was part of the first-place team for SCAD's Generate 24-hour challenge in Atlanta in Fall 2013.
WALLACE: You started your own brand, Dinsky Doodles, to bring abstract art to the pop culture community. Do you see an abstract animation feature in your future? How might that look?
LEVA: I actually started Dinsky Doodles to bring abstract art to the pop culture/geek community because I've always wanted to reimagine characters I love in a style that felt right to me. But I'm always down for making abstract animation and have been lucky to have had a couple Primal Screen projects that let me explore that a bit. I'd absolutely love to make an abstract short driven by music. I fell in love with Wassily Kandinsky and Oskar Fischinger when I was studying at SCAD, so I hope to pay tribute to them one day. I don't know what it'd look like yet — depends on the audio I decide to use!
WALLACE: What's your favorite part of working at Primal Screen?
LEVA: My little 2D Department family. It has expanded since I started from a couple people into a little tight-knit group. When we all get to work on a project together, it's amazing to have such good energies to bounce off of. They're all great, collaborative people and better than me at a lot of things.
***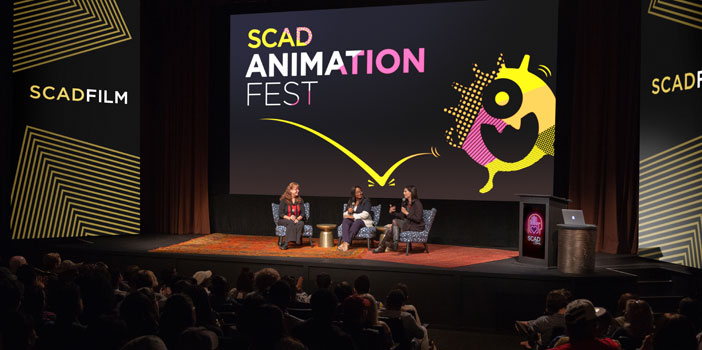 Jason Jay Li (B.F.A., illustration, 2008; M.A., advertising design, 2009) serves as illustration director for Floyd County Productions, where he leads a team of more than 25 illustrators who create character and prop assets for FX's Emmy-nominated series, Archer. Li is also project manager for Secret Sauce Animation, a studio specializing in hand-drawn, high-action 2D work for commercials, teasers, and shorts.
WALLACE: What advice are you looking forward to sharing with current SCAD students? 
LI: Three of my best pieces of advice are to network, be determined, and follow through. These may sound like common tips, but you'd be surprised at how many people don't actually observe them.
When I say network, I don't mean just going to planned networking events. I mean scouting out local figure drawing sessions or even sites like meetup.com for other local artist venues. Professionals are human too — we have lives outside of work and sometimes attend or host these types of events.
Because I'm always hiring, people ask me about the interviewing process. I often explain that my interview begins the moment I meet you, so always be on your game! The other suggestion I give is to make friends and be friendly among your peers. These are the same groups of people you will work with in the future, so be kind. Your reputation is one of your greatest assets. 
As for being determined and following through, too often job applicants give up the pursuit if they don't get a reply or if they fail an animation test. Sometimes those who are hiring get busy with production, so emails get buried or they are busy putting out work-related fires. That doesn't mean that they're ignoring you! Sometimes a friendly reminder email helps refresh their memory when they finally have time to respond. 
WALLACE: You perform leadership roles as an illustration director AND a project manager — at two different companies! What should future animators know about leading a team of animators while still working as an animator yourself?
Delegation and trust are key. I learned the hard way that sometimes you have to delegate central responsibilities to someone else and trust they'll get it done without hovering over them. No one likes a micromanager! Still, I sometimes set daily or weekly deadlines, just so we can stay on task. My advice to animators is simple: communicate. If there's a concern you can't finish a task on time, let the director know immediately so they can find alternative solutions.
* * *
If you want to hear more of the best stories from the best storytellers, come to AnimationFest on Thursday, Friday, and Saturday! Opening night features a special prescreening of Abominable at 7 p.m. DreamWorks director Jason Mayer will be there as will our AnimationFest honoree, the buoyant Lucas Grabeel of Pinky Malinky.
Come see a world, as Michael Crawford would say, "Full of shine and full of sparkle, where the lights are bright as the stars" — right here, at SCAD.