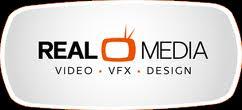 Real Media Digital Production a.k.a Real Me earned their street-cred creating high-quality animations on time and on budget. Their realistic goal of blending creativity, inspiration and cutting-edge design to create high-quality animations in a timely manner has helped them to grow their vast client list, quickly.
Real Me's down-to-earth key to success is simple, they convey their clients message in the most effective medium by utilizing cutting-edge software like 3D Studio Max, After Effects, Discreet Combustion, RealViz MatchMover and all the latest plugins.
This simple ideology has garnered the award-winning animation company a client list that includes the Kansas City Chiefs, the Philadelphia Flyers, the Golf Channel,Sprint, AMC Theaters, KC Chamber of Commerce, Tim Hortons (an institution in Canadian coffee), and many more. The company has worked with 60 sport franchises, a gaggle of universities across the country, and many financial and healthcare institutions.
Brad Burrow, one of the Top Dawgs over at Real Me recently spared some time to share some advice for future animators looking to break into the field.
What is your firm's focus within animation and what led your firm to have such a focus on this one?
We focus on VFX and Motion Graphics for the sporting industry. This included broadcast and in-game entertainment elements for sports teams including collegiate athletics and professional sports. We began working in this industry when we found out that our local teams had a need for these elements. We began working with the Kansas City Chiefs. Owner Brad  Burrow was on the game day production crew for the Chiefs and soon realized there was a significant need for this work in the industry. Today Real Media has worked with over 30 professional teams and over 60 colleges.
Fill in the blank: The future of animation is _________.
expanding rapidly.
What are the best and worst aspects about working in the animation?
It is a very creative field. Your only limitation is your imagination. If you can imagine it, you now have the tools to create it  3D technology has improved dramatically over the last 10 years. The level of quality and realism is incredible. If you can think out of the box, you can create incredible animations.
The worst thing is that the more intricate your scenes get, the more horsepower you need. It is very hard to keep up with technology. It is moving at light speed. It just means that you need to keep up with what is happening or you will get passed by.
Among your firm's achievements, which one(s) are you the most proud of?
We have been fortunate to win numerous awards for our work. That is very satisfying. The thing that gets us most excited is when we hear fans that comment on our work and the effect that it has on the game day atmosphere. Our opens are known to really get fans excited and pumped for games. It's great to hear that.
What skills/qualities does your firm seek out when hiring new employees?
We are looking for animators that are very skilled in design and motion. If you have a great eye and basic animation skills we can help take you to the next level in training. The key is having a great design eye. It is also very important to understand how a computer works and to learn how to get the most out of your computer.
What particular schools, if any, does your firm recruit new hires from? If none, where do you recruit new hires?
We find talent in many different ways. Art institute's are always a good starting place. We look online as well Creativeheads.net is a good place for us.
What advice would you give to aspiring animators?
I would tell them to pick a specific area to specialize in and become great at working with in that discipline. Character Animation, Motion Graphics, Compositing, Modeling or Texturing as examples. Then have a very good understanding of the process in general. Most companies will require you to work in several areas much like a generalist.
What were your most challenging projects, and why?
We recently completed a project for the Kansas City Chiefs that was very challenging artistically and from a timeframe standpoint. The project required hours of rotoscoping, 3D design and compositing on a very tight deadline. These projects tend to be very stressful, but the end result was amazing.
What kind of education did it take to get you where you are today?
I have a degree in marketing, but I was a full time musician for many years. This helped develop my creative side.
What animation software packages does your firm prefer to use? Which one would you recommend to beginners?
We use 3D Studio MAX and After Effects. I would recommend MAX or MAYA for anyone starting from the ground floor.
Could you share with us your best story about working in the animation industry.
I think some of the best times I have had were directing sports celebrities like Josh Beckett from the Red Sox or Joba Chamberlain from the Yankees. That is a cool part of working in our industry. Film will be the next cool thing for us to get involved with.
Do you think that there is an increasing or decreasing demand for animators overall? Why?
I think it is definitely increasing. Visual Effects are more prevalent everyday in TV commercials and Film. With technology changing, more and more clients are wanting this kind of capability. I only see the need increasing.