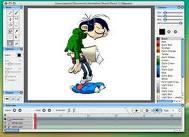 Tawd B. Dorenfeld, like many animation professionals, wears many hats...he is a butcher, a baker, a candlestick maker—oops, a writer, animator and director. But who knows, he might be a candlestick maker. One thing is for sure though, he successfully runs Polymorph Productions.
http://www.youtube.com/user/PolymorphProductions
This fabulously twister Director at Polymorph is best-known for his work in the quintessential anti-suicide film, "The Anna Cabrini Chronicles". And he is well-known for several other high-quality productions, including his most-recent work in the stop-mo feature film "Chassidic Tales: The Stories of the Baal Shem Tov".
In a brief moment when Tawd wasn't busy contributing animation to a feature-length film, we stole some time—and advice—from Tawd for our aspiring animator readers:
What is your firm's focus within animation and what led your firm to have such a focus?
Storyline, Character, and Surreal-Commercials. So far when it comes to technique I have not done 3D animation as of yet. Mostly what has been done is Stop-Motion, 2D, and Pixelation.
Fill in the blank: The future of animation is _________.
…still alive thanks to Digital SLRs. Stop-Motion has never been more accessible to people, and that goes for hand-drawn animation as well…then you add the Cintiq which is just a glorified everything for the hand-animator. For two-grand you can be animating your own feature without spending anymore than the time it would take…save for soundtrack if you don't have that $150 midi keyboard yet.
As for the overall Future of Animation; Animation will replace the future of vacations to the polluted beach.
What are the best and worst aspects about working in the animation field?
Best part is the control. Your imagination and then the path to succeed in that idea are your only limits. The worst aspect is that it takes much constant work time. There is a bliss to that constant work, a love, that you don't get with a lot of filmmaking, but if it could go a little faster it would be nice, and I am not talking about render time.
Among your firm's achievements, which one(s) are you the most proud of?
All of them. Currently I am completing my full Character Stop-Motion Feature Film and that will be some Epic feat, but I love all my features just the same.
What skills/qualities does your firm seek out when hiring new employees?
Patience, willingness to learn and share what you learn, and please check the egos at the door…you are not the Director on this so even if your ideas are way better than the Visionary in charge don't approach us with that attitude…make a suggestion and then drop it until someone asks you about it again. Other than that, talent goes a long way, but there are a lot of jobs that can be 'taught' in animation so when it is not about the creative in charge, I am just looking for good people.
What particular schools, if any, does your firm recruit new hires from? If none, where do you recruit new hires?
So far it has all been word of mouth and or a few ads on professional sites for particular skills like Stop-Motion.
What advice would you give to aspiring animators?
I see two kinds of animators out there:
1. The animator who just wants to animate, or just should be animating (this is rare, because even the cats that could never complete an entire film still believe they can). This person just needs to either pick a technique and get good at home practicing like a piano, or get a simple hands-on in a lot of techniques from 3D, 2D, and Compositing Programs and doing their best to either get an entry level position or small gigs of their own to hone more skill.
2. The Director who Loves to Animate or Can Animate but the dream is Making the Movie, not animating for a movie/show. This cat should make movies all day everyday. Anything visual that moves is an animated movie. Learn by making, making all the time.
What were your most challenging projects, and why?
My most challenging projects are the middle-budget projects. An appropriately budgeted project will get done and generally without heart-attack 24 hour days. The greatly inappropriately barely- budgeted projects (but are too good to walk-away from) also will get done because the immense limitations force us to only do what we can but do that really good. The projects that fall in-between those are the difficult ones. Generally those jobs are not funded well enough for the visions yet the vision needs to be accomplished. Here we have to blend our dreams with reality and there is a lot of compromise in that…Compromise in a good idea can make something sour fast and because of that, everyone from the bottom up, client, and crew alike are all walking and talking on egg shells. At the same time, most jobs fall into that middle category and we all survive because we all just love what we do.
What kind of education did it take to get you where you are today?
I graduated NYU in Film and Animation. I was in the last class not to work on computers circa '92 - '96. So upon graduation I took an internship at a small company Animation NYC. They had a good amount of Macs and I got to sit and teach myself AE 3 and Photoshop 3 by making my own animated short. After that I moved to LA and with my old Mac continued to practice animation and filmmaking everyday like piano. I only took art related gigs to give myself a drive to know people and constant practice of the art. I really believe it was all that, that gave me the full education to know I was a honed, and responsible animator. You can animate like the best, but if you do not have the discipline to complete a task then you are a talent without hands.
What animation software packages does your firm prefer to use? Which one would you recommend to beginners?
AE, FLASH, Photoshop. Add the 3D programs of your choice…
I am deeply in love with the timeline option in Photoshop. I always used to yearn for that in AE and always turned to FLASH for the Onion-Skin drawing.
I'm also betting on an iSketch one of these days soon, and then no one will have to use paper for animation if they don't want to. Like a portable Cintiq that can run that Photoshop timeline and be able to be transferred to Photoshop/AE/Flash, etc. So once that happens, I highly recommend everyone buy one. I have no affiliation with those people that make those handy devices, it is merely my logical dream that has had me confused for years that it has not happened.
Could you share with us your best story about working in the animation industry.
Everyday.
Do you think that there is an increasing or decreasing demand for animators overall? Why?
Yes. As I said in the Future of Animation question, the future is a virtual beach somewhere online…do you have any idea how many animators will be needed until we create a library and program to do it for us. I give it 6 - 7 years left of high animator need…After that, zippo unless you are making animation as 'art.'