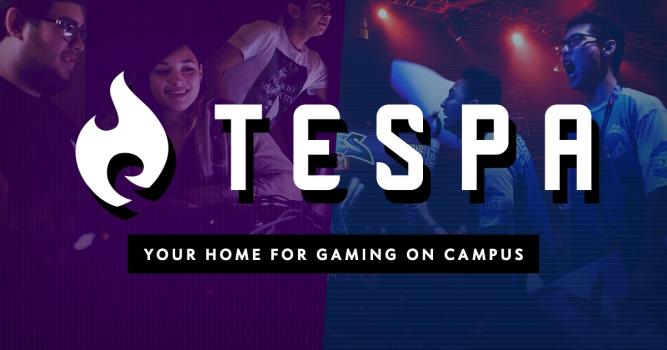 What is Tespa?
Esports is on track to become a $1 billion business with a global audience of more than 300 million fans by the end of this year. One of the biggest esports tournaments, the 2016 League of Legends World Championship, attracted a staggering 43 million viewers. Another major tournament, the Fortnite World Cup solo competition, attracted a staggering 40 million players hoping to qualify. More than 30 nations were represented in the FWC solo competition, which was sponsored by Fortnite's parent Epic Games. In the end, a 16-year-old beat out 99 other players to win the $3 million prize.
The esports industry's explosive growth has led to the creation of organizations such as the World Esports Association, the Korea e-Sports Association and the National Association of Collegiate Esports (NACE). Since forming in 2016, NACE has already grown to more than 170 member schools and over 5,000 student-athletes. Also growing at a rapid pace is another organization known as Tespa.
Founded by three classmates at the University of Texas, Austin in 2012, Tespa (formerly Texas Esports Association), began as a collegiate gaming club. The goal was to make gaming a social activity at UT Austin. Within a year of forming, the club expanded nationally as an event support network for college gaming organizations. Just one year after going national, Tespa joined forces with Blizzard Entertainment to host online leagues for Hearthstone, League of Legends, StarCraft II, Heroes of the Storm, and Overwatch.
Today, Tespa is the world's largest operator of collegiate esports leagues, forging partnerships with ESPN, Twitch, and other platforms to create incredible broadcast and in-game experiences for students and audiences everywhere. More than 1,350 schools and over 40,000 players have competed in Tespa tournaments, and the organization has awarded $3.3 million in scholarships and prizes to students.
Tespa student-leaders have established more than 270 chapters across North America, "each serving as an open and inclusive hub for all types of gamers and games." To date, Tespa has amassed more than 120,000 members and alumni. 
What are the Benefits of Joining Tespa?
Tespa says as members, players have the opportunity "to build incredible campus communities, compete in the fiercest competitions, and connect with other gamers on campus and beyond." Members also:
Have access to digital benefits and discounts (level up and earn in-game rewards and partner discounts by staying active on campus and competing in Tespa leagues)
Earn loot points through member progression and roll for rare merchandise from our partners
Have access to online workshops and events including regular educational and social events to help you learn industry skills and connect with fellow members
Chapter leaders have the unique opportunity to build a home for college gaming on campus. Leaders receive support from Tespa partners who support each chapters' events with prizes, equipment, and giveaways. In addition to Blizzard, ESPN and Twitch, Tespa has partnerships with Coca-Cola and Republic of Gamers.
Tespa also has resources and tools available to guide chapter leaders each step of the way. Chapter leaders meet regularly to network, share experiences from their chapters, and discuss best practices to help each other improve. The organization employs a full team of Chapter Coordinators to provide personalized, year-round mentorship and support for each chapter.
What's New with Tespa for Fall 2019?
Tespa has announced new Fall leagues for Overwatch, Hearthstone, Heroes of the Storm, and StarCraft II. The organization has also announced an all-new Varsity Series for Overwatch, a new format designed for varsity programs by the leaders of Tespa's collegiate esports community.
For Fall 2019, new and returning chapter leaders will be able to apply for an all-new suite of Event Support, including new Side Quests for Hearthstone and Overwatch League. The organization is also upgrading the application process, introducing new digital benefits, and revealing an exciting new partner.
In addition, Tespa chapter leaders will now have the ability to award Tespa-exclusive digital benefits directly to their club members.
How Do I Join Tespa?
Actively enrolled students at any accredited college campus in the USA or Canada can become a Tespa member for free. Tespa welcomes all students—part-time or full-time, community college or private. Students interested in joining a dedicated in-person community can look for a chapter on campus. If the school doesn't have a chapter, Tespa will help interested students start one.
To join Tespa, all that is needed is a valid .edu or .ca email. If the students' school is not listed with Tespa, the organization will add it to their database within 3-5 days of registration. After the student's enrollment has been validated, they can compete in tournaments, search for nearby chapters and events, and start claiming benefits through Tespa's progression system and Loot Drops program.
Sources
Boren, Cindy. "Who is Kyle Giersdorf, the 16-year-old who won $3 million in the Fortnite World Cup?" The Washington Post. The Washington Post, 29 Jul. 2019. Web. 19 Oct. 2019.
Gray, Alex. "The explosive growth of esports." World Economic Forum. World Economic Forum, 18 Jul. 2018. Web. 19 Oct. 2019.
Russ, Hilary. "Global esports revenues to top $1 billion in 2019: report." Reuters. Reuters, 12 Feb. 2019. Web. 19 Oct. 2019.
Tespa. Tespa, Inc., 2019. Web. 19 Oct. 2019.