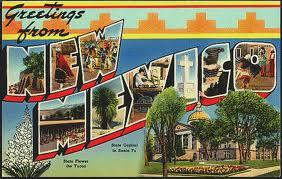 The beautiful state of New Mexico, with more than two million residents and a tax credit system that induces job growth, is home to hundreds of artists employed as graphic designers.  New Mexico businesses hire communications design professionals for many assorted purposes.
New Mexico Schools and Training Programs for Graphic Design
Dozens of colleges  and Universities in New Mexico advertise degree programs in graphic design.  Popular New Mexico design schools include Art Center Design College and University of New Mexico in Albuquerque, as well as College of Santa Fe, New Mexico State University in Las Cruces, Eastern New Mexico University in Roswell and many others.  Some aspiring New Mexico graphic designers earn their degrees online.  Among the largest colleges with online degree programs in graphic design are The Art Institutes, ITT Tech, University of Phoenix and DeVry. 
Graphic artists at design schools in New Mexico often major in fine arts.  A typical degree program might include computer science, communications, psychology and online marketing, in addition to visual disciplines like drawing, photography, digital graphics, animation, typography and other relevant topics.
Working as a Graphic Designer in New Mexico
Some New Mexico graphic designers work for leading local ad agencies.  Among the most successful of these are Clear Channel and McKee-Wallwork-Cleveland in Albuquerque, Grayling Group and myguidesf.com in Santa Fe, Town Talk in Gallup and Shoestring Solutions in Clovis.  Some local artists design film credits and promotional materials for top New Mexico motion picture producers like 9-Point Productions and TC Enterprises in Albuquerque or Cine-Video and Presentation Services in Santa Fe, as well as Knifewing Productions in Gallup and Hastings Entertainment in Clovis. 
New Mexico communications designers also work for art galleries, museums, landscapers, colleges, news syndicates, software developers, internet start-ups and many other commercial businesses.  Statewide graphic design jobs include medical charts, technical illustrations, brand logos, book covers, web pages, product packaging and more. 
The United States of America supports at least a quarter million communications designers.  Salaries for graphic designers in New Mexico (as well as anywhere else) depend partly on education, experience, expertise, commitment and place of residence.  Based on data from the Bureau of Labor Statistics, the average annual salary for a professional graphic designer employed in the state of New Mexico is around $44,950, with an average hourly rate of about $21.60.  Roughly half of all professional graphic designers employed by U.S. companies earn between $30,000 and $60,000 a year. 
Skills of a Graphic Designer
Graphic design is professionally rendered artwork created for the sole purpose of communicating specific messages to target groups.  It is used for commercial advertising, political propaganda, community information, assistance requests and other mass communications.  Most graphic design work consists of page layout, which involves the manipulation and arrangement of visual elements on a page. 
Aside from drawing and digital art, required professional skills include verbal and written communication, some web design expertise and a firm grasp of typographical techniques.  Typography is altering the appearance and placement of linguistic symbols such as letters, numbers and punctuation.  Typography is regarded as the most crucial aspect of successful graphic design.  Artists who are lacking in these skills need not apply.