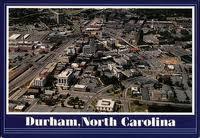 Durham is North Carolina's fourth largest city, home to about 230,000 people and a thriving community of visual artists.  Durham also features many local newspapers and TV stations among its more than 25,000 commercial businesses.  Companies in Durham represent an ongoing demand for talented graphic artists, especially illustrators. 
Durham Schools and Training Programs for Illustrators
You don't have to leave Durham to find excellent colleges and a wide variety of independent fine arts academies that offer classes and degree programs in illustration.  Aspiring commercial illustrators typically major in communications design as well as fine arts.  Durham colleges with fine arts divisions include Duke University, Mount Olive College, North Carolina Central University and Durham Technical Community College.
Meanwhile, stampedes of convenience-driven Durham illustrators are attaining technical skills and degrees online.  Popular accredited online colleges of commercial graphic design include the Academy of Art University, Post University, National University, DeVry, Full Sail University, Stratford Career Institute, University of Phoenix, The Art Institutes and ITT Tech, to name only a few.  What's more, virtual design colleges often tout the convenience of their services by providing local campuses and testing facilities.  ITT Tech and The Art Institutes both have campuses in Durham.
Working as an Illustrator in Durham, North Carolina
Many Durham designers create commercial illustrations for leading local graphic design firms like A-Cobb-Design, Azalea-Graphics, Davidson-Graphic-Design, Jan-Jones-Pulley and Studio-Swank-Illustration, for example.  Precision illustrators sometimes work for Durham engineering firms like Environmental-Engineering, Sunderland-Engineering, Vatavuk-Engineering, Upchurch-Engineering and Edmondson-Engineers, among others.  Some local artists create scientifically accurate, full-color drawings for medical illustration companies like Duke-University-Health-System, Micro-Medic or Siha-Medical.  Other local businesses that hire illustrators include architects, educational facilities, product manufacturers, animation studios and card companies.  
Recent data collected by the Bureau of Labor Statistics reveals that the average reported annual salary of a full time professional illustration artist in the city of Durham, North Carolina is about $44,450, with a reported mean hourly wage of around $21.35.  Durham corporations support roughly 520 full time commercial graphic artists.  These figures do not reflect the incomes of local freelance professionals. 
Skills of a Professional Illustrator 
Illustrators are very versatile visual artists who specialize in detailed images and compelling characterizations.  Skills of professional illustrators include business marketing, as illustrators regularly design logos, icons, brochures, mascots and other visual cues of corporate identity.  Other essential skills (aside from drawing, of course) include image manipulation, media transfer and full familiarity with digital illustration design software programs such as Visio, Photo-to-Cartoon, Xara, SoThink Logo Maker and Freeverse-Lineform.