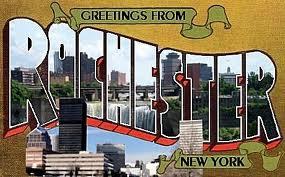 The city of Rochester, New York supports many businesses in need of multimedia services.  Talented artists residing in Rochester regularly find employment in the field of audio-visual design, especially as editors.
Rochester Schools and Training Programs for Multimedia Editing
A Rolodex of Rochester Colleges, Universities and independent training facilities offer classes and workshops in audio-visual arts.  Aspiring multimedia designers in Rochester, New York typically major in communications design, broadcasting and sometimes computer science.  Rochester colleges with multimedia divisions include Rochester Institute of Technology and Everest Institute.
Many of the more convenience-driven local art students acquire technical skills via online certification programs.  Popular accredited online multimedia colleges include the Academy of Art University, Post University, Full Sail University, Stratford Career Institute, University of Phoenix, The Art Institutes, ITT Tech and DeVry.  Quite a few of these internet-born design schools also provide physical locations.
Working as a Multimedia Editor in Rochester, New York
Movie producers, animation studios, info tech firms, ad agencies and other local companies hire multimedia designers.  Local audio-visual editors sometimes work for Rochester TV stations like Channel-8, Sinclair-Television, R-News, WHAM and WUHF, for instance.  Rochester sound editors are often employed at local radio stations like Entercom, Infinity-Broadcasting, Stephens-Media, WRUR and WFXF, among others.
According to data collected by the Bureau of Labor Statistics, professional multimedia editors employed full time at corporations in the city of Rochester, New York claim an average salary of about $70,000 per year, with a reported mean hourly wage of around $35.00.  New York ranks second among states (behind only California) in terms of the average salaries of professional audio-visual editors.  However, this data does not reflect the incomes of part time editors, freelance professionals or Rochester residents employed by offshore businesses. 
Skills of a Professional Multimedia Editor
Professional multimedia editors do pretty much everything.  They are involved and familiar with all production and post-production creative tasks.  Their skills include lighting, photography, operating systems expertise and impeccable proficiency with digital editing software.  Among the many services offered by multimedia editors are photography, videography, sound design, green screening and audio-visual enhancements like color adjustments, alignment and noise reduction, among many other things.  The best multimedia editors are also fully familiar with web construction, interactive design and programming languages like HTML.  Preferred personality traits of multimedia editors include communication, detail-orientation, reliability and creative talent.  Most essential is the editor's ability to follow directions.