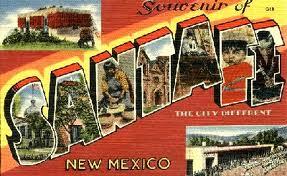 The area in and around the city of Santa Fe, New Mexico is famous for its art communes.  Santa Fe also supports many multimedia-oriented commercial businesses.  As a result, many talented artists in Santa Fe seek careers as audio-visual editors.
Santa Fe Schools and Training Programs for Multimedia Editing
Several Santa Fe colleges and Universities – not to mention independent art schools - offer technical training and degree programs in multimedia design  Aspiring Santa Fe multimedia artists often major in communications design, music or broadcast media.  Local colleges featuring audio-visual programs include College of Santa Fe, Santa Fe Community College and the Institute of American Indian and Alaska Native Culture.
Some Santa Fe art students learn technical skills via virtual multimedia colleges.  Accredited online art schools with audio-visual studies include Stratford Career Institute, Post University, Full Sail University, DeVry, University of Phoenix, The Art Institutes and ITT Tech.  Quite a few internet-based educational programs also feature physical locations.  University of Phoenix has a campus in Santa Fe.
Working as a Multimedia Editor in Santa Fe, New Mexico
All kinds of corporations and private businesses in Santa Fe hire local professional multimedia editors for a variety of production purposes.  Some local audio-visual editors are employed at Santa Fe TV stations like KCHF-Channel-11, KOB-Channel-4, New-Mexico-Broadcasters-Association, Q101-Clear-Channel and Santa-Fe-Community-TV, for instance.  Santa Fe sound editors often work for local radio stations like Hutton-Broadcasting, KBAC-98.1, Keelin-Radio, Spanish-Broadcasting and Tesuque-Radio, among others.
Professional audio-visual editors holding full time positions at corporations in the city of Santa Fe, New Mexico report an average annual salary of about $40,000, with a reported mean hourly wage of roughly $20.00.  However, these estimates do not reflect the unreported incomes of local freelance audio-visual editors.
Skills of a Professional Multimedia Editor
The primary responsibility of a professional audio-visual editor is to manipulate, organize, alter and rearrange segments of sight and sound.  Carefully following the instructions of directors and producers, a multimedia editor performs services such as color enhancement, noise reduction, timing adjustments, special effects, musical arrangements and countless other creative production and post production tasks.  Most audio-visual editors are fully familiar with several editing design software programs.  Among the most popular of these products are Adobe Illustrator, Premier, After Effects, Final Cut Pro and Cinema-4D, to name only a few.  Potential employers hiring multimedia editors look for proactive self-starters with superb communication skills and uncontrollable attention to detail.