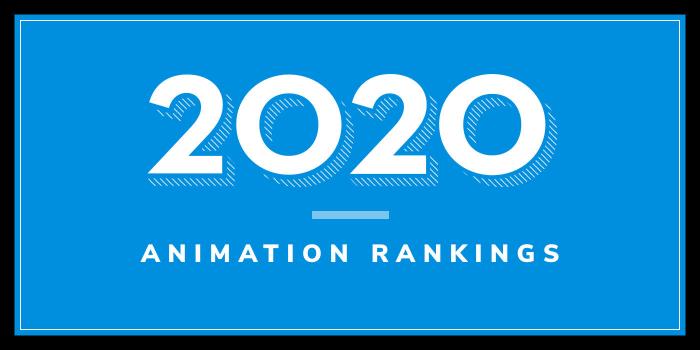 What are the top Canadian animation training programs?
Top 10 Animation Training Programs in Canada - 2020 School Rankings

| Ranking | School | Province |
| --- | --- | --- |
| 1 | Vancouver Film School | British Columbia |
| 2 | Vancouver Institute of Media Arts | British Columbia |
| 3 | Seneca College | Ontario |
| 4 | Algonquin College of Applied Arts and Technology | Ontario |
| 5 | Think Tank Training Centre | British Columbia |
| 6 | Capilano University | British Columbia |
| 7 | Max The Mutt College Of Animation | Ontario |
| 8 | Humber Institute of Technology and Advanced Learning | Ontario |
| 9 | Centre for Arts and Technology | British Columbia |
| 10 | Bart College | Quebec |
Our 2020 rankings of the top animation training programs in Canada.
For this ranking we only consider professional training programs, that is, non-degree programs such as certificate, diploma, and similar programs that are not formal 4-year bachelor's degrees. For an explanation of our ranking criteria, click here. 
1. Vancouver Film School, Vancouver, British Columbia

Vancouver Film School (VFS) opened its doors to a class of 12 Film Production students in 1987. Today, this entertainment arts school has eight campuses that serve more than 1,000 students enrolled in what the school describes as 15 "signature post-secondary programs — spanning every aspect of the entertainment arts — that are developed and taught by award-winning industry professionals." Each program's "intensive curriculum evolves along with demands of the industry, and the best, current industry practices."
Among these programs is a Diploma in 3D Animation & Visual Effects with Specializations in 3D Animation, 3D Modeling, and Visual Effects. The program begins with the basics of the 3D pipeline, and progresses to the studio component of the program. Students will work with faculty, industry mentors, and other students to complete a professional-level portfolio or reel. Students will also benefit from career guidance and expertise from industry mentors, instructors, and guest speakers, as well as partnerships with corporate leaders such as Adobe, Autodesk, Final Draft, HP, and Pixologic.
 The VFS Diploma in 3D Animation & Visual Effects takes just 12 months to complete.
2. Vancouver Institute of Media Arts (VanArts), Vancouver, British, Columbia

Vancouver Institute of Media Arts (VanArts) was founded in 1995 with Academy-Award winning animator/director Lee Mishkin as its founding program director. The school offers a variety of focused diploma programs designed to prepare students for work in specific areas of the media arts including Visual Effects Production, Game Art & Design, Character Animation, Professional Photography, Acting for Film & Television, Web Development, and Broadcasting.
VanArts offers a 2D/3D Character Animation Program that begins with the Principles of Animation (Initiating Force, Path of Action, Lead/Follow, Timing/Spacing, Physics and Body Mechanics) and progresses to Honing Skills, Lighting, Rendering and the Demo Reel. With articulation agreements in place with several well-established universities/colleges in Canada, the USA, Australia, New Zealand and the UK, students may complete their bachelor's degree in as little as one year after graduating from VanArts. Full Sail University (USA), Emily Carr University of Art + Design (Canada), and Deakin University (Australia) are just a few options.
3. Seneca College, Toronto, Ontario

Seneca College opened its doors in 1976. The school serves more than 30,000 full-time students annually enrolled in more than 300 programs leading to a degree, diploma, or certificate. The school lists the following animation offerings: Graduate Certificates in 3D Animation, Game Art and Animation, and Visual Effects for Film and Television, and an Advanced Diploma in Animation. Offered through the School of Creative Arts & Animation, the programs covers traditional and computer animation, game art, and visual effects. The school says students will "learn to draw storyboards, design and animate characters and scenes, and practice applying theories of motion, timing, storytelling and digital technology to produce high-quality animations and designs." Hands-on learning enables students to "utilize the equipment, facilities, and computer software currently used in the industry." Students will leave the programs with the skills needed to produce animations for the web, television, games or film.
4. Algonquin College of Applied Arts and Technology, Ottawa, Pembroke and Perth, Ontario, Canada

Algonquin College of Applied Arts and Technology began as Eastern Ontario Institute of Technology in 1957. When it opened, the school had roughly 120 students and a staff of seven. Today, Algonquin serves more than 18,300 students enrolled in 300+ programs through dozens of departments and schools. The School of Media Design offers 22 programs, including a three-year Advanced Diploma in Animation and a one-year Pre-Animation and Illustration Certificate. The Certificate is designed to help students determine if they have the creativity, motivation, and dexterity to pursue a career in Animation, Illustration or Concept Art. The Diploma Program covers traditional, 3D, 2D tradigital (using Toon Boom`s Harmony), and video game animation techniques.
Students in the Diploma Program will take courses in Animation, Life Drawing and Design that "focus on all facets of animation," says the school. This includes character design, performance-based character animation, location design, gestures and anatomy studies. Graduates "gain the knowledge, skills and techniques required to work effectively as animators using a variety of tools within a professional animation or game studio."
5. Think Tank Training Centre, Vancouver, British Columbia

Established in 2005, Think Tank Training Centre offers a 16-month Specialized CG Training Program (Asset Creation), which covers Texturing and Look Development, Modeling for Film, Character Modeling for Games, and Environments for Games. The program, offered online and on campus, leads to a Diploma. For each course, students receive access to a weekly training video and each week, required assignments build upon the lessons – contributing to the term project. At the end of each term, students walk away with a term project that will help build a polished portfolio. Students will earn a Diploma upon completion of the program.
Think Tank also offers a 12-month Computer Animation, Visual Effect and Game Design Program (an intensive program that specializes in the latest software, techniques and technologies used in the film, television, and gaming industries) and a four-month Mentorship the results in a completed portfolio reel.
Think Tank graduates have been hired by Industrial Light & Magic, EA, Digital Domain, Animal Logic, Sony Pictures Imageworks, Double Negative Visual Effects, Rainmaker, BioWare, and many others.
6. Capilano University, North Vancouver, British Columbia

Founded in 1968, Capilano University (CapU) opened with just 784 students. Today, the school serves 10,185 students across two campuses in North Vancouver and scenic Sechelt. Programs for aspiring animators are offered through CapU's Faculty of Fine & Applied Arts, School of Motion Picture Arts. Located in the Bosa Centre for Film and Animation, the School offers Full-Time Diplomas in 2D Animation & Visual Development, 3D Animation for Film and Games, and Digital Visual Effects. An Animation Fundamentals Citation of Achievement is also available. Programs cover areas such as traditional and classical animation techniques through hands-on exercises, drawing, design, digital visual effects, and creating 3D computer-generated characters. Diplomas take two years to complete and the Citation takes just one year. Depending on the program, graduates will complete a practicum at a local studio and/or a professional-quality demo reel.
7. Max The Mutt College Of Animation, Art & Design, Toronto, Ontario, Canada

Max The Mutt College Of Animation, Art & Design was established in 1996. The school offers a four-year Diploma in Classical & Computer Animation & Production, and two Diploma programs that are unique in Canada: a three-year Diploma in Illustration for Sequential Arts: Comic Books & Graphic Novels; and a four-year Diploma in Concept Art for Video Games & Animation.
Animation students will take both classical and digital animation courses, as well as drawing classes, cartooning, acting for animation, character design, background painting/design, and a sequence of visual language, storytelling and storyboarding courses. In the third year, students will produce an original short. In the final year, students will move on to advanced courses in 3D Animation and participate in a simulated 3D production experience directed by an industry professional. Graduates will leave the program with a solid portfolio, a demo reel, and an online profile page. Graduates have been hired at Pixar, Sony Pictures Imageworks, Disney Design Group, Pipeline Studios, Warner Bros. Games, and many others.
8. Humber Institute of Technology and Advanced Learning, Toronto, Ontario, Canada

Humber Institute of Technology and Advanced Learning (Humber College or Humber), opened in 1967 with a few hundred students enrolled in classes in the skilled trades. Today, the school has three campuses that serve more than 30,000 full-time students and thousands of part-time learners. More than 180 programs are offered including an Advanced Diploma in 3D Animation. Students in the program "use the same 3D animation software and tools" that the professionals use "to render creative thoughts into compelling images and fully-realized design," says the school. Students will "gain a mastery in adhering to a pipeline," as they "develop content across courses" and "teamwork," as they "collaborate with students from other programs to better simulate a studio/production environment."​
In just six semesters, students will be prepared to pursue roles in the film, games, television or advertising industries including CGI, character animation, lighting, rigging, rendering, technical directing, and more.
9. Centre for Arts and Technology, Kelowna, British Columbia, Canada

The Centre for Arts and Technology was established more than 30 years ago "by leaders in both media training and educational excellence," says the school. Today, the school is recognized as one of the few institutions that "continually graduate successful students in the areas of filmmaking, animation, audio engineering, interior design, photography, graphic design, and network security."
The school offers a 2D Animation & Digital Art Diploma that offers an accelerated format that covers all areas of animation in just five semesters (15 months). Students will move from an initial Character Animation course to Life Drawing, then Digital Character Animation and Traditional Mixed-Media. The program ends with a final project, professional demo reel, and portfolio. Graduates of the program can be found working on projects such as Rick and Morty, Rocket Monkeys, Camp Lakebottom, Teen Titans GO, and many others. Some have gone on to establish careers at studios such as Yeti Farm Creative, Bardel Entertainment, and Disney.
In addition, the school offers a 3D Animation diploma that focuses on both modeling and character animation over 24 months.  Students are immersed in the fundamentals through the first year and then specialize in the second year, leading up to producing a professional demo reel and portfolio.  Graduates of this program have worked on projects such as Lego Movie 2, the Emmy award winning 'King Julien', Detective Pickachu and many more.  Some grads are now established leads and supervisors at many major studios in BC, Canada.
10. Bart College, Quebec City, Quebec, Canada

Established in 1917, Bart College offers two types of training: the college diploma (DEC) and the college study certificate (AEC). The DEC is a two or three year course, depending on the program, having specific courses linked to the chosen study program as well as general training courses. Students with their DEC diploma can then continue their studies at a university level or go directly to the job market. The AEC does not include any general training courses, and it is aimed at students who have been in the job market or who have interrupted their studies for at least two consecutive sessions. The AEC graduate student can go directly (back) into the job market.
Bart College offers Diplomas and Certificates in 3D Animation in New Media, Visual Effects (VFX), Graphic + Motion Design, and 3D Animation Techniques. Students in all programs will master industry software such as Autodesk Maya, SideFX Houdini, Arnold Render, Adobe Photoshop, Nuke, MARI and more. Graduates of the programs are prepared to advance in or seek positions in Animation, Games, Digital Film, VFX, Digital Media, and many others.