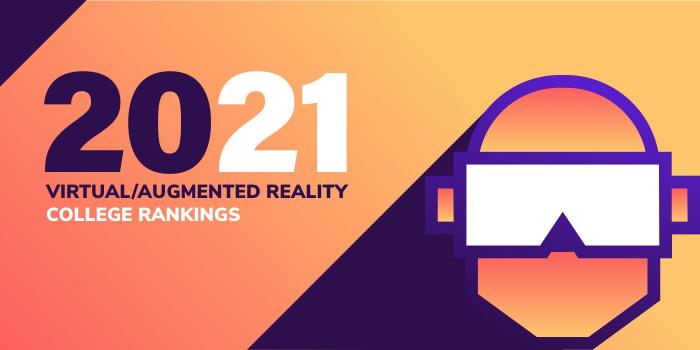 What are the top East Coast AR/VR schools for 2021?
Top 10 East Coast Augmented/Virtual Reality (AR/VR) Schools - 2021 College Rankings

| Ranking | School | State |
| --- | --- | --- |
| 1 | Massachusetts Institute of Technology | Massachusetts |
| 2 | New York University | New York |
| 3 | Rochester Institute of Technology | New York |
| 4 | University of Maryland | Maryland |
| 5 | Drexel University | Pennsylvania |
| 6 | Cornell University | New York |
| 7 | University of Pennsylvania | Pennsylvania |
| 8 | Harvard University | Massachusetts |
| 9 | Pennsylvania State University at Behrend | Pennsylvania |
| 10 | Rensselaer Polytechnic Institute | New York |
Our 2021 list of the Top 10 Augmented/Virtual Reality (AR/VR) School Programs on the East Coast. For an explanation of our ranking criteria, click here.
1. Massachusetts Institute of Technology, Cambridge, Massachusetts

Massachusetts Institute of Technology (MIT) houses several centers, colleges, and departments that offer programs for individuals interested in establishing a career in Augmented & Virtual Reality (AR/VR). Incorporated in 1861 and serving more than 11,500 students, the school is also home to a number of additional centers and labs designed to support AR/VR projects, innovation, and research.
The Schwarzman College of Computing at MIT houses the Center for Computational Science and Engineering (CCSE) and the Department of Electrical Engineering and Computer Science (EECS). The CCSE offers an MS degree known as the Computational Science and Engineering SM Program (CSE SM). This interdisciplinary pathway "prepares students with a common core of computational methods that serve all science and engineering disciplines, and an elective component that focuses on particular applications," says the school. Hand's on projects and access to MITs many centers and labs are major components of the CSE SM program.
The CCSE also has a CSE PhD program, offered jointly with eight participating departments. The program focuses on the "development of new computational methods relevant to science and engineering disciplines." Students in the program have the opportunity to "specialize in a computation-related field of their choice through coursework and a doctoral thesis. The specialization in computational science and engineering is highlighted by specially crafted thesis fields."
The Department of EECS at MIT says its "rigorous and innovative curriculum," is "now composed of three overlapping sub-units in electrical engineering (EE), computer science (CS), and artificial intelligence (AI) and decision-making (AI+D)." Known as Course 6, the curriculum is a joint venture between the Schwarzman College of Computing and the School of Engineering. AR/VR related programs offered include a BS in Computation and Cognition, a Minor in Computer Science (72 units), and PhD's in Computer Science, and Computer science and Engineering. The PhD degree is awarded interchangeably with the Doctor of Science (ScD).
The largest undergraduate program at MIT, EECS offers intensive hands-on coursework and opportunities to engage in independent study or research for academic credit. Students in the BS program can expect to take courses such as Artificial Intelligence: Introduction to Machine Learning, Machine Vision, Mobile and Sensor Computing, and Software Studio.
MIT labs and centers include the MIT Center for Advanced Virtuality, MIT Media Lab, and MIT.nano Immersion Lab.
The MIT Center for Advanced Virtuality "pioneers innovation with technologies of virtuality including XR (VR, AR, MR, etc.), videogames, social media, and new forms unanticipated by these platforms. The center, which brings together students, experts, and resources, serves as a studio and a laboratory to support creative projects and research ventures.
Founded in 1985, the MIT Media Lab is an interdisciplinary research organization that allows students, faculty, and researchers to work together on hundreds of projects across disciplines such as social robotics, physical and cognitive prostheses, new models and tools for learning, community bioengineering, models for sustainable cities, and more. The Lab also houses the graduate degree program in Media Arts and Sciences (MAS).
The MIT.nano Immersion Lab connects "scientists and engineers with artists, musicians, and performers through creative projects that bridge multiple disciplines." Activities include "visualizing data, prototyping advanced tools for augmented and virtual reality (AR/VR), and developing new software and hardware concepts for immersive experiences."
The Lab also produces the monthly seminar series—IMMERSED. The series is a "mixture of lectures, demonstrations, and tutorials that explore how immersive technology and new modalities for manipulating and understanding data are shaping innovations across science, engineering, and art."
MIT graduates go on to work in a variety of sectors including Information and Technology, Government, Professional, Scientific, and Technical Services, and many others. Some of the top employers of MIT graduates include Amazon, Apple, Aurora Flight Sciences, Boeing, Facebook, Google, IBM, Microsoft, and the U.S. Air Force.
2. New York University, New York, New York

With more than 53,500 students, New York University (NYU) is the nation's largest private university. The school has degree-granting campuses in New York, Abu Dhabi, and Shanghai, more than 11 global academic centers and research programs in over 25 countries, and over 19,000 employees, making it one of the largest employers in New York City.
Founded in 1831, NYU houses dozens of colleges, centers, institutes and schools. The Tandon School of Engineering (a Polytechnic Institute) houses the Integrated Design & Media (IDM) Program. Pathways for this research-active program lead to a BS or MS degree. IDM Minor and Accelerated BS/MS Programs are also available.
IDM coursework includes the Tandon Engineering core, media studies courses taken in the Department of Media, Culture, and Communication (MCC), and additional courses in math, science, humanities, and social sciences. Courses, which focus on the four areas of Image, Sound, Narrative and Interactivity, are combined with upper-level electives ranging from augmented reality and motion capture to user experience design.
Other program highlights include internship opportunities with companies such as Apple, Google, and Sony Music, study abroad at NYU Shanghai's Interactive Media Arts (IMA) Program, and direction by instructors who are engaged a range of projects from using motion capture technology to reimagine theatrical performance to developing novel uses of virtual/augmented reality for health and wellness. Students in all programs also have the opportunity to participate in the Future Reality Lab and NYC Media Lab.
The Future Reality Lab "explores how people will use future mixed reality technologies to better communicate and interact with each other when they are in the same physical space," says the school. Lab participants collaborate in manipulation of objects (real and virtual), in a shared mixed reality.
NYC Media Lab is a consortium colleges and universities including NYU, Columbia University, The New School, CUNY, School of Visual Arts, Manhattan College, and Pratt Institute. The goals of the Lab are to "generate research and development, knowledge transfer, and talent across all of the city's campuses in partnership with New York City Economic Development Corporation, and the Mayor's Office of Media and Entertainment."
Graduates of the NYU IDM Program have gone on to work for "industry giants," "fast-paced startups," and some of the "most competitive companies in the world." Examples include American Express, Apple Corporate, Instagram, HTC China, Major League Gaming, the New York Stock Exchange, Sone, Verizon, and many others.
3. Rochester Institute of Technology, Rochester, New York

Rochester Institute of Technology (RIT) is the first university to offer an undergraduate degree in software engineering. The school is the first to offer a fully online program and in 2008, it launched the world's first doctoral program focusing on sustainable production systems. Founded in 1829, RIT serves nearly 19,000 students at its main campus in Rochester, New York, and around 1,700 at international campuses in China, Croatia, Dubai, and Kosovo. Students have access to 11 colleges and schools, including the Golisano College of Computing and Information—home of the School of Interactive Games and Media and the Department of Computing and Information Sciences.
The School of Interactive Games and Media offers a BS in New Media Interactive Development and the Department of Computing and Information Sciences houses the Computing and Information Sciences PhD. The BS in New Media Interactive Development "adapts digital technologies for social software, wearable devices, touch interfaces, virtual/augmented reality, the internet, and more," says the school. Coursework focuses on "programming and interactive development with classes on mobile development and alternative interfaces, website design and implementation, physical/wearable computing, game design, game development, design and media production, interactive audio," and many others.
Other program highlights include the New Media Design Capstone (I & II), which provides the opportunity to work on a project for a corporate client, collaboration with students in RITs New Media Design major, and required participation in the cooperative education (co-op) program, which provides full-time, paid career experience working in the industry.
The PhD in Computing and Information Sciences is "a blend of intra-disciplinary computing knowledge areas and inter-disciplinary domain areas." Intra-disciplinary areas include Infrastructure, Interaction, and Informatics. The Interdisciplinary area of the program focuses on "domain-specific computing, or the interaction between computing and non-computing disciplines, in the areas of science, engineering, medicine, arts, humanities, and business."
Research areas for the PhD include but are not limited to Artificial Intelligence (AI) and Machine Learning, Computer Vision and Pattern Recognition, Game Design, Graphics and Visualization, HCI, and Programming Languages.
Students in both the BS and PhD programs have access to RIT's Frameless Labs. Located at the RIT MAGIC Center, Frameless Labs provides a space for the extended reality (XR) community to collaborate. The goal is to "bring attention to research, innovation and artistic creation in the fields of virtual and augmented reality."
Current projects and experiences include Digital Docents: Historical NY Stories in Virtual and Augmented Reality, Mixed Reality Theatre (funded by Epic Games), the VR Cary Collection, Color and Material Appearance in AR, and Development and Assessment of Virtual Reality Paradigms for Gaze Contingent Visual Rehabilitation, to name a few.
4. University of Maryland, College Park, Maryland

The University of Maryland (UMD) is the flagship institution of the University System of Maryland (USM), which consists of 12 institutions, three regional centers, and one system office. Established in 1856, UMD serves just over 40,700 students enrolled in 300+ academic programs in more than a dozen colleges and schools. Programs for aspiring AR/VR professionals are offered in the Colleges of Arts and Humanities (ARHU) and Computer, Mathematical and Natural Sciences (CMNS). Options include a BA or BS in Immersive Media Design and BS, MS, BS/MS, and PhD degrees in Computer Science with an AR/VR focus.
Immersive Media Design (IMD) students will learn to "code, create and collaborate using the latest digital tools and technologies," says the school. Students may focus in Art or Computer Science to graduate with a BA from the College of ARHU or a BS from College of CMNS.
Housed in the Brendan Iribe Center for Computer Science and Engineering, the College of CMNS, Department of Computer Science, serves more than 3,400 students "with interests ranging from systems to programming languages, from algorithms to design and from VR to Robotics." Department highlights include research opportunities, study abroad experiences, internships, and participation in the honors program.
Students in all programs have access to the UMD Graphics and Visual Informatics Laboratory (GVIL), and the Mixed/Augmented/Virtual Reality Innovation Center (MAVRIC).
Established in 2000 by the Department of Computer Science, the GVIL promotes "research and education in computer graphics, scientific visualization, and virtual environments." Current projects include "several driving applications for next-generation virtual and augmented reality, including augmented navigation, medical training, virtual manufacturing, and immersive education."  
MAVRIC was created to support the future of XR, foster XR talent, and connect developers, entrepreneurs, innovators, and researchers through events, workshops, and programs.
UMD also houses the Maryland Blended Reality Center (MBRC)—a multidisciplinary partnership that joins computing experts at the University of Maryland with medical professionals at the University of Maryland, Baltimore (UMB). Launched in 2017, MBRC's mission is to "advance visual computing tools—many of them based in immersive technologies like virtual, augmented and mixed reality—that can be used for emergency medicine, health care and innovative educational and training modules."
Graduates of the Computer Science, Immersive Media Design, and other programs go on to "earn competitive jobs," in tech industries or federal laboratories. Some "join professions such as medicine, teaching, and law."
Notable alumni include Sergey Brin, Co-founder of Google; Gary Flake, a Microsoft Distinguished Engineer and founder of Yahoo! Research Labs; and Naresh Gupta, Senior Vice President of Adobe's Print and Publishing Business Unit.
5. Drexel University, Philadelphia, Pennsylvania

Founded in 1891 as Drexel Institute of Art, Science and Industry, Drexel University serves nearly 23,600 students enrolled in hundreds of programs in houses 12 colleges and schools. One of the top colleges at Drexel is the Westphal College of Media Arts & Design, which offers predominantly studio-based programs in Design, Media, and the Performing Arts. The College houses its own record label—MAD Dragon Records, lifestyle magazine D&M, and a student-run Graphic Design firm.
Since 1919, Drexel University has been a cooperative (co-op) educational institution, which means all undergraduates work six months at a job in their chosen field as part of their Drexel education. Graduates leave Westphal "with resumes reflecting real work experience," says the school, along with "an ability to create, to reason and to use technology... and often with jobs lined-up well before graduation."
Westphal houses Drexel's BS in Virtual Reality & Immersive Media (VRIM) Program and a 24 credit hour WRIM Minor. Launched in 2018, the BS in VRIM was the first accredited programs of its kind. Students in the program "learn universal principles of storytelling, animation, and design and effective ways to leverage them with the latest technologies including, 3D modeling, virtual production, and use of interactive game engines." Students use "the latest hardware and software for VR, AR, motion capture, immersive projection, and other technologies that are enabling the rapid growth of the immersive media industry."
Course highlights for the VRIM Program include Augmented Reality, Immersive Projection, 360° Video Production, Virtual Production, 3D Modeling, Texturing, & Lighting, Computer Animation, Interactive Design, 3D Tracking, Computer Programming, and Visual Effects.
In addition to the VRIM Program, Westphal houses two labs: Animation, Capture, and Effects (The ACE-Lab) and the Immersive Research Lab.
The ACE-Lab houses Westphal's Digital Animation, Visual Effects, and Immersive Media Programs as well as VR, AR, and other interactive experiences. The Lab includes the latest industry-standard software and hardware technologies for VR, AR, Motion Capture, Projection and other technologies. Within the Lab, students have access to funded grant research opportunities. They also have the opportunity to participate in industry-sponsored projects, and independent, and student-generated projects.
The Immersive Research Lab allows students to "study and develop the latest virtual and augmented reality and immersive media technologies." The 550-square-foot, glass-enclosed lab features equipment such as HP-ZVR Backpack Workstations, virtual and augmented reality devices from Oculus Go, HTC VIVE and Microsoft HoloLens headsets, Leap Motion hand-tracking and iClone Facial motion capture systems, and a full motion capture studio equipped with OptiTrak and Vicon motion capture devices. Other technologies include 360-degree virtual reality cameras, a custom virtual reality cycle platform, and an x-wing fighter cockpit platform.
Westphal graduates work in Education, Entertainment, the Sciences, Historical Recreation, and much more. Alumni "can often be found at top tier entertainment studios" such as Digital Domain, Disney, DreamWorks, Moving Picture Company, and Pixar. Graduates "are also found working in leading video game development companies," as animation software developers and many other "diverse career tracks" involving the use of their AR/VR, Animation and Visual Effects skills.
6. Cornell University, Ithaca, New York

Cornell University has campuses across the state of New York and in DC, Doha, Qatar, and Rome, Italy. Founded in 1865, the school serves 23,620 students enrolled in more than 300 majors, minors and graduate fields of study. Programs are offered in 16 colleges and schools, including the Ann S. Bowers College of Computing and Information Science (CIS)—home to the Computer Science Department. The Department serves 1,340 students and degree pathways include BS, MS, and PhD degrees in Computer Science. 
Course highlights for the Department include Virtual and Augmented Reality, Topics in Mixed Reality, Developing and Designing Interactive Devices, Interactive Computer Graphics, Python, Computer Vision, Advanced Artificial Intelligence (AI), Applied Machine Learning, Robotics Seminar, Great Works in Programming Languages, and Visual Imaging in the Electronic Age.
Students in all programs have access to the Virtual Embodiment Lab and the XR Collaboratory (XRC) at Cornell Tech.
Established in 2016, the Virtual Embodiment Lab (VEL) explores "how virtual reality affects people who use it—how these people perceive themselves, others, and the world around them," says the school. The Lab "uses several different devices to research virtual reality, from 360 degree videos to full virtual reality systems that allow a user to pick up objects and interact with others."
The mission of XRC at Cornell Tech is to "accelerate research & education in XR (Augmented Reality, Virtual Reality, and Mixed Reality) through cross-campus collaborations, hands-on mentoring and rapid research explorations." In addition, XRC "initiates new research by executing its own exploratory projects on a wide range of XR-related topics."
XRC partners include Facebook, Verizon Media, and Magic Leap.
Cornell graduates find success in fields such as Computer Science, Engineering, Fine Arts, Technology, Medicine, Mathematics, Entertainment, Communications, and many others. 
7. University of Pennsylvania, Philadelphia, Pennsylvania

Founded in 1740 by Benjamin Franklin, the University of Pennsylvania (Penn) is one of the oldest universities in the U.S. The school serves around 26,550 students enrolled in 90 majors at the undergraduate level and well over 100 at the graduate level. Among Penn's undergraduate programs is a Bachelor's in Engineering and Science (BSE) in Digital Media (DMD).
Penn is also home to the Perelman School of Medicine, which houses the Neurology VR Laboratory. This community of neurologists, psychologists, and other researchers are attracted to VR's "ability to precisely control stimuli and modify perception." Current project titles include Phantom Limb Pain, Hemispatial Neglect, Navigation Brain Mapping, Broca's Aphasia, Arch, Vibrotactile Compass, Hemiparesis, Racial Empathy, Retinitis Pigmentosa, Echocardiogram Visualizer, Hand Magnification, and Affordance Memory.
Created in 1998, the interdisciplinary BSE in DMD in the School of Engineering and Applied Science combines coursework in Computer Graphics within the Computer & Information Science Department and Fine Arts courses from Penn's School of Design. The BSE in DMD is designed for students who have an interest in the "computer programming, mathematics, and design behind computer graphics, animation, games, virtual reality environments, and interactive technologies," says the school.
The top employer's for graduates of the program DMD program include DreamWorks Animation, Disney Animation, Pixar, Electronic Arts, Microsoft, and Google.
8. Harvard University, Cambridge, Massachusetts

Virtual Reality (VR), and the related fields of Augmented Reality (AR) and Mixed Reality (MR), "has its foundational roots at Harvard," says the school. "From 1965 to 1968, Ivan Sutherland, an Associate Professor of Electrical Engineering at Harvard, helped create "The Sword of Damocles," the first virtual reality and augmented reality head-mounted display system. Today, full-time, degree-seeking students have access to Harvard Innovation Labs' AR/VR Studio, along with several degree pathways that can help prepare them for careers in AR/VR.
The AR/VR Studio "is a dedicated space for the exploration of cutting-edge immersive technologies — physically and imaginatively." The space is "equipped with technologies that include various software and design platforms, multiple headset configurations, workstations, and filming resources to help students experiment and create innovations in a wide range of industries."
In the Studio, students can experience the latest AR/VR equipment in an open session, learn about the technology with a dedicated team of experienced TAs, understand how to apply the technology to a specific field and "build deeper learnings with one-on-one meetings," build MVPs and prototypes through Studio workshops, and attend guest speaker symposiums. Available workshops include Augmented Reality, Virtual Reality, and Storytelling in AR/VR.
Founded in 1636 and serving around 23,730 students, Harvard University houses 12 degree-granting Schools and the Harvard Radcliffe Institute. The John A. Paulson School of Engineering and Applied Science is home to the Computer Science Department. Pathways for students interested in AR/VR include BA, BA/MS, and PhD degrees in Computer Science. Course highlights for the Department include Design of Useful and Usable Interactive Systems, Advanced Computer Vision, Computer Science (C, Python, and SQL plus HTML, CSS, and JavaScript), Autonomous Robot Systems, Machine Learning, Artificial Intelligence (AI), Advanced Topics in Programming Languages, Systems Programming and Machine Organization, Computing at Scale, and Computer Graphics.
Harvard University CS graduates work in just about every scientific and business-related field. They work at Amazon, Google, Dreamworks Animation, Pixar Animation Studios, Goldman Sachs, Vanderbilt University Medical Center, Intel Corporation, CTB/McGraw-Hill, Hyperion Solutions, Hasbro, Inc., Lonely Planet, Facebook, Sun Microsystems, Walt Disney Company, and more.
9. Pennsylvania State University at Behrend, Erie, Pennsylvania

Pennsylvania State University at Behrend (Penn State Behrend) is a four-year and graduate college of Penn State. The school serves 5,050 students enrolled in more than 45 academic programs in four schools—the Black School of Business, School of Engineering, School of Humanities and Social Sciences, and School of Science.
The School of Humanities and Social Sciences houses the Digital Media, Arts, and Technology (DIGIT) Program—Penn State's only undergraduate degree in Digital Humanities. The BA in DIGIT is an interdisciplinary program "combines the broad perspective of the liberal arts with technical skill," says the school.  This means, students will study technology history and theory while "learning to use the newest programming languages, digital tools, and computer systems."
Students can enhance their skills by participating in the Virtual/Augmented Reality (VAR) Lab at Penn State Behrend.
The VAR Lab "works with students, the community, and industry partners to implement augmented and virtual reality solutions." Lab participants have opportunities to "recreate historically important venues in AR/VR to bring the world to Pennsylvania students ((e.g., Fort Le Boeuf). Methods of recreation in the Lab include "using visually and spatially accurate lidar scans of existing venues and designing 2D/3D digital models when scanning is not an option."
Lab participants will also work to "address training gaps in the workplace (e.g., virtual training simulations)," and increase the "accessibility, affordability, and availability of mental health initiatives."
DIGIT students also have the opportunity to add two concentrations, a second major or a Minor in an area such as Interactive Entertainment (Game Development). Concentration options include Modeling and Simulation/Human-Computer Interaction (HCI), Sound and Motion, Digital Humanities, and Data Visualization and Assessment.
In addition to working in AR/VR in a wide range of fields, career options for DIGIT graduates include Digital Art, Technical Producer, Digital Art Director, Front-End Analyst, Digital Marketing Strategist, Designer, and Digital Video Editor, to name a few.
10. Rensselaer Polytechnic Institute, Troy, New York

Rensselaer Polytechnic Institute (RPI) launched the Rensselaer Augmented and Virtual Environment (RAVE) Lab in 2019. Housed in the J. Erik Jonsson Engineering Center, the Lab supports experimentation with different types of virtual and augmented reality. Students and researchers have access to state-of-the-art equipment and a flexible physical space.
Degree pathways for students interested in AR/VR include BS, MS, and PhD degrees in Computer Science (CS). A Minor is available as well as Dual Degrees including a CS BS/MS and Accelerated CS BS/PhD. Offered in the RPI School of Sciences, the Computer Science Program focuses on the design, analysis, communication, implementation, and application of computational processes. Optional concentrations include Vision, Graphics, Robotics, and Games, Artificial Intelligence (AI) and Data, Systems and Software, and Theory and Algorithms.
Course highlights include Interactive Visualization, Computer Vision for Visual Effects, Robot Dynamics and Control, Learning and Advanced Game AI, Computer Graphics, Intelligent Virtual Agents, Cognitive Computing, Modeling & Simulation for Cyber-Physical Systems, Cognitive Modeling, and Parallel Programming.
RPI students and graduates have opportunities to work with Amazon Robotics, Lockheed Martin, ExxonMobil, and many others.
Founded in 1824, RPI "is America's first technological research university." The Institute, which encompasses five schools, 32 research centers, and 145+ academic programs, serves more than 7,600 students and over 100,000 living alumni.