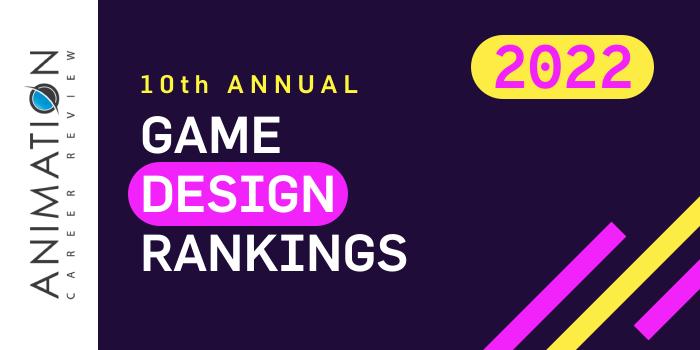 What are the top game design schools with Master of Fine Arts programs in 2022?
Top 10 Game Design MFA Programs – 2022 College Rankings

| Ranking | School | State |
| --- | --- | --- |
| 1 | University of Southern California | California |
| 2 | New York University | New York |
| 3 | Savannah College of Art and Design | Georgia |
| 4 | DigiPen Institute of Technology | Washington |
| 5 | DePaul University | Illinois |
| 6 | Texas A&M University | Texas |
| 7 | University of Texas at Dallas | Texas |
| 8 | The Ohio State University | Ohio |
| 9 | The New School's Parsons School of Design | New York |
| 10 | Clemson University | South Carolina |
Below are the Top 10 Game Design schools and colleges offering Master of Fine Arts (MFA) degree programs for 2022. For an explanation of our ranking criteria, click here.
1. University of Southern California, Los Angeles, California

The University of Southern California (USC) is home to USC Games, which offers MFAs in Interactive Media (Games and Interactive Entertainment) and Interactive Media (Games and Health).
USC Games combines the study of art, design, engineering, and production. Classes are collaborative, immersive, and hands-on, allowing students to develop team-building skills and expertise in every area of game design and development. Courses are taught by working professionals in the field.
MFA programs are housed in the School of Cinematic Arts' (SCA) Interactive Media & Games Division.
Graduates of USC Games have developed and sold their own games, launched their own studios, or landed positions at major studios such as Riot Games, Disney, Epic Games, Apple, ESPN, and CBS interactive, among others.
2. New York University (NYU), New York, New York

New York University's (NYU) Tisch School of the Arts houses the Department of Game Design, home to The NYU Game Center and NYU Game Center Incubator. Founded in 2008, The NYU Game Center hosts events and programs such as the NYU Game Center Lecture Series, No Quarter Exhibition (est. 2010), and the professional game conference known as PRACTICE: Game Design in Detail. The Center also hosts workshops and tournaments.
The MFA at NYU Tisch Game Center consist of immersive academic seminars and hands-on experiences in the Center's development studios and play labs. Students may focus on programming, design, or visual design for games, game criticism, game art, or other areas. Graduate students will complete a thesis project to be presented at the NYU Game Center Spring Show.
A major component of the NYU Game Center is the internship program. Students have completed internships at Disney, Ubisoft, TreSensa, and Arkadium. NYU Game Center graduates will leave the program with a resume and several finished games
New York University alumni are game artists, designers, and developers, entrepreneurs, AI engineers, and software publishers. They work at companies and studios such as Blizzard Entertainment, Riot Games, Amazon, Tencent, Take-Two Interactive, ESPN, Nickelodeon, and IGDA Japan, among others.
3. Savannah College of Art and Design, Savannah, Georgia

The Interactive Design and Game Development Program at Savannah College of Art and Design (SCAD) offers an MFA Interactive Design and Game Development (IDGD). The program is offered online via SCADnow, and at the Atlanta and Savannah campuses.
The School of Digital Media at SCAD provides opportunities for game design students gain hands-on experience through internships with local and national studios. Students will also work individually and in teams to complete projects in state-of-the art facilities such as the labs and SCAD Digital Media Center. And each quarter, students have the opportunity to interview and present their portfolios to professionals in the industry.
Past visitors have been affiliated with studios such as Electronic Arts (EA), Zynga, and Activision Blizzard. Graduates of the Interactive Design and Game Development Programs at Savannah College of Art and Design are routinely hired by these and other studios such as Epic Games, Sucker Punch Productions, and Firaxis Games, among others.
4. DigiPen Institute of Technology, Redmond, Washington

DigiPen Institute of Technology (DigiPen) offers an MFA in Digital Art that prepares graduates for careers in animation and games. The program, which allows students to customize a specialization, requires a final Thesis Project, which culminates with a professional portfolio. All MFA students will work in multidisciplinary teams in a studio environment to create software and a series of video games.
DigiPen Institute of Technology graduates enjoy a high job placement rate. To date, more than 600 companies have hired DigiPen graduates. A few examples include Epic Games, DreamWorks Interactive, Google, Amazon, Walt Disney Imagineering, SpaceX, Warner Bros. Interactive Entertainment, Microsoft, Electronic Arts (EA), ArenaNet, Bungie, Activision, Insomniac Games, Zynga, Sony Interactive Entertainment, Booz Allen Hamilton, Intel Corporation, Ubisoft Shanghai, and Take-Two Interactive.
5. DePaul University, Chicago, Illinois

The Game Design Program at DePaul University (DePaul) offers an MFA in Game Design. Housed in the College of Computing and Digital Media (CDM), Game Design at DePaul emphasizes collaboration and interdisciplinary learning. Design students will have opportunities to work with fine art, audio, programming, and writing students.
The curriculum includes coursework that helps students navigate the game production process from inception to the testing phase. Course examples include Game Development, Practical Scripting for Games, Animation, Game Sound Design, and 3-D Design and Modeling.
MFA students in all programs have access to the Virtual and Augmented Design Lab, game studio known as DePaul Originals, and CDM facilities such as gameplay, playtest and usability, and game development and research labs.  Other program benefits include participation in a variety of exhibitions, internship opportunities at local and national studios, and the biennial Japan Study Abroad Program. Students will leave the DePaul Game Design Program with a portfolio of their best work.
Some of the top careers for DePaul Game Design graduates include game development, software engineering, computer graphics, animation, commercial production, and project management. Program alumni have been hired at companies and studios such as Epic Games, Leo Burnett, iiRcade, Fast Radius, Speegs Media, and TCS.
6. Texas A&M University, College Station, Texas

The College of Architecture at Texas A&M University (TAMU) is home to the Visualization Program (VISL or Viz Lab). Established in 1988, VISL offers an interdisciplinary, 60 credit hour MFA degree in Visualization. Students have the opportunity to study games through free electives and emphasis areas such as Gaming, Computer Animation, Interactive Art, Visual Effects, AR/VR, UI/UX, Data Visualization, and Storytelling. Course examples for the program include Time-Based Media, 3D Modeling & Animation, Physical Computing for Art & Design, Advanced Animation, Rendering and Shading, Form, Installation, and Environment, and Digital Compositing. Students will also complete 20 hours in professional studies and four in professional practice. A Thesis is required as well.
Texas A&M University Viz Lab graduates are often hired at major studios such as Industrial Light and Magic (ILM), DreamWorks Animation, and Pixar.
7. University of Texas at Dallas, Dallas, Texas

The School of Arts, Technology, and Emerging Communication (ATEC) at the University of Texas at Dallas (UT Dallas) is a research school that offers multidisciplinary STEAM (science, technology, art, engineering, and management) programs. Serving more than 1,800 students today, ATEC launched in 2015 after the merging of two departments: Arts and Technology and Emerging Media and Communication. Programs lead to the BA, MA, MFA, or PhD in ATC.
All ATEC Programs offer opportunities to study game design and development. For example, the ATEC BA has an Animation & Games (A&G) Concentration, and the MFA has a Game Development Concentration. Students may also create a specialization through electives and other courses.
Other ATEC Program highlights include access to the following studios and facilities: Game Lab, Motion Capture Studio, Games Research Lab, Surround Studio, The Studio for Mediating Play, Animation Lab, ATEC Lecture Hall, CG Animation Lab, 3D Studio, experimenta.l., Render Farm, Mixed Media Lab, Games and Media Library, Render Farm, Surround Studio, and the Narrative Systems Research Lab. The ATEC Lecture Hall has hosted speakers from Disney, Pixar, and DreamWorks.
Graduates of the ATEC Program at University of Texas at Dallas have been recruited by major studios and companies such as Pixar, Google, Capital One, DreamWorks, Apple, Toyota, and Disney.
8. The Ohio State University, Columbus, Ohio

The College of Arts and Sciences at The Ohio State University (OSU) houses the Department of Design, which offers a Digital Animation and Interactive Media (DAIM) Track within the MFA Program. The Track requires 12 studio elective credits and six credits of interdisciplinary electives, allowing plenty of opportunities to create a focus in games. A Design Research and Development (DRD) Track, also within the Department of Design MFA Program, is a collaborative, interdisciplinary program that encourages study across departments, research areas, and themes. Open electives provide additional opportunities to explore games.
Examples of possible elective courses across programs and departments include Computer Game Art and Design, Video Games and Society, Computational Thinking in Context: Game Development or Images, Animation, and Games Virtual Modeling, Game Design I-II, Video Game Music, Esports and Game Studies, Philosophy and Videogames, Computer Vision for Human-Computer Interaction (HCI), Art and Technology, Screenwriting, and Artificial Intelligence (AI).
Graduates of The Ohio State University Design Programs are prepared to pursue positions in everything from art and entertainment to technology and engineering. Possible job titles include Game Designer, Software Programmer, Virtual Reality Designer, Design Strategist, CG Specialist, Motion Graphic Designer, Interaction Designer, User Interface/User Experience Designer (UI/UX), and Human-Computer Interaction (HCI) Designer, among others.
9. The New School's Parsons School of Design, New York, New York

The School of Art, Media, and Technology (AMT) at The New School's Parsons School of Design (Parsons) houses a Design and Technology (DT) Program that offers an MFA in DT. Programs in the School of AMT are STEM-designated and provide networking opportunities and collaborations with external partners, studios and lab courses led by working artists and designers who are experts in their fields, and internship opportunities with local and national companies.
The studio-based MFA in DT consists of Collaboration Studio and Thesis Studio courses. In Collaboration Studio courses, students will work with partner companies on real-world projects. Examples of past partners include Apple, the Whitney Museum of American Art, Samsung, NASA, Intel, Red Bull, and Mozilla.
10. Clemson University, Clemson, South Carolina

Clemson University's College of Engineering, Computing and Applied Sciences houses the School of Computing, home to the Digital Production Arts (DPA) Program and the Division of Visual Computing. A DPA MFA is available. Course examples include 2D Game Engine Construction, 3D Game Programming: Algorithms and Techniques, Game Theory, Artificial Intelligence (AI), Advanced 3D Modeling, Studio Methods for Digital Production, Physical Modeling and Animation, Audio Practicum, and Visual Foundations of Digital Production.
Other DPA highlights include visits from representatives of major studios such as DreamWorks, participation in the SIGGRAPH Conference, access to state-of-the art production studios and facilities, internship opportunities, and study abroad experiences.
Graduates of the Computing and DPA Programs at Clemson have gone on to become game designers, animators, technical directors, art directors, 3D graphics programmers, AR/VR designers, and software engineers, among others. Program alumni have secured positions with companies such as Google, Disney Animation, Electronic Arts (EA), Blur Studio, Sledgehammer Games, IBM, and Crowdstrike.