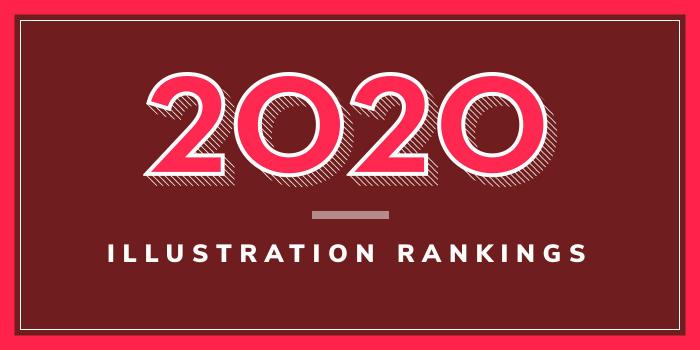 What are the top East Coast illustration schools for 2020?
Top 10 East Coast Illustration Schools - 2020 College Rankings

| Ranking | School | State |
| --- | --- | --- |
| 1 | Rhode Island School of Design | Rhode Island |
| 2 | Fashion Institute of Technology | New York |
| 3 | School of Visual Arts | New York |
| 4 | Pratt Institute | New York |
| 5 | Maryland Institute College of Art | Maryland |
| 6 | The New School's Parsons School of Design | New York |
| 7 | Massachusetts College of Art and Design | Massachusetts |
| 8 | Virginia Commonwealth University | Virginia |
| 9 | Syracuse University | New York |
| 10 | The University of the Arts | Pennsylvania |
Our 2020 list of the Top 10 Illustration Schools in the East. For an explanation of our ranking criteria, click here.
1. Rhode Island School of Design, Providence, Rhode Island

Founded in 1877, Rhode Island School of Design (RISD) is one of the first art and design schools in the U.S. Serving approximately 2,500 students from across the U.S. and 57 other countries, the school has 19 studio majors and leading to bachelor's or master's degrees in the Fine Arts, Architecture, Design or Art Education. The school's most popular programs are Illustration, Painting, Graphic Design, Film/Animation/Video (FAV), Illustration, and Industrial Design.
Offered through the Illustration Department, the BFA in Illustration is RISD's largest major. The program has approximately 300 undergraduate students "with a diverse range of skills and interests," says the school. Program highlights include a full roster of visiting artists and art directors, professionals from across the country who offer feedback through annual portfolio reviews, and access to computer resources, printmaking studios, software such as AfterEffects, InDesign and Maya, and the ISB Gallery, which hosts a mix of student or curriculum related exhibitions throughout the academic year.
Sample courses for the program include Advanced Painting, Animalia, Cinematic Storytelling, Digital 3D for Illustrators, Dragon Concept & Character Development, In 3-d Mixed Media, Fantasy Painting: The Stuff That Dreams Are Made Of, Style & Substance, Merging Worlds, The Magic of Books, Virtual Reality for Palliative Care, Visible Cities, and Word, Images and Ideas. Students will take workshops such as Maya Basics, Pigments & Emulsions, and Zbrush Sculpting and Illustration as well.
Another option for aspiring illustrators interested in combining science and art is offered through the Continuing Education (CE) Division. The Certificate in Natural Science Illustration allows students to "explore various media and techniques including pencil, acrylic, watercolor, gouache and oil to discover their individual style; and composition and color strategies enable students to fully interpret, capture and portray subjects including birds, animals, botanicals, etc. in natural environments."
The Certificate Program "utilizes RISD's unique facilities including the Edna Lawrence Nature Lab as well as site/field visits to the Roger Williams Park Museum of Natural History, Zoo and Greenhouse." Students in the program will "progress towards creating portfolio-ready pieces of natural science subjects for the purpose of professional presentation and potential publication." Course highlights include Applied Color, Digital Design Techniques, Adobe Photoshop, Drawing from Nature, The Artful Bird: Ornithological Illustration, and The Artful Insect: Entomological Illustration. Students will complete several "weekend technique intensives," as well as Final Studio: Natural Science Illustration.
Graduates of the art and design programs at RISD work as entrepreneurs or creative professionals at studios such as Pixar, DreamWorks, and Harmonix, or for networks like Fox, HBO, and PBS. Famous RISD graduates include Seth Macfarlane, creator of Family Guy, Daniel Sousa, animator and director of the Oscar-nominated film Feral, and Lance Wilder, animator for The Simpsons.
2. Fashion Institute of Technology (FIT), New York, New York

Founded in 1944, Fashion Institute of Technology (FIT) is a member of the State University of New York (SUNY) system. The school serves around 8,850 students at the undergraduate and graduate levels. Programs are offered through the Schools of Art & Design, Business & Technology and Liberal Arts in the areas of Art, Business, Communications, and Design. Serving approximately 3,322 students, the School of Art & Design houses the Illustration Department, which offers AAS, BFA, and MFA Illustration programs.
Department highlights include a close affiliation with the Society of Illustrators—the industry's top professional organization, 50 award wins by students in highly competitive student art exhibitions, including the prestigious Society of Illustrators Annual Scholarship Competition, and the mentoring by art directors or illustrators who analyze students' work and offer professional advice and support. Illustration students also have the opportunity to gain an international perspective on the global world of illustration through a study abroad course in Italy.
Sample courses include Applying Color to Illustrate the Written Word, Bok Illustration, Comic Book Illustration, Fantasy and Science Fiction Illustration, Illustrating the Male Figure, Illustrating the Written Word, Illustration Rendering Techniques, Stylistic Illustration, and Watercolor Comps and Illustrations.
The Illustration Portfolio Thesis is a final preparation for students entering the illustration business. The three-credit, six lab hours course highlights guest speakers from industry that provide students with insight into business practices, entrepreneurial strategies, and freelance and staff employment. Students present and defend their visual thesis before faculty and peers.
FIT graduates have gone on to build successful careers at Advertising Agencies such as Ogilvy & Mather, Young & Rubicam, DDB, BBDO, and J. Walter Thompson, at corporations such as American Greetings and Hallmark, Magazines such as Vogue and Harper's Bazaar, and entertainment companies such as Walt Disney, Warner Brothers, DreamWorks SKG, and LucasArts Entertainment.
3. School of Visual Arts, New York, New York

Founded in 1947 as "Cartoonists and Illustrators School," School of Visual Arts (SVA) serves more than 3,700 students enrolled in over 30 programs in areas ranging from fine arts and graphic design to filmmaking and illustration. The programs at SVA lead to the BFA, MFA, MA, MAT or MPS degree. Offerings for aspiring illustrators include a BFA in Illustration and an MFA in Illustration as Visual Essay. A BFA in Cartooning is also available.
SVA has the largest illustration faculty of any school in America. In addition to employing 69 faculty members, the SVA Illustration Department serves 473 students enrolled in more than 75 courses.
The BFA curriculum consists of 72 credits in studio, 30 credits in humanities and sciences, 15 credits in art history, and three credits in elective courses. Sample courses for the program include Collage Illustration, Designing Tattoos and Other Emblems, Etching and Monoprint as Illustration, Laboratory for Moving Pictures: Adventures in Limited Animation, Novelty Books for Young Children, and Pop-Up: 3D Paper Engineering.
While still students at School of Visual Arts, students have landed assignments for The New Yorker, The New York Press, Mad Magazine, and The Village Voice. Students are also frequent winners of the highest awards at the Society of Illustrators, American Illustration, and many other industry-based student competitions.
Established in 1984, the MFA in Illustration as Visual Essay is a competitive program that accepts just 20 students per year. Students in the program can expect to complete requirements in Computer Illustration, Creative Writing, Drawing, Painting, Storytelling, and Visual Essay. Students will also complete a number of workshops as well as an Illustration Business Book Camp.
Other highlights for the two-year program include close interaction between faculty and students, a personal workspace with 24-hour access, seven days a week, the opportunity to audit classes in film, animation, fine arts and humanities, and regularly scheduled guest speakers from the New York professional arts community. Opportunities for access to working artists, gallery shows, museum exhibitions and internships are also available.
Graduates of SVA's Illustration Department have gone on to work on films such as Sleepy Hollow and for designers such as Prada and Van's.
4. Pratt Institute, Brooklyn, New York

Founded in 1887, Pratt Institute serves more than 4,800 students enrolled in over 25 undergraduate degree programs and concentrations and more than 26 graduate degree programs in the Schools of Art, Design, Architecture, Liberal Arts and Sciences, and Information. Programs for aspiring illustrators are offered through the School of Art and the School of Design. Founded in 2014, the School of Design offers "up to four of Pratt's oldest and most esteemed disciplines," says the school. This includes Communications Design, Fashion Design, Industrial Design, and Interior Design.
Options for aspiring illustrators include a BFA in Communications Design with an Illustration Emphasis in the School of Design and AOS and AAS degrees in Illustration, and an AAS in Graphic/Illustration in the School of Art. The school says students who select the BFA with an illustration Emphasis "take a series of upper-level studio courses that explore topics particularly relevant to image-based communication such as advanced storytelling, socio-political commentary and authorship. Courses throughout the major encourage experimentation with multiple technologies, platforms and techniques."
 A variety of unique electives "provide opportunities to explore a wide spectrum of contemporary illustration practice including graphic novels, animation and 3D modeling, independent publishing, editorial illustration, children's books, concept art and illustrated typography."
The AOS in Illustration is a career-oriented track, which prepares students for careers in the art and design professions. The AAS in Illustration is transfer-oriented track, which positions graduates to transfer directly into the junior year of the Pratt BFA Programs in Fine Arts or Communication Design. The AAS in Graphic Design/Illustration follows an art and design curriculum that includes a liberal arts component that prepares students to transfer to Pratt's BFA in Communications Design or the Fine Arts Department.
Upon completion of the program, BFA graduates are prepared to seek positions in a variety of industries or they may enroll in Pratt Institute's Graduate School of Arts, which offers an MFA.
Pratt Institute alumni have landed positions at major studios such as Blue Sky, Digital Domain, Cartoon Network Studios, DreamWorks Studios, Industrial Light & Magic, Rhythm and Hues, Walt Disney Animation Studios, Curious Pictures, Gameloft, Sony Imageworks, and many others.
5. Maryland Institute College of Art, Baltimore, Maryland

Founded in 1826, Maryland Institute College of Art (MICA) is the oldest independent, continuously degree-granting college of art and design in the U.S. The College enrolls nearly 3,500 undergraduate, graduate and open studies students from 49 states and 52 countries. Around 80 programs leading to the BFA, MA, MFA, and MPS degrees are available in the areas of fine arts, design, electronic media, art education, liberal arts, and professional studies. Post-baccalaureate certificate programs are also offered.
Undergraduate programs for aspiring illustrators include a BFA in Illustration with Concentrations in Studio, Illustration + Humanistic Studies, Book Arts, and Sequential Art. Interdisciplinary options for specialized study include Studio Concentrations in Book Arts, Animation, Graphic Design, and Printmaking. In addition to first-year and liberal arts requirements, undergraduates will complete 54 credit hours in illustration. Sample courses include Illustration I & II, Life Drawing, Studio Drawing, and Professional Development. 
"Seniors are mentored in two semesters of portfolio building work in Senior Illustration I and II to prepare a solid body of work in order to become professional illustrators," says the School. "Professional Development for Illustrators includes portfolio preparation, business practice, intellectual property, and copyright issues."
Graduate programs include an MA in Illustration and an MFA in Illustration Practice. The MA is a one-year program for students interested in a career in illustration or in refining their existing illustration practice. The degree culminates in independent work in the form of a capstone portfolio project, exhibition, and review panel. The MFA is a two-year program that attracts "experienced illustrators, advanced students from related disciplines, including writing, design, animation, film, digital media, etc., and students with a cultivated passion for illustration in all its forms."
Students in the program will develop an independent, second-year thesis project using a medium appropriate to their personal direction and emerging illustration markets, including an exhibition and accompanying case study book.
Graduates of MICA illustration programs have gone on to land positions such as Brand Illustrator for Uber, Author and Illustrator of "Nimona," Book Illustrator, Illustrator and Comic Artist for Random House, and many others. Graduates have also continued their education in graduate programs or have successful careers as freelance illustrators.
6. The New School's Parsons School of Design, New York, New York

The New School was founded in 1896 by American Impressionist William Merritt Chase. Back then, the school was known as The Chase School, and later as New York School of Fine and Applied Art. Today, known as The New School's Parsons School of Design, this art and design college serves nearly 6,000 students enrolled in 130 degree and diploma programs across five schools. The School of Design offers a BFA in Illustration and Minors in Immersive Storytelling and Comics and Graphic Nature.
The BFA in Illustration program prepares students to work in a range of areas including animation, editorial and advertising illustrations, graphic novels, hand lettering, picture books, surface and display design, and toy designs. Sample courses for the program include studio courses such as Drawing/Imaging, Space/Materiality, and Time, and others such as Intro to Visual Culture: Recitation, Language and Letterform, and Objects as History.
Program highlights include projects and internships with Parsons partners including Nickelodeon, Toon Books, The New York Times, Moleskine, Barnes & Noble, and Brooklyn Industries, access to events such as Comic Arts Brooklyn, MoCCA Fest, and other professional gatherings, and the opportunity to connect with New York–based professional organizations such as American Illustration and the Society of Illustrators.
These organizations "bring acclaimed art directors, illustrators, and publishing professionals to New York City and the Parsons campus," says the school.
7. Massachusetts College of Art and Design, Boston, Massachusetts

Massachusetts College of Art and Design (MassArt) was founded in 1873 as a training institution for aspiring drawing teachers, architects, artists, and designers. Today, the school offers more than 20 undergraduate art programs, nearly a dozen graduate programs, and around seven certificate programs to a population of nearly 2,100 students. The Illustration Department at MassArt offers a BFA in Illustration that the school says, "emphasizes the understanding of character development and narrative techniques."
Students in the program take a variety of illustration and liberal arts courses taught by instructors who are freelance illustrators or illustrators who have their own businesses. Sample liberal arts courses include Introduction to Western Art, Literature/Writing/Film, and Thinking, Making, Writing: Using Words with Clarity and Flair. Sample major courses include Color for Illustration, Digital Illustration, Form Study, Human Figure Illustration, Media Techniques, Studio for Drawing, Technical Illustration, Visual Language, and Word and Image.
During their senior year, students will complete 18 major credit hours consisting of Studio Electives, a Thesis Project, Senior Illustration, and the Illustration Portfolio. Students will present their portfolio to invited professionals from advertising, corporate, editorial, institutional, and publishing markets.
8. Virginia Commonwealth University, Richmond, Virginia

Virginia Commonwealth University (VCU) was established in 1838. The school serves more than 31,000 students enrolled in 225 academic programs across 13 schools and one college. An additional four programs are offered at VCU's Qatar campus. The School of the Arts (VCUarts), which serves more than 3,000 students, offers 25 degree programs, including Illustration.
Administered by the Communication Arts Department, the VCUarts Illustration Program has two options: the BFA in Communications and the BFA in Communications with a Concentration in Scientific and Preparatory Medical Illustration. The BFA in Communications focuses on three areas including drawing, illustration, and visual studies. The school says, "new elective courses are designed to reinforce and expand the drawing, design, and illustration components of the curriculum. Students will have the opportunity to develop projects in illustration."
Course highlights include Digital Drawing, Fundamentals of Typography, Illustration: Drawing and Painting, Sequential Imaging, and Visual Studies.
The BFA with a Concentration in Scientific and Preparatory Medical Illustration requires 32 credits in the biological sciences and chemistry, in addition to communication major and illustration courses. Sample courses for the program include Business of Communication Arts, Concept Drawing, Drawing Studies: The Figure in Context, Scientific Illustration, Time Studio, and Visual Communications.
All communications students have the opportunity to complete an internship and/or study abroad.
9. Syracuse University, Syracuse, New York

Syracuse University (SU) was founded in 1870. The school, which serves 22,850 students from across the U.S. and 126 countries, offers more than 200 majors, 100 minors, and 200 advanced degree programs across 12 colleges and schools and a graduate school. The School of Art offers BFA and MFA degrees in Illustration.  
The BFA in Illustration combines storytelling, drawing, painting, design, and research. Four focuses help students explore specific professional areas. Focuses include Visual Development, Editorial, Sequential, and Licensing. Other program highlights include engagement with nationally and internationally known visiting artists each year, courses taught by practicing illustrators and artists whose work is published and exhibited nationally and internationally, global study opportunities at the SU campus in Florence, Italy or other countries, workshops and lectures, and visits to New York and Los Angeles.
All BFA students will have the opportunity to develop a portfolio that will be shown to art directors and illustrators for feedback.
Alumni from the illustration program have gone on to work in areas such as illustration for children's books, comics, graphic novels, newspaper, greeting cards, licensing, advertising, magazine, book and online publishing, as well as visual development in animated films, television, and the gaming industry.
The three-year MFA program offers online coursework in addition to classes at its two New York City locations (the Fisher Center and Lubin House) as well as in Syracuse, Los Angeles, and Florence, Italy. Students will complete hours of major studio courses, 12 studio elective credits, 12 art history and related academic credits, and six free elective credits. The program ends with a graduate seminar worth three credits and a final presentation, also worth three credits.
Program highlights include the option to participate in the Ginsburg-Klaus Art in Los Angeles Week (also known as "Art in LA"), the Turner Semester pilot residency program, which allows students to experience the arts of the West Coast, and to live and work in San Pedro (the Los Angeles Harbor area) during the spring semester, and the opportunity to interact with visiting and resident artists and scholars. An optional internship is also part of the program.
10. The University of the Arts, Philadelphia, Pennsylvania

Founded in 1876, The University of the Arts (UArts) is the nation's only comprehensive arts university. The school serves 1,900 students enrolled in 46 undergraduate and graduate programs, and more than 30 minors, through the College of Art, Media & Design, College of Performing Arts, Division of Liberal Art, and the Division of Continuing Studies (Graduate Programs).
The College of Art, Media & Design houses the School of Design, which offers a BFA in Illustration and a Minor in Figurative Illustration. An MFA in Studio Art is also available. The BFA program allows students to declare a concentration. Options include Animation Movement, Animation Visual Development, Game Art, Graphic Design Communication, Graphic Design Typography, Photography, Painting, and Printmaking.
The BFA program blends creative visual problem solving, digital experiences, drawing, figure modeling, illustration, painting, picture making, digital experiences, as well as specialized graphic design courses, self-discovery through mentor-student relationship, and history of pictorial image making. Sample courses include Communication Design, Figure Anatomy, Illustration I-IV, Image/Time, Materials, Responsive Drawing, and Words, Images & Idea.
The Minor in Figurative Illustration requires 15 credit hours including Figure Anatomy, Illustration I and II, Responsive Drawing, and Figure Communication or Figure Painting.
The MFA in Studio Art is a low-residency, year-round program that consists of an immersive eight-week on-campus summer semester, independent study (fall and spring), and mentoring. The 60 credit hour curriculum includes Graduate Drawing, Major Studio, Contemporary Topics in Art and Design, Culture Study, Independent Studio, Studio Topics, Graduate Seminar, Professional Practices, Thesis Preparation, and Thesis Writing Project. MFA Thesis Exhibition is also part of the program.
Graduates of the Illustration Program at UArts have gone on to create illustrations for The New Yorker, New York Times, Rolling Stone, ESPN, Random House, Ralph Lauren, Fortune, and many others.