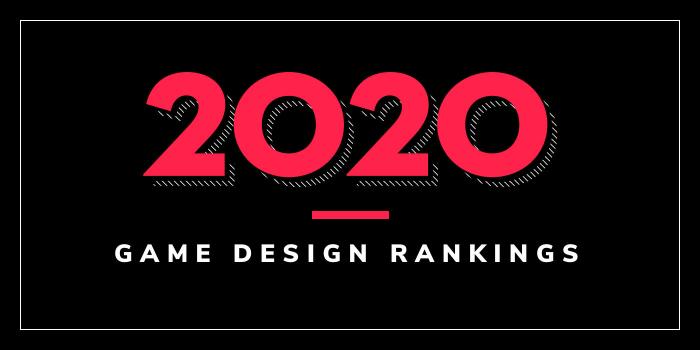 What are the top Game Design BAs for 2020?
Top 20 Schools with Game Design BA Programs – 2020 College Rankings

| Ranking | School | State |
| --- | --- | --- |
| 1 | University of Southern California | California |
| 2 | University of Central Florida | Florida |
| 3 | DigiPen Institute of Technology | Washington |
| 4 | University of California | California |
| 5 | University of California, Los Angeles | California |
| 6 | Savannah College of Art and Design | Georgia |
| 7 | University of Texas at Dallas | Texas |
| 8 | Drexel University | Pennsylvania |
| 9 | Michigan State University | Michigan |
| 10 | University of Florida | Florida |
| 11 | Columbia College Chicago | Illinois |
| 12 | Worcester Polytechnic Institute | Massachusetts |
| 13 | Becker College | Massachusetts |
| 14 | Otis College of Art and Design | California |
| 15 | Miami University | Ohio |
| 16 | Cogswell Polytechnical College | California |
| 17 | University of Advancing Technology | Arizona |
| 18 | Ferris State University | Michigan |
| 19 | Quinnipiac University | Connecticut |
| 20 | University of Wisconsin – Whitewater | Wisconsin |
For our undergraduate degree rankings, we have evaluated game design schools and programs with the best Bachelor of Arts (BA), Bachelor of Fine Arts (BFA), and Bachelor of Science (BS) options. To determine which degree matches your career goals, it is important to understand how each qualification differs.
The Bachelor of Arts (BA) degree is the principal liberal arts degree. Most BA programs require 30-some or 40-some credits, which leaves plenty of flexibility in the form of free electives. BA students can use the free electives to sample widely from other course offerings or to earn an additional credential (a second major, a minor, or some combination of additional credentials).
The Bachelor of Science (BS) degree is offered in areas such as Computer Science, Mathematics, Psychology, Statistics, and each of the natural sciences. The BS is best suited to the student who wants to focus more on courses in the major and on 'collateral' courses (like chemistry or mathematics for a major in Geological Sciences) and is willing to give up some of the flexibility of the BA in return for the greater focus.
The Bachelor of Fine Arts (BFA) degree is considered the most prestigious bachelor's degree that you can receive in the visual arts. This option is for students who wish to gain as much experience and skill in the arts as possible.
Below are the Top 20 Schools and Colleges with Game Design BA Programs for 2020.
1. University of Southern California, Los Angeles, California

Established in 1880, University of Southern California (USC) serves 47,500 students enrolled in more than 200 undergraduate programs, 300-plus graduate programs, and more than 150 minors. Program options for aspiring game designers are offered through Viterbi School of Engineering's Department of Computer Science and the Dornsife College of Letters, Arts & Sciences' Interactive Media & Games Division. Dornsife programs are offered in conjunction with the School of Cinematic Arts.
The Interactive Media & Games Division offers a BA in Interactive Entertainment along with an extensive list of minors to complement the degree. Options include Game Design, Game Animation, Game Audio, Game Entrepreneurism, Game User Research, Game Studies, Documentary, Video Game Design and Management, Video Game Programming, 3D Computer Modeling and Graphics, Computer Science, Immersive Media, and Themed Entertainment.
Course highlights for the BA program include Cinematic Communication, Intermediate Game Development, Game Design Workshop, Advanced Visual Design for Games, Usability Testing for Games, Sound Design for Games, Designing Social Games, and Business and Management of Games.
In addition to the Interactive Media & Games Division, USC is home to the GamePipe Laboratory. Sponsored by Intel, Sony, and other technology companies, the Lab produces a "Demo Day," which allows students to showcase their work. The semiannual event attracts game industry reps, reporters, faculty, students, and hundreds of spectators from across the country.
2. University of Central Florida + Florida Interactive Academy, Orlando, Florida

Established in 1963 and serving approximately 68,571 students across four campuses, the University of Central Florida (UCF) is the nation's second-largest university and Florida's largest by enrollment. Also one of the nation's youngest universities, UCF offers more than 220 degree programs across 13 colleges. One of the school's largest programs is game design.
UCF's College of Arts and Humanities, Games & Interactive Media Department offers a BA in Digital Media with a Specialization in Game Design, which "allows students to integrate the multiple domains of art, storytelling, and technology," says the school. In the Game Design Track, students "learn the history, design cultural impact and implementation of video games and video game technologies." Students will complete courses that will allow them to "build a series of prototype, casual and longer form games throughout the semester as individuals and in teams."
Other program highlights include the opportunity to participate in game jams and meet-ups, which offer networking opportunities and possible job placement.
3. DigiPen Institute of Technology, Redmond, Washington

Founded in 1988, DigiPen Institute of Technology was the first school in the world to offer a bachelor's degree in Video Game Development. More than 550 companies have hired DigiPen graduates and the school is located near more than 400 interactive media companies, making the region one of the largest video game centers in the world. The school, which serves around 1,100 students from all 50 states and close to 50 countries, has international campuses in Singapore and Spain along with educational partnerships with Keimyung University in South Korea and Thammasat University in Thailand.  
DigiPen offers ten graduate and undergraduate program options in the areas of Art, Design, and Computer Science. Among the schools programs is the BA in Game Design. The school says that the program helps students "create compelling interactive systems — from sophisticated user interfaces to polished games and applications." In addition to extensive design coursework, students will "delve deep into psychology, communications, and user experience with an eye for crafting powerful experiences."
Topics covered include Game and Design Development, the Humanities and Arts, and Foundational Math and Science courses. Game Design and Development includes game mechanics and history, design documentation, scripting and programming, 2D and 3D level design, character design, playtesting, interface design, product management, and team game project implementation. Humanities and Arts includes writing, psychology, film, audio, architecture, drawing, and 2D and 3D art, with the option to study advanced topics in these areas. Fundamentals of scripting languages, mathematics and physics are covered under Foundational Math and Science Courses.
Multidisciplinary team projects make up a core component of the BA in Game Design curriculum. Students will work with classmates on a series of original game and interactive media projects that will allow them to gain firsthand experience in contributing their design expertise while working as part of a larger creative team. These projects serve as a primary avenue for exploring the student's interests in game mechanics and systems, compelling narratives, and seamless user experiences.
DigiPen student games have won 57 Independent Games Festival awards (more than any other school) and to date, more than 550 companies around the world have hired DigiPen graduates. DigiPen alumni have been credited on more than 1,000 commercial game titles. Graduates have gone on to become Game Designers, Level Designers, UX Designers, and many others.
4. University of California, Santa Cruz, Santa Cruz, California

The University of California - Santa Cruz (UCSC) opened in 1965. The school serves 18,805 students enrolled in more than 100 degree programs across 10 colleges. The Jack Baskin School of Engineering (BSOE) started the first undergraduate game major in the University of California System. The BA, however, is offered through the UCSC Art Department-Arts Division.
The interdisciplinary BA in Art & Design: Games & Playable Media (AGPM) is closely affiliated with the BS in Computer Science: Computer Game Design in the School of Engineering. The school says, "students in both programs work together throughout their studies at UCSC, from foundation courses to a year-long capstone sequence that results in team creation of a releasable game. Students in AGPM obtain a degree focused on the design of game systems and other interactive experiences, including their connection to a wider arts context — with a full grounding in the fundamentals of artistic practice and expressive game development."
"The foundation of the program is game making, with students in both BA and BS degrees working together to make games each year. Students also learn about the history of games, the interpretation of games and game culture, expression of ideas and creating experiences through games, and approaches to design, communication, teamwork, and artistic innovation."
UCSC is also home to The Center for Games and Playable Media (CGPM). Established in 2010, CGPM houses the schools five games-related research labs including the Expressive Intelligence Studio — one of the largest technical game research groups in the world. CGPM partners include eBay, Google, Sony, EA, Microsoft Studios, the MacArthur Foundation, the Defense Advanced Research Projects Agency (DARPA), and many others.
The AGPM program prepares students for taking an artist, designer, or producer role. Specific job titles/roles include 2D/3D Artist, Game Designer, Game Programmer, Game Writer, Producer, Sound Designer, User Interface (UI) Designer, and User Experience (UX) Designer.
5. University of California Los Angeles, Los Angeles, California

Founded in 1919 as the Southern Branch of the University of California, University of California Los Angeles (UCLA) serves nearly 45,000 students from all 50 states and more than 100 foreign countries. The school offers 125+ undergraduate majors across 109 academic departments, and more than 40 graduate programs.
The School of Arts and Architecture houses the Department of Design Media Arts (DMA), which offers a BA in Design Media Arts (BA DMA). UCLA Extension offers a Game Design Specialization as well. The DMA program highlights game design study, interactivity and games, video and animation, visual communication, and more, while the Game Design Specialization consists of four courses including User Experience for Games, AR/MR/VR for Immersive Content: Experience, Game & Media, Introduction to Game Design and 3D Game Design and Game Engines: Unity.
With support from the School of Theater, Film, and Television, DMA also houses the UCLA Game Lab. Per the school, the primary function of the Lab is as "a research and production space for collaborative teams to pursue focused work on gaming projects." It supports exploration of Game Aesthetics, Game Context, and Game Genres, while emphasizing the "conceptual risk-taking and development of new modes of expression and form through gaming."
In addition to producing games and research, the lab functions as a center that develops public programming around critical issues in gaming. Programming includes public lectures, workshops, exhibitions, a visiting artist program, and an annual public festival at the Hammer Museum.
6. Savannah College of Art and Design, Savannah, Georgia

Savannah College of Art and Design (SCAD) was founded in 1978. With campuses in Savannah, Atlanta, Hong Kong, and Lacoste, France, the school serves more than 14,000 students from all 50 states and more than 100 countries. Offering more degree programs and specializations than any other art and design university, SCAD houses the School of Digital Media, which offers a BA with a Concentration in Interactive Design. Students may add a minor in Concept Art for Games, Concept Design for Animation and Games, Games UX, Interactive Design and Game Development or Mobile and Interactive Design.
The 180 credit hour BA is available at the Savannah, Atlanta, eLearning campuses.  This program requires 45 credit hours in the concentration including courses such as Digital Design Aesthetics, Core Principles: Programming, Introduction to Game Design, Core Principles: Interactive Design and Typography I: Anatomy, Form and Space.
In addition to a variety of minors and courses to enhance the degree, BA students have the opportunity to meet with professionals in the field every quarter. These professionals conduct  interviews with students for positions and review their portfolios. Recent visitors include representatives from Zynga, Blizzard Entertainment, Electronic Arts, Crystal Dynamics and Activision. Graduates have been recruited by Epic Games, Sucker Punch Productions, Firaxis Games, and many others.
7. University of Texas at Dallas, Dallas, Texas

The University of Texas at Dallas (UT Dallas) was established as a member of the University of Texas System in 1969. The school serves 28,755 students enrolled in more than 130 academic programs across seven schools. The School of Arts, Technology, and Emerging Communication (ATEC) was created in 2015. It merged two long-running programs at UT Dallas: the program in Arts and Technology and the program in Emerging Media and Communication.
The school offers a BA in Arts, Technology, and Emerging Communication (BA ATEC) with several pathways. Options include Animation, Critical Media Studies, Design & Production, and Games. BA ATEC students may also choose electives in more than one area. Examples include User Experience Design for Games, Game Design, Interaction Design, Level Design, Modeling and Texturing, Virtual Environments, Rigging, Game Production Lab, Game Pipeline Methodologies, Serious Games, Game Production Lab, Interactive Narrative, and Educational Games.
All BA ATEC students have access to an endless number of labs, studios, facilities and workspaces. The school says, "the vibrant lab and studio culture at ATEC fosters collaboration across disciplines, blending art, technology, humanists, scientists, roboticists, programmers, designers, and innovators." Just a few spaces include the Motion Capture Lab, 3D Studio, Animation Research Lab, Games Research Lab, Narratives Systems Research Lab, and SP&CE Media.
8. Drexel University, Philadelphia, Pennsylvania

Drexel University was established in 1891. It serves nearly 29,000 students enrolled in over 200 degree programs across 15 colleges and schools. The College of Computing & Informatics (CCI) offers a BA in Computer Science (BACS) with a Concentration in Game Programming and Development (GMPD) that "provides conceptual understanding of game design and practical experience in the design and the development of games," says the school. Students can further customize the degree through a variety of available minors at CCI, including Data Science, Human–Centered Computing, Information Systems, Security Technology and Software Engineering, or choose from the hundreds of available minors at Drexel.
Other BACS highlights include the opportunity to enroll in Drexel's accelerated degree program, which enables students to graduate with both a bachelor's and master's degree in five years, and the Cooperative Education Program. Founded in 1919, the program was one of the first of its kind, and it continues to be among the largest and most renowned. Drexel Co-op allows students to test drive careers, network, and gain experience before graduation. Students choose from more than 1,700 employers in 35 states and 45 international locations, or conduct an independent search.
All students have access to Drexel Game Design and the RePlay Lab. DGD and RePlay are collaborative efforts between the Digital Media program (in the Westphal College of Media Arts & Design) and the Computer Science department (in the College of Computing and Informatics).
Graduates of Drexel's computer science undergraduate program hold positions such as Software Developer, Web Developer, Systems Software Systems Engineer, Network Engineer and Application Analyst.
9. Michigan State University, East Lansing, Michigan

Founded in 1855, Michigan State University (MSU) serves around 50,350 students from 142 countries, every state in the United States and every county in Michigan. MSU students have access to more than 200 programs across 17 degree-granting colleges. The College of Communication Arts and Sciences houses the Media and Information (MI) Department, home of the Game Design and Development Program.
Founded in 2005, the program offers a BA in Media and Information with a Game and Interactive Media Design Specialization and a BA in Studio Art with a Game Design and Development Specialization. The Specialization is also available to other majors "on a case-by-case basis, particularly those in the Honors College." An interdisciplinary Game Design and Development Minor is also available for BA students.
"The minor brings together students in Media and Information, Computer Science, and Studio Art. For most majors outside of MI, the Minor often nearly fulfills the student's cognate requirements." The College of Engineering, College of Arts & Letters, and College of Communication Arts and Sciences administer the Minor jointly. The College of Communication Arts and Sciences is the lead administrative unit.
Besides offering a variety of programs for game designers, the College of Communication Arts and Sciences houses the Games for Entertainment and Learning (GEL) Lab. According to the College, the mission of the GEL Lab is to "design innovative prototypes, techniques, and complete games for entertainment and learning and to advance state of the art knowledge about social and individual effects of digital games."
10. University of Florida, Gainesville, Florida

Founded in 1858 as Gainesville Academy, University of Florida (UF) serves more than 56,000 students enrolled in 30 certificate programs, 100 undergraduate majors, and 200 graduate programs across more than a dozen colleges and schools. The College of Arts houses the Digital Worlds Institute, which offers a BA in Digital Arts & Sciences (BADAS). "The program crosses traditional college boundaries between arts, communications, and technology," says the school. "Students will immerse themselves in every aspect of the new and developing digital landscape — from digital illustration to 3D animation, from programming to video-game design."
Sample courses for the program include Game Design Practices, Game Development, Digital Storytelling, Writing for Interactive Media, Wearable & Mobile Apps, Design Production Studio, and 3D Digital Animation. Entrepreneurship in New Media, Undergraduate Research Forum, and a Senior Project are also part of the program.
Other BADAS highlights include the opportunity to gain experience working on team projects, access to high-tech facilities including a 5-screen Polymodal Immersive Classroom Theater (PICT) and a Virtual Production Studio (VPS), and the cohort experience. The experience allows a select group of students to "join a community of learners in taking a set sequence of courses together." Students will network and build relationships with their classmates, work one-on-one with faculty, and participate in discussions.
Graduates of the BADAS program have gone on to work for companies such as DreamWorks and Microsoft, as well as to form their own successful startups.
11. Columbia College Chicago, Chicago, Illinois

Established in 1890, Columbia College serves nearly 7,000 students from nearly every state and more than 60 countries. The school offers more than 100 academic majors or programs across several schools and more than 20 departments. Schools include the School of Media Arts, the School of Fine and Performing Arts, and the School of Liberal Arts and Sciences.
Programs for aspiring game designers are offered through the Interactive Arts & Media (IAM) Department, which is housed within the School of Media Arts. Options include a BA in Game Art, a BA in Game Design with Concentrations in Game Development and Game Sound Design, and a BA in Programming with a Concentration in Game Programming.
Game Design students will have the opportunity to create games right away in their first semester and create many more throughout their time at Columbia. The software tools used in class are the same tools students will use as professional game artists. "The curriculum mirrors the collaborative environment of the game industry," says the school. Students will work in collaborative teams formed from seniors in Game Art, Game Design, Game Programming, and Game Sound.
The Senior Capstone provides the opportunity to work in small (Indie Game Studio) or large (Large Team Game Studio) groups to develop a game. Students will also have the opportunity to show their work at the Game Developers Conference (GDC) in San Francisco, the Chicago Toy and Game Fair, South by Southwest (SXSW), and Industry Night at Columbia College. 
Students in all programs have access to The Game Lab. Per the school, "this center for student-led game research includes PC- and console-gaming hardware, including both current generation consoles as well as an archived collection, a high-definition AV system, and a library of several hundred video game titles."
Graduates of the Game Programs at Columbia College have landed positions at Pixar, Weta Digital, NetherRealm Studios, Raw Thrills, Iron Galaxy, Raven Software, Sony, Incredible Technologies, High Voltage Software, and many others.
12. Worcester Polytechnic Institute, Worcester, Massachusetts

Established in 1865, Worcester Polytechnic Institute (WPI) serves nearly 6,500 students from more than 60 countries and 45 states. WPI's 14 academic departments offer more than 50 undergraduate and graduate degree programs in science, engineering, technology, business, the social sciences, and the humanities and arts, leading to bachelor's, master's, and doctoral degrees. The school's Division of Arts & Sciences offers a BA in Interactive Media & Game Development (BA IMGD).
One of the earliest gaming programs in the U.S., WPI's IMGD program "blends the artistic and technical aspects of game development and interactive media," says the school. Students will explore diverse topics such as Writing for Games, Game Audio, Artificial Intelligence, Digital Painting, Virtual Reality, and 3D Modeling. As part of WPI's project-based learning model, every student will complete a Major Qualifying Project (MQP). This culminating experience "enables students to synthesize their learning and tackle real-world problems in their fields of study."
The MQP provides the opportunity for IMGD students to "showcase their talents and immerse themselves in creating something they are passionate about." The project "also adds another impressive piece to student portfolios and, in some cases, give students their very first game credits."
Some students build game prototypes, while others create game development tools, interactive art exhibits, and other forms of media.
Graduates of the IMGD program at WPI are prepared to work in the gaming industry, and apply their technical and creative skills in areas such as education, healthcare, art, and social sciences.
13. Becker College, Worcester, Massachusetts

John Hancock and Samuel Adams signed Becker College's founding charter. Notable graduates and students include Eli Whitney (1788), William Morton (1836), and Elliott P. Joslin. Founded in 1784, Becker College is one of the 25 oldest institutions in the U.S. The school, which enrolls nearly 1,700 students from around the country and across the globe, offers 29 areas of study across six academic divisions including Animal Studies, Business, Criminal Justice and Legal Studies, Design, Education and Psychology, and Nursing and Health Sciences.
The Design Division houses the Interactive Media Design program, which offers a BA in Interactive Media Design with Concentrations in Game Arts, Game Development and Programming, Game Production and Management, Game Design and Game Audio. A rigorous 60-credit MFA in Interactive Media is also available as well as a BA in Interactive Media Design/MFA Fine Arts 4+1 (Game+) Program, and a BS in Applied Computer Science with a Game Programming Specialization. A Minor in Interactive Media Management is also available.
Established in 2006, Becker's Interactive Media Program began with just 12 students. Today, the program has around 600 students, which led to expanded academic offerings and resources, such as the MFA in Interactive Media and the $7.3 million Colleen C. Barrett Center for Global Innovation and Entrepreneurship, which provides student's access to Game Studio and an Augmented Reality/Virtual Reality lab.
Besides a variety of game programs and resources, Becker College houses the Massachusetts Digital Games Institute (MassDiGI). Established in 2011, "MassDiGI is the result of creative collaboration among academia, industry and government, aimed at fostering the growth of the game industry and innovation economy." It is a statewide center, "designated by the Commonwealth, for entrepreneurship, academic cooperation and economic development across the Massachusetts digital and video games ecosystem."
Students work on real game properties, government simulation projects, and educational and serious games that the school says, "are making a difference in people's lives." Students participate in internships and externships, and are exposed to networking opportunities with industry professionals at conferences such as the Game Developers Conference (GDC) and Boston's PAX East, where they debut the games they created.
Becker students have produced digital technology applications for John Hancock, Meditech, UMass Medical School, Oracle, the Internal Revenue Service, and the U.S. Army, to name a few.
14. Otis College of Art and Design, Los Angeles, California

Otis College of Art and Design (OTIS) was established in 1918 by founder and publisher of the Los Angeles Times, General Harrison Gray Otis. The school serves approximately 1,100 full-time students enrolled in 11 BFA degree programs ranging from Digital Media (Animation, Game and Entertainment Design, and Motion Design) to Toy Design. The school also offers MFA degrees in Fine Arts, Graphic Design, Public Practice, and Writing as well as a variety of minors and certificate programs.
Offerings for aspiring game designers include a BA in Digital Media with a Game and Entertainment Design Emphasis and a Minor in Digital Media. Offered through the Digital Media Department, the BA program consists of unique courses such as Connections Through Color, Basic 3D for Storytellers, Game and Entertainment Basics, The Visual Language of Film, Games and Design, CG for Digital Artists, and Creative Action Studio. Students will also take a number of studio electives, practicums, and seminars, and complete a senior project and  capstone.
Through the curriculum, the school says Game and Entertainment Design students "will learn to create visual elements for games, apps, films, and other platforms." Students will also acquire the skills to "design the gameplay, environment, storyline, and characters of interactive games, apps, and websites. Using the most advanced CGI technologies, students acquire the techniques to create stunning visual effects for films, commercials, and videos." Students will have access to nine state-of-the-art labs and shops to complete their projects.
OTIS alumni have landed positions at major studios such as Pixar, Disney, DreamWorks, ILM, and Nickelodeon.
15. Miami University, Oxford, Ohio

Miami University was founded in 1809. The school serves around 24,600 students across one main campus (Oxford, Ohio), three regional campuses in Hamilton, Middletown, and West Chester, Ohio, and the European Center in Luxembourg. Miami offers bachelor's degrees in over 120 areas of study and graduate students choose from more than 70 master's and doctoral degree programs. Several associate's degrees as well as bachelor's degrees are offered through study at the regional locations.
The school consists of seven colleges, including the College of Creative Arts, which houses the Armstrong Institute for Interactive Media Studies (AIMS). This cross-disciplinary institute "works with students and faculty from across Miami University offering undergraduate, graduate certificate and graduate programs exploring the intersection of technology, design business and how digital technology is transforming traditional areas of inquiry," says the school.
The interdisciplinary BA in Interactive Media Studies (IMS) "sits at the intersection of Design, Technology, and Business." The program "exposes students to each of these three foundational areas, which provide a foundation for students to customize an advanced concentration, to focus their experience on a particular area of interactive media." 
The program requires 124 credit hours of study to graduate, including 64 in the IMS major. Course highlights include Game Programming, Game Studies, Game Development, Game Usability & Human Factors, The Business of Games, Research Methods in Games, Game Engine Scripting, Indie Game Development, and Game Prototyping, Pipeline, & Production. The option to add a Game Minor is available and students will complete a Senior Degree Project as well as an internship. 
The internship component allows students to gain hands-on experience at a local game design studio or other company. Miami University's location offers access to a number of studios such as Wraith Games, SGM Games, Max Gaming Technologies, Green Door Games, and many others.
16. Cogswell Polytechnical College, San Jose, California

Founded in 1887, Cogswell Polytechnical College serves approximately 527 students enrolled in undergraduate Games, Technology, Animation, Audio, and Business.  The school houses the Department of Game Design & Development, which offers a BA in Game Art. The program focuses on environments, characters, story and more, and teaches students "how to create the elements that breathe life into the gameplay experience," says the school. Two concentrations are available including Game Art and Game Writing.
The Game Art Concentration focuses on topics such as level design, storytelling, and team-oriented project creation for multiple platforms. Students in this area will "create visually striking 3D art and learn how to implement those art pieces into a game engine." Course highlights include Introduction to 3D Modeling, Environment Art, and Level Design.
The Game Writing Concentration focuses on "providing students with the professional skills necessary to conceptualize, develop and implement powerful stories in video games." Students will learn "game and level design while taking a deep dive into the narrative side of game development." Course highlights for this area include Game Writing I, Introduction to Game Storytelling, and Narrative Design & Leadership.
Students in both concentrations will team-up and collaborate with students from other concentrations to "bring the creative side of game design and development to life."
Graduates of the Game Programs at Cogswell Polytechnic have been hired by Atari, EA, Activision Blizzard, Zynga, 2K Games, and many others.
17. University of Advancing Technology, Tempe, Arizona

University of Advancing Technology (UAT) was founded in 1983 as the CAD Institute, where students were trained in computer-aided design and engineering. Today, UAT serves more than 1,000 students enrolled in 20 undergraduate technology degrees and five graduate degrees in advancing technology disciplines such as Artificial Life Programming, Game Design, Robotics and Embedded Systems, Digital Video, Advancing Computer Science, and Cyber Security.
UAT Game Design (established in 1995) "is the only fully accredited game design program that boasts a connection to a full continuum of game development degrees including: Game Design degree, Game Art and Animation degree, Game Programming degree and Serious Game Simulation degree," says the school. Specific options include BA degrees in Game Design, Game Art and Animation, and Virtual Reality. Students also have the opportunity to start as a Game Design major and then graduate with dual gaming degrees from the schools "prolific suite" of game degree programs.
All Games students are "exposed to all the tools of the trade, as well as programming and asset creation video game design skill sets. Coursework emphasizes design skills such as strong initial concepts, design documentation, game balancing and play testing, interactive storytelling, and interface design. Students will also take "a critical approach to the study of gameplay, player interaction, role-playing, and community dynamics as well as the unique features of the numerous game platforms available in the marketplace."
Game students will work with video game design artists and programmers to create innovative projects through team-based assignments and they will "develop the leadership skills to see video game design projects through from an initial design concept to a publisher-ready final product."
Other program highlights include access to the largest game incubator lab in Arizona, access to UAT Game Studios (a game production pipeline that fosters game development and connection to the game industry), access to UAT's Gamer Group (supported by the Games Job Fair networking event), and access to UAT's Greenlight Committee where game projects vie for UAT sponsorship at GDC. The committee awards winning teams the additional resources they need to ensure game readiness and celebrates students' innovative work.
Students can expect to complete the undergraduate programs in eight semesters and the MS program, which does not require a thesis, in as few as six semesters, thanks to flexible year-round schedules.
18. Ferris State University, Big Rapids, Michigan

Ferris State University was founded in 1884 as Big Rapids Industrial School. Celebrating its 135th anniversary, the school announced that Fall 2019 enrollment was 14,472 students across all campuses, including 9,175 on the main campus in Big Rapids. Ferris offers more than 190 educational programs through the Colleges of Arts and Sciences, Business, Education and Human Services, Engineering Technology, Health Professions, Pharmacy, Kendall College of Art and Design (KCAD), and Michigan College of Optometry.
Programs for aspiring game designers are offered through both the School of Digital Media in the College of Education and Human Services and Kendall College of Art and Design. The School of Digital Media offers a BAS in Digital Animation and Game Design (DAGD). Students in the program will learn how to create and manipulate 2D textures and images, model, rig, light, animate and render 3D characters and scenes, build content in industry leading game engines, author interactive applications and games, and design and create 3D game level mods.
In addition to game design and asset creation, the program prepares students to pursue careers in medical visualization, legal simulation, film, and more.
19. Quinnipiac University, Hamden, Connecticut

Founded in 1929 as the Connecticut College of Commerce, Quinnipiac University serves an estimated 10,000 students from 45 states and 53 countries, enrolled in more than 110 programs in the College of Arts and Sciences and eight professional schools across campuses in Hamden and North Haven, Connecticut. Quinnipiac has several programs for aspiring game designers offered through the College of Arts and Sciences. Options include a BA and a Minor in Game Design and Development, and a BA in Computer Science.
The Game Design and Development program has two Tracks: Game Design or Game Art. The Game Design Track focuses on building, designing and programming games. In the Game Art Track, students create game features, such as characters, props, architecture and levels.
Besides two in-demand Tracks, students have access to the Game Lab, where designers come together in interdisciplinary teams to build game prototypes. They may also participate in the QU in LA program, where students spend a semester interning at California companies such as Electronic Arts, Blizzard or Facebook. The Center for Game Development (CGD) is another unique option that the school says supports the continued development of select student and faculty games by providing financial support and resources during the summer and fosters a shared and continuing culture of technological know-how and innovation.
The school says that the BA in Computer Science degree takes a more holistic, interprofessional approach to the application of computer science. Students will learn the same fundamental concepts and techniques, but also how to apply them to other subject areas, such as game design, graphic design, business, and biology. The degree is designed to be flexible, allowing students to complete an additional major or minor.
20. University of Wisconsin – Whitewater, Whitewater, Wisconsin

University of Wisconsin-Whitewater (UW-W) was founded in 1868. The school serves nearly 13,000 students across two campuses. The school offers more than 50 undergraduate majors and 119 minors, many areas of emphasis, and dozens of graduate programs through five colleges and schools. The College of Arts and Communication is home to the Department of Art and Design. Program offerings here include BA degrees in Gaming Technology, Communication/Gaming, and Media Arts.
Gaming Technology students "will develop the programming skills and software development expertise required for cross-platform real-time interactive graphics and game development," says the school. Students focus on "building a solid base of programming skills necessary to take on real-world challenges related to developing games, mobile apps, websites and more." Course highlights for the program include C++ Sequence, Artificial Intelligence, Game Engine/Modding, and Graphics Programming. An Internship, Special Topics and Independent Study are also part of the program as well as a required Team Project.
Communication/Gaming course highlights include Video Production, Sound and Image, Game Development, Social Media Optimization, and Advanced Audio Techniques. Students in the program will "focus on the role of games in developing culture and communicating messages, intersections and interactions between audio and video, and approaches for the optimization of social media." Practicum courses provide "real-world opportunities for students to hone their skills in a variety of areas, including web video production, motion graphics, composition/scoring, advanced web development and marketing."
Media Arts (formerly Visual Media Design) "develops aesthetic sensibility and artistic design skills important in the production of original, creative, digital media content for interactive and time-based computer games, animation, websites, video, special effects, the 3D and motion graphic industry, and artistic productions."
Course highlights include Graphic Media Imaging as a Web/Interactive Media, Raster/Vector & 3-D Modeling, Graphics and Animation, and Digital Video/Motion Graphics. Students in the Media Arts program may also choose additional elective courses from the Gaming Technology or Communication/Gaming programs.
Two team-based projects courses provide a capstone for the degree programs. In addition, all students may participate in the MAGD Expo—a juried show of interactive entertainment, 3D, 2D, aural, virtual and animated creative work held annually at the University of Wisconsin, Whitewater.