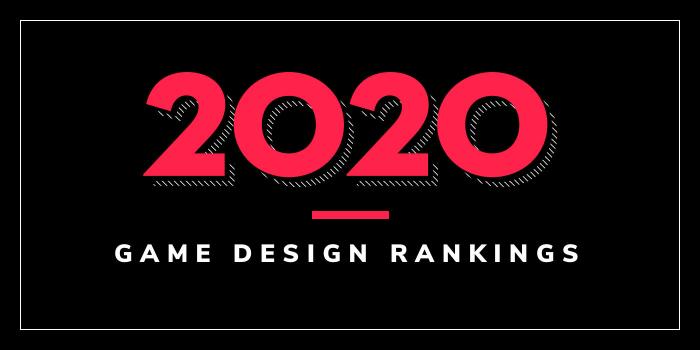 What are the top game design MS/MA programs in the U.S. for 2020?
Top 25 Game Design MS/MA Programs in the U.S. – 2020 College Rankings

| Ranking | School | State |
| --- | --- | --- |
| 1 | University of Southern California | California |
| 2 | University of Central Florida + Florida Interactive Academy | Florida |
| 3 | University of Utah | Utah |
| 4 | Rochester Institute of Technology | New York |
| 5 | University of California, Santa Cruz | California |
| 6 | Southern Methodist University | Texas |
| 7 | DePaul University | Illinois |
| 8 | Savannah College of Art and Design | Georgia |
| 9 | Georgia Institute of Technology | Georgia |
| 10 | Massachusetts Institute of Technology | Massachusetts |
| 11 | Full Sail University | Florida |
| 12 | University of Texas at Dallas | Texas |
| 13 | Drexel University | Pennsylvania |
| 14 | Michigan State University | Michigan |
| 15 | Academy of Art University | California |
| 16 | University of Pennsylvania | Pennsylvania |
| 17 | Texas A&M University | Texas |
| 18 | Northeastern University | Massachusetts |
| 19 | University of Florida | Florida |
| 20 | Worcester Polytechnic Institute | Massachusetts |
| 21 | George Mason University | Virginia |
| 22 | University of Advancing Technology | Arizona |
| 23 | American University | DC |
| 24 | Clemson University | South Carolina |
| 25 | University of Connecticut | Connecticut |
For our graduate degree rankings, we have evaluated animation schools and programs with the best Master of Arts (MA), Master of Fine Arts (MFA) and Master of Science (MS) options. To determine which degree matches your career goals, it is important to understand how each qualification differs.
The Master of Arts (MA) is an advanced degree that focuses on areas such as the humanities. MA degrees are typically available in the areas of communications, English, teaching, literature, linguistics, art, and languages. Seminars are the main method of learning for MA programs and most programs do not require a thesis.
The Master of Science (MS) degree option typically focuses on science, technology, engineering,  and math. This advanced degree often includes immersive lab work, scientific research, analysis, and evaluation. Unlike MA programs, most MS programs require a thesis.
The Master of Fine Arts (MFA) is academically recognized as a terminal degree and it is typically awarded in the visual, fine and performing arts. The MFA degree demands the highest level of professional competency in these areas and practicing artists must exhibit the highest level of accomplishment through the generation of a body of work.
Below are the Top 25 Game Design Schools and Colleges with MS-MA Programs for 2020.
1. University of Southern California, Los Angeles, California

Established in 1880, University of Southern California (USC) serves 47,500 students enrolled in more than 200 undergraduate programs, 300-plus graduate programs, and more than 150 minors. Program options for aspiring game designers are offered through Viterbi School of Engineering's Department of Computer Science and the Dornsife College of Letters, Arts & Sciences' Interactive Media & Games Division. Dornsife programs are offered in conjunction with the School of Cinematic Arts.
The Interactive Media & Games Division offers an MA in Cinematic Arts (Media Arts, Games and Health). The program is "administered by the Graduate School in conjunction with the Creative Media & Behavioral Health Center," says the school. The curriculum is based on "center crosscutting initiatives that represent the broadest descriptions" of the school's vision and mission. "Students benefit from emerging research, tools and methodologies that converge at the center, as well as the wide range of backgrounds represented by faculty, students and visiting scholars."
Viterbi School of Engineering graduate offerings include an MS in Computer Science (Game Development) and a PhD in Computer Science with a Game Design and Development or Virtual Reality research area. The MS consists of 32 units of study including eight units of required courses, 12 units of game development core courses, six units of project courses and six units of game development elective courses.
The school says, "students graduating from this program will be capable of engineering next generation games and simulations and their required technologies immediately upon graduation in the entertainment and serious game fields." Graduates will also be able to further their education in graduate programs in game development and computer science. "The long-term goal with this MS degree is to establish research and development directions that create a science of games, and an accompanying archival literature, that improves game development for both serious and entertainment purpose."
Students in all programs have access to the USC GamePipe Laboratory. Sponsored by Intel, Sony, and other technology companies, the Lab produces a "Demo Day," which allows students to showcase their work. The semiannual event attracts game industry reps, reporters, faculty, students, and hundreds of spectators from across the country.
2. University of Central Florida + Florida Interactive Academy, Orlando, Florida

Established in 1963 and serving approximately 68,571 students across four campuses, the University of Central Florida (UCF) is the nation's second-largest university and Florida's largest by enrollment. Also one of the nation's youngest universities, UCF offers more than 220 degree programs across 13 colleges. One of the school's largest programs is game design.
UCF houses the Florida Interactive Entertainment Academy (FIEA). This graduate video game design school opened its doors to "a select group of future game developers and creators" in August of 2005. Today, FIEA serves dozens of students enrolled in a 16-month MS in Interactive Entertainment program with three Tracks including Tech Art, Programming, and Production.
The MS offers an "immersive, project-based video game curriculum that's as active as it is interactive." Students in the program will "become part of a team of fellow students" who will work together as "producers, programmers and artists on real-world projects with milestones and tight deadlines." Projects are overseen "by some of the best video game faculty in the world."
UCF also offers an MA in Digital Media - Visual Language and Interactive Media. Students in this program may pursue a non-thesis option and portfolios might include works of art, software or games students have designed, written articles, and proposals or projects they have created.
3. University of Utah, Salt Lake City, Utah

Founded in 1850, University of Utah (The U) serves nearly 33,000 students from across the U.S. and around the world. The school offers over 100 undergraduate and more than 90 graduate programs across 17 colleges and schools, and nearly 100 departments. The College of Engineering and the College of Fine Arts are home to the Entertainment Arts and Engineering Master Games Studio (EAE:MGS).
The Studio offers a Master of Entertainment Arts and Engineering (MEAE). Tracks include Game Arts, Game Engineering, Game Production, and Technical Art. According to the Studio, "all students in each of the tracks have a series of common classes including Game Design, Rapid Prototyping, Pre-Production, and Final Project." In addition, students will "develop and enhance a professional game portfolio" and they will have the opportunity to complete an internship in the game industry.
The EAE Interdisciplinary Teaching Program now offers a BS in Games (BSG) designed "specifically for students who aspire to hold careers within the professional games industry or a related field, such as simulation, edutainment, or visualization." The new program "provides a technical grounding in mathematics and computational skills, core knowledge in the design and production of digital playable experiences, and specialization options that prepare students for technical supervision, tools development and overall game design." A Minor in Games is also available.
The David Eccles School of Business and the Entertainment Arts & Engineering Program also offer a dual degree program "designed to take advantage of the complementary elements in the Masters of Business Administration (MBA) and the Masters of Entertainment Arts & Engineering." The MBA/MEAE, which aims to bridge the 'suits' vs. the 'dev' divide, takes three years to complete. Students may also complete their BS and MS degrees in just five years through the schools five-year BS/MS program. The BS is offered through the School of Computing.
4. Rochester Institute of Technology, Rochester, New York

Rochester Institute of Technology (RIT) was born of an unlikely institutional marriage of an influential cultural association, the Rochester Athenaeum (est. 1829), and a technical training school, the Mechanics Institute (est. 1885). The Institute adopted the name Rochester Institute of Technology in 1944 and awarded its first bachelor of science degree in 1955.
Today, RIT serves more than 19,000 students majoring in everything from Art and Design to Urban Community Studies. The B. Thomas Golisano College of Computing and Information Sciences (GCCIS) houses the School of Interactive Games & Media (IGM). Here students can earn an MS in Game Design and Development that the school says, "explores the entertainment technology landscape as well as other related areas."
The MS program "simultaneously covers the breadth of the game design and development landscape through study in topics such as computer graphics, game engines, interactive narrative, and game world design," says the school. While the program is" characterized by a clear focus on development," it also "educates developers in the design process." The degree is designed "specifically for students who aspire to hold careers within the professional games industry or a related field such as simulation, edutainment or visualization."
The program's curriculum consists of required courses, five advanced elective options, and a team-based capstone experience that culminates in a defense before program faculty, as well as a public exhibition. "Combined, these requirements provide a unique and comprehensive educational experience for individuals who aspire to a career in the game development industry."
Graduates of the RIT MS Game and Development Program goon toe become game developers, level designers, game designers, technical artists, user interface programmers, software engineers, interactive developers, quality assurance testers, artificial intelligence programmers, and more.
5. University of California, Santa Cruz, Santa Cruz, California

The University of California - Santa Cruz (UCSC) opened in 1965. The school serves 18,805 students enrolled in more than 100 degree programs across 10 colleges. The Jack Baskin School of Engineering (BSOE) started the first undergraduate game major in the University of California System. BSOE's Department of Computer Science (CS) and Computational Media (CMPM) offers an MS in Games & Playable Media and Serious Games, and MS and PhD degrees in Computational Media or Computer Science with a Games Focus.
The UCSC MS in Games & Playable Media and MS in Serious Games are "five-quarter, intensive programs in which students are offered unparalleled access to a game industry experience," says the school. The programs offer in-depth studio tours, an award-winning advisory panel and faculty, industry speakers and events, and a diverse curriculum with courses in design, coding, art, sound design and professional practice. 
Students in all programs have access to a brand new state-of-the-art facility (studio) with top-of-the-line equipment and software tools as well as The Center for Games and Playable Media (CGPM). Established in 2010, CGPM houses five games-related research labs including the Expressive Intelligence Studio — one of the largest technical game research groups in the world. CGPM partners include eBay, Google, Sony, EA, Microsoft Studios, the MacArthur Foundation, the Defense Advanced Research Projects Agency (DARPA), and many others.
6. Southern Methodist University, Dallas, Texas

Founded in 1911, Southern Methodist University (SMU) serves nearly 11,800 students enrolled in more than 200 programs through seven schools. The Meadows School of the Arts offers several programs for aspiring game designers including a BFA in Art/Masters of Interactive Technology (M.I.T) in Digital Game Development.
The BFA/M.I.T is supported by the Guildhall—SMU's School of Video Game Development (est. 2003). The school says, "this program provides the breadth and rigor of a BFA degree, which will develop skills supportive of the in-depth investigation of digital game development fundamentals through the curriculum of the Master of Interactive Technology."
BFA/M.I.T and M.I.T Specializations include Art, Design, Production, or Programming for Games. In addition to the M.I.T in Digital Game Development, the Guildhall offers a Professional Certificate in Digital Game Development "tailored to students who wish to become actively involved in the game development industry as designers or artists." Specializations for the program include Art Creation, Level Design, Production, and Software Development.
7. DePaul University, Chicago, Illinois

Established in 1898, DePaul University serves nearly 22,500 students from across the U.S. and about 70 countries. The school offers 300 programs of study across 10 colleges and schools and two campuses in Chicago. One of the first universities to offer a game development course for smartphones, DePaul offers game design programs at all levels through the College of Computing and Digital Media (CDM).
The MS in Game Programming is designed for students interested in "game development programming at the highest level," says the school, "including real time computing, computer graphics, and professional retooling for the game industry." Students in the program learn about animation, artificial intelligence, software engineering, computer graphics, software architecture, and networking.
"The game programming degree addresses the real-world needs of industry through special, topic-based classes. Courses are taught with a mixture of theory and applied practice. Covering both emerging trends and proven knowledge, the program's content is always relevant and current. This combination of approaches allows students to understand the connection between realized applied systems and issues they'll likely face professionally in years to come."
Students in all Game Design programs have access to Prototype, Iterate, and Play Space and all CDM labs, including several that intersect with the program specifically, including game development and research, gameplay, virtual reality, and playtest and usability labs. Prototype, Iterate, and Play Space is a cross-disciplinary design, research, development, and assessment game lab housed in CDM that focuses on games exploring the human experience.
Recent DePaul Game Program graduates have gone on to work at Disney Interactive Studios, NeatherRealm Studios, Owlchemy Labs, Firaxis, Wargaming, Phosphor Games, Carbine Studios, Scientific Games, and many others. Several graduates have gone on to form their own gaming companies, including Young Horses, whose indie hit Octodad was developed at DePaul.
8. Savannah College of Art and Design, Savannah, Georgia

Savannah College of Art and Design (SCAD) was founded in 1978. With campuses in Savannah, Atlanta, Hong Kong, and Lacoste, France, the school serves more than 14,000 students from all 50 states and more than 100 countries. Offering more degree programs and specializations than any other art and design university, SCAD houses the School of Digital Media, which offers an MA in Interactive Design and Game Development (IDGD).
Offered at the Savannah and Hong Kong campuses, the MA consists of 45 credit hours of study including courses such as Contemporary Art, Interactive Web Design, and Collaboration. Students in this program will complete an Interactive Design and Game Development MA Final Project.
At SCAD, professionals visit with students every quarter, interviewing for positions and reviewing portfolios. Recent visitors include representatives from Zynga, Blizzard Entertainment, Electronic Arts, Crystal Dynamics and Activision. Graduates have been recruited by Epic Games, Sucker Punch Productions, Firaxis Games, and many others.
9. Georgia Institute of Technology, Atlanta, Georgia

Georgia Institute of Technology (GeorgiaTech) was founded in 1885. The school opened for classes October 8, 1888, with just 129 students enrolled in a BS in Mechanical Engineering program. Today, GeorgiaTech serves more than 25,000 undergraduate and graduate students enrolled in over 80 degree programs and 50-plus minors in six colleges and 28 schools.
Degrees are offered through the colleges of Design, Computing, Engineering, Sciences, the Scheller College of Business, and the Ivan Allen College of Liberal Arts. The MS programs are available through GeorgiaTech's College of Computing.
Degree options include an MS degree in Digital Media (formerly Information Design and Technology), an MS in Digital Media – Human Computer Interaction (HCI), a BS/MS in Computational Media/Digital Media and an Accelerated 5-Year Bachelor's/Master's. The MS in HCI is an interdisciplinary program offered collaboratively by four Schools: Interactive Computing; Literature, Media, and Communication (LMC); Psychology, and Industrial Design.
The programs, known as [email protected], are part of an institute-wide initiative designed to advance the game community through interdisciplinary research, funding opportunities, tech transfer and expansion of industry collaborations. All [email protected] students have access to resources offered by the GVU Center at Georgia Tech and the Institute for People and Technology, as well as international campuses in China (the world's biggest games industry in terms of users and revenue) and France.
Graduates of the Game Programs at GeorgiaTech are prepared to seek careers in Interactive Game Design and Simulation, Special Effects Creation, Animation, 3-D Modeling, Robotics, Virtual and Augmented Reality and Web Design.
10. Massachusetts Institute of Technology (MIT), Cambridge, Massachusetts

Massachusetts Institute of Technology (MIT) was founded 1861. The school serves around 11,575 students enrolled in more than 100 programs across five schools including the School of Architecture and Planning, the School of Engineering, the School of Humanities, Arts, & Social Sciences (HASS), MIT Sloan School of Management, and the School of Science. Massachusetts Institute of Technology is also home to MIT Game Lab, MIT Education Arcade, and Singapore-MIT GAMBIT Game Lab.
Together, the labs provide the opportunity to study, design, and develop games as a supplement to several degree programs, so anyone interested in games can create their own program of study. Students may choose MS in Comparative Media Studies (CMS) with a Games and Interactive Media "Cluster" or an MS in Computer Science and Engineering.
Electrical Engineering and Computer Science offers an extensive graduate program in Computer Science, which allows students to "study and participate in active research of aspects in computer science that are vital in the creation of modern digital games, such as artificial intelligence, networking, and computer graphics."
Course highlights include Topics in Algorithmic Game Theory, Computer Games and Simulations for Investigation and Education, Computer Graphics, Laboratory in Software Engineering, Advanced Topics in Computer Graphics, Artificial Intelligence, Elements of Software Construction, Imagination, Computation, and Expression Studio, Introduction to Computer Science and Programming, Transmedia Storytelling: Modern Science Fiction, and Communicating with Web-Based Media. Students also have the opportunity to take art direction and management & production courses.
11. Full Sail University, Winter Park, Florida

Established in 1979, Full Sail University serves 15,000 students enrolled in 78 Bachelor's, Master's, and Associate degrees in the areas of Entertainment, Media and the Arts. Graduate Certificates are also available. The Game School at Full Sail offers an MS in Game Design or Mobile Gaming (online).
MS in Game Design coursework focuses on user experience research, production, and design. Course highlights include Methods and the User Experience, Prototyping and Content Creation, and Game Usability and Testing. The program, which allows students to choose a track that allows them to focus on a chosen area of expertise, culminates in a Game Capstone Experience.
The Mobile Gaming MS consists of graduate level mobile gaming research, emerging technologies, and the application of theoretical concepts to game design and development. Course highlights include Computer Science for Engineers, Game Development Frameworks, and Mobile Gaming Business. The program culminates in a thesis, which allows students to complete a fully playable mobile game of their own design.
12. University of Texas at Dallas, Dallas, Texas

The University of Texas at Dallas (UT Dallas) was established as a member of the University of Texas System in 1969. The school serves 28,755 students enrolled in more than 130 academic programs across seven schools. The School of Arts, Technology, and Emerging Communication (ATEC) was created in 2015. It merged two long-running programs at UT Dallas: the program in Arts and Technology and the program in Emerging Media and Communication. ATEC serves more than 1,500 students, including 100 MA and MFA students and 40 doctoral students.
The MA in Arts, Technology, and Emerging Communication (MA ATEC) teaches "foundational theories and methodologies in technology and media studies as well as contemporary debates in the fields," says the school. "After their coursework, students undertake independent research by branching out to pursue their own scholarly questions for their theses."
Research areas include Game Studies, Game Development, Interaction Design, Computer Animation, and more. Students will research, learn, and work within a "vibrant lab and studio culture" that "fosters collaboration across disciplines, blending art, technology, humanists, scientists, roboticists, programmers, designers, and innovators." Just a few studios include the 3D Studio, Animation Research Lab, ArtSciLab, Creative Automata Lab, Games Research Lab, LabSynthE, Narrative Systems Research Lab, SP&CE Media, and the Public Interactives Research Lab (PIRL).
The MA ATEC program is a good pathway whether students are interested in teaching arts- and technology-related courses in colleges and universities or working in a professional studio or design practice. Graduate students may choose to pursue additional research opportunities.
13. Drexel University, Philadelphia, Pennsylvania

Drexel University was established in 1891. It serves nearly 29,000 students enrolled in over 200 degree programs across 15 colleges and schools. The Westphal College of Media Arts & Design also offers MS and PhD degrees in Digital Media. The two-year MS program features comprehensive studies in Gaming and Digital Media History, Theory and Methods, 3D Modeling, Interactivity, and Animation. MS students may also add a Graduate Certificate in Learning in Game Based Environments to enhance the degree.
All students have access to Drexel Game Design and the RePlay Lab. DGD and RePlay are collaborative efforts between the Digital Media program (in the Westphal College of Media Arts & Design) and the Computer Science department (in the College of Computing and Informatics).
14. Michigan State University, East Lansing, Michigan

Founded in 1855, Michigan State University (MSU) serves around 50,350 students from 142 countries, every state in the United States and every county in Michigan. MSU students have access to more than 200 programs across 17 degree-granting colleges. The College of Communication Arts and Sciences houses the Media and Information (MI) Department, home of the Game Design and Development Program.
Founded in 2005, the program offers an MA in Media and Information with a Focus in Human Computer Interaction (HCI) + Serious Game Design & Research Certificate and a PhD in Information and Media. HCI courses emphasize project experience as they cover human-centered design methods, theory, and practice. Course highlights include Interaction Design, Theories of Media Information, and Introduction to Quantitative Research Methods.
The Serious Game Design & Research Certificate consists of three courses: Foundations of Serious Games, Understanding Users, and Theories of Games and Interaction for Design. Courses for the certificate program may be completed entirely online. Upon successfully completing any of these courses, students earn an official Michigan State University Badge, which can be featured on their social media profiles and/or online portfolios. Students also earn a composite badge when they complete all three courses and earn the Certificate.
The PhD program offers a range of research areas including Human-Computer Interaction (HCI), Games and Meaningful Play, Game Design and Development, Human-Centered Technology Design, Computational Communication, Media Innovation, and Design and Entrepreneurship, to name a few.
Besides offering a variety of graduate programs for game designers, the College of Communication Arts and Sciences houses the Games for Entertainment and Learning (GEL) Lab. According to the College, the mission of the GEL Lab is to "design innovative prototypes, techniques, and complete games for entertainment and learning and to advance state of the art knowledge about social and individual effects of digital games."
15. Academy of Art University, San Francisco, California

Academy of Art University was established in 1929. The school serves more than 7,200 students from 112 countries enrolled in dozens of Art, Design, Fashion, and Architecture programs. Degrees are offered at both the undergraduate and graduate levels, and many programs are available entirely online.
The School of Game Development offers an MA in Game Development. This multidisciplinary program provides a "well-rounded education in the arts with an emphasis on understanding and applying techniques including 3D modeling, animation and lighting in video game production."
Courses cover techniques in game design, game programming, concept art, 3D modeling, and animation, among others. Course highlights include History of Comics: International and Alternative Comics, 3D Character Artist, 3D Environment Modeling, Environment Concept, Game/Level Design, UX/UI, and The Power of Signs: Semiotics & The Visual Arts. Internships, collaborative projects, and Games Portfolio Preparation are also part of the program.  
The Game Development program at Academy of Art prepare students for positions such as game designer, 3D modeler, concept artist, UI/UX designer, and many others.
16. University of Pennsylvania, Philadelphia, Pennsylvania

Founded in 1740, the University of Pennsylvania (UPenn) is one of the nation's oldest universities. The school serves 25,860 students enrolled in more than 400 programs across 16 schools. Programs for aspiring game designers are offered The School of Engineering and Applied Science houses the Center for Human Modeling and Simulation (HMS), which offers a Computer Graphics and Game Technology Program (CGGT) leading to an MS in CGGT. 
The Center for HMS established the CGGT program in 2004 with a goal to expose recent graduates, as well as individuals returning from industry, to state-of-the-art graphics and animation technologies, as well as interactive media design principles, product development methodologies and engineering entrepreneurship.
The CGGT program prepares students for positions requiring multidisciplinary skills such as game programmers, designers, technical animators, and technical directors. Students in the CGGT program use the equipment and resources available through the SIG Center for Computer Graphics. Opportunities for specialization are provided in such core areas as human/computer interfaces and production management, creative design, animation and simulation technology, and art and animation.
Graduates of the CGGT program can be found in major game, film, and video companies such as Disney, DreamWorks Animation, Electronic Arts, Acclaim, and Crystal Dynamics.
17. Texas A&M University, College Station, Texas

Texas A&M University (TAMU) is the state's first public institution of higher learning. Established in 1876, the school serves 69,465 students enrolled in nearly 400 degree programs across 16 colleges and schools. The College of Architecture founded the Visualization program in 1989. The program offers an MS in Visualization that it says is "designed to prepare students for a range of long-term careers in visualization."
"The program helps students develop the focused expertise and broad foundation knowledge needed in this rapidly developing field." The core curriculum will give students a "basic grasp of the artistic, scientific, cognitive, and technical foundations of the discipline. Beyond this broad training, the program requires students to develop a strong focus area of advanced expertise, and to complete a research thesis in this focus area."
All Visualization students have access to the Department of Visualization's Learning Interactive Visualization Experience Lab. Established in 2014, the Lab "provides space for graduate and undergraduate students to create game prototypes while learning about game theory, the art and science of the visual image and game history. In the lab, through research and rigorous scientific process, students collaborate with specialists from visualization, educational psychology, computer science and engineering to create innovative, interactive software."
Visualization program alumni can be found working as creative talent for Hollywood's leading animation and special effects studios including Pixar, Blue Sky, Walt Disney Animation Studios, Industrial Light and Magic, DreamWorks Animation, Rhythm & Hues Studios and Reel FX.
18. Northeastern University, Boston, Massachusetts

Northeastern University was established in 1898. The school serves nearly 37,000 students enrolled in over 150 undergraduate majors and concentrations and more than 125 graduate programs across nine colleges and schools. Programs for game designers are offered through the College of Arts, Media and Design (CAMD), which serves nearly 6,000 students, and the College of Computer and Information Science (CCIS) - Khoury College of Computer Sciences. The MS in Game Science is jointly offered through CAMD and CCIS - Khoury, along with Graduate Certificates in Game Design and Game Analytics.
The Game Design Certificate consists of five 12-week courses, and the Game Analytics Certificate requires 20 credit hours of study. The interdisciplinary MS requires 34 credit hours of study and it offers three concentrations: Game Analytics, Game User Research and Game Design and Development. The program highlights paid co-op work, research opportunities in the schools more than30 federally funded research centers, and in-class case studies and exercises. The MS can be completed in two years.
19. University of Florida, Gainesville, Florida

Founded in 1858 as Gainesville Academy, University of Florida (UF) serves more than 56,000 students enrolled in 30 certificate programs, 100 undergraduate majors, and 200 graduate programs across more than a dozen colleges and schools. The College of Arts houses the Digital Worlds Institute, which offers a Masters in Digital Arts & Sciences (MiDAS) degree program that it says "provides students with the technical, design, and professional skills needed to enter and thrive in contemporary interactive media industries."
The one-year accelerated program "focuses in the area of emerging technologies including Augmented and Virtual Reality (AR / VR)." Students will work in a collaborative environment and receive personal attention from faculty and content area experts. Areas covered include Technical Skills, Game Engines and Development (i.e. Unity 3D), Software and Hardware Integration, Design and Interactivity, Visual Design Tools/Tech, 3D for VR/AR, UI-UX, Audio, Digital Compositing, Digital Storytelling, Professional Skills, Project Proposals, Production Pipelines, Project Management, and Critical Thinking and Analysis.
The MiDAS program is "designed for individuals from diverse backgrounds seeking to further their professional career goals at the intersection of interactive media, innovation, and emerging technologies." Students will create "industry-standard projects that provide the basis for their professional portfolios to be career-ready upon graduation."
Graduates of the Digital Arts & Sciences programs at UF have gone on to work for companies such as DreamWorks and Microsoft, as well as to form their own successful startups.
20. Worcester Polytechnic Institute, Worcester, Massachusetts

Established in 1865, Worcester Polytechnic Institute (WPI) serves nearly 6,500 students from more than 60 countries and 45 states. WPI's 14 academic departments offer more than 50 undergraduate and graduate degree programs in science, engineering, technology, business, the social sciences, and the humanities and arts, leading to bachelor's, master's, and doctoral degrees.
The Division of Arts & Sciences offers an MS in Interactive Media & Game Development (IMGD) and PhD and Graduate Certificate Programs in Computer Science.
One of the earliest gaming programs in the U.S., WPI's IMGD program "blends the artistic and technical aspects of game development and interactive media," says the school. Students will explore diverse topics such as Writing for Games, Game Audio, Artificial Intelligence, Digital Painting, Virtual Reality, and 3D Modeling. As part of WPI's project-based learning model, every student will complete a Major Qualifying Project (MQP). This culminating experience "enables students to synthesize their learning and tackle real-world problems in their fields of study."
The MQP provides the opportunity for IMGD students to "showcase their talents and immerse themselves in creating something they are passionate about." The project "also adds another impressive piece to student portfolios and, in some cases, give students their very first game credits."Some students build game prototypes, while others create game development tools, interactive art exhibits, and other forms of media.
Graduates of the IMGD programs at WPI are prepared to work in the gaming industry, and apply their technical and creative skills in areas such as education, healthcare, art, and social sciences.
21. George Mason University, Fairfax, Virginia

Founded as a branch of the University of Virginia in 1949 and serving nearly 37,700 students, George Mason University (GMU) is the largest public university in the Commonwealth of Virginia. The school offers 200 degree programs through 11 colleges and schools, including the College of Visual and Performing Arts—home of the Computer Game Design Program, which leads to a BFA or MA.
The school says that the 36 credit hour MA "consists core courses drawn from interactive design, creative writing for games, the business of games, game design and production, and electives from CVPA or other Mason graduate programs." The curriculum "is designed to reflect the games industry's demand for an academically rigorous technical program coupled with an understanding of the artistic and creative elements of the evolving medium."
All students have access to the Virginia Serious Game Institute based on George Mason University's Science and Technology Campus. The institute offers Virginia schools, businesses and universities hands-on training, certification, research and development assistance by merging game company incubation and rapid prototype development.
The Virginia Serious Game Institute is the only one of its kind on the East Coast and one of only four global affiliated facilities established primarily to support early-entry entrepreneurship into the simulation and game design industry.
Graduates of the MA program are prepared for employment in the computer game design and development fields, which include the commercial, entertainment, serious games, and federal sectors.
22. University of Advancing Technology, Tempe, Arizona

University of Advancing Technology (UAT) was founded in 1983 as the CAD Institute, where students were trained in computer-aided design and engineering. Today, UAT serves more than 1,000 students enrolled in 20 undergraduate technology degrees and five graduate degrees in advancing technology disciplines such as Artificial Life Programming, Game Design, Robotics and Embedded Systems, Digital Video, Advancing Computer Science, and Cyber Security.
Established in 1995, UAT Game Design "is the only fully accredited game design program that boasts a connection to a full continuum of game development degrees including: Game Design degree, Game Art and Animation degree, Game Programming degree and Serious Game Simulation degree," says the school. Graduate options include the MS in Game Production and Management.
All Games students are "exposed to all the tools of the trade, as well as programming and asset creation video game design skill sets. Coursework emphasizes design skills such as strong initial concepts, design documentation, game balancing and play testing, interactive storytelling, and interface design." Students will also take "a critical approach to the study of gameplay, player interaction, role-playing, and community dynamics as well as the unique features of the numerous game platforms available in the marketplace."
Game students will work with video game design artists and programmers to create innovative projects through team-based assignments and they will "develop the leadership skills to see video game design projects through from an initial design concept to a publisher-ready final product."
Other program highlights include access to the largest game incubator lab in Arizona, access to UAT Game Studios (a game production pipeline that fosters game development and connection to the game industry), access to UAT's Gamer Group (supported by the Games Job Fair networking event), and access to UAT's Greenlight Committee where game projects vie for UAT sponsorship at GDC. The committee awards winning teams the additional resources they need to ensure game readiness and celebrates students' innovative work.
Students can expect to complete the MS program, which does not require a thesis, in as few as six semesters, thanks to flexible year-round schedules.
23. American University, Washington, DC

American University (AU) was founded in 1893. The school serves more than 14,000 students enrolled in over 170 programs, through eight colleges and schools. AU is also home to the Game Lab, which the school says serves as a hub for experiential education, persuasive play research, and innovative production in the fields of games for change and purposeful play.
An MA and a Certificate in Game Design are offered jointly by the School of Communication (SOC) and the College of Arts and Sciences (CAS). The school says that the MA in Game Design is the only program of its kind in the U.S. The two-year, 36 credit hour program consists of courses such as The Design of Play, Game Design & Art Pipeline Production, Game Development, Game Research Methods, Games and Rhetoric, Digital Art Tools and Techniques, Advanced Game Development, Making Meaningful Games, Introduction to 3D Static Modeling, and 3D Animation. A Master's Portfolio Capstone (1-6 credits) is also part of the program and elective options help enhance the degree. Elective highlights include 3D Modeling for Games, Web and Mobile Development, Social Marketing for Social Impact, and Strategic Communication Management.
Students seeking a computer science degree with games have another degree option. The CAS, Department of Computer Science offers a Game and Computational Media Track within the MS in Computer Science. Course highlights include Game Programming, Artificial Intelligence, Software Engineering, and Object-Oriented Programming. An internship, independent study project, and computer science capstone project are also part of the program.
Students in both get real-world experience by working on projects with the Game Studio, and with clients such as Educational Testing Service, the National Institute of Mental Health, Smithsonian American Art Museum, and WAMU 88.5. Students will also connect with industry professionals and peers through Connect through "renowned DC-held events," such as Global Game Jam, MAGfest, Games+, Indie Arcade at the Smithsonian Museum, and more.
24. Clemson University, Clemson, South Carolina

Established in 1889 as Clemson Agricultural College, Clemson University serves just over 25,800 students. The school offers more than 190 undergraduate majors, minors and graduate programs through the Graduate School and the Colleges of Agriculture, Forestry and Life Sciences; Architecture, Arts and Humanities; Behavioral, Social and Health Sciences; Business; Education; Science, and Engineering, Computing and Applied Sciences. Calhoun Honors College and Emeritus College are also part of Clemson.
The College of Engineering and Science offers an MS in Digital Production Arts (MS DPA), and a combined Bachelor's/Master's Plan (BS/MS) in Computer Science. Students in the Computer Science programs will take classes such as Algorithms and Data Structures, Software Engineering, Computer Security, Computer Graphics, Game Design and Network Programming.
Launched in 2017, the MS DPA offers significant collaboration with the departments of Art and Performing Arts. The MS has both thesis and non-thesis options and all students have the opportunity to enroll in the Minor in DPA program, which emphasizes Games, Visual Effects, and Computer Animation.
Programs are offered at the main campus in Clemson or in Charleston, South Carolina.
25. University of Connecticut, Storrs, Connecticut

The University of Connecticut was founded in 1881 by brothers Charles and Augustus Storrs under the name Storrs Agricultural School. At the time, SAS was a two-year vocational school, which eventually became Storrs Agricultural College, and began officially admitting women. Today, UConn serves just over 32,250 students enrolled in 116 majors, 17 graduate degrees, 88 research and professional practice fields of study, and six professional degree programs through 14 colleges and schools.
The School of Fine Arts at University of Connecticut (UConn) houses the Digital Media and Design Department, which offers an MA in Digital Media & Design: Game Design and an Online Digital Media Graduate Certificate. Students in all programs are required to take the foundation curriculum, which consists of Digital Foundation, Animation Lab, Fundamentals of Web Design, Digital Culture, Motion Graphics I, Critical Perspectives of Digital Media, Student Agency (two semesters), and Design Lab.
Game design course highlights include Intro to Digital Game Design, Virtual Worlds & Simulations, Stories in Video Games, Advanced Digital Game Design & Development, Game System Design, Multiplayer Game Development, Disruptive Technologies, and Advanced Game Scripting.
Advanced coursework covers Instructional Game Design, Game-Based Teaching and Learning, Emerging Interactive Interfaces/Techniques, Human-Computer Interaction, and Psychological Principles for Improved Design, Motivation, Education, and Character Design. Current research areas include Game-Based Teaching and Learning, Virtual Reality and Augmented Reality Apps, Interactive Exhibits, Academic Entrepreneurship and Innovation, to name few.
Besides a variety of course offerings and research areas, the programs highlight internship opportunities at places such as Disney, Boston Interactive, and Rocket Software and participation in DMD Club, After Effects Club, and Video Game Club. Game graduates are prepared to seek positions such as 3D Character Artist, Technical Artist, Gameplay Programmer, Game Designer, User Experience Designer, Producer, VFX Artist, Cinematic Designer, Entrepreneur, Instructional Designer, and many others.