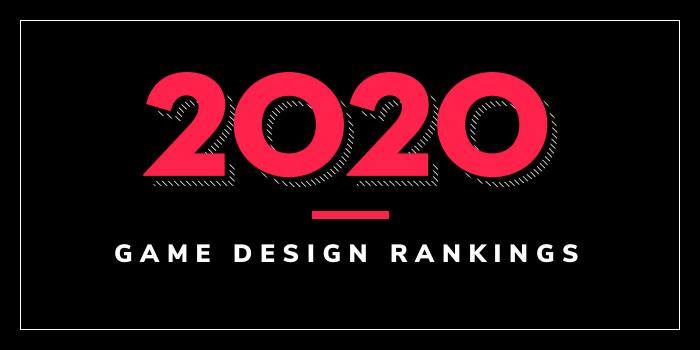 What are the top programs with game design BFA programs for 2020?
Top 25 Game Design BFA Programs – 2020 College Rankings

| Ranking | School | State |
| --- | --- | --- |
| 1 | New York University | New York |
| 2 | Carnegie Mellon University | Pennsylvania |
| 3 | Savannah College of Art and Design | Georgia |
| 4 | Gnomon School of Visual Effects | California |
| 5 | Academy of Art University | California |
| 6 | The New School's Parsons School of Design | New York |
| 7 | Northeastern University | Massachusetts |
| 8 | Ringling College of Art and Design | Florida |
| 9 | Laguna College of Art and Design | California |
| 10 | The Ohio State University | Ohio |
| 11 | George Mason University | Virginia |
| 12 | College for Creative Studies | Michigan |
| 13 | University of Wisconsin – Stout | Wisconsin |
| 14 | New York Film Academy | California |
| 15 | Bradley University | Illinois |
| 16 | University of Connecticut | Connecticut |
| 17 | Cleveland Institute of Art | Ohio |
| 18 | Rocky Mountain College of Art and Design | Colorado |
| 19 | Southern Arkansas University | Arkansas |
| 20 | Woodbury University | California |
| 21 | Lawrence Technological University | Michigan |
| 22 | California State University East Bay | California |
| 23 | Moore College of Art and Design | Pennsylvania |
| 24 | Maryland Institute College of Art | Maryland |
| 25 | Shawnee State University | Ohio |
Below are the Top 25 Game Design schools and colleges in the US offering Bachelor of Arts (BFA) degree programs for 2020. For an explanation of ranking criteria, click here.
1. New York University, New York, New York

Founded in 1831 and serving more than 60,500 students, New York University (NYU) is the largest private university in the U.S. With the highest number of international students in America, the school has degree-granting campuses in New York, Abu Dhabi, and Shanghai and operates 11 global academic centers and research programs in more than 25 countries. With more than 19,000 employees, NYU is also one New York's largest employers.
Founded in 1965, Tisch School of the Arts is part of NYU and home to the NYU Game Center, Department of Game Design. Also known as Tisch or TSOA, the school serves more than 3,000 students from 48 states and 39 countries. Tisch students are enrolled in games, animation, film, interactive media, acting, dance, design, performance, writing for musical theatre, stage, screen & television, preservation, recorded music, photography, and public policy programs at the BA, BFA, MA, MFA, MPS and PhD levels.
The NYU Game Center, Department of Design offers BFA in Game Design. The BFA program is organized in three primary areas including Game Studies, Game Design, Game Development, four production areas including Programming, Visual Design, Audio Design, and Game Business, and a Capstone. Students may specialize in Game Programming, Visual or Audio Design, or Game Development.
Classes and events for all Game Center programs take place at the Media and Games Network (MAGNET) at the NYU Brooklyn campus. MAGNET also houses the Game Center Open Library, which is "the largest collection of games held by any university in the world."
2. Carnegie Mellon University, Pittsburgh, Pennsylvania

Founded in 1900, Carnegie Mellon University (CMU) serves more than 14,500 students representing over 100 countries. The school offers more than 100 programs across seven colleges. The School of Art offers a broad-based BFA with four primary concentrations that allow students to pursue particular areas of media-based study or to combine areas of interest to create hybrid or specialized practices. The Electronic and Time Based Media Concentration "explores the creative potential of emerging technologies and the critical impact they have on contemporary culture," says the school.
The curriculum "implicitly encourages cross-disciplinary study and as such, many students merge fine art and computer science based interests either within the BFA program or through the unique BCSA degree program." Areas of focus include animation, game arts, computational and interactive art, video and performance, tactical media, bioart, and tangible media. Students particularly interested in the intersection of art and technology can take advantage of expanded course offerings through the Integrative Design, Arts, and Technology (IDeATe) Program. Course highlights include Game Design, Game Design, Prototyping, and Production, Computer Game Programming, Experimental Game Design, Advanced Game Studio, Character Rigging for Production, and Understanding Game Engines.
Work by graduating seniors in the BFA program is showcased in a final group exhibition presented in the Miller ICA at the close of each spring semester.
3. Savannah College of Art and Design, Savannah, Georgia

Savannah College of Art and Design (SCAD) was founded in 1978. With campuses in Savannah, Atlanta, Hong Kong, and Lacoste, France, the school serves more than 14,000 students from all 50 states and more than 100 countries. Offering more degree programs and specializations than any other art and design university, SCAD houses the School of Digital Media, which offers a BFA in Interactive Design and Game Development (IDGD). Minors that complement the BFA program include Concept Art for Games, Concept Design for Animation and Games, Games UX, Interactive Design and Game Development, and Mobile and Interactive Design are available.
The 180 credit hour BFA is offered in Savannah, Atlanta, and Hong Kong. The program requires 75 credits in the major including courses such as Interactive Design and Game Development Studio I & II, Interactive Design and Game Development Postproduction, and Programming. Students in the BFA program will choose between two concentrations: Game Development and Interactive Design and Physical Computing. Sample courses include Game Tech, Game Art, User-Centered Design, and Visual Design for Interactive Media.
At SCAD, industry professionals visit with students every quarter, interviewing for positions and reviewing portfolios. Recent visitors include representatives from Zynga, Blizzard Entertainment, Electronic Arts, Crystal Dynamics and Activision. Graduates have been recruited by Epic Games, Sucker Punch Productions, Firaxis Games, and many others.
4. Gnomon School of Visual Effects, Hollywood, California

Gnomon School of Visual Effects was established in 1997. The campus is located in Hollywood, California, within the Television Center Studio lot. Per the school, "classrooms have been designed to cultivate creativity and learning by mimicking the environments of real production studios." The schools "30,000 square foot facility has nine state-of-the-art computer labs, a green screen stage, two cycloramas, dedicated sculpture labs, a drawing studio, lecture spaces, student lounges, a student store, and the Gnomon Gallery."
With more than 600 graduates to date, Gnomon offers a three- or four-year Digital Production BFA. The BFA program "covers all aspects of a 3D generalist skillset, providing an in-depth understanding of the 3D production pipeline, visual arts, and general education studies." The two-year pathway is an "intensive program, built on a 3D generalist foundation, offering emphasized studies in games, modeling and texturing, visual effects, or character and creature animation."
Gnomon graduates have gone on to work with Blizzard Entertainment, Digital Domain, Disney Interactive Media Group, Electronic Arts, ILM, PlayStation, ZeniMax Online Studios, and many others.
5. Academy of Art University, San Francisco, California

Academy of Art University was established in 1929. The school serves more than 7,200 students from 112 countries enrolled in dozens of Art, Design, Fashion, and Architecture programs. Degrees are offered at both the undergraduate and graduate levels, and many programs are available entirely online. The School of Game Development offers a BFA in Game Development.
This multidisciplinary program provides a "well-rounded education in the arts with an emphasis on understanding and applying techniques including 3D modeling, animation and lighting in video game production," says the school. Courses for the Game Development programs cover techniques in game design, game programming, concept art, 3D modeling, and animation, among others. Course highlights include History of Comics: International and Alternative Comics, 3D Character Artist, 3D Environment Modeling, Environment Concept, Game/Level Design, UX/UI, and The Power of Signs: Semiotics & The Visual Arts.
The program includes internship opportunities, collaborative projects, and Games Portfolio Preparation.
The Game Development BFA prepares students for positions such as game designer, 3D modeler, concept artist, UI/UX designer, and many others.
6. The New School's Parsons School of Design, New York, New York

The New School was founded in 1896 by American Impressionist William Merritt Chase. Back then, the school was known as The Chase School, and later as New York School of Fine and Applied Art. Today, known as The New School's Parsons School of Design, this art and design college is home to nearly 5,500 students enrolled in 130 degree and diploma programs across five schools including the School of Art and Design History and Theory, School of Art Media and Technology, School of Constructed Environments, School of Design Strategies, and the School of Fashion.
The School of Art, Media, and Technology (AMT) offers a BFA in Design and Technology (DT). The program, which has both Game Design and Creative Technology Pathways, teaches students to code and "develop a sustainable process for researching, experimenting, designing, prototyping, iterating, and producing projects that keeps pace with evolving technology," says the school.
Program highlights include access to university's extensive libraries, galleries, and state-of-the-art facilities and visits to industry leaders such as MTV, Nickelodeon, and Curious Pictures. Other industry partners include Apple, Atari, Human Rights Watch, MTV, Siemens, and UNESCO. Students also have the opportunity to work with peers in related programs including Communication Design, Photography, Fine Arts, and Illustration, and they have many elective options to choose from in order to create their own "coherent" study plan. Areas of practice include interaction design, physical computing, game design, new media art, digital fabrication, data visualization, and critical design.
A related program, the BFA in Art, Media, and Technology, is offered at the Parsons Paris campus. This interdisciplinary program, which explores design, art, media, and technology, prepares graduates to pursue careers in Animation, Game Design, Interactive and Social Media, Motion Graphics, and more.
Graduates leave the Game programs at Parsons with the skills needed to pursue careers in game design, virtual reality and immersion experience design, motion graphics, animation, film, advertising, software design, hardware engineering, and graphic arts.
7. Northeastern University, Boston, Massachusetts

Northeastern University was established in 1898. The school serves nearly 37,000 students enrolled in over 150 undergraduate majors and concentrations and more than 125 graduate programs across nine colleges and schools. Programs for game designers are offered through the College of Arts, Media and Design (CAMD), which serves nearly 6,000 students, and the College of Computer and Information Science (CCIS) - Khoury College of Computer Sciences. Undergraduate BFA programs include Game Art and Animation and Games.
The 130 credit hour BFA in Game Art and Animation allows students to work collaboratively in multidisciplinary teams and with students in the BS in Computer Science and Game Development and BFA in Games majors. Students in the program will also gain practical and technical experiential training via Northwestern's co-op program. Each student will take at least two co-ops. The BFA in Game Art and Animation culminates in a two-semester Senior Capstone.
The BFA in Games requires 128-129 credit hours of study covering Art and Design, Art History, Games, Entrepreneurship, Critical Making, Creative Making, and Game Electives. While the program does not require a co-op, the school says that students "are exposed to a wide variety of genres and contexts, as well as different ways of thinking about games content, platforms, and production." Students will have "a minimum of four games courses in which they interact with and collaborate with students in the BS in computer science and game development major." The program culminates in a Game Design Capstone.
8. Ringling College of Art and Design, Sarasota, Florida

Ringling College of Art and Design (RCAD) was established in 1931 by circus baron, art collector, and real estate developer John Ringling. A member of the only global association to serve art and design education research (Cumulus), RCAD opened with just 75 students and 111 course offerings. Today, the school serves more than 1,600 students enrolled in 13 BA and BFA degree programs and nine minors. Computer Animation, Film, Game Art, Illustration, and Virtual Reality Development are just a few degree options.
RCAD programs offer a rigorous curriculum, which combines studio and liberal arts, with client projects, substantive internships, and national competitions. The program option for aspiring game designers is part of the Computer Animation Department, which serves around 20% of the student population. The Department also houses eight state-of-the-art computer labs in addition to three open labs. Students in the Department are also experimenting with VR technology using the Oculus Rift and the HTC Vive.
The BFA with a Game Art Major is one of the few programs available that focuses on visual art for computer games. Students in the program will study "the basics of game design mechanics, meaningful play, interactivity, and options for creating and refining game content," says the school. The technical aspects of 3D animation software and game engines will also be explored.
Other program highlights include visiting artists from major game studios such as Blizzard Entertainment, Epic Games, and Riot Games, and internships at these studios and others such as Electronic Arts, Insomniac Games, and Sony Online Entertainment. Graduates of RCAD enjoy a high professional placement rate at Activision, Blizzard, Cartoon Network Game Studios, Disney Interactive Studios, Electronic Arts, Epic Games, Gameloft, Hasbro, Intel corporation, LucasArts, Microsoft Game Studios, Nickelodeon Animation Studios, Riot Games, Sony Imageworks Interactive, Zynga and many others.
9. Laguna College of Art and Design, Laguna Beach, California

Established in 1961 as the Laguna Beach School of Art, Laguna College of Art and Design (LCAD) serves 670 students enrolled in five BFA and two MFA programs. With 168 students, Game Art is the second largest program at LCAD. The program leads to a BFA.
This project-based degree highlights a collaborative environment, partnerships with USC's graduate program (GamePipe), among others, and exclusive access to teachers and mentors that come from Blizzard Entertainment, Sony Online Entertainment, Appy Entertainment, Double Helix, Obsidian Entertainment, NCsoft Carbine Studios, Insomniac, and Highmoon.
The school says that students may choose to further develop and perfect their skills through industry internships that apply theory to real world situations. Additionally, the Game Art program hosts workshops that have featured such inspirational giants as Steven Huston and Nathan Fowkes.
10. The Ohio State University, Columbus, Ohio

Established in 1870 as Ohio Agricultural and Mechanical College, The Ohio State University (OSU) serves 68,100 students enrolled in over 200 majors, minors and specializations through hundreds of departments, colleges, and schools and campuses. The school's Department of Art offers a BFA in Art and Technology that allows students to "focus on the creative use, misuse, and investigation of technology in an art-making practice," says the school. Students in the program will "engage the meaning and material of science and technology through the production of interactive installations, electronic objects and interfaces, moving images, 3D modeling and animation, art games, tactical media, bioart, performance, digital imaging, rapid prototyping, holography, Internet art, sound, and emerging forms."
Students in all OSU Art and Technology programs utilize state of the art facilities, equipment, and interdisciplinary expertise in the school's many special labs, including the world class Advanced Computing Center for the Arts and Design (ACCAD).
11. George Mason University, Fairfax, Virginia

Founded as a branch of the University of Virginia in 1949 and serving nearly 37,700 students, George Mason University (GMU) is the largest public university in the Commonwealth of Virginia. The school offers 200 degree programs through 11 colleges and schools, including the College of Visual and Performing Arts—home of the Computer Game Design Program.
The 120 credit hour BFA program here "enables students to focus on the artistic components of computer game design while providing them with the technical skills prerequisite to the field." A charter member of the Higher Education Video Game Alliance, the BFA program is interdisciplinary, which allows students to specialize in one area while "learning the language of many areas."
Students will take portfolio courses as well as a pre-internship seminar, and they will complete an internship and a senior project. "Students can also network with employers at the Senior Expo, and those who want to start their own businesses can study Game Entrepreneurship."
BFA students also have access to the Virginia Serious Game Institute based on George Mason University's Science and Technology Campus. The institute offers Virginia schools, businesses and universities hands-on training, certification, research and development assistance by merging game company incubation and rapid prototype development.
The Virginia Serious Game Institute is the only one of its kind on the East Coast and one of only four global affiliated facilities established primarily to support early-entry entrepreneurship into the simulation and game design industry.
12. College for Creative Studies, Detroit, Michigan

Founded in 1906 as the Detroit Society of Arts and Crafts, the College for Creative Studies serves more than 1,400 students enrolled in over a dozen degree programs across 14 academic departments. Serving 329 students, Entertainment Arts is the school's largest department. The Department offers a BFA in Entertainment Arts with a Focus in Games, Animation, Concept Design or Digital Film.
Games teaches students how to produce 2-D and 3-D images and concepts for video games. As a complement to the program, students may choose coursework from other areas or a Minor in Animation & Digital Media, Illustration, Fine Arts, or Visual Culture. All BFA students will take 126 credit hours including 84 in studio areas and 42 in general studies courses.
The school says that in addition to coursework in their chosen major, first-year students take courses in the Foundation Department, where they study drawing, color theory and basic design. Students in all majors also take courses in the Liberal Arts Department, which the school says is designed to provide them with an understanding of the larger social and cultural context in which they live.
Graduates of the program are prepared to seek positions such as Character Artist, Environment and Vehicle Designer, Technical and VFX Artist, Creative Director, and AR/VR Developer.
13. University of Wisconsin – Stout, Menomonie, Wisconsin

Established in 1891 as The Stout Manual Training School, University of Wisconsin – Stout (UW-Stout) is a Polytechnic University that serves nearly 8,750 students from the U.S. and 47 countries. The school offers 45+ undergraduate majors and 20+ graduate programs through three colleges and six schools. The College of Arts, Communication, Humanities and Social Sciences (CACHSS) houses the School of Art and Design, which serves more than 1,000 students. Undergraduate program offerings here include BFAs in Game Design and Development and Entertainment Design.
The school says that the BFA is the first and only BFA in Game Design in Wisconsin, Minnesota, & Iowa. Students in the program gain core skills in art and design such as drawing, 3D modeling, and animation. Program highlights include collaboration with computer science students, courses covering two- and three-dimensional models, animation and visual effects for video games, television, movies, and access to three labs with industry-standard hardware and software, AAA development kits, Intuos Cintiq Displays, HD and 3D projectors, and virtual reality headsets.
Graduates of the game programs at UW-Stout have landed positions at companies such as Big John Games, Finn Daniels Architects, Design Ready Controls, Wink Frozen Desserts, Find-It-Faster Online, Len Busch Roses, Pixel Spill Games, and many others.
14. New York Film Academy, Los Angeles, California

New York Film Academy (NYFA) was founded in 1992 by The Hunt for Red October producer Jerry Sherlock. The school offers a wide range of visual and performing arts programs including Game Design, Filmmaking, 3D Animation & Visual Effects, Digital Editing, Graphic Design, Broadcast Journalism, Cinematography, Documentary Filmmaking, Acting for Film, Musical Theatre, Photography, Producing, and Screenwriting.
The BFA in Game Design is offered through the Game Design School at NYFA. The program provides hands-on experience with students leading their own game studio with classmates each semester, engaging with game industry leaders including faculty, mentors, and guest speakers, and building portfolio pieces including games, artwork, and stories.
Along the way, students will master art and animation tools such as Adobe Creative Suite and Maya 3D, programming tools, and Agile Tools (industry-standard collaboration tools) such as JIRA, BitBucket, and Confluence. Students will also study the business of games. They will gain exposure to principles of publishing and marketing, as well as how to break into the game industry as an individual. New sessions start each semester and the program is offered exclusively at the Academy's Los Angeles campus.
15. Bradley University, Peoria, Illinois

Founded in 1897, Bradley University serves approximately 4,500 undergraduate and 900 graduate students from the U.S. and 43 other countries. Students are enrolled in more than 185 undergraduate programs and 30-plus graduate programs across eight colleges and schools. Slane College of Communications & Fine Arts is home to the Department of Interactive Media, which offers a BFA in Animation & Game Design.
Course highlights for the program include Introduction to Scripting Languages, Field Research in Virtual Environments, Game Art, Introduction to the Game Industry, Game Design, Game Production, 3D Animation, Quality Assurance for Games, Critical Game Studies, Game Engine Programming, Computer Game Design, and Advanced Interactive Media Authoring. Depending on the program, students will also complete a practicum, thesis, or capstone. Independent study is also offered.
Other program highlights include guest speakers, internship opportunities, and access to the Interactive Media, Animation Research, and Game Design Research Labs. Students also have access to the InterMedia Center and they have the opportunity to present a project at the department's year-end show, FUSE.
16. University of Connecticut, Storrs, Connecticut

The University of Connecticut was founded in 1881 by brothers Charles and Augustus Storrs under the name Storrs Agricultural School. At the time, SAS was a two-year vocational school, which eventually became Storrs Agricultural College, and began officially admitting women. Today, UConn serves just over 32,250 students enrolled in 116 majors, 17 graduate degrees, 88 research and professional practice fields of study, and six professional degree programs through 14 colleges and schools.
The School of Fine Arts at University of Connecticut (UConn) houses the Digital Media and Design Department, which offers BFA degrees in Digital Media and Design with a Concentration in Digital Game Design. Students in all programs are required to take the foundation curriculum, which consists of Digital Foundation, Animation Lab, Fundamentals of Web Design, Digital Culture, Motion Graphics I, Critical Perspectives of Digital Media, Student Agency (2 semesters), and Design Lab.
Game design course highlights include Intro to Digital Game Design, Virtual Worlds & Simulations, Stories in Video Games, Advanced Digital Game Design & Development, Game System Design, Multiplayer Game Development, Disruptive Technologies, and Advanced Game Scripting.
Advanced coursework covers Instructional Game Design, Game-Based Teaching and Learning, Emerging Interactive Interfaces/Techniques, Human-Computer Interaction, and Psychological Principles for Improved Design, Motivation, Education, and Character Design. Current research areas include Game-Based Teaching and Learning, Virtual Reality and Augmented Reality Apps, Interactive Exhibits, Academic Entrepreneurship and Innovation, to name few.
Besides a variety of course offerings and research areas, the programs highlight internship opportunities at places such as Disney, Boston Interactive, and Rocket Software and participation in DMD Club, After Effects Club, and Video Game Club. Game graduates are prepared to seek positions such as 3D Character Artist, Technical Artist, Gameplay Programmer, Game Designer, User Experience Designer, Producer, VFX Artist, Cinematic Designer, Entrepreneur, Instructional Designer, and many others.
17. Cleveland Institute of Art, Cleveland, Ohio

Established in 1882, Cleveland Institute of Art (CIA) is an independent college of art and design that serves 645 total students from 32 states and nine countries around the world. The school offers 15 majors in the fine arts, design, craft, and interactive media. The school offers a BFA in Game Design that "focuses on collaboration and mentoring by accomplished experts in digital media and game design, who will help students build connections and network with other professionals in the field," says the school.
Game students at CIA work with "innovative production processes" including game production, 3D modeling, animation, programming, visual design, interactive storytelling, and audio, as well as theory, criticism, and context of video game culture and digital media. "While creating interesting and usable content, students build character development skills through coursework that analyzes and synthesizes physical, cognitive, cultural, and political aspects of human interaction."
Course highlights include Game Production I-IV, Serious Game Design: Theory + Applications, Special VFX/Simulation + Virtual Reality, Game Testing + Level Design, and 3D Texture, Mapping, Digital Lighting. Students will also complete the BFA Research + Preparation course, the BFA Thesis + Exhibition, and the Game Design Internship course worth three elective credits upon approval by the Department Chair.
Graduates of the CIA Game Design Program are prepared to seek positions such as Game Designer, Storyboard Artist, Animator, Layout Artist, Visual Effects Supervisor, and many others.
18. Rocky Mountain College of Art and Design, Denver, Colorado

In 1963, well-known illustrator and educator Philip J. Steele founded Rocky Mountain School of Art, which later became Rocky Mountain College of Art and Design (RMCAD). The school serves 760 students enrolled in 16 degree and certificate programs offered in campus/hybrid and online formats. Programs for aspiring game designers include a BFA in Game Art.
The school says the Game Art curriculum "is a merger of technical and artistic coursework that covers the computer, analytical, and technical skills necessary to understand the mechanics of game design." Students will also be introduced to everything from the different aspects of graphic design to creative and technical writing." Requirements for the 123 credit hour program include 16 Art History credits, 30 Liberal Arts credits, 24 Foundations credits, 48 Core credits, and six Studio Elective credits.
Course highlights include Digital Painting for Film + Games, Game Animation + Motion Capture, Game Creation Fundamentals, Game Particles + Effects, 3D Modeling, 3D Computer Animation Motion Studies, Visual Storytelling, Lighting & Texture, Business Ethics & Copyrights, and Character + Level Design.
Other program highlights include small class sizes, a collaborative environment that allows students to interact with students from different programs, and professors working in the field.  
The BFA in Game Art prepares graduates for careers such as Game Designer, Concept Artist, 3D Character Modeler, Motion Graphics Designer, Rigger Animator, and Interactive Media Designer, to name a few.
19. Southern Arkansas University, Magnolia, Arkansas

Southern Arkansas University (SAU) was established in 1909 as the Third District Agricultural School (TDAS). The school serves more than 3,500 students enrolled in more than 80 degrees in four distinct colleges and the School of Graduate Studies. Programs for aspiring game designers are offered though the College of Liberal & Performing Arts, Department of Art & Design, and the College of Science & Engineering, Department of Mathematics & Computer Science.
The Game, Animation, and Simulation BFA is offered through the Department of Art & Design. The 120 credit hour program covers 3D animation techniques as well as production and management of game environments. Students are "also trained for a broad variety of scenarios which require prototyping 3D designs for manufacturers of medical equipment, transportation and the military."
Course highlights include Introduction to 3D Modeling Tools, Game Design Management, Two-Dimensional Design, Animation, Character Design and Sculpture, Graphic Software Applications, Simulation Development, Advanced Art Studio, Illustration, World Creation and Design, 3D Rigging, and World Creation. A Game Development Senior Project, Senior Capstone, and optional internship are also part of the program.  
20. Woodbury University, Burbank, California

Founded in 1884, Woodbury University serves nearly 1,200 students enrolled in 20 undergraduate and six graduate programs within four different schools. The School of Media, Culture & Design offers a BFA in Game Art & Design that "combines art, animation, computer technology, sound design, story development and game design," says the school. Students can develop their own art or design specialties, while taking game courses that focus on two-dimensional and three-dimensional character, environmental design, and animation.
Game design also "focuses on elements such as game conceptualization, play mechanics, game rules, story, program flow, scoring systems and prototyping." Not only will students "work together in a cross-disciplinary team environment of artists and designers that mirrors the professional world," says the school, they will also complete a mandatory internship that allows them to gain experience in the real world. Internship opportunities include Nickelodeon, Insomniac Games, Activision Blizzard, Disney, Nexon, Code Headquarters, Skydance Interactive, DICE LA, and many others.
Graduates of Woodbury's BFA in Game Art & Design have a variety of career options. Just a few include Environmental Design and Modeler, Character Design and Modeler, 3D Character, Animator, Rigger, Story Development for Interactive Media, Game Designer, Game Level Designer, Scenario Designer, Combat Designer, User Interface Designer, R&D Prototype Developer, and Game Design Documentation.
21. Lawrence Technological University, Southfield, Michigan

Founded in 1932, Lawrence Technological University (LTU) serves around 2,915 students. The school, which also has learning centers in southeastern and northern Michigan, Canada, China, Germany, India, Mexico, and Taiwan,  offers nearly 100 associate, bachelor's, master's, and doctoral programs in the Colleges of Architecture and Design (CoAD), Arts and Sciences, Engineering, and Management.
Delivered through the College of Architecture and Design, the BFA in Game Art is a project-focused, multidisciplinary program that highlights courses such as 3D Animation, Integrated Game Studio, Game Mechanics, Scripting for Game Design, Computer Games and Animation, New Media, Electronic Methods for Imaging, and Life Drawing.
A CoAD Minor in Game Art allows current students to pursue expertise secondary to their major and to receive recognition for completing the study. Students will take courses such as Integrated Game Studio, 2D and 3D Animation, and Basic Design.
22. California State University East Bay, Hayward, California

Founded in 1957, California State University East Bay (CSUEB) serves 14,525 students enrolled in 49 bachelor's degrees, 51 minors, 34 master's degrees, 24 credentials and certificates, and one doctoral degree program through four colleges. The College of Letters, Arts, and Social Science houses the Department of Art, which offers a BFA in Interaction and Game Design. The 127-unit program "focuses on the creation of meaningful experiences expressed as interactive applications and objects," says the school. "Game Design applies this to entertainment, both experimental and commercial. Students analyze interactivity in art, design, and everyday life, acquire skills and develop prototypes, and work in collaborative teams to produce successful games and creatively solve real world problems."
The Interaction & Game Design Core consists of 27 units including 4D Project Development and Preproduction, User Experience Theory and Design, Interaction Design Studio I: Tools for Designers & Interaction Design Studio II: Prototyping the Internet of Things, Web Design I: Foundations & Web Design II: Screen Interactions, History of Play, Games, and Interactivity, and Interaction and Experience Design Foundations.
Elective options dive deeper into games and include options such as Game Design II, a Game Design Team Project, and Interaction Design Studio III: Interactive Immersive Experiences. An Interaction and Game Design Senior Project and optional internship are also part of the program.
Graduates from the BFA in Interaction and Game Design Program go on to pursue careers such as Game Developer, Interaction Designer, User Interface (UI) Designer, Design Director, Level Designer, User Experience (UX) Researcher, Web Designer, Information Designer/Information Architect, Product Designer, and many others.
23. Moore College of Art and Design, Philadelphia, Pennsylvania

Founded in 1848, Moore is the first and only visual arts college for women in the United States. The school serves around 400 students enrolled in 10 majors leading to the BFA degree. The Animation & Game Arts BFA "teaches a variety of industry-relevant knowledge," says the school. This includes animation and storyboarding, hand and digital drawing, development of 2D character design and 3D environments, history, theory, gaming strategies, proficiency in the use of art-making software and critical analysis of interactive culture.
Designed for "women artists who want careers in animation and game arts," the AGA BFA program allows students to work collaboratively in teams with other artists to create animations, games and interactive media. Students will utilize Moore's state-of-the-art technology such as Wacom Tablets, and participate in the Annual "Game Changers: Women Making Games" symposium.
Course highlights include 3D Environments, Time-Based Media Projects, History of Animation & Game Arts, 2D Character Design & Environment, Game Strategies Studio, 3D Animation, Digital Painting, Game Projects, and Mobile Media Projects. Students will also take Professional Practice and Marketing & Business Development, and during the final year of the program, they will complete Senior Studio, Senior Thesis, and a Professional Development Internship. Some internships are paid and students may enroll in Moore's exclusive Study Abroad Program, which offers experiences in places such as Athens, Morocco, and Rome.
24. Maryland Institute College of Art, Baltimore, Maryland

Maryland Institute College of Art (MICA) was founded in 1826, making it the oldest independent, continuously degree-granting college of art and design in the U.S. The school, which serves nearly 3,500 students from 49 states and 52 countries, offers more than 80 programs leading to the BFA, MA, MFA, and MPS degrees. Post-baccalaureate certificate programs are also available and programs are offered in the areas of fine arts, design, electronic media, art education, liberal arts, and professional studies.
The school offers a BFA Game Design and a BFA in Interactive Arts with Concentrations in Game Arts Studio or Interactive Arts Studio. A Game Art Concentration is also available. The school says MICA game programs explore "games from a unique perspective that can only be found at an art and design college." The programs explore the role of play within our culture and questions how games are used to entertain, educate, and create meaning.
Students learn to create games from the ground up, building skills in design, programming and prototyping. Students can also concentrate in supporting areas 3D such as 3D animation, sound design, graphic design, and illustration. And they'll do all of this in a state-of-the-art space with a designated game lab, serving as a nexus of creative ideas and output.
"Dolphin Design Center was created specifically for designers in the 21st century, with state-of-the-art fabrication and design spaces that support the multidisciplinary ways creative makers work. Home to the BFA in Game Design and the collaborative Game Center, the Dolphin Design Center provides students with the materials and tools they need to design and make whatever they can imagine."
Students in the Game Programs at MICA can expect to take courses such as Game/Play: Introduction to Design, Drawing: Tradition and Innovation, Advanced 2D Game Design, Game Collaborative Studio, Form & Space, 3D Worlds and Level Design, 3D Game Design, Art Matters, 3D Game Studio, and 2D Level and Narrative Design.
For an additional six credits, students can earn an integrated degree in Humanistic Studies, which combines in-depth coursework in academics with studio practice. Graduates will leave the program with a polished portfolio, which will help them showcase their talents at Game Design companies, technology firms, and more.
Some companies who have hired MICA designers for jobs or internships include Abercrombie & Fitch, Cooper-Hewitt National Design Museum, Google, Kate Spade, Kennedy Center for the Performing Arts, Museum of Modern Art, National Public Radio and Under Armour.
25. Shawnee State University, Portsmouth, Ohio

Shawnee State University's (SSU) roots date back to 1945 when Ohio University established an academic center at Portsmouth High School. The school serves nearly 3,700 students enrolled in more than 70 associates, bachelors, and master's degree programs through a number of departments. The school houses the Fine, Digital and Performing Arts Department, which offers a BFA in Game & Simulation. The program focuses on 3D animation, character design, and interface design.
"The curriculum enhances the classroom theory behind video game design with two unique value-added resources: a state-of-the-art Motion Capture Studio Lab and the Annual Art & Technology Game Conference," says the school. Hosted by Shawnee State, this interactive digital technology conference attracts game developers, students, and industry leaders from all over the country.
BFA Students will also "acquire practical experience through participation in a joint senior project in the Game Engineering program," which the school says will build up their skills in animation, art asset development, game design, and motion capture.
To enhance the degree, students will have the opportunity to choose a Minor in Gaming Arts, Sound Design, Studio Arts, or Art History. Upon completion of the 122 credit hour BFA, graduates will be prepared to seek positions in all areas of game development and design, simulation, and more.