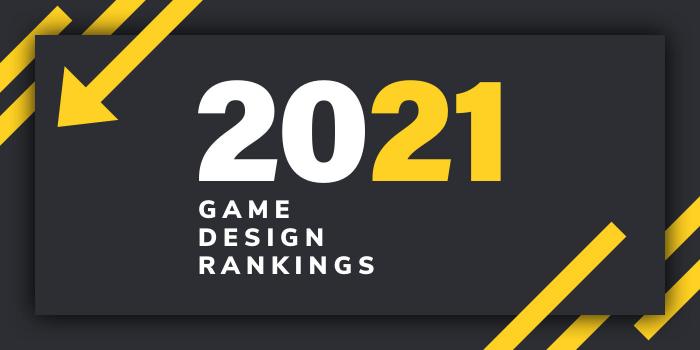 What are the top game design programs in Florida for 2021?
Top 5 Florida Game Design Schools - 2021 College Rankings

| Ranking | School | City |
| --- | --- | --- |
| 1 | University of Central Florida | Orlando |
| 2 | Full Sail University | Winter Park |
| 3 | Ringling College of Art and Design | Sarasota |
| 4 | University of Florida | Gainesville |
| 5 | The Digital Animation & Visual Effects School | Orlando |
Our 2021 ranking of the top game design school programs in Florida. For an explanation of the ranking criteria, click here.
1. University of Central Florida + Florida Interactive Academy, Orlando, Florida

University of Central Florida (UCF) opened its doors in 1968 as Florida Technological University with 1,948 students. The first graduating class consisted of 423 students, and the school granted its first doctoral degree in 1977. Today, UCF leads all universities in Florida in conferring more than 17,000 degrees a year. Serving nearly 72,000 students, the school is also the largest university by enrollment in Florida and one of the largest universities in the nation.
UCF offers 103 bachelors and 91 master's degrees, 31 research doctorates, three professional doctorates, and three specialist degree programs in 13 colleges.
UCF's Nicholson School of Communication & Media, Games & Interactive Media Department offers a BA in Digital Media with a Specialization in Game Design that, "allows students to integrate the multiple domains of art, storytelling, and technology," says the school. In the Game Design Track, students "learn the history, design cultural impact and implementation of video games and video game technologies." Students will complete courses that will allow them to "build a series of prototype, casual and longer form games throughout the semester as individuals and in teams."
Other program highlights include the opportunity to participate in game jams and meet-ups, which offer networking opportunities and possible job placement.
UCF's Florida Interactive Entertainment Academy (FIEA) offers an MS in Interactive Entertainment. This graduate video game design school opened its doors to "a select group of future game developers and creators" in August of 2005. Today, FIEA serves dozens of students enrolled in a 16-month MS in Interactive Entertainment program with three Tracks including Art, Production, and Programming.
Each specialization requires nine credit hours of study. Students in all specializations will complete a three credit hour capstone that will allow them to complete a large-scale project. A six credit hour practicum allows students to engage in supervised training with a research team, through an on-site internship, by developing a start-up, or with a faculty member on research in an area of interest.
The base curriculum teaches specific skills in the areas of 3D artistry, game design, and programming as well as essential skills such as problem solving, project management, and teamwork.
"Student production teams are mentored by industry trained faculty who provide instruction in" 3D animation and modeling, game design, level design, motion capture, postmortems, preproduction, rapid prototyping, software engineering, and technical design. The program also covers creative collaboration and legal and technical issues.
Graduates of all programs have access to internship and venture opportunities as well as job interviews with media and game companies from across the country.
UCF also offers an MA in Digital Media - Visual Language and Interactive Media through the Nicholson School of Communication & Media. Students in this program may pursue a non-thesis option and portfolios might include works of art, software or games. Active areas of work at UCF include Digital Media and Instructional Applications, Interactive Performance, and Serious Games for Training and Education, to name a few. Digital Media faculty have extensive professional and academic experience in animation, digital storytelling, game development, immersive design environments, motion graphics, multimedia, and more.
2. Full Sail University, Winter Park, Florida

Full Sail University was established in 1979. The school offers AS, BS, BFA, MS and MFA programs in Entertainment, Media, and the Arts. Graduate certificates are also available. Located just 35 minutes from downtown Orlando and Universal Studios, the school also offers unique internship opportunities to a population of 15,000 students.
The Game School at Full Sail offers several programs for aspiring game designers. Undergraduate offerings include BS degrees in Game Art, Game Design, Game Development, Simulation & Visualization, and Mobile Development. A Game Design Certificate is also available.
Graduate degrees include an MS in Game Design or Mobile Gaming (online). In the Game Art BS students will create 3D content and "take traditional art and animation principles and apply them to models that look, move and articulate artistically," says the school. Course highlights for the program include Game Animation, Motion Capture, and Level Assembly & Lighting.
The Game Design BS is designed to enhance the students "ability to work in a game studio environment." The program "is comprised of high-level game design and production courses that will take" students "deep into the game development pipeline." The program covers key industry concepts influencing both systems and level designs that will prepare students to prototype and evaluate their game projects. Course highlights include Game Balancing, Game Mechanics, and Prototyping.
The BS in Game Development guides students through the entire game development cycle, from pre-production to finished product. Course highlights include Artificial Intelligence, Engine Development, and Data Structure and Algorithms. Graduates will have the ability to create program code for 3D graphic display, multiplayer gaming, artificially intelligent opponents, and real-time virtual environments.
The BS in Simulation & Visualization equips students with the programming and critical-thinking skills needed to study and design virtual systems. Course highlights include Virtual and Augmented Reality, Artificial Intelligence, and Computer Graphics. Through hands-on experience, students will develop their "tech savvy in order to keep pace with an ever-evolving industry."
The Game Design Certificate "gives students foundational knowledge in the structure and rules of gameplay, workflows, and game design theory." Students in the program will gain basic skills in analyzing decision-making in gameplay, scripting testable algorithms, and using digital tools. "With curriculum in C# programming, logic, and functions," this seven-month campus or online certificate "equips students to pursue roles in creating and testing interactive designs in the game design industry."
MS in Game Design coursework focuses on user experience research, production, and design. Course highlights include Methods and the User Experience, Prototyping and Content Creation, and Game Usability and Testing. The program, which allows students to choose a track that allows them to focus on a chosen area of expertise, culminates in a Game Capstone Experience.
The Mobile Gaming MS consists of graduate level mobile gaming research, emerging technologies, and the application of theoretical concepts to game design and development. Course highlights include Computer Science for Engineers, Game Development Frameworks, and Mobile Gaming Business. The program culminates in a thesis, which allows students to complete a fully playable mobile game of their own design.
The Game Art and Game Design BS degrees are available on campus and online, while the MS in Mobile Gaming is available entirely online.
3. Ringling College of Art and Design, Sarasota, Florida

Founded by Dr. Ludd M. Spivey, president of Southern College (now Florida Southern College) and circus baron, John Ringling, Ringling College of Art and Design (RCAD) opened in 1931 with just 75 students and 111 course offerings. Today, the school serves more than 1,600 students from 45 states, 60 countries, Washington D.C., and Puerto Rico.
A private, not-for-profit college, RCAD offers BFA degrees in eleven disciplines and BA degrees in two. Students in all programs benefit from the school's "rigorous curriculum" that "employs the studio model of teaching," says the school, and "immediately engages students through a comprehensive program that is both specific to the major of study and focused on the liberal arts." Students also benefit from visiting artists from major studios such as DreamWorks and Blue Sky Studios, focused internship opportunities, and the chance to work with local businesses on real-world projects.
The Game Option is offered in the Computer Animation Department, which serves around 20% of the student population. The Department also houses eight state-of-the-art computer labs in addition to three open labs. Students in the Department are also experimenting with virtual reality (VR) technology using the Oculus Rift and the HTC Vive.
The BFA with a Game Art Major is one of the few programs available that focuses on visual art for computer games. Students in the program will study "the basics of game design mechanics, meaningful play, interactivity, and options for creating and refining game content," says the school. The technical aspects of 3D animation software and game engines will also be explored.
Other program highlights include visiting artists from major game studios such as Blizzard Entertainment, Epic Games, and Riot Games, and internships at these studios and others such as Electronic Arts, Insomniac Games, and Sony Online Entertainment. Graduates of RCAD enjoy a high professional placement rate at Activision, Blizzard, Cartoon Network Game Studios, Disney Interactive Studios, Electronic Arts, Epic Games, Gameloft, Hasbro, Intel corporation, LucasArts, Microsoft Game Studios, Nickelodeon Animation Studios, Riot Games, Sony Imageworks Interactive, Zynga and many others.
4. University of Florida, Gainesville, Florida

The University of Florida (UF) was founded as Gainesville Academy in 1858 by educator and senator James Henry Roper. The small school opened with just a few students. Today, UF sits on a 2,000-acre campus with more than 900 buildings, including the first Leadership in Energy and Environmental Design (LEED) Platinum-certified building in the state of Florida. UF also serves 56,570 students, making it one of the largest schools in the U.S.  Programs include 30 certificates, 100 undergraduate majors, and 200 graduate programs in 14 colleges and schools.
Established in 1925, the UF College of the Arts offers fully accredited schools of Art and Art History, Music, Theatre and Dance along with the Center for Arts in Medicine and the Digital Worlds Institute. At the Institute, aspiring game designers can earn a BA in Digital Arts & Sciences (BADAS), a DAS Minor or a Masters in Digital Arts and Sciences (MiDAS).
BADAS students may choose elective courses from current offerings in Animation, Digital Production, and Game Design. Course highlights include 3D Digital Animation, Design Production Studio, Digital Storytelling, Entrepreneurship in New Media, Game Design Practices, Game Development, Wearable & Mobile Apps, and Writing for Interactive Media. Undergraduate Research Forum and a Senior Project are also part of the program.
Other BADAS highlights include the opportunity to gain experience working on team projects, access to high-tech facilities such as the UF Reality Lab, and a 5-screen Polymodal Immersive Classroom Theater (PICT) and a Virtual Production Studio (VPS). In addition, a cohort experience allows a select group of students to "join a community of learners in taking a set sequence of courses together." Students will network and build relationships with their classmates, work one-on-one with faculty, and participate in discussions.
Graduates of the BADAS program have gone on to form their own successful startups or work for companies such as DreamWorks and Microsoft.
MiDAS is a one-year accelerated program for individuals "seeking to further their professional career goals at the intersection of interactive media, innovation, and emerging technologies." MiDAS students will have the opportunity to work in a collaborative environment with "personal attention from faculty and content area experts."
The program covers digital storytelling, game engines and development, software and hardware integration, UI/UX, Audio, and Digital Compositing, and Visual Design Tolls/Technology/3D for virtual and augmented reality (AR/VR). The program also covers project proposals, production pipelines, and project management.
Course highlights include Applied 3D Modeling, Digital Arts & Sciences Convergence, Digital Design and Visualization, Entertainment Technology, Interaction Design, Movement, Media and Machines, Project Methodologies, and Protocols for Multimedia Interfaces. Students will have access to the UF Reality Lab and a Capstone Project is part of the program.
5. The Digital Animation & Visual Effects School (DAVE School), Orlando, Florida

Founded in 2000, the Digital Animation & Visual Effects School (DAVE School) offers specialized training in Visual Effects with extensive practice under industry level supervision. The DAVE School introduced fully online bachelor's degree programs in Motion Graphics in 2017 and on-campus bachelor's degrees in Visual Effects and Game Production. Diploma programs in Game Production and Visual Effects are also available.
Diploma programs are 60 credit hours and take 12 months to complete, Bachelor's degree programs are 120 credit in the BS and Diploma Game Production programs will learn 3D animation, character, prop and environment modeling, level design, lighting and texturing, rigging, and visual effects. Course highlights include Advanced Asset Creation & Look Development, Digital Modeling & Sculpting, Emerging Real-Time Tech & Pipelines, Fundamentals of Computer Animation, and Real-Time Rendering & Emerging Technologies. Students will also create a demo reel and portfolio.
The DAVE School is located in an 18,000 square foot facility situated on the backlot of Universal Studios Florida, Soundstage 25, which provides unlimited access to learning and interactive labs, a dedicated Virtual and Real-Time production stage, a Vicon motion capture system, and 3D printing and VR/AR labs.
DAVE school graduates and instructors have worked on major productions such as Avengers: Age of Ultron, Captain America, Game of Thrones, Godzilla, Green Lantern, Jurassic World, Rogue One: A Star Wars Story, Terminator Genisys, The Hobbit, The Hunger Games, and many others. Compositor, Environmental Artist, Gameplay Animator, Lighting Artist, and Pipeline Supervisor are just a few DAVE School alumni job titles.