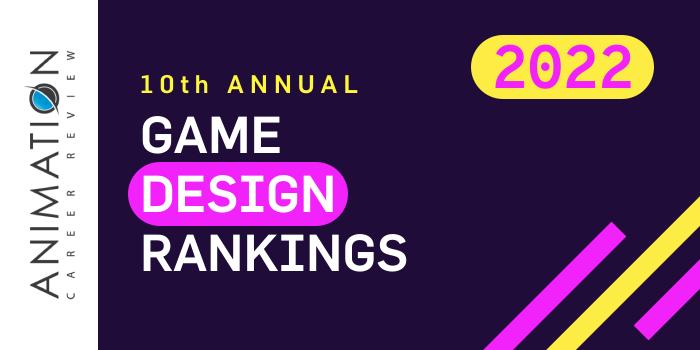 What are the top game design programs in Florida for 2022?
Top 5 Florida Game Design Schools - 2022 College Rankings

| Ranking | School | City |
| --- | --- | --- |
| 1 | University of Central Florida | Orlando |
| 2 | Full Sail University | Winter Park |
| 3 | Ringling College of Art and Design | Sarasota |
| 4 | University of Florida | Gainesville |
| 5 | The Digital Animation & Visual Effects School | Orlando |
Our 2022 ranking of the top game design school programs in Florida. For an explanation of the ranking criteria, click here.
1. University of Central Florida + Florida Interactive Academy, Orlando, Florida

The Game Design Programs at University of Central Florida (UCF) are housed in Nicholson School of Communication and Media (Games and Interactive Media Department) and the Florida Interactive Entertainment Academy (FIEA). Degree pathways lead to a BA, MA or Minor in in Digital Media or an MS in Interactive Entertainment. The Digital Media Program has a Game Design Track and the MS in Interactive Entertainment has specializations in Programming, Modeling, Tech Art, Animation, Level Design, Tech Design, and Project Management.
All students have access to state-of-the-art production facilities, such as the 3,300 square feet MOCAP studio, where they have the opportunity to develop their own games (in teams) from start to finish. Internships and career development resources are also available. To date, more than 300 companies have hired UCF Games/Interactive Media and FIEA graduates. Examples include Marvel, Sony, Gameloft, Blizzard, Nintendo, Cartoon Network, Epic Games, Electronic Arts (EA), Google, Industrial Light & Magic (ILM), Blur Studio, Walt Disney Imagineering, Zynga, Unity Technologies, and Lockheed Martin.
University of Central Florida is accredited by the Southern Association of Colleges and Schools Commission on Colleges (SACSCOC). Founded in 1963, the school opened as Florida Technological University with just under 2,000 students. Today, UCF serves more than 70,000 students enrolled in nearly 240 degree programs, making it Florida's largest university by enrollment, and one of the largest universities in the U.S.
2. Full Sail University, Winter Park, Florida

The Game School at Full Sail University features production studios and classrooms that look and feel like major production studios. Game School programs include a Game Design MS and BS degrees in Game Art, Game Development, Game Design, and Simulation & Visualization. Undergraduate Certificates in 3-D Arts and Game Design are also available. With the exception of the BS in Simulation and Visualization, all programs are offered on campus and online.
In addition to gaining production experience in a real-world studio environment on campus, Full Sail students have opportunities to work off-campus at local and national studios through the internship program. Courses in The Game School are also immersive. Course examples across all programs include Motion Capture, Game Mechanics, Game Production Tools, Engine Development, Artificial Intelligence (AI), and Data Visualization & Modeling. Students will master all roles in the production pipeline, video game development for computers, networks and consoles, test simulation, game effects, narrative design, and animation.
Full Sail University's Career Development Department provides 24/7 access to job opportunities, along with workshops and presentations that cover branding, networking, research strategies, and interviewing techniques. The department also coordinates local hiring events and events in other major markets such as Los Angeles and New York.
Full Sail University graduates have worked on popular games, films, and ad campaigns. More than 150 graduates were credited on numerous nominated games at the 2021 Game Awards.
Companies and studios that have hired Full Sail graduates include Disney, Rockstar Games, Blizzard Entertainment, Industrial Light & Magic (ILM), Nickelodeon, Bunim Murray, Pixar, MTV, ESPN, Universal Studios, Miramax, DreamWorks, and HBO.
Full Sail University is accredited by the Accrediting Commission of Career Schools and Colleges (ACCSC). Full Sail serves approximately 21,000 students. The school offers certificates and degrees at the associate's, bachelor's, and master's levels in entertainment, technology, art, and media. Launched in 1979, Full Sail University is located just 35 minutes from downtown Orlando and Universal Studios.
3. Ringling College of Art and Design, Sarasota, Florida

Following the studio model of teaching, Ringling College of Art and Design (RCAD) emphasizes learning by doing. Students in all programs at the school also benefit from visiting artists, industry internships, and other experiences that allow students to work on real projects with local businesses and studios.
For students seeking careers in the game design industry, RCAD offers a BFA In Game Art that attracts major recruiters from Epic Games, Blizzard Entertainment, and Riot Games. The program explores topics such as environmental design, professional practices, methods and technologies, and concept and creative problem-solving. Students will also work on projects in teams to develop collaboration and communication skills.
The Game Art BFA requires 48 credit hours in the major. This accounts for 40% of the coursework. Sample courses for the program include 3D for Games I-IV, Game Design I-II, Programming for Artists, and Visual Development for Games. BFA students will also take four courses leading to the development of a Game Thesis Project.
Graduates of the Ringling College of Art and Design Game Art BFA have gone on to establish successful careers at Blizzard Entertainment, Naughty Dog, Bungie, Inc., Rockstar Games, 343 Industries, and Bethesda Game Studios, among others.
Ringling College of Art and Design is accredited by the Southern Association of Colleges and Schools Commission on Colleges (SACSCOC). This private, not-for-profit art and design school dates back to 1931, when it was known as The School of Fine and Applied Art. Ringling College of Art and Design serves more than 1,600 students enrolled in 13 different majors leading to a BA or BFA.
4. University of Florida, Gainesville, Florida

University of Florida (UF) houses the UF College of the Arts. Established in 1925, the college is home to the Digital Worlds Institute, which offers a BA in Digital Arts & Sciences (BADAS), a DAS Minor or a Masters in Digital Arts and Sciences (MiDAS). UF Online offers a fully online BADAS Program. Institute features include the DAS Mentorship Program, guest lecturers, access to LUMA at Digital World Studios, and Portfolio Open House events.
All UF Digital Worlds Programs combine arts, engineering, communications, and science. Course examples across pathways include Creating Mobile Games, 3D Animation Techniques, Game Content Creation, Game Systems Development, Game Design and Production, Digital Storytelling, Game Development, and Interaction & Usability. An optional internship is also offered. The undergraduate program requires 120 credit ours of study and successful completion of a final DAS project.
The UF Digital Worlds Institute MiDAS Program explores game engines and development, software and hardware integration, design and interactivity, emerging technologies such as AR/VR, and proposals, project management, and production pipelines. The program is offered in an accelerated format, so it takes just one year to complete.
Graduates of the BADAS and MiDAS Programs at University of Florida are freelance designers, entrepreneurs, game designers, character modelers, production coordinators, level designers, technical animators, visual effects artists, software engineers, motion graphics animators, digital storytellers, UI/UX designers, and more. Program alumni have been hired at major companies and studios such as Microsoft and DreamWorks.
University of Florida is accredited by the Southern Association of Colleges and Schools Commission on Colleges (SACSCOC). The school opened as the Gainesville Academy in 1858. Today, UF serves nearly 58,000 students, making it one of the nation's largest public universities by enrollment. University of Florida offers more than 300 degree programs across 14 colleges and schools.
5. The Digital Animation & Visual Effects School (DAVE School), Orlando, Florida

The Game Production Program at the Digital Animation & Visual Effects School (DAVE School) has two award options: the 12-month Diploma (GPD) and the 32-month Bachelor's degree. Within the 120 credit hour Bachelor's program is the Diploma program, so students will receive this credential after completing 60 credits. Among The DAVE School's flagship programs is a Virtual Production Diploma (VP), which combines the curriculums of the Game Production and VFX Diplomas. The VP Program takes 18 months to complete.
Across all production programs, students will explore areas such as game physics, lighting and production techniques, emerging technologies, concepts and terminology of game production, Unreal Engine, game physics, Unreal for AR/VR, world building, and asset creation. Course examples across programs include Digital Modeling and Sculpting, Fundamentals of Computer Animation, Advanced Asset Creation & Look Development, Real-Time Rendering & Emerging Technologies, and Emerging Real-Time Tech & Pipelines.
The programs at The Digital Animation & Visual Effects School emphasize collaboration, so students will complete a three-month residency in Orlando, Florida where they will work in teams to create games across the entire production pipeline. For the final project, DAVE students will complete an in-house game that will become a major component of their professional demo reel. 
DAVE school graduates are Gameplay Animators, Compositors, Pipeline Supervisors, Lighting Artists, Cinematic Animators, Environmental Artists, and Art Coordinators. DAVE School alumni (and instructors) have worked on productions and games such as Call of Duty: Black Ops Cold, The Mandalorian, Walking Dead: Saints & Sinners, Rogue One: A Star Wars Story, Deadpool, Green Lantern, Captain America, Dumbo, Conan Exiles, Game of Thrones, Terminator Genisys, Avengers: Age of Ultron, Anthem, The Hunger Games, Jurassic World, Godzilla: King of the Monsters, and The Hobbit, among others.
As an academic unit of NUC University, The Digital Animation & Visual Effects (DAVE) School is accredited by the Middle States Commission on Higher Education (MCSHE). The DAVE School campus consists of an 18,000 square foot facility situated on the backlot of Universal Studios Florida, Soundstage 25. The Digital Animation & Visual Effects School has been training game production and visual effects artists since 2000.