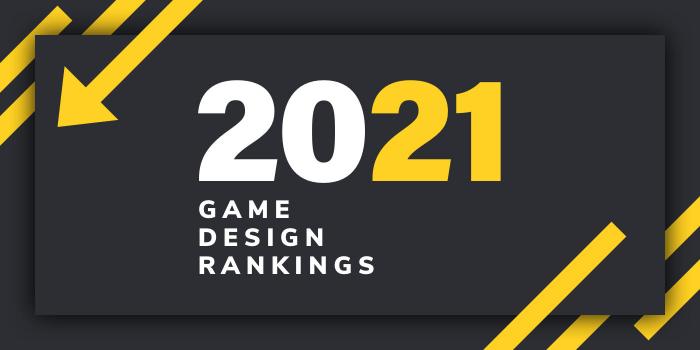 What are the top game design programs in Massachusetts for 2021?
Top 5 Massachusetts Game Design Schools - 2021 College Rankings

| Ranking | School | City |
| --- | --- | --- |
| 1 | Massachusetts Institute of Technology | Cambridge |
| 2 | Northeastern University | Boston |
| 3 | Becker College | Worcester |
| 4 | Worcester Polytechnic Institute | Worcester |
| 5 | Hampshire College | Amherst |
Our 2021 ranking of the top game design school programs in Massachusetts. For an explanation of the ranking criteria, click here.
1. Massachusetts Institute of Technology (MIT), Cambridge, Massachusetts

Massachusetts Institute of Technology (MIT) was founded 1861. The school serves approximately 11,520 students enrolled in more than 100 programs in five schools including the School of Architecture and Planning, the School of Engineering, the School of Humanities, Arts, & Social Sciences (HASS), MIT Sloan School of Management, and the School of Science. Massachusetts Institute of Technology is also home to MIT Game Lab, MIT Education Arcade, and Singapore-MIT GAMBIT Game Lab.
Together, the labs provide the opportunity to study, design, and develop games as a supplement to several degree programs, so anyone interested in games can create their own program of study. "By their nature," says the school, "games require an interdisciplinary approach to their study."
Students may choose the BS or MS in Comparative Media Studies (CMS) with a Games and Interactive Media "Cluster." BS and MS degrees in Computer Science and Engineering are also available.
Electrical Engineering and Computer Science offers an extensive graduate program in Computer Science, which allows students to "study and participate in active research of aspects in computer science that are vital in the creation of modern digital games, such as artificial intelligence, networking, and computer graphics." Minors in CMS with Games and Interactive Media and Computer Science are also available. The CMS programs are available through the HASS Department of Comparative Media Studies/Writing.
Other unique degree pathways include a BS in Brain & Cognitive Science for those interested in psychological games and behavioral change, and a BS in Business for those interested in studying business practices required for creating their own game company. The BS in Brain & Cognitive Science is offered through the MIT Department of Brain and Cognitive Sciences and the BS in Business is offered through MIT Sloan School of Management.
2. Northeastern University, Boston, Massachusetts

Founded in 1898 as an Evening Institute of the Boston Young Men's Christian Association (YMCA), Northeastern University began with less than two dozen students. Today, according to the school's most recent enrollment figures, it serves nearly 38,000 students at locations in Boston; Charlotte, North Carolina; Seattle; Silicon Valley; San Francisco; Toronto; Vancouver; London; Portland, Maine and the Massachusetts communities of Burlington and Nahant.
Northeastern University offers 150 undergraduate majors and concentrations and over 125 graduate programs in nine colleges and schools. Programs for game designers are offered through the College of Arts, Media and Design (CAMD), which serves nearly 6,000 students, and the College of Computer and Information Science (CCIS) - Khoury College of Computer Sciences. Undergraduate programs include BFAs in Game Art and Animation and Game Design, BS degrees in Computer Science and Game Development, and Game Design and Music with a Concentration on Music Technology. Minors include Game Art, Game Design, Experience Design, and Interaction Design.
Graduate options include an MS in Game Science, jointly offered through CAMD and CCIS - Khoury, and Graduate Certificates in Game Design and Game Analytics. The Game Design Certificate consists of five 12-week courses, and the Game Analytics Certificate requires 20 credit hours of study. The interdisciplinary MS requires 34 credit hours of study and it offers three concentrations: Game Analytics, Game User Research and Game Design and Development. The program highlights paid co-op work, research opportunities in the schools more than30 federally funded research centers, and in-class case studies and exercises. The MS can be completed in two years.
The 130 credit hour BFA in Game Art and Animation allows students to work collaboratively in multidisciplinary teams and with students in the BS in Computer Science and Game Development and BFA in Games majors. Students in the program will also gain practical and technical experiential training via Northeastern's co-op program. Each student will take at least two co-ops. The BFA in Game Art and Animation culminates in a two-semester Senior Capstone.
The BFA in Games requires 128-129 credit hours of study covering Art and Design, Art History, Games, Entrepreneurship, Critical Making, Creative Making, and Game Electives. While the program does not require a co-op, the school says that students "are exposed to a wide variety of genres and contexts, as well as different ways of thinking about games content, platforms, and production." Students will have "a minimum of four games courses in which they interact with and collaborate with students in the BS in computer science and game development major." The program culminates in a Game Design Capstone.
The 138 credit hour Game Design and Music with a Concentration in Music Technology is a unique program that "focuses on the creative application of digital sound technologies to a broad range of artistic, social, and industrial purposes, including experimental composition, film, video, theatre, game design, mobile applications, sound design for urban environments, and beyond."
In addition to plenty of co-op opportunities, the program offers a diverse set of courses ranging from Programming Basics and Game Interface Design to Hip Hop in the Music Industry and Interactive Music Programming. Students in this program will complete a Music Technology Capstone/Senior Recital or a Game Design Capstone.
The CCIS BS in Computer Science and Game Development is a combined major, which focuses on "building and developing games and playable media experiences" along with "courses in computer science and specialized game technology and design."
"Interdisciplinary courses enable students to develop their creative and entrepreneurial abilities, as well as create a strong portfolio of game pieces." The program requires 133 credit hours to graduate.
3. Becker College, Worcester, Massachusetts

Established in 1784, Becker College is one of the 25 oldest institutions in the U.S. The schools founding charter was signed by John Hancock and Samuel Adams and notable graduates and students include Eli Whitney (1788), William Morton (1836), and Elliott P. Joslin. The school, which enrolls 1,675 students, offers 29 areas of study across six academic divisions including Animal Studies, Business, Criminal Justice and Legal Studies, Design, Education and Psychology, and Nursing and Health Sciences.
The School of Design & Technology houses the Design Division, home to the Interactive Media Design Program, which offers a BA in Interactive Media Design with Concentrations in Game Arts, Game Development and Programming, Game Production and Management, Game Design, and Game Audio. A rigorous 60-credit MFA in Interactive Media is also available as well as a BA in Interactive Media Design/MFA Fine Arts 4+1 (Game+) Program, and a BS in Applied Computer Science with a Game Programming Specialization. A Minor in Interactive Media Management is also available.
Established in 2006, Becker's Interactive Media Program began with just 12 students. Today, the program has around 600 students, which led to expanded academic offerings and resources, such as the MFA in Interactive Media and the $7.3 million Colleen C. Barrett Center for Global Innovation and Entrepreneurship, which provides student's access to Game Studio and an Augmented Reality/Virtual Reality lab.
Besides a variety of game programs and resources, Becker College houses the Massachusetts Digital Games Institute (MassDiGI). Established in 2011, "MassDiGI is the result of creative collaboration among academia, industry and government, aimed at fostering the growth of the game industry and innovation economy." It is a statewide center, "designated by the Commonwealth, for entrepreneurship, academic cooperation and economic development across the Massachusetts digital and video games ecosystem."
Students work on real game properties, government simulation projects, and educational and serious games that the school says, "are making a difference in people's lives." Students participate in internships and externships, and are exposed to networking opportunities with industry professionals at conferences such as the Game Developers Conference (GDC) and Boston's PAX East, where they debut the games they created.
Becker students have produced digital technology applications for the Internal Revenue Service, John Hancock, Meditech, Oracle, UMass Medical School, and the U.S. Army, to name a few.
4. Worcester Polytechnic Institute, Worcester, Massachusetts

Established in 1865, Worcester Polytechnic Institute (WPI) provides Global Scholarships to 100% of its students to complete "life-changing" project work. The school, which serves 6,870 students from more than 60 countries and 45 states, consists of 14 academic departments that offer more than 50 undergraduate and graduate degree programs in business, engineering, humanities and arts, social sciences, and technology, leading to bachelor's, master's, and doctoral degrees.
The Division of Arts & Sciences has several pathways for aspiring game designers. Undergraduate offerings include BA and BS degrees in Interactive Media & Game Development (BA IMGD and BS IMGD) and a BS in Computer Science. Minors in IMGD and Computer Science are also available. Graduate offerings include an MS in IMGD and a PhD and Graduate Certificate in Computer Science.
One of the earliest gaming programs in the U.S., WPI's IMGD program "blends the artistic and technical aspects of game development and interactive media," says the school. Students will explore diverse topics such as Writing for Games, Game Audio, Artificial Intelligence, Digital Painting, Virtual Reality, and 3D Modeling. As part of WPI's project-based learning model, every student will complete a Major Qualifying Project (MQP). This culminating experience "enables students to synthesize their learning and tackle real-world problems in their fields of study."
The MQP provides the opportunity for IMGD students to "showcase their talents and immerse themselves in creating something they are passionate about." The project "also adds another impressive piece to student portfolios and, in some cases, give students their very first game credits."
Some students build game prototypes, while others create game development tools, interactive art exhibits, and other forms of media.
Graduates of the IMGD program at WPI are prepared to work in the gaming industry, and apply their technical and creative skills in areas such as education, healthcare, art, and social sciences.
5. Hampshire College, Amherst, Massachusetts

Hampshire College was created by the presidents of Amherst (AC), Mount Holyoke (MHC), and Smith Colleges (SC), along with the University of Massachusetts Amherst (UMass). The group came up with the idea for the school in 1958. In 1965, Hampshire College became a reality. Today, the school serves 745 students enrolled in a number of BA programs through the Consortium (Hampshire, AC, MHC, SC, UMass), and five interdisciplinary schools.
The School of Cognitive Science at Hampshire houses the Computer Science Department, which offers a BA in Computer Science with a Game Design and Development Study Area. The Computer Science curriculum "gives students a foundation for further work by providing them with skills in programming and digital media, including computer graphics, animation, and game development," says the school.
Students in the program will strengthen their skills in 2D and 3D art and animation, audio design, communication, entrepreneurship, game design, game programming, iterative development, playtesting and user testing, project management, storytelling, and teamwork. Courses are project-based and offer opportunities for students to work in interdisciplinary teams and develop games that will enhance their portfolios.
Course highlights include Advanced Computer Animation Production, Analog Game Programming, Artificial Intelligence in 3D Virtual Worlds, Computer Graphics Topics for Programmers, Designing Treasure Hunts, Game Design, Game Development Workshop, Game Programming, Software Engineering, The Art and Science of Digital Imaging, and Women in Game Programming. Sample Consortium courses include Algorithms (MHA), Computational Geometry (SC), Interactive Web Programming (UMass), Parallel Algorithms and Architecture (UMass), and Robotics (UMass).
Other program highlights include the opportunity for students to work with peers and advisors to craft games of their own design, access to the Game Lab and Game Library and the Hampshire College Cluster Computing Facility, which houses "a high-performance Beowulf-style computer cluster called fly," used for 3D rendering, evolutionary computation research, physical and biological simulations, and more.