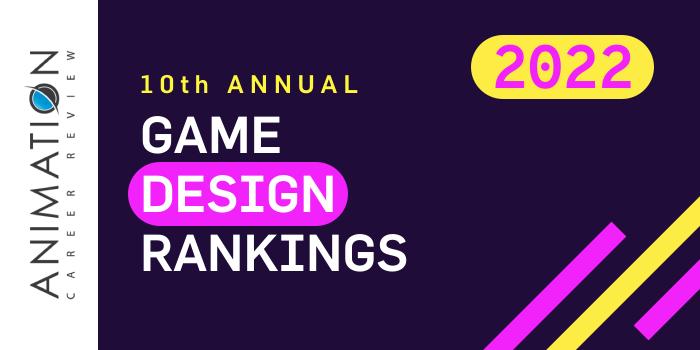 What are the top game design programs in Massachusetts for 2022?
Top 5 Massachusetts Game Design Schools - 2022 College Rankings

| Ranking | School | City |
| --- | --- | --- |
| 1 | Massachusetts Institute of Technology | Cambridge |
| 2 | Worcester Polytechnic Institute | Worcester |
| 3 | Northeastern University | Boston |
| 4 | Fitchburg State University | Fitchburg |
| 5 | Hampshire College | Amherst |
Our 2022 ranking of the top game design school programs in Massachusetts. For an explanation of the ranking criteria, click here.
1. Massachusetts Institute of Technology (MIT), Cambridge, Massachusetts

Massachusetts Institute of Technology (MIT) houses the MIT Game Lab, which helps students customize a plan of study that matches their goals. The Lab is also a research and development hub that designs games for research.
Besides opportunities to customize the curriculum, individuals interested in studying game design at MIT may do so through several programs that have the option to choose electives from any department or a built-in "cluster." Examples include the Comparative Media Studies (CMS), and Computer Science and Engineering (CSE) Programs.
Housed in the School of Humanities, Arts, and Social Sciences (SHASS), the Department of Comparative Media Studies (CMS) offers programs leading to a BS or MS in CMS. The Games and Interactive Media Cluster consists of more than 20 game design course options.
The Electrical Engineering & Computer Science Department in the MIT Schwarzman College of Computing (MIT EECS) is the largest department at MIT. EECS offers BS and MS degrees in Computer Science and Engineering. Programs are highly interdisciplinary and emphasize lab work, research, on-campus team and independent projects, and off-campus internships with MIT partner companies. Programs explore software engineering, programming languages, human-computer interaction (HCI) and graphics, artificial intelligence (AI), machine learning, algorithms and theory, and computer systems.
Elective requirements allow students to take additional courses that focus on games. Courses may be offered within and outside the department. Examples from the CMS Department include Game Design Methods, Videogame Theory, Interactive Narrative, Imagination, Computation & Expression Studio, Game Design, Advanced Game Design Studio, Designing Interactions, Design and Development for Games and Learning, Games and Culture, Games for Social Change, Fun and Games: Cross-Cultural Perspectives.
The MIT Department of Brain and Cognitive Sciences (BCS) offers an additional program for designers looking to specialize in unique areas such as psychological games and behavioral change. The BS in Brain & Cognitive Science is offered in partnership with the EECS Department. And finally, students who are interested in the business side of game development or who would like to launch their own studios, can enroll in the BS in Business Program, housed in the MIT Sloan School of Management. The same rules apply. For both options, students may work with the MIT Game Lab to customize a focus area that aligns with their goals.
Massachusetts Institute of Technology MIT is accredited by the New England Commission of Higher Education (NECHE). The school was founded on April 10, 1861, just two days before the start of the Civil War. MIT serves nearly 12,000 students enrolled in more than 100 programs in five schools.
2. Worcester Polytechnic Institute, Worcester, Massachusetts

The School of Arts and Sciences at Worcester Polytechnic Institute (WPI) houses one of the nation's first gaming programs—Interactive Media & Game Development (IMGD). Degree options for game designers include a BA, BS, Minor, and MFA in IMGD. A BS/MS in IMGD allows students to complete both degrees at an accelerated pace. Students can complete the program in four to five years.
The IMGD BA has Concentrations in Animation, 3D Sculpting, Design, Writing, and Technical Artistry. The BS allows students to begin working on everything from games and virtual environments to interactive fiction from the very first day of the program. The WPI MFA is an interdisciplinary, studio-based program that has three focus areas: Serious Games, Production and Management, and Technical. Students will leave the MFA program with a solo thesis project or a group project. In the WPI IMGD Minor, students may design a focus area consisting of six courses in game studies, animation, social impact of games, game design, and others.  
All programs blend art, technology, and real-world experience through a co-op or internship. As part of Worcester Polytechnic Institute, IMGD graduates enjoy frequent on-campus recruiting events and a 92.7% success rate. Examples of companies that have hired WPI IMGD graduates include Kaon Interactive, Zudy, Centers Technology, NexGen Interactions, and NuVu.
Worcester Polytechnic Institute is accredited by the New England Commission of Higher Education (NECHE). Established in 1865, WPI is a top 25 STEM college, with more than 50 global project centers on six continents. Serving 7,230 students, Worcester Polytechnic Institute offers 70+ degree programs across four schools: Arts & Sciences, Business, Engineering, and The Global School.
3. Northeastern University, Boston, Massachusetts

Northeastern University (Northeastern) offers several programs for game designers in the College of Arts, Media and Design (CAMD) and Khoury College of Computer Sciences. Undergraduate options include BFAs in Game Design and Game Art & Animation, BS degrees in Computer Science and Game Development, and Game Design and Music with a Concentration in Music Technology. Game Art and Game Design Minors are also available.
Graduate programs include an MS in Game Science and Design and Certificates in Game Design and Game Analytics. The MS is jointly offered through CAMD and Khoury, and all programs at all levels are multidisciplinary.
Students in the game design programs at Northeastern will participate in the school's distinctive co-op program. This experiential learning program allows undergraduate students to gain up to 18 months of hands-on, professional experience in game design. A graduate co-op program is available for full-time graduate students. Northeastern University partners with more than 20,000 co-op employers nationwide and in 65+ countries across the globe. 
In addition to gaining work experience, students in all programs enjoy hands-on learning in collaborative classrooms and studios, access to state-ot-the-art production facilities, courses taught by industry professionals, and access to 3,350+ employer partners, including Fortune 500 companies, government agencies, and global companies. 
Graduates of the Game Design Programs at Northeastern University work in game art, design, development, and sound, art and design, animation, technology, and more. Examples of alumni employer's include Google, Microsoft Studios, Cognizant, and Zynga. 
Northeastern University is accredited by the New England Commission of Higher Education (NECHE). Founded in 1898, the school serves around 33,700 students enrolled in 270 undergraduate majors, over 170 combined majors, and 150+ master's degree and certificate programs. Northeastern University degree programs are offered in nine colleges and schools.
4. Fitchburg State University, Fitchburg, Massachusetts

The School of Health and Natural Sciences at Fitchburg State University (Fitchburg State) offers BS and MS degrees in Computer Science (CS). A CS Minor is also available. The School of Arts and Sciences houses the Communications Media Department, which offers a Minor in Game Design. The program explores the planning stages and design of games. Sample courses for this 18 credit-hour program include Game Narrative Design, Game Level Design, Serious Games, 3D Game Development, and the Games Studies Seminar.
As part of the Communications Media Department, students in the minor may participate in the Communications Media Showcase and they have access to the campus game library/lounge, the game workshop room, and game design and development lab.
The BS in CS program offers a Game Programming Concentration. The CS program also features a dual-track curriculum that combines software and hardware education with business courses, internship opportunities, and access to an extensive study abroad program. BS in CS students also benefit from small class sizes, mentoring, and hands-on learning. Course examples for the program include Elements of Game Design, Introduction to Game Art, Game Programming, Digital Electronics, and Game Design Workshop.
The Fitchburg State CS Program is accredited by the Computing Accreditation Commission of the Accreditation Board for Engineering and Technology (ABET). Over the last five years, graduates of the program have enjoy a 95% job placement rate. Fitchburg CS alumni hold titles such as Game Programmer, Software Engineer, Systems Programmer, and Quality Assurance Engineer. Some CS graduates go on to enroll in graduate programs at Fitchburg State University and other top schools.
Fitchburg State University is accredited by the New England Commission of Higher Education (NECHE). Established in 1894, the school serves nearly 4,700 students enrolled in more than 30 undergraduate and 22 graduate programs across 16 academic departments. Fitchburg State University consists of 48 buildings on 60 acres. Six of the school's buildings are more than a century old.
5. Hampshire College, Amherst, Massachusetts

Hampshire College offers the opportunity for students to design their own major from one of 50 areas of study. Instead of academic years, students will make their way through their chosen program through a divisional structure consisting of portfolio reviews, projects, community-based learning, courses, and final papers. During the entire final year of the program, students will conceptualize, design, and finalize a solo project.
In the Game Design and Development Area (GDD), students will also work in interdisciplinary teams to develop games to add to their final professional portfolio. Courses for the GDD Area are project-based and explore 2D and 3D art and animation, audio design, game programming, playtesting and user testing, game design, storytelling, project management, and entrepreneurship. Sample courses include Analog Game Design, Pixelbending, Game Development Workshop, Computer Animation I-III, Game Programming, and Game Design.
GDD students have access to the Hampshire College Cluster Computing Facility, and the Game Lab and Library. Both facilities provide state-of-the art production equipment and spaces where students can create games and work on other projects.
Hampshire College is an independent, not-for-profit institution accredited by the New England Commission of Higher Education (NECHE). The school serves more than 500 students enrolled self-designed programs in 50 areas of study. Programs lead to a BA degree.