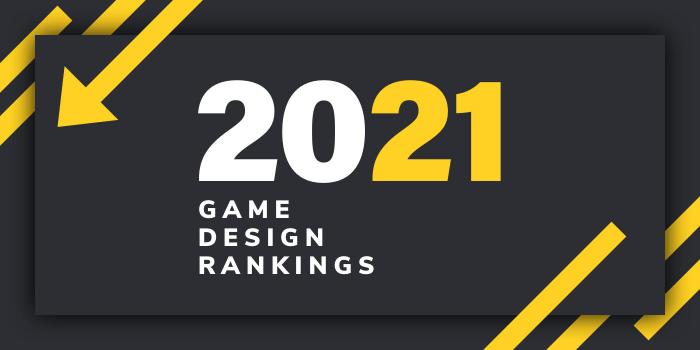 What are the top game design programs in New Jersey for 2021?
Top 5 New Jersey Game Design Schools - 2021 College Rankings

| Ranking | School | City |
| --- | --- | --- |
| 1 | New Jersey Institute of Technology | Newark |
| 2 | Stevens Institute of Technology | Hoboken |
| 3 | Rutgers University | New Brunswick |
| 4 | The College of New Jersey | Ewing |
| 5 | Fairleigh Dickinson University | Teaneck |
Our 2021 ranking of the top game design school programs in New Jersey. For an explanation of the ranking criteria, click here.
1. New Jersey Institute of Technology, Newark, New Jersey

New Jersey Institute of Technology (NJIT) opened its doors in 1885 as The Newark Technical School with just 88 students. Today, the school serves more than 11,400 students enrolled in more than 120 bachelor's and master's degree programs and 19 doctoral degrees in eight colleges and schools.
Programs for aspiring game designers are offered in the College of Architecture & Design, School of Art and Design and Ying Wu College of Computing, Departments of Computer Science and Information Technology Division.
Options include a BA in Digital Design with a Game Design Track and BS degrees in Computer Science and Information Technology. The BS programs offer the opportunity to focus in Game Design, Game Production, Game Programming, Multimedia, and more. All program tracks offer an endless number of games related courses. 
Course highlights include 2D and 3D Game Development, 2D and 3D Game engine Programming, 3D Modeling and Animation, Advanced Game Production, Character Modeling and Animation, Educational Game Design, Game Architecture and Design, Game Design Studio, Game Development, Game Development Workshop, Game Modification Development, Game Production, Modification Programming, Programming Language Concepts, Simulated Environments, Virtual Reality Design, and WebGL Programming.
Graduates of the games programs at NJIT have landed positions in areas such as animation, architectural and environment visualization, game design, graphic design, storyboard art, web design, and more. NJIT students have interned or worked full-time at studios such as 1st Avenue Machine, CSALAS & Co Labs, KWD – Kim Wendell Design LLC, Miskowski Design LLC, NTropic, SUSPECT vfx+design, SWDTech Games, and Tripwire Interactive.
2. Stevens Institute of Technology, Hoboken, New Jersey

Stevens Institute of Technology opened in 1870. The school serves 7,200 students enrolled in 35 undergraduate majors within four schools including Charles V. Schaefer, Jr. School of Engineering, the School of Business, School of Systems and Enterprises, and the College of Arts & Letters. The school also offers more than 40 master's degree programs and 20 PhD programs in the fields of Business, Computer Science, Engineering, Science, and Arts and Humanities. Two additional interdisciplinary PhD programs are also available.
The College of Arts & Letters offers a BA and a Minor in Visual Arts and Technology. Concentration options include Creative Computation, Design, Game Design, and Moving Image.  "Creativity, critique and collaboration define the classroom, and students are encouraged to explore the intersections of their imaginations and the latest technologies," says the school.
In the Game Design Concentration, students focus on learning "how to build 2D and 3D games using their own artwork, code, and story." The Concentration also "critically looks at the current state of game design—from large scale studio, to small independent art projects. By seeing the entire scope of what games can do, students will explore a range of possibilities of using games to create thought provoking projects."
Course highlights for the program include Animation, Design, Drawing, Game Design I, II & III, Foundation 2D: Color & Composition, Foundation 3D: Form & Space, Video, and Web Design. A yearlong Capstone, designed to launch students "into early career success," is also part of the program.
With a 93% job placement rate (2020), graduates of the Visual Arts and Technology Program often go on to work in a range of creative fields, including media, production, design, game design, advertising and marketing. Graduates have been hired at BuzzFeed, Comcast, Scholastic Inc., 72 Pixels, VaynerMedia, Vita Coco, and many others.
3. Rutgers University, New Brunswick, New Jersey

Established in 1766 and serving more than 71,000 students, Rutgers University is the oldest and largest public university in the New York/New Jersey metropolitan area. The school offers more than 150 undergraduate majors and over 400 graduate programs in 29 colleges and schools.
The School of Communication and Information offers BA and Dual BA and MI (Master of Information Degree) programs for Information Technology & Informatics (ITI) Majors. A Video Game Production and Innovation Specialization is available as well as a Digital Game Artist Certificate in the Center for Continuing Professional Development.
Training for the Certificate Program "centers around developing core skills for jobs related to Digital Art, 3D Art, Modeling, Character Design and Environmental Art Design," says the school. "This is a skills-specific program, which will teach the key components and competencies needed to excel in positions related to 3D Art for Games and Environmental Art for Games."
The four main components of the program include Art Foundations, Asset Development, Portfolio Development, and Technical Skills. "Upon program completion, students will enter the field at or above industry level standards."
The ITI Major is 39 credits, including 18 credits of required courses, and 21 credits of electives. The Video Game Production and Innovation Specialization trains students to "plan and design video games to address organizational and societal issues, including recreational gaming, says the school. Students will develop competence in areas such as Animation and Visual Design, Game Development Management, Game Methodology and Design, and Game Production.
Complementary electives are part of the program and include courses such as Advanced Web Design Technologies, Digital Game Creation (Game Design), Game Design Methodology, Game Production, Human-Computer Interaction, IT and Web Accessibility, Serious Games, and Social Impacts of Video Gaming.
Students in the program have the opportunity to complete an internship in the game industry, 150 hours of independent study, and experiential learning focused courses such as ITI 210 - Management of Technological Organizations and the Capstone Course.
The culmination of the experiential learning courses is the Information Technology and Informatics Program (ITI) Showcase, where student teams from the ITI 210 class compete in the Prototype and Pitch Competition and the Capstone class presents projects to a panel of judges before an audience of their peers. 
4. The College of New Jersey, Ewing, New Jersey

The College of New Jersey (TCNJ) was founded in 1855 as New Jersey State Normal School. With the seventh highest four-year graduation rate among all public colleges and universities, TCNJ enrolls approximately 7,400 students including 6,790 undergraduates and 610 graduate students. The school offers more than 50 majors in seven schools: Arts and Communication; Business; Education; Engineering; Humanities and Social Sciences; Nursing, Health, and Exercise Science; and Science.
The School of Arts and Communications houses the Interactive Multimedia Department (IMM), which offers a BA in Interactive Media. The core curriculum for the program "provides a foundation of skills and knowledge in digital media production, creative coding, and interaction design, coupled with an awareness of the historical and cultural forces that shape our attitudes toward technology," says the school.
In the Games and Playable Media Area, students will take courses with special topics such as Delightful Little Games and Game Studies and Design. Other courses include Games I: Design & Architecture, Games II: Implementation and Project Management, and Intro to Interactive Computing.
Students in the program have access to TCNJ's Art and Interactive Multimedia (AIMM) Building. Established in 2010, the building features "state-of-the-art facilities, including computer labs with a range of industry-standard software, a recording studio for hands-on experience with the latest audio production tools, and multipurpose studios for everything from video to building custom electronic hardware."
The AIMM building also hosts exhibitions, screenings, performances, guest workshops, student organizations, community groups and more.
Other program highlights include internships at places such as Amazon, DreamWorks, and NFL Films, and mock interviews set up by the Department, and resume reviews. The Department monitors job listings for students and they will write recommendation letters and make phone calls. "Students find all the support they need to get that important first gig in their field."
The BA program ends with the IMM Senior Showcase, which allows students to present their Senior Capstone Projects to peers and technology professionals.
Graduates of the program have gone on to enroll in top graduate schools such as NYU, SCAD, and SVA,  and land positions at companies such as Arkadium, Blue Sky Studios, HUGE, MarkerBot, Nickelodeon, TIME, and many others.
5. Fairleigh Dickinson University, Teaneck, New Jersey

Founded in 1942, Fairleigh Dickinson University (FDU) is a not-for-profit, nonsectarian institution that serves 11,500 students, making it the largest private university in New Jersey. More than 100 undergraduate and graduate degree programs are offered on two New Jersey campuses and at two FDU locations outside the U.S.: Wroxton College, in Oxfordshire in England, and the Vancouver Campus, in British Columbia, Canada.
FDU houses nine colleges and schools, including Maxwell Becton College of Arts and Sciences (School of the Arts) and Gildart Haase School of Computer Sciences and Engineering, which offer several programs for aspiring game designers.
The School of the Arts has both undergraduate and graduate programs for aspiring game designers. The undergraduate program leads to a BA in Film and Animation with a Video Game Animation Concentration. The graduate programs are combined degrees including the BA/MA and BA/MFA in Film and Animation with a Video Game Animation Concentration and a 60 credit hour MFA in Animation with a Concentration in Video Games for those interested in creating animations for video games, virtual reality, and interactive media.
Video Game Animation students can expect to take courses such as 3D Asset Creation for Video Games, 3D Computer Animation, 3D Environment Modeling, 3D Game Creation using Unity, 3D Game Creation using Unreal, Advanced After Effects, Advanced Game Creation, Character Animation Using CAT, Game Design, Low Poly 3D Modeling, Vector Animation, Video Game Team Project, Virtual Reality, and Zbrush Digital Sculpting.
Students will also complete two thesis courses (undergraduate) or three thesis courses (graduate), independent study, and an internship.
Gildart Haase School of Computer Sciences and Engineering offers a BS in Computer Science with a Concentration in Game and Mobile Application Development and a combined BS/MS. Course highlights include Artificial Intelligence, Computer Game Programming, Mobile Application Development, Programming for the Internet, and Systems Development with Java. Students also have the option to take "two computer animation courses from the School of Art and Media Studies as a Free Elective and a Technical Elective in the B.S. Computer Science curriculum," says the school.
Other program options for aspiring game designers include a Certificate in Game Development, a 3D Video Game Animation Minor, and a Game for Web Minor.
Graduates of the Game Programs at FDU are prepared to seek careers in animation, digital media, game design and development, software development, and more.