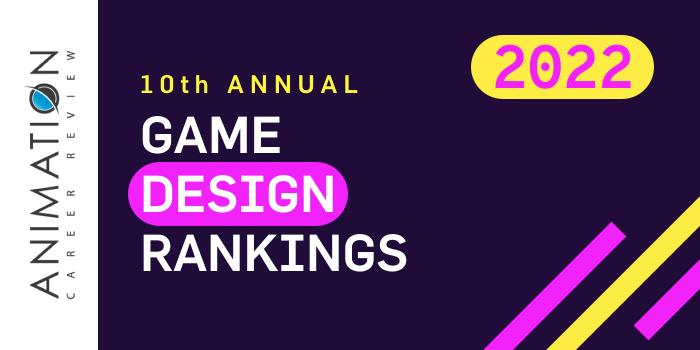 What are the top game design programs in Pennsylvania for 2022?
Top 5 Pennsylvania Game Design Schools - 2022 College Rankings

| Ranking | School | City |
| --- | --- | --- |
| 1 | Carnegie Mellon University | Pittsburgh |
| 2 | Drexel University | Philadelphia |
| 3 | University of Pennsylvania | Philadelphia |
| 4 | University of the Arts | Philadelphia |
| 5 | Moore College of Art and Design | Philadelphia |
Our 2022 ranking of the top game design school programs in Pennsylvania. For an explanation of the ranking criteria, click here.
1. Carnegie Mellon University, Pittsburgh, Pennsylvania

The Entertainment Technology Center (ETC) at Carnegie Mellon University (CMU or Carnegie Mellon) houses a master's program for game designers and a minor in collaboration with the Integrative Design, Arts, and Technology Network (IDeATe). Founded in 1998, the ETC is a partnership between Carnegie Mellon University's College of Fine Arts and the School of Computer Science.
The ETC Master's in Entertainment Technology (MET) is a terminal degree that takes two years to complete. The program explores everything from acting to worldbuilding. Specific required courses include Fundamentals of Entertainment Technology, Visual Story, and Improvisational Acting, Building Virtual Worlds. ETC MET students will also take electives from the following areas: Leadership & Innovation, Interactive Storytelling, Themed Entertainment, Game Design, and General. Possible elective options include Game Design, Prototyping and Production, Experience Design, Role Playing Game Writing Workshop, Entrepreneurship in ETC, and Advanced Pipeline Topics for Film and Game Art.
The ETC IDeATe Minor in Game Design is open to all majors at CMU. Note that the school has more than 7,000 major/minor combo options. Popular options for game designers include the BFA in Art/Game Design Minor, BS in Computer Science (CS)/Game Design Minor, the Bachelor of Computer Science and Arts (BCSA)/Game Design Minor, and the BS in Music and Technology/Game Design Minor. ETC also allows students across departments to enroll in individual courses to enhance their program of study.
Students in the ETC IDeATe Minor in Game Design will take courses that cover topics such as game programming, Interactive narrative and character development, user testing, computing, interface design, game systems and mechanics design, visual and audio design, teamwork, and the design process. The ETC IDeATe Minor in Game Design requires a minimum of 45 units of study.
Graduates of the Game Design Programs at Carnegie Mellon University are routinely hired by top companies such as Apple, Google, Microsoft, and Meta (formerly Facebook). Other employers include 2K Games, A3 by Airbus, and 31st Street Studios.
Carnegie Mellon University is accredited by the Middle States Commission on Higher Education (MSCHE). Founded in 1900, CMU serves more than 14,500 students enrolled in 200+ programs in seven colleges and schools. Carnegie Mellon University also has more than 20 research partnerships in Silicon Valley, Australia, Africa, and Qatar.
2. Drexel University, Philadelphia, Pennsylvania

The Antoinette Westphal College of Media Arts & Design (The Westphal College) at Drexel University (Drexel) has majors, minors, and accelerated programs for game designers. Options include Game Design and Production (BS), Game Design and Production/Digital Media (BS/MS), Interactive Digital Media/Digital Media (BS/MS), and Interactive Digital Media (Minor).
Accredited by the National Association of Schools of Art and Design (NASAD), The Westphal College programs are studio-based and hands-on. Small class sizes allow for individual instruction and the cooperative (co-op) education program enables students to gain work and world experience prior to graduation. Co-op experiences are local, national, and in places such as Hong Kong, London, Spain, Ghana, and Greece, among others.
The College of Computing & Informatics at Drexel University offers additional options for designers looking for a program that combines game development with computer science. Available pathways include BA and BS degrees in Computer Science (BAC, BSCS) and a 24 credit hour Computer Science Minor. The degree programs offer a Concentration in Game Programming and Development. Like The Westphal College programs, the Computer Science programs provide a hands-on curriculum combined with valuable co-op experiences. The programs end with a full-year capstone project.
Students in all programs have access to the Center for Games, Artificial Intelligence, and Media Systems (GAIMS Center), Drexel Game Design and the RePlay Lab, and the Entrepreneurial Game Studio (EGS).
Graduates of the Game Design Programs at Drexel University are prepared to pursue positions in pc, mobile and console game design, game art, simulation, education, training, and more.
Drexel University is accredited by the Middle States Commission on Higher Education (MSCHE). The Digital Media Programs are accredited by the National Association of Schools of Arts & Design (NASAD). Established in 1891 as Drexel Institute of Art, Science and Industry, Drexel University serves nearly 23,600 students, enrolled in more than 200 degree programs in 15 colleges and schools.
3. University of Pennsylvania, Philadelphia, Pennsylvania

University of Pennsylvania (UPenn) offers an interdisciplinary program for game designers. It is one of the few programs of its kind offered at a four-year research university. Launched in 2004 by the Center for Human Modeling and Simulation (HMS), the Computer Graphics and Game Technology (CGGT) Program leads to the Master of Engineering (MSE) in CGGT.
The Center for HMS is part of the School of Engineering and Applied Sciences' Computer and Information Science Department (CIS), so MSE in CGGT students will take at least four computer science and engineering courses along with technical, graphics, and free electives. Course examples for the program include Applied Machine Learning, GPU Programming and Architecture, Machine Perception, Engineering Entrepreneurship, Game Design and Development, and Computer Animation.
CGGT students may specialize in areas such as Creative Design, Animation and Simulation Technology, Human/Computer Interfaces and Production Management, and Art and Animation. Other program high points include collaboration with students from other departments such as Digital Media Design (DMD), and access the SIG Center for Computer Graphics, which features a state-of-the-art motion capture studio, ViDi Center for Digital Visualization Center, AR/VR systems (Vive, Oculus, and HoloLens), and high-performance NVidia GPU processors.  
The MSE CGGT program prepares students for a variety of positions in game design and animation. Graduates of the University of Pennsylvania MSE in CGGT Program have established careers at major studios such as Disney, Electronic Arts (EA), and DreamWorks Animation.
Also housed within the School of Engineering and Applied Science is the Digital Media Design Program. Created in 1998, this interdisciplinary program combines coursework from UPenn School of Design and the CIS Department. Leading to a Bachelor's in Engineering and Science (BSE) with a Digital Media Design Major (DMD), the program explores animation, interactive technologies, games, computer graphics, and virtual reality design. A programming-intensive Digital Media Design (DMD) Minor is also available.
UPenn DMD graduates are routinely hired at DreamWorks Animation, Disney Animation, Electronic Arts (EA), Microsoft, Pixar, and Google.
University of Pennsylvania is accredited by the Middle States Commission on Higher Education (MSCHE). Established in 1740, UPenn is one of the nation's oldest universities. Offering more than 400 programs, the school houses 189 research centers and institutes, and 16 colleges and schools. UPenn serves more than 28,000 students from across the U.S. and every other country. 
4. University of the Arts, Philadelphia, Pennsylvania

University of the Arts (UArts) launched The Center for Immersive Media in 2019. Totaling around 5,600 square feet, The Center is dedicated to emerging technologies such as augmented and virtual reality (AR/VR), human-computer interaction (HCI), and performance motion capture. UArts design students have access to The Center as well as opportunities to participate in game jams, exhibitions, internships, workshops, studios, and more.
Specific programs for students interested in games include the BFA in Game Art and 15 credit hour Minor in Game Design. Offered in the School of Film, the programs consist of courses such as Game Concepts, Virtual Environments, Writing for Games, Advanced 3D Animation, Digital Studio, 3D Simulation & Effects, Sound Design, Computer Art Studio, Professional Practice, Game Play, and Interface Design. Free electives allow students to take additional courses in an area of interest, pursue other areas in the arts, or take on a minor in one of 23 programs. Examples include Business, Illustration, and Photography.
Other BFA benefits include the opportunity to work on real-world projects through the Digital Studio and Professional Practice courses, frequent visits by recruiters, and an optional internship with a local or regional company. Students have completed internships with companies such as Perfect Prototype, Comcast, PHL Collective, and Analytical Graphics Inc. Recruiters that have visited UArts include Bethesda Softworks, Sony, and many others.
UArts alumni have worked on the World of Warcraft series and God of War series Blizzard Entertainment and Sony. They can also be found in a variety of positions at other studios across the country and around world.
Founded in 1876 as part of the Philadelphia Museum of Art, University of the Arts serves nearly 1,500 students enrolled in more than 40 degree programs in fine arts, design, media arts, dance, music, theater, and crafts. More than 20 minors are available and open to all students. UArts programs are offered in the Schools of Art, Dance, Design, Film, Music, Theater Arts, and Graduate and Professional Studies. University of the Arts is accredited by the Middle States Commission on Higher Education (MSCHE).
5. Moore College of Art and Design, Philadelphia, Pennsylvania

Moore College of Art and Design (Moore) offers an Animation & Game Arts (AGA) program with a number of perks including a 7:1 student-to-faculty ratio, a $1,000 paid internship, and a 97% employment rate within one year after graduating. Moore AGA students and graduates have worked at Titmouse Animation Studio, QuadraTron Games, Digital Effix, PETAL et al., and Neon Ave. Studios.
Leading to a BFA, the AGA program takes place in a collaborative environment where students have access to state-of-the-art equipment and production spaces, workshops led by professionals in the field, and the Annual Game Changers Symposium. Course examples for the program include 2D Character Design & Environment Design, Game Strategies Studio, Time-Based Media Projects, Mobile Media Projects, Game Projects, Animation & Storyboarding, and 3D Environments. Through studio and open electives, students may focus in a specific area of AGA. In the final year of the program, students will complete Senior Studio and the Senior Thesis.
Moore College of Art & Design is accredited by the Middle States Commission on Higher Education (MSCHE). Founded in 1848 as the Philadelphia School of Design for Women, Moore College serves a co-ed population of around 350 students enrolled in 20+ programs leading to a BFA, Minor, MA, or MFA. The school also offers nine 4+1 programs (BFA+MA), six certificate programs, and several youth education options