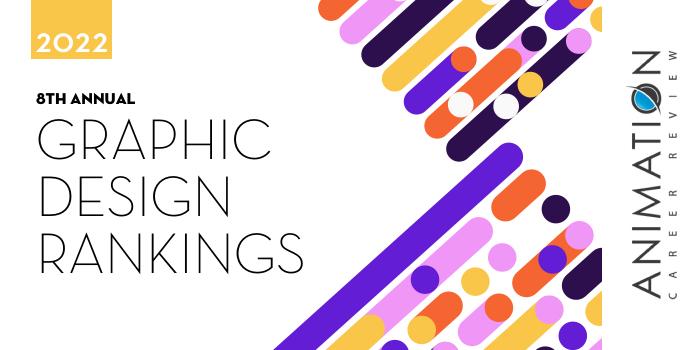 What are the top Massachusetts graphic design schools for 2022?
Top 5 Graphic Design School Programs in Massachusetts - 2022 College Rankings

| Ranking | School | City |
| --- | --- | --- |
| 1 | Massachusetts College of Art and Design | Boston |
| 2 | Boston University | Boston |
| 3 | Northeastern University | Boston |
| 4 | Lesley University | Cambridge |
| 5 | Clark University | Worcester |
Our 2022 ranking of the top graphic design school programs in Massachusetts. For an explanation of the ranking criteria, click here.
1. Massachusetts College of Art and Design, Boston, Massachusetts

Massachusetts College of Art and Design (MassArt) has a Communication Design Program with BFA and Certificate options. The Communication Design Certificate has three levels of certification. Level 1 consists of four courses and covers visual communication for print and screen-based mediums. Level 2 consists of three courses and a non-credit workshop. Building on skills learned in Level 1, Level 2 includes advanced coursework in brand design, interactive design for web and mobile interfaces, typography, and UX design. Level 2 students will complete a professional portfolio.
Level 3 consists of four courses and one non-credit workshop. The most advanced level of the three, this option consists of advanced courses in design systems. Level 3 graduates are prepared to pursue immediate employment in the industry.
The MassArt Communication Design BFA explores advertising, branding and package design, interactive communication, information design, web and app design, user experience design, and publication design. Course examples include Advertising and Art Direction, Disobedient Design: From Activist Posters to Augmented Reality, Letterpress Printing, Programming for Designers, Graphic Design I-IV, Experimental Book Arts, Poster Design, Advanced Web Projects, Typography I-III, Identity Systems, Type Design, and Information Architecture.
BFA students will complete several design studio courses, Professional Practice, Independent Study, Advanced Projects I-II, the Graphic Design Portfolio course and the Senior Degree Project. Though optional, the MassArt Graphic Design Internship, worth three credits, is highly recommended.
Graduates of the Communications Design Programs at Massachusetts College of Art and Design work in advertising, book publishing, public relations, marketing, print media, entertainment, web development, social media, and animation and multimedia, among others. Some program alumni have established successful freelance careers, while others have gone on to launch their own creative studios and design firms.
Massachusetts College of Art and Design (MassArt) is accredited by the New England Commission of Higher Education (NECHE). The school, which opened as Massachusetts Normal School in 1873, serves nearly 2,000 undergraduate, graduate, and continuing education students. Known as the Commonwealth's Art and Design School, MassArt offers 24 programs leading to the BFA, MFA, MDES, MAT, or March.
2. Boston University, Boston, Massachusetts
The School of Visual Arts (SVA) at Boston University (BU) has a Graphic Design Program with BFA, MFA, and Certificate options. Housed in the College of Fine Arts, SVA is accredited by the National Association of Schools of Art and Design (NASAD). Established in 1954, the School provides immersive studio experiences, internship opportunities, workshops, seminars, unique electives, and minors that complement any design program. All Graphic Design students also have access to state-of-the-art facilities such as the Engineering Production Innovation Center (EPIC), the Visual Arts Resource Library, Darkrooms, Computer Labs, and the Media Center. Graduate students have 24/7 access to individual private studios.
The BU Graphic Design Certificate Program is designed for students with a bachelor's degree with little to no experience in graphic design. This one-year, intensive program requires 30 credit hours of study including core studios, typography, and electives. Graduates of this program are prepared for positions in the industry or for entry into the Graphic Design MFA Program.
Consisting of 60 credit hours, the MFA Program hosts visiting artists and designers, workshops, and group critiques. Through BU's partnership with AIGA Boston, MFA students have opportunities to network with industry leaders through campus events and visits to area studios. Of the 60 required credit hours, 32 are in Graduate Graphic Design courses. Other requirements include Graphic Design Theory I-II, History of Graphic Design, and Graduate Typography. Twelve required elective credit hours allow students to explore additional areas within and outside of design.
In the Boston University Graphic Design BFA Program, students have the opportunity to specialize in an area of interested through electives. Examples include Exhibition Design, Design for the Web, Editorial Design, Motion Graphics, Interactive Design, and Experience Design. Consisting of 132 credit hours, the BFA curriculum is cross-disciplinary with course options from the Faculty of Computing & Data Sciences, [email protected], Hariri Institute for Computing, the College of Communication, and Questrom School of Business.
Other BU BFA Program benefits include partnerships with area design studios and businesses that lead to internships and employment and the study abroad program in Venice, Italy. Past students have also participated in a two-week design intensive in Amsterdam and a two-week Printmaking workshop at the Franz Masareel Centrum in Kasterlee, Belgium.
Graduates of the Boston University Graphic Design Programs have held positions at Martha Stewart Living Omnimedia (MSLO), Converse, and Free People, to name a few. Some program alumni have launched their own design studios or creative firms, while others have found success as freelance designers.
Boston University is accredited by the New England Commission of Higher Education (NECHE). With more than 300 programs of study offered in 22 colleges, divisions, and schools, BU serves close to 33,680 students across a 175-acre campus that houses close to 3,000 buildings, laboratories, classrooms, and libraries. With 10,000 faculty and staff, BU is Boston's largest employer. While Boston University can be traced back to 1839, where it began as the Newbury Biblical Institute, the school was officially chartered in 1869.
3. Northeastern University, Boston, Massachusetts

The College of Arts, Media and Design (CAMD) at Northeastern University (Northeastern) has several options for students seeking an undergraduate or advanced degree in Graphic Design. The undergraduate program leads to a BFA in Design with Concentrations in Graphic and Information Design, Experience Design, and Interaction Design. All options prepare students for positions such as Graphic Designer, User Experience Designer, Product Manager, Futuristic Product Designer, Design Strategist, Design Consultant, and Exhibition Designer, among others.
A major component of the CAMD BFA is the Co-op Program, which allows students to gain valuable experience working in the arts, design and media, fashion and travel, food and beverage, government and civic, and news and publishing sectors. Examples of participating companies include Ogilvy, AutoDesk, NBC Universal, The Boston Globe, The Museum of Fine Arts, The Boston Beer Company, Reebok International, New Balance, The TJX Companies, City of Boston, MassDOT/MBTA, Dana-Faber Cancer Institute, Brigham and Women's Hospital, edX, Education First, Fidelity Investments, and Thomas Reuters.
Students in the Northeastern University Design BFA Program will graduate with a professional portfolio of their best work. At the graduate level, Northeastern CAMD offers MFA, MS, and Certificate Programs in Information Design and Visualization. Features for this STEM-designated program include seminars, studio courses, visiting artists and researchers, workshops, and the option to create a focus area from electives.
The MFA is a 60 credit hour program that takes two years to complete. The program explores design, programming, data analysis, and research methods. The MFA culminates with a thesis project and exhibition. The MS is a 1-year, 32 credit hour program that explores areas such as human factors, programming, user testing, design process, data physicalization, and user-scenario mapping and observation. The MS program is also available at Northeastern University's recently launched Vancouver, BC campus.
Both graduate options provide Co-op experiences with The Broad Institute, Philips Research, Thomas Reuters, and MassDOT/MBTA. Potential careers include, but are not limited to, Design Researcher, Data Visualization Expert, Visualization Researcher, Visual Communication Expert, and Visual Strategist.
The Graduate Certificate in Information Design and Visualization consists of 16 credit hours. Designed for students looking to complement their degree in areas such as communications, data science, design or media, the Certificate Program covers multidisciplinary skills such as programming, design process, data analysis, user testing, and design critique.
In addition to Co-op experiences, all Northeastern University CAMD students have the opportunity to complete an internship and study abroad experiences at the University of Arts London and Central Saint Martins. Other study abroad options include a semester in Venice, Ireland, Berlin, Rome or Cuba.
Northeastern University is accredited by the New England Commission of Higher Education (NECHE). Founded in 1898, the school serves around 33,700 students enrolled in more than 900 degree and certificate programs in nine colleges and schools, and at the recently launched campus in Vancouver, BC. Northeastern also offers select advanced degrees at graduate campuses in Charlotte, North Carolina; Seattle, Washington; Silicon Valley, Northern California, and Toronto, Canada.
4. Lesley University, Cambridge, Massachusetts

Lesley University's College of Art & Design serves just over 750 students enrolled in a variety of undergraduate, graduate, and certificate programs. Options for students interested in Graphic Design include a BFA and Online Certificate. A major component of the BFA Program is the internship. This core requirement provides opportunities to work at local and national studios such as New Balance, Rue La La, American Repertory Theater, Hasbro, Puma, and Arnold Worldwide.
Consisting of 123 credit hours, the Graphic Design BFA also allows students to pursue a second major or minor. Examples of major/second major combinations include Graphic Design + Sports Marketing and Management and Graphic Design + Political Science. In the major, students will complete 45 core course credits including Typography I-II, Language of Design, Professional Practices, Visual Communication I-III, Junior Design Studio, and Design Senior Studio 1-2, among others.
Elective options provide additional opportunities to enhance the degree. Examples include Packaging and Presentation, Binding & Boxes, Environmental Design, Brand Realization, Advanced Web Projects, Digital Filmmaking Techniques, Animation, Letterpress Studio, and Visual Books.
The Graphic Design Certificate is post-baccalaureate, fully online program that consists of 18 credit hours. Courses are delivered in accelerated 8-week terms. Required courses include Language of Design, Typography I-III, Visual Communication I, and History of Modern Design. The Graphic Design Certificate Program can be completed in one year, part-time.
Graduates of the Graphic Design Programs at Lesley University are prepared to pursue titles such as Packaging Designer, Brand Manager or Designer, Book Illustrator, Mobile App Designer, Web Designer, Commercial Graphic Designer, Publications Designer, and Exhibit Designer, among others.
Lesley University is accredited by the New England Commission of Higher Education (NECHE). Founded in 1909, the school serves close to 6,600 students enrolled in more than 100 programs in the College of Liberal Arts and Sciences, the College of Art & Design, the Graduate School of Education, and the Graduate School of Arts & Social Sciences.
5. Clark University, Worcester, Massachusetts

Graphic Design is a specialization within the Studio Art Program at Clark University (Clark). Housed in the Visual and Performing Arts Department (V&PA), the program is immersive and allows for collaboration between students majoring other creative areas. Art History, Screen Studies, and Media, Culture, and the Arts are just a few examples.
A major component of the Clark Studio Art Program is the internship option. Students have opportunities to intern at a number of museums such as Isabella Stewart Gardner Museum, the Museum of Fine Arts, Worcester Art Museum, the Institute of Contemporary Art, and DeCordova Sculpture Park and Museum.
Leading to a BA, the Clark Studio Art Program culminates with the Capstone course Studio Topics. The Capstone is an independent project that may be presented at the Annual ArtsWorcester Show.
Graduates of the Clark University Studio Art BA Program have been placed at graduate schools such as Savannah College of Art and Design (SCAD), Maryland Institute College of Art (MICA), Harvard University's Graduate School of Design, Otis College of Art and Design (OTIS), and Rhode Island School of Design (RISD). Program graduates are also Designers, Art Directors, Program Directors, Professors, Teaching Artists, Photographers, and Grant Managers, among others.
Clark University is accredited by the New England Commission of Higher Education (NECHE). Founded in 1887 as the first all-graduate institution in the U.S., Clark serves more than 500 students enrolled in 30 undergraduate majors and minors, 12 interdisciplinary concentrations, and more than 30 advanced degree programs. Clark University also offers accelerated degree and degree-completion programs as well as a number of professional certificate programs. All degree pathways and other programs at Clark are offered in more than a dozen schools and academic departments.