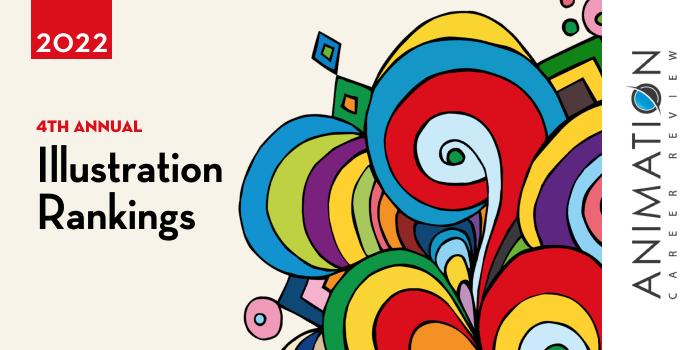 What are the top illustration schools in New York for 2022?
Top 5 New York Illustration Schools - 2022 College Rankings

| Ranking | School | City |
| --- | --- | --- |
| 1 | School of Visual Arts | New York |
| 2 | Pratt Institute | Brooklyn |
| 3 | The New School's Parsons School of Design | New York |
| 4 | Fashion Institute of Technology | New York |
| 5 | Syracuse University | Syracuse |
Our 2022 ranking of the top illustration schools in New York. For an explanation of the ranking criteria, click here.
1. School of Visual Arts, New York, New York

School of Visual Arts (SVA) has options for students looking to develop specific illustration skills through a single course or workshop, or artists seeking an illustration degree. Examples of single courses and workshops include Building Fictional Worlds, Children's Book Illustration, Digital Coloring for Illustrators and Comic Artists, Illustration and Visual Storytelling: Art and Industry, and RISO Printing: Zines and Small Publishing. Courses and workshops can last anywhere from a few days to several months, and some options be completed entirely online.
The SVA Illustration Department has a BFA Program that features opportunities to gain hands-on experience through internships and other experiential learning programs, access to faculty and mentors who are professionals in the industry, and a junior thesis and senior portfolio curriculum that allow students to develop a body of work that best reflects who they are as Illustrators.
Consisting of 120 credit hours, the Illustration BFA Program consists of coursework in drawing and illustration, writing, painting, visual computing, storytelling, comics, books and zines, digital coloring, animation, and motion. Elective studio courses allow students to study stop-motion animation, motion graphics, and website design, among others. SVA students have had the opportunity to work for The New Yorker and The Village Voice, and compete in competitions—all before graduating from the program. Graduates of the program go on to successful careers in industries that utilize illustration
For Illustrators seeking a career in Cartooning, a BFA is available through the Cartooning Department. Often called "the Harvard of Cartooning," this 120 credit hour program consists of 72 credit hours of studio art courses and elective options that allow students to study everything from animation to web design. Cartooning BFA students will explore traditional and emerging styles such as classic adventure comics, Amerimanga (East-West hybrid), and experimental graphic novels.
Courses for the SVA Cartooning Program are taught by instructors who have worked on projects such as The Dark Knight Returns, Pee Wee's Playhouse, and Daredevil. Course examples for the program include Principles of Cartooning I-II, Digital Collage Illustration: Telling Stories in Layers, Drawing with Ink for Illustrators, Storytelling I-II, History of Cartooning, and Illustration in Motion. Upon completion of the SVA Cartooning BFA Program, students will graduate with a Cartooning Portfolio of their best work.
Offered in the MFA Illustration as Visual Essay Department (est. 1984), the graduate program accepts just 20 students per year. Program features include a classroom-based curriculum, guest lecturers, speakers, and mentors, internship opportunities, personal workspaces with 24/7 access, and participation in gallery shows and exhibits. Students in all SVA programs have access to the school's active study abroad program as well as SVA offices in Seoul, South Korea, and Shanghai, China, where students can network, collaborate, and attend workshops and lectures. 
In addition to coursework and projects in computer illustration, creative writing, storytelling, and visual essay, SVA MFA students will have the opportunity to audit classes in film, animation, and fine arts. MFA students will complete a number of seminars and workshops, an Illustration Business Book Camp, and the Thesis Project: Visual Essay course. Graduates of have worked on major productions such as Sleepy Hollow and for brands such as Prada and Van's.
The School of Visual Arts (SVA) is accredited by the Middle States Commission on Higher Education (MSCHE). This private institution launched in 1947 as the Cartoonists and Illustrators School (C&I School). When it opened, C&I had just three teachers and 35 students. Today, SVA employs more than 1,000 faculty serving 7,000 students enrolled in 31 programs leading to a BFA, MA, MFA, MA/MAT or MPS.
2. Pratt Institute, Brooklyn, New York

Established in 2014, the School of Design at Pratt Institute (Pratt) has a Communications Design Program with an Illustration Emphasis. Leading to a BFA, the program features project-based coursework in a collaborative studio environment. The Illustration Emphasis explores storytelling, image-based communication, authoring, and socio-political commentary at the advanced level. The program encourages experimentation and elective coursework that allows students to develop skills in focused areas.
Available topics include Children's Books, 3D Modeling, Illustrated Typography, Graphic Novels, Editorial Illustration, Animation, Independent Publishing, and Concept Art. Course examples for the program include Illustration Intensive 1-3, Typography and Information Design, Branding and Messaging,
Space, Form, Process, Dynamic Imagery, Time and Movement, Integrated VisCom, and Professional Practice. Consisting of 126 credit hours, the Communications Design Program with an Illustration Emphasis culminates with the Illustration Senior Thesis.
The School of Art at Pratt Institute has two additional options for artists seeking a two-year degree program in Illustration. The Associates of Occupational Studies (AOS) in Illustration is a 69 credit hour program that emphasizes hands-on learning and experience through the internship program, courses taught by industry professionals, and intensive portfolio development courses.
Also consisting of 69 credit hours is the Graphic/Illustration Program that leads to an AAS. This option features a liberal arts component that allows students to transfer into the Pratt's BFA Program in Fine Arts or Communication Design. Both programs explore illustration for print and web, traditional and digital methods, advertising and editorial, professional practices, industry-standard software, drawing, and visualization.
Graduates of the Illustration Programs at Pratt Institute have been hired at Cartoon Network , Industrial Light & Magic (ILM), DreamWorks, Sony Pictures Imageworks, Gameloft, Walt Disney Animation Studios, and Digital Domain, among others.
Pratt Institute is accredited by the Middle States Commission on Higher Education (MSCHE). Founded in 1887, the school serves 4,875 students across campuses in Brooklyn, Manhattan, and Utica, New York. More than 50 undergraduate, graduate, and certificate programs are offered in the Schools of Art, Information, Design, Liberal Arts and Sciences, Architecture, and Continuing and Professional Studies.
3. The New School's Parsons School of Design, New York, New York

The School of Art, Media, & Technology (AMT) at The New School's Parsons School of Design (The New School Parsons or Parsons School of Design) provides the opportunity to create an interdisciplinary path of study around any major. For students in the Illustration BFA Program, examples include adding a Minor in Comics and Graphic Narrative, Journalism and Design, or Data Visualization. A BA/BFA Dual Degree option is also an option.
Other program features include study abroad opportunities in London, Paris, and Florence; Collaboration Studio courses and other collaborative projects with peers; internships with Parsons partners such as Nickelodeon, AIGA, Moleskine, Toon Books, The New York Times, Barnes & Noble, Apple, Red Cross, Brooklyn Industries, and Eyebeam; access to The New School libraries, studios, computer labs, archives, and the state-of-the-art Making Center; and participation in events such as MoCCA Fest, Comic Arts Brooklyn, and Pictoplasma.
The AMT Illustration Program also provides access to New York–based professional organizations such as the Society of Illustrators and American Illustration, which helps students connect with professional illustrators, artists, and publishers.
Consisting of 120 credit hours, the Parsons School of Design Illustration BFA Program begins with Parsons' first year curriculum, which explores 2D and 3D processes, digital design, drawing, and more. Course examples include Integrative Studio 1-2, Drawing/Imaging, Time, Objects as History, Sustainable Systems, and Space/Materiality. The second year consists of illustration studios and seminars, followed by two years of upper division coursework, studios, and seminars, advanced research, and professional practices. The program, which culminates with a Thesis, takes four years to complete, full-time.
The New School Parsons is accredited by the Middle States Commission on Higher Education (MSCHE). Founded in 1896 as The Chase School, Parsons serves more than 10,000 students enrolled 100+ degree and diploma programs.
4. Fashion Institute of Technology (FIT), New York, New York

Fashion Institute of Technology (FIT) houses the School of Art and Design, which has 17 creative majors in design, art and fashion, and customizable minors consisting of five courses in one of dozens of available disciplines. The FIT Illustration Program has two undergraduate options: the AAS and BFA. The AAS is a pathway to the BFA Program.
Both programs feature mentoring workshops led by art directors and professional illustrators,  participation in student art exhibitions, and access to the Society of Illustrators—the industry's top professional organization. BFA may take advantage of the FIT Internship Program.
Across programs, course examples include Illustration Rendering Techniques, Advanced Visual Story Studio, Digital Illustration Techniques, Visual Storytelling for Evolving Media, Stylistic Illustration, Illustration Workshop, Advanced Color Rendering, and the Business of Illustration. The FIT Illustration BFA culminates with the Illustration Portfolio Thesis, that will be presented before faculty and peers.
Graduates of the Illustration BFA Program are prepared immediate entry into the field or a graduate program, such as the 60 credit hour Illustration MFA offered in FIT's School of Graduate Studies. This program features real-world projects, guest lecturers, field trips to studios in LA and New York, and internship opportunities. Course examples for the program include Integrating Digital with Traditional Media, Creative Writing for Illustrators, Illustration in Motion, Sequential Storytelling, Printmaking and Artist's Books, Studio Workshop, and Survey of Digital Illustration.
In the final two semesters of the FIT Graduate Illustration Program, students will take Business Practices and Self Promotion Strategies and Visual Thesis Studio. The program culminates with a Visual Thesis Exhibition at a gallery. Past projects have included children's books, graphic novels, interactive digital media, installations, animation, murals, and concept art.
FIT Illustration alumni have been hired at ad agencies such as Young & Rubicam, BBDO Worldwide, Ogilvy, and DDB, and at corporations such as Hallmark and American Greetings. Program alumni work at magazines such as Harper's Bazaar and Vogue, and at entertainment companies such as Warner Brothers, DreamWorks Pictures, Disney, and LucasArts Entertainment.
Part of the State University of New York (SUNY) System, Fashion Institute of Technology is accredited by the Middle States Commission on Higher Education (MSCHE), the National Association of Schools of Art and Design (NASAD), and the Council for Interior Design Accreditation (CIDA). The school opened in 1944 with just 100 students, with classes taking place across two floors in the High School of Needle Trades. Today the FIT campus sits on 1.5 NYC blocks, and serves nearly 8,000 students.
Programs at FIT are offered across five academic divisions and range from Cosmetics and Fragrance Marketing to Toy Design. Many FIT programs are the first of their kind in the country.
5. Syracuse University, Syracuse, New York

Syracuse University (SU) houses the College of Visual and Performing Arts (VPA), home to the School of Art, which has an Illustration Program that is accredited by the National Association of Schools of Art and Design (NASAD). BFA and MFA options are available. Students in the BFA Program may explore one or more focus areas such as Editorial, Product, Sequential or Visual Development. Editorial students will focus on illustrating for newspapers, magazines, book jackets and online publishing.
In the Product Focus, students will explore illustrating as it relates to patterning, packaging, and products. Sequential students will learn to illustrate for children's books, comics, and graphic novels. The Visual Development Focus is for students who would like to work in character development for animation and gaming.
In addition to choosing one or more focus in one or more areas, Illustration BFA students may participate in the College of VPA study abroad program, study abroad at SU in Florence, Italy or Syracuse University Study Abroad (SU Study Abroad), which offers 100 programs in 60 countries. Students will also participate in on-campus workshops and lectures, off-campus trips to New York City to visit the Society of Illustrators and participate in MoCCAFest, and travel to Los Angeles for a two-week industry immersion in animation and film.
The SU Illustration BFA Program culminates with a final portfolio that will be presented to Art Directors and professional Illustrators.
Graduates of the Illustration Program at Syracuse University Alumni from the illustration program have launched successful careers in advertising, editorial illustration, graphic novels and comics, greeting cards, children's books, and licensing. They also work in visual development for animated films, television, and games.
Illustration MFA at Syracuse University is a 60 credit hour program that consists of 27 major studio credits, 12 elective credits, nine art history or related credits, and 12 credit hours dedicated to the Thesis. This is the culminating experience for the program.
The cross-disciplinary, research-focused, and experimental Illustration MFA provides opportunities to interact with professionals at New York studios and within the arts and publishing industries. Students in the SU Illustration MFA Program also benefit from elective travel courses during the MAYmester and summer program to gain credits. During the two-week long MAYmester, students take an intensive three-credit course for four hours Monday through Friday.
Graduates of the Illustration MFA Program at Syracuse University are prepared for advancement opportunities in their current careers, teaching positions, research positions, and jobs in advertising, animation, games, architecture, book publishing, newspapers, magazines, and comics, among others.
Syracuse University is accredited by the Middle States Commission on Higher Education (MSCHE). Founded in 1870, Syracuse University serves around 21,330 students from all 50 states and 120 countries. More than 400 majors, minors, and advanced degree programs are offered across SU's 13 colleges and schools. In addition to campuses in Syracuse and Manhattan, New York, Washington DC, and Los Angeles, Syracuse University operates overseas centers in Chile, London, France, Poland, Spain, and Italy.