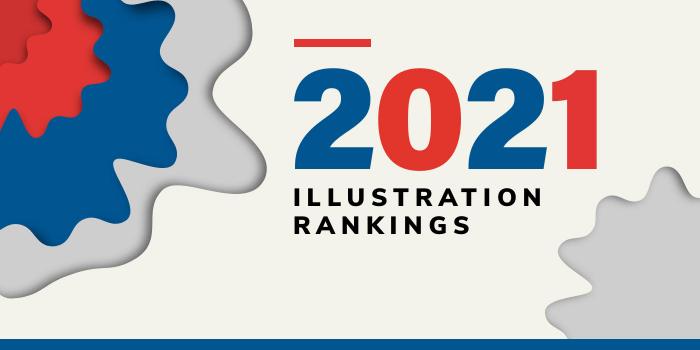 What are the top illustration schools in Pennsylvania for 2021?
Top 5 Pennsylvania Illustration Schools - 2021 College Rankings

| Ranking | School | City |
| --- | --- | --- |
| 1 | The University of the Arts | Philadelphia |
| 2 | Pennsylvania Academy of Fine Arts | Philadelphia |
| 3 | Moore College of Art and Design | Philadelphia |
| 4 | Marywood University | Scranton |
| 5 | Pennsylvania College of Art and Design | Lancaster |
Our 2021 ranking of the top illustration schools in Pennsylvania. For an explanation of the ranking criteria, click here.
1. The University of the Arts, Philadelphia, Pennsylvania

The University of the Arts (UArts) was formed in 1876 by the merging of two century-old institutions: Philadelphia College of Art and Philadelphia College of the Performing Arts. In 1987, the school was granted university status, making it the largest institution of its kind in the nation. Today, the university says UArts "is the only school in America that makes it possible to work and collaborate across traditional boundaries."
UArts serves approximately 1,800 students enrolled in more than 40 programs at the University's Avenue of the Arts campus. Twenty-three minors are also available and open to all students. This means, aspiring illustrators can take sculpting classes, creative writers can take classes in illustration, dancers can minor in ceramics, and industrial designers can study guitar. 
Programs are offered through the Schools of Art, Dance, Design, Film, Music, and Theater. The School of Art offers a BFA in Illustration and a Minor in Figurative Illustration. An MFA in Studio Art is also available. The BFA in Illustration blends creative visual problem solving, digital experiences, drawing, figure modeling, illustration, painting, picture making, digital experiences, and graphic design, as well as self-discovery through mentor-student relationships, and history of pictorial image making.
Course highlights include Business and Preparation for Design Practice, Children's Book Illustration, Comic Creation, Design Studio, Drawing as Thinking, Figurative Interpretation & Personal Voice, Illustration Markets and Promotion, Illustration with Digital Media, Motion-Based Illustration, New Media Illustration, Object & World Building, and Printmaking. Students will also complete Thesis Studio I-II.
Students may also select one option from the following: School of Design Workshop, Illustration Workshop: Personal Viewpoint or the Design Internship. Interns have the opportunity to work at professional venues ranging from individual artist studios to large branding firms such as Anthropologie (Urban Outfitters), Cartoon Network, and Sterling Publishing (Barnes & Noble).
Other program highlights include shared studio spaces, small class sizes, and training in industry-standard digital software such as Adobe Photoshop, Illustrator, InDesign and After Effects. Students also receive training in anatomy, integrating typography, experimenting with traditional painting methods, and developing narratives for a well-rounded experience across media.
The focus of the Minor in Figurative Illustration "is on enhancing skills and knowledge related to figurative drawing, painting and general image-making. This is accomplished by working with the figure and the figure in space, and through introduction to various media and picture-making issues." The program requires 15 credit hours if study including Figure Anatomy, Figure Communication or Figure Painting, Illustration I: Pictorial Foundation, Illustration II: Illustration Methods, and Responsive Drawing.
The MFA in Studio Art is a low-residency, year-round program that consists of an immersive eight-week on-campus summer semester, independent study (fall and spring), and mentoring. This 60 credit hour program "allows candidates to explore in a multitude of artistic disciplines." Course highlights include Contemporary Topics in Art and Design, Culture Study, Graduate Drawing, Graduate Seminar, Independent Studio, Major Studio, Professional Practices, Studio Topics, Thesis Preparation, and Thesis Writing Project. An MFA Thesis Exhibition is also part of the program.
Graduates of the Illustration Programs at UArts have gone on to create illustrations for ESPN, Fortune, Ralph Lauren, Random House, Rolling Stone, The New Yorker, The New York Times, and many others.
2. Pennsylvania Academy of Fine Arts + University of Pennsylvania, Philadelphia, Pennsylvania

Founded in 1740, the University of Pennsylvania (UPenn) serves 26,552 students enrolled in more than 400 programs in four undergraduate and 12 graduate schools. Since 1929, the school has partnered with Pennsylvania Academy of Fine Arts (PAFA), established in 1805 and the first museum and school of fine arts in the U.S. The partnership "provides students with an unparalleled opportunity to pursue their artistic passions and intellectual pursuits in the Ivy League," says the school.
PAFA BFA students have access to more than 800 courses in 50+ areas of study. Programs for aspiring illustrators include the PAFA/Penn BFA in Illustration and a Certificate Illustration (PAFA). An MFA program is also available. The PAFA/Penn BFA in Illustration combines studio training with a fine arts focused liberal arts education. The program helps students develop skills in storytelling, visual communication, and entrepreneurship.
Course highlights for the program include Business Practices of Art, Digital Drawing and Painting, Digital Print and Web Design, Graphic Narrative, Illustration I-II, Illustration Projects, Letterpress and Book Arts, Narrative and Sequential Drawing, Narrative Projects, Professional Practices, and Visual Narration. Students will also take courses with Master Illustrators such as David Wiesner and E.B. Lewis, and complete the Illustration Portfolio course and Thesis Seminar I-II courses.
Students in both the BFA and Certificate program have 24-hour access to digital facilities and workspaces including two sky-lit painting studios, a number of large painting classrooms, illustration/drawing studios and painting studios, and a rooftop terrace, often used for cityscapes.
Graduates of the PAFA/Penn Illustration Programs are prepared to pursue positions in Advertising and Marketing, Animation, Book and Magazine Illustration, Film and Television, Graphic Design, Graphic Novels, Medical Illustration, Poster and Storyboard Art, and more.
3. Moore College of Art and Design, Philadelphia, Pennsylvania

Founded in 1848, Moore is the first and only visual arts college for women in the United States. The school serves more than 400 students offers more than 30 majors, minors, graduate, and certificate programs. Degree programs lead to the BFA, MA or MFA. Program options include Graphic Design, Photography & Digital Arts, Illustration, Animation & Game Arts, Fine Arts, Art Education, Art History, Curatorial Studies, Fashion Design, and Interior Design.
Students in all programs "learn from award-winning, professionally active faculty who bring real-world knowledge and expertise into the classroom and encourage excellence, creative exploration and self-expression to prepare students for lifelong learning and leadership in their chosen field," says the school. Moore also offers an array of minors that complement the students' course of study, and allows them to advance their interests in support of their artistic and professional goals.
The BFA in Illustration consists of workshops, critiques, studio tours, and mentorship experiences with design professionals, as well as access to computer labs installed with the latest versions of Adobe Illustrator, Photoshop, Dreamweaver, InDesign, Fireworks and Flash. Course highlights for the program include Business for Illustrators, Color Theory, Digital Imagemaking, Digital Painting for Illustrators, Life Drawing for Illustrators I-IV, Junior Studio, Senior Studio, Visual Thinking, and Writing Workshop I&II. Students will also complete an internship.
Graduates of the BFA Programs at Moore College of Art & Design enjoy a 100% job placement rate. BFA alumni work for companies and organizations such as Penguin Group USA, Smithsonian, Specialty Magazine, Tyco Toys, Inc., and many others.
4. Marywood University, Scranton, Pennsylvania

When it was founded in 1915, Marywood University was the first college for women in Northeastern Pennsylvania and the first Catholic college for women in the state. Today, the school serves a co-ed 3,000 students enrolled in degree programs in a variety of areas including the Arts, Fine Arts, Music, Nursing, Sciences, and Social Work. Programs are offered in three degree-granting colleges.
Students in all programs are required to complete a core curriculum in the Liberal Arts in addition to the courses in their major. Opportunities for undergraduates abound through double majors, honors and independent study programs, internships, practicums, internships, and study abroad.
The College of Arts and Sciences (CAS) houses the Department of Art, which offers an Illustration BFA Studio Arts Track and a 60-credit low-residency MFA in Illustration designed for artists who want to teach at the college level or become professional artists.
The Illustration BFA Studio Arts Track explores advertising, animation, books, children's books, comics, gaming, graphic novels, magazines, marketing, movies, music, packaging, posters, web, and many other areas. Because all of these areas are explored, the students Senior Portfolio will reflect their personal interests.
Other program highlights include access to the latest technology, courses taught by professionals in the field, internship and fieldwork opportunities, and study abroad experiences. Graduates of the BFA Program at Marywood are prepared to pursue careers in Animation or Game Design or titles such as 3D Illustrator, Caricaturist, Comic Book/Strip Artist, Courtroom Sketcher, Children's Book Illustrator, Fashion Illustrator, Game Designer, Greeting Card Illustrator, Illustrator for Graphic Novels, Editorial Illustrator, Medical Illustrator, Muralist, Political Cartoonist, Publishing: Book Cover Artist, Stamp Illustrator, Story Board Illustrator, Technical Illustrator and many others.
5. Pennsylvania College of Art and Design, Lancaster, Pennsylvania

Founded in 1982, Pennsylvania College of Art and Design (PCA&D) is a private, non-profit, professional art college serves around 250 students enrolled in 12 minor programs, seven certificate programs, and five majors leading the BFA degree. Options for aspiring illustrators include a BFA and a Minor in Illustration that consists of 18 credit hours of study. At least six credit hours for the Minor will include courses at the 300 or 400 level.
The BFA in Illustration requires 120 credit hours of study or 129 for the BFA + a Minor. Illustration students have 11 Minor options including Animation and Game Art, Art History and Visual Culture, Business in Creative Industry, Creative Writing, Esports Management, Fine Art, General Humanities, Graphic Design, Literature, Live Experience Design, and Photography and Video.
The BFA begins with the Foundation Year, advancing to illustration coursework in the sophomore year. Course highlights include 3D Head & Figure, Design in Illustration, Digital Painting, Figure Utilization, Illustration Studio I-II, Observational Figure Workshop, Professional Practices I-II, Senior Illustration Studio I-II, Time Based Media, Typography, and Visual Development.
Other program highlights include participation in online community projects, engagement in professional jobs with outside clients, opportunities to enter Illustration competitions, required internships and access to the mentorship program, and the chance to create entrepreneur-based projects.
Student work has been recognized in student competitions such as the 3×3 Magazine, Society of Illustrators, and Spectrum. BFA graduates have gone on to land positions at gaming and animation companies such as LAIKA, and some have started their own businesses.