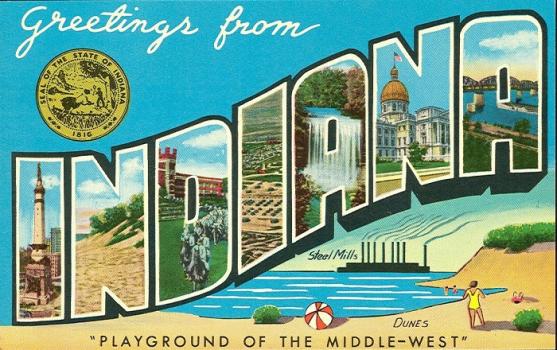 Examples of Indiana's Top Animation Schools

| School | City |
| --- | --- |
| Purdue University | West Lafayette |
| Ball State University | Muncie |
| Indiana University | Bloomington |
| Indiana University-Purdue University Indianapolis | Indianapolis |
Some of the top animation schools (or programs) in the state of Indiana can be found in major cities such as Indianapolis and Fort Wayne, but did you know that there are a few hidden gems in smaller cities such as Kokomo and West Lafayette? These animation schools made the "Top Animation Schools" list based on a wide variety of factors such as cost, location, quality of facilities, job placement services, types of clubs and organizations, access to recreation, student body, and more. Continue reading to learn more about Indiana's top animation schools and what they have to offer.
Top Animation School Programs Major Indiana Cities
Bloomington
Indiana University Bloomington
Student Population: 32,543
Backdrop: Urban, 1937-acre campus
Degrees Offered: B. A. and B. F. A. Graphic Design, Digital Art; B. S. Informatics; M F. A. Digital Art, Graphic Design
Indianapolis
Indiana University-Purdue University Indianapolis (IUPUI)
Student Population: 22,236
Backdrop: Urban, 509-acre campus
Degrees Offered: B. F. A Visual Communication; B. S. Computer Graphics Technology, Informatics, Media Arts and Science; M. F. A. Visual Communication Design; M. S. Media Arts and Science
Muncie
Ball State University
Student Population: 17,627
Backdrop: Urban, 1,140-acre campus, easy access to Indianapolis
Degrees Offered: B. F. A. Art with Emphasis in Electronic Art or Visual Communication; M. A. Visual Arts Studio; M. F. A. Visual Arts with Emphasis in Animation
Fort Wayne
Indiana University–Purdue University Fort Wayne
Student Population: 10,880
Backdrop: Urban, 682-acre campus
Degrees Offered: B. F. A. Visual Communication and Design with Concentration in Computer Art/Design or Graphic Design
Gary
Indiana University Northwest
Student Population: 5,421
Backdrop: Urban, 38-acre campus, easy access to Chicago
Degrees Offered: B. A. and B. S. Computer-Based Graphic Arts; B. S. Informatics
Indianapolis
University of Indianapolis
Student Population: 4,205
Backdrop: Urban, 65-acre campus, easy access to downtown Indianapolis
Degrees Offered: B. F. A. Visual Communication Design/Graphic Design
Fort Wayne
University of Saint Francis
Student Population: 2,135
Backdrop: Urban, 74-acre campus
Degrees Offered: B. A. Communication Arts and Graphic Design, Computer Art; M. A. Studio Art with Computer Arts Major Area
Best Animation School Programs Other Indiana Cities and Towns
West Lafayette
Purdue University
Student Population: 30,776
Backdrop: Suburban, 2,552-acre campus, easy access to Indianapolis
Degrees Offered: B. A. Visual Communications Design, B. S. Computer Graphics Technology, Computer Science with Computer Graphics and Visualization Track; M. S. Computer Graphics Technology, Computer Science
Terre Haute
Indiana State University
Student Population: 9,449
Backdrop: Small town, 92-acre campus, easy access to Indianapolis
Degrees Offered: B. S. Art with Concentration in Graphic Design, 2D Arts (Computer Art); B. F. A. Fine Arts with Concentration in Graphic Design, Computer Art; B. A. and B. S. Communication with Concentration in Electronic Media; M. A. Art (Studio) with Concentration in Graphic Design; M. F. A. Fine Art with Concentration in Graphic Design
Notre Dame
University of Notre Dame
Student Population: 8,442
Backdrop: Suburban, 1,250-acre campus
Degrees Offered: B. A., B. F. A. Graphic Design; M. F. A. Graphic Design
New Albany
Indiana University Southeast
Student Population: 6,423
Backdrop: Suburban, 178-acre campus, easy access to Louisville, KY
Degrees Offered: B. A., B. F. A. Fine Arts with Concentration in Graphic Design; B. S. Informatics, Computer Graphics Technology
Kokomo
Indiana University Kokomo
Student Population: 3,204
Backdrop: Small town, 51-acre campus, easy access to Indianapolis
Degrees Offered: B. A. and B. S. in New Media Communication with Concentration in Graphic Design, Digital Development, Video Game Design, Web Design and Generalist (Individual Concentration). B. S. Informatics
St. Mary of the Woods
Saint-Mary-of-the-Woods-College
Student Population: 1,703
Backdrop: Rural, 67-acre campus
Degrees Offered: B. A. Graphic Design
More Programs to Consider:
Selected Campus Locations:
Selected Programs:
Animation Career Review Rankings:
Top 50 Nationally for Animation (#14) - 2022
Top 50 Nationally for Game Design (#40) - 2022
Top 50 Nationally for Graphic Design (#46) - 2022
Top 50 Nationally for Illustration (#24) - 2021
Selected Campus Locations:
Animation Career Review Rankings:
Top 50 Nationally for Animation (#11) - 2022
Top 50 Nationally for Game Design (#10) - 2022
Top 50 Nationally for Graphic Design (#33) - 2022
Selected Campus Locations:
Selected Programs:
Animation Career Review Rankings:
Top 25 International Animation Training Programs (#25) - 2022
Sources
Peterson's, www.petersons.com
Princeton Review,www.princetonreview.com
U.S. News & World Report College Rankings, www.usnews.com/rankings