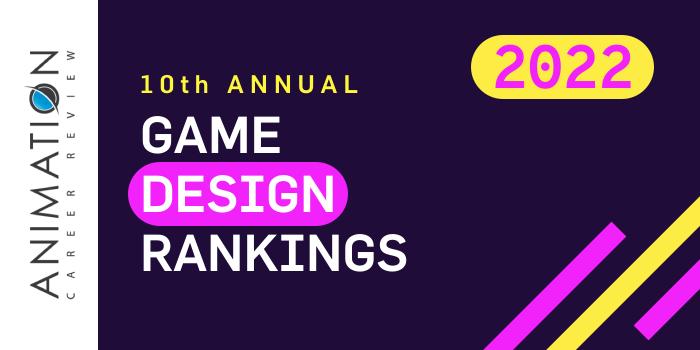 What is the top game design program in DC for 2022?
Top Washington DC Game Design School - 2022 College Rankings

| Ranking | School | City |
| --- | --- | --- |
| 1 | American University | DC |
Our 2022 ranking of the top game design school program in the District of Columbia. For an explanation of the ranking criteria, click here.
1. American University, Washington, DC

American University (AU) is a unique institution that allows students to create individualized interdisciplinary programs at the bachelor's level. The school also offers more than 20 online master's degrees and graduate certificates. For game designers seeking an advanced degree, AU offers an MFA in Games and Interactive Media, an MA in Game Design, and an MS in Computer Science.
First-year MFA students are must attend the Film & Media Arts Boot Camp in August before their first semester. The Boot Camp focuses on the production process. The MFA in Games and Interactive Media is offered in the School of Communication.
The MA in Game Design is administered jointly by the School of Communication and the Department of Computer Science, College of Arts and Sciences (CAS). Students in the MA program may choose courses across schools and departments. Examples include Political Communication, Web and Mobile Development, Dynamic Content, and Business. The MA requires 21 credits in game design and six in the Master's Portfolio Capstone. Game Prototyping, Making Meaningful Games, and Game Development are just a few required courses.
The MS in Computer Science is offered in the Department of Computer Science. Students may add the Game and Computational Media Track, which explores games, simulation and modeling, media, software engineering, entertainment, artificial intelligence (AI), environments, programming languages, and computer architecture. Internship and research opportunities are also part of the program.
AU MFA, MA, and MS students have access to the AU Game Center, which explores the use of games in recreation, the media, health, education, the community, politics, policy, and more. The Center also offers workshops. Students will also obtain real-world experience by working on projects with the Game Studio, and with clients such as local studios, government agencies, and non-profit organizations.
AU Game students will also have opportunities to network at DC-area events such as the Global Game Jam, MAGfest, Games+, and Indie Arcade at SAAM.
American University is accredited by the Middle States Commission on Higher Education (MSCHE) and recognized by the University Senate of the United Methodist Church. Founded in 1893 and serving more than 14,000 students, American University offers more than 170 programs in eight colleges and schools. Programs lead to a bachelor's, master's, or doctoral degree.