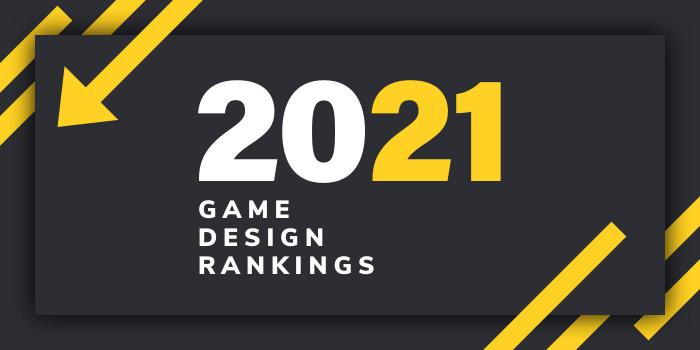 What are the top game design programs in Arizona for 2021?
Top Arizona Game Design Schools - 2021 College Rankings

| Ranking | School | City |
| --- | --- | --- |
| 1 | University of Advancing Technology | Tempe |
| 2 | University of Arizona | Tucson |
Our 2021 ranking of the top game design school programs in Arizona. For an explanation of the ranking criteria, click here.
1. University of Advancing Technology, Tempe, Arizona

Founded in 1983 as the CAD Institute, University of Advancing Technology (UAT) began as a place where students could learn computer-aided design and engineering. Today, this private and family-owned University serves more than 1,000 students enrolled in dozens of associate, bachelor, and master degree programs in areas such as Business & Innovation, Creation & Simulation, Cybersecurity, Digital Arts, Game Studies, and Software Engineering.
University of Advancing Technology established UAT Game Design in 1995. It is the "only fully accredited game design program that boasts a connection to a full continuum of game development degrees including: Game Design degree, Game Art and Animation degree, Game Programming degree and Serious Game Simulation degree," says the school.
Degree options include BAs in Game Art and Animation, Game Design, and Virtual Reality, a BS in Game Programming, and an MS in Game Production and Management. Students also have the opportunity to start as a Game Design major and graduate with dual gaming degrees from the schools "prolific suite" of game degree programs.
All Games students are "exposed to all the tools of the trade, as well as programming and asset creation video game design skill sets." Coursework for the programs emphasize "design skills such as strong initial concepts, design in the programs will also take "a critical approach to the study of gameplay, player interaction, role-playing, and community dynamics as well as the unique features of the numerous game platforms available in the marketplace."
Games students will work with video game design artists and programmers to create innovative projects through team-based assignments and they will "develop the leadership skills to see video game design projects through from an initial design concept to a publisher-ready final product."
Other program highlights include access to the largest game incubator lab in Arizona, access to UAT Game Studios (a game production pipeline that fosters game development and connection to the game industry), access to UAT's Gamer Group (supported by the Games Job Fair networking event), and access to UAT's Greenlight Committee where game projects vie for UAT sponsorship at GDC. The committee awards winning teams the additional resources they need to ensure game readiness and celebrates students' innovative work.
Students can expect to complete the undergraduate programs in eight semesters. Thanks to flexible, year-round schedules and no thesis requirement, the MS program may be completed in as few as six semesters.
UAT alumni are currently employed at such leading technology organizations as Blizzard, Electronic Arts (EA), Google, Intel, Microsoft, Nickelodeon, the Department of Defense, and many others.
2. University of Arizona, Tucson, Arizona

Established in 1885, the University of Arizona (UA) existed before Arizona was a state. In 1895, the school graduated just three students—two women and one male. Today, UA serves more than 300,000 alumni and nearly 47,000 students. Notable alumni include Kristin Wiig, Jerry Bruckheimer, Rob Gronkowski, Robert Joseph "Bob" Dole, Savannah Guthrie, and Steve Kerr, to name a few.
The flagship institution in the State of Arizona, UA offers more than 300 undergraduate majors and graduate programs in more than 150 areas of study. Programs are offered in 20 colleges and nearly two dozen specialized schools. The College of Social & Behavioral Sciences houses the School of Information (iSchool), which offers a BS in Game Design and Development, a BA in Games and Behavior, and a Games and Simulation Certificate.
The iSchool Certificate Program provides undergraduate students "with the design and development skills necessary to create virtual interactive environments that span across devices and platforms," says the school. Students will take the required Introduction to Game Design course, six units of elective courses, and one additional course from a list of additional offered electives. Just a few offerings include Advanced Game Development, Computing and the Arts, Game Programming, Digital Storytelling and Culture, and Virtual Reality.
The BS program provides "undergraduate students with the design and development skills necessary to create virtual interactive environments that span across devices and platforms." A major component of the program is hands on learning through the required internship, which also helps students "develop valuable contacts with local and national companies, such as Hydrant, Octavia Digital Media, and the Enterprise Technology division of State Farm." Course highlights include Algorithms for Games, Game Design, Game Development, Human Computer Interaction, and Monetizing Independent Games. Students will have the opportunity to take five games electives and complete a Capstone course during their senior year.
Graduates of the BS in Game Design and Development will be prepared to seek positions such as Game Designer, Game Developer, UX/UI Designer, and many others.
The BA in Games and Behavior provides students with a "broad understanding of important design principles and human behavior in games, but also the implications of gamification in society." The degree covers "many aspects of game design and related social and societal factors without the need of extensive knowledge of computer programming." Course highlights include Digital Engagement, Disruptive Technologies, Esports Industries, Ethics in a Digital World, Gamification in Society, and Technology of Sound.
Graduates of the program enter professional fields such as Digital Marketing, Gamification Design Consulting, and UX/UI Design, to name a few.