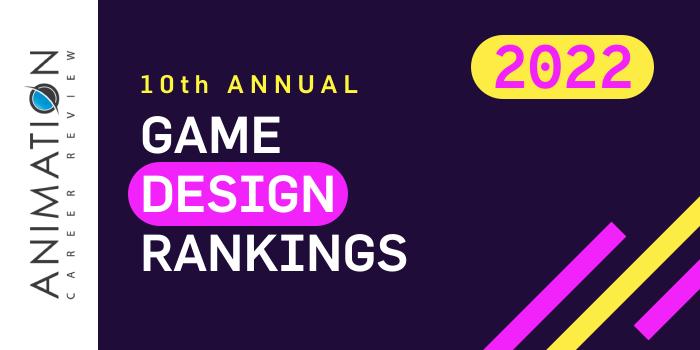 What are the top game design programs in Connecticut for 2022?
Top Connecticut Game Design Schools - 2022 College Rankings

| Ranking | School | City |
| --- | --- | --- |
| 1 | University of Connecticut | Storrs |
| 2 | Quinnipiac University | Hamden |
Our 2022 ranking of the top game design school programs in Connecticut. For an explanation of the ranking criteria, click here.
1. University of Connecticut, School of Fine Arts, Storrs, Connecticut (School of Fine Arts)

The School of Fine Arts at University of Connecticut (UConn) is home to the Department of Digital Media Design (DMD), which serves more than 300 students across seven concentrations. Department features include classes led by full-time instructors who are professionals in the industry, hands-on projects and a collaborative learning environment, more than 25 visiting experts each year who present workshops and mentor students, access to state-of-the-art production studios gaming clubs, and over 100 internships secured annually at companies in Connecticut and across the U.S. DMD students have interned with Disney, Pixar Animation Studios, HBO, Adobe, and ESPN, among others.
University of Connecticut DMD degree options include the BA, BFA, MA, and MFA in Digital Media and Design. An Online DMD Graduate Certificate is also available. Students in all programs may take the Generalist Path or Specialize in Game Design. The UConn DMD Program is accredited by the National Association of Schools of Art & Design (NASAD).
Nearly 90% of UConn DMD alumni are employed in the industry within one year of graduation. University of Connecticut DMD graduates are prepared to pursue career paths such as game designer, serious games designer, gameplay programmer, video game artist, producer, esports manager, and more. UConn DMD alumni have been hired at Blur Studio, Epic Games, Disney, Adobe, The Game Agency, ESPN, HBO, Viacom, NBC Universal, World Walker, NBC Sports, and many others.
University of Connecticut is accredited by the New England Association of Schools and Colleges (NEASC). University of Connecticut began as Storrs Agricultural School in 1881 with just three faculty members and 13 male students. Today, UConn's more than 18,000 faculty and staff members serve a coed population of nearly 32,700 students across the main campus at Storrs, and four regional campuses. Programs at UConn are administered across 14 colleges and schools. Offerings include eight undergraduate degrees in 119 majors, 17 graduate degrees in 88 fields of study, and six professional degree programs.
2. Quinnipiac University, Hamden, Connecticut

The College of Arts and Sciences (CAS) at Quinnipiac University (QU) offers a BA and a Minor in Game Design and Development (GDD). The GDD BA is a 120-126 credit program that allows students to take courses in a related area such as computer science or graphic interactive design. The program also encourages students to pursue a minor or double major. The GDD BA encourages experiential learning, so students will have the option to complete an internship, study abroad, or participate in an academic/professional product collaboration.
An additional option is the QU in LA Program, where students have the opportunity to live, work, and learn in Los Angeles. This immersive program is provided in collaboration with the School of Communications.
Quinnipiac University GDD BA students will also have the opportunity to add a concentration in areas such as Art, Technology, Game Studies, Business, Writing, Audio, Design Process, or Programming. Course examples across concentrations include Board Game Design, Acting and Directing for Game Design, Advanced Topics in Game Development, Object-Oriented Design and Programming, Digital Music Composition for Games, Interactive Storytelling and Narrative, eSports Management, The Business of Games, Games, Learning & Society, Game Art I-III, and VR/AR Development for Games.
The GDD Minor requires 18 credit hours of study. Students will take Introduction to Game Design, Creativity and Computation, and Introduction to Game Development. The remaining courses are the student's choice. They can take Game Lab (Team Projects), Game Art, Game Seminar courses, and more.
Graduates of the GDD Program at Quinnipiac University have gone on to establish successful careers at Riot Games, Blizzard Entertainment, Rockstar Games, Bethesda Softworks, Black Rocket Productions, Sesame Street Workshop, Hi-Rez Studios, F84 Studios (Los Angeles), Hellosaurus, Cool Math Games, Grover Gaming, and SphereGen Technologies, among others.
Quinnipiac University is accredited by the New England Commission of Higher Education (NECHE). Founded in 1929 as the Connecticut College of Commerce, QU serves nearly 10,000 students across three campuses in Hamden and North Haven, Connecticut. Quinnipiac University offers close to 200 programs across eight professional schools and the College of Arts and Sciences.