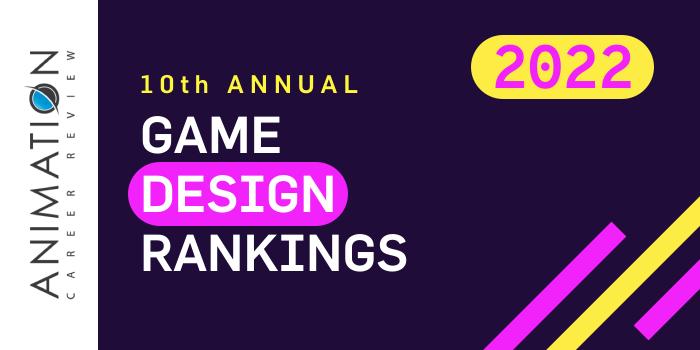 What are the top game design programs in Indiana for 2022?
Top Indiana Game Design Schools - 2022 College Rankings

| Ranking | School | City |
| --- | --- | --- |
| 1 | Purdue University | West Lafayette |
| 2 | Indiana University | Bloomington |
| 3 | Indiana University-Purdue University, Indianapolis | Indianapolis |
Our 2022 ranking of the top game design school programs in Indiana. For an explanation of the ranking criteria, click here.
1. Purdue University, West Lafayette, Indiana

Purdue University houses Purdue Polytechnic Institute (formerly the College of Technology), home to the Department of Computer Graphics Technology (CGT) and the Game Design Programs. Degree options include a BS in CGT with a Game Development and Design Major, an MS in CGT, and a PhD in Technology.
The CGT BS highlights immersive, collaborative projects with peers and professors, a STEM-based curriculum, and coursework that covers game design, programming, rendering, animation, and visualization. Past final projects have focused on games utilization in entertainment, for sustainable energy, medicine, and therapy, and for information visualization, to name a few. CGT BS graduates are game designers, technical artists, and animators. They work at Electronic Arts (EA), Volition, Inc., Zynga, and Riot Games, among others.
The Purdue Polytechnic MS in CGT has four specialization areas: Games, Animation, Information Visualization, and UX Design. Graduate students may also customize a plan of study to meet their professional goals. The program offers small class sizes, research opportunities, the chance to work on real-world projects. Graduates are game developers, UX designers, and technical directors, at places such as DreamWorks, Google, Deloitte, and Salesforce.
The PhD in Technology Program allows a minimum of 30 credit hours to be taken in a custom specialization, and 27 credit hours from any Purdue college or school other than Purdue Polytechnic. Courses may come from art and design, computer science, engineering, instructional technology, quality, and other areas. PhD students must complete a Thesis to graduate. Program alumni are educators, researchers, entrepreneurs, artists, and designers.
Purdue University is accredited by the Higher Learning Commission (HLC) of the North Central Association of Colleges and Schools (NCA). Established in 1869, the school serves nearly 50,000 students, enrolled in more than 400 programs in 10 colleges and schools—including Purdue Polytechnic Institute. Founded in 1964 as Purdue University's School of Technology, the Institute serves around 6,000 enrolled in dozens of technology-centered programs across seven departments and schools.
2. Indiana University, Bloomington, Bloomington, Indiana

The Game Design Programs at Indiana University Bloomington (IU Bloomington) are offered in the Luddy School of Informatics, Computing and Engineering and The Media School, housed within the College of Arts and Sciences. In the Luddy School, students can earn a BS in Computer Science (CSCIBS) with a Game Development Specialization. The school also offers a distinctive Minor in Animal-Computer Interaction, which includes course options such as Game Development, Game Programming, and Game Art and Sound. A BA in CS is also conferred from IU's College of Arts and Sciences.
The Media School at IU Bloomington is a multidisciplinary division that appeals to students seeking careers in game programming, animation, sound production, music composition, or graphic design for multimedia. The school allows students to select elective courses from the Luddy School, Eskenazi School of Art, Architecture and Design, and the Jacobs School of Music. The Media School offers a BS and a Minor in Game Design, a BA in Media, and a Certificate in New Media and Interactive Storytelling.
BA students may pursue a specialization such as Game Production, Game Audio, or Game Art. Elective areas are available for BS students who would like to form an area of expertise. Areas include Art, Games and Mind, Game Design Theory, Programming, Sound, Management, and Advertising and Public Relations.
During the last two years of study, game design students will work their way through the Game Workshop Sequence, which includes three workshops: Prototype, Demo, and Publish. Modeled after game studios, the sequence ends with an industry-ready published game.
Students in all degree programs, minors, and specializations have access to [email protected]. This student-run organization provides hands-on experience for student game designers. Highlights include the opportunity to collaborate on game design projects, workshops, and participation in game jams. Game design students can also gain valuable hands-on experience through the Indiana University Bloomington Internship Program. Students have interned everywhere from Google to General Motors.
Graduates of the Game Design and Media Programs at IU Bloomington are prepared to pursue positions such as game designer, game artist, world designer, game developer, creative director, software developer, and animator, among others. Potential employer's include Electronic Arts (EA), Blizzard, Zynga, and Ubisoft.
Indiana University Bloomington is accredited by the Higher Learning Commission () of the North Central Association of Colleges and Schools (NCA). Established in 1820, IU Bloomington was one of the first public universities west of the Allegheny Mountains. Today, Indiana University serves more than 71,000 students enrolled in 930+ academic programs across seven campuses and two regional centers.
3. Indiana University-Purdue University Indianapolis, Indianapolis, Indiana

The School of Informatics and Computing (SoIC) at Indiana University-Purdue University Indianapolis (IUPUI) offers several programs that allow students to study games: a BS in Media Arts and Science (MAS), the five-year BS+MS in MAS, and Minors in 3D Graphics and Animation, and Game Design and Development. Students in both minor programs will complete 15-16 credit hours of study.
In the Game Design and Development Minor, students will learn to create 2D and 3D games using Unity and Unreal 4. The 3D Graphics and Animation Minor prepares students for careers in game design and development and 3D simulation through coursework in rendering, animation, and computer graphics (CG). Upon completion of the Game Design and Development Minor, students are prepared for careers such as video game designer, unity 3D game developer, unreal 4 game developer, level designer, world and designer. 3D Graphics and Animation Minors are medical animators, 3D animators, motion graphics artists, creative directors, and 2D/3D design artists, among others.
The IUPUI SoIC MAS BS offers Game Design and Development, and 3D Graphics and Animation Specializations. The BS+MS offers a Specialization in Human-Computer Interaction (HCI). All programs provide access to an endless amount of game design courses. Examples include Serious Games and Simulations, Game On! A History of Video Games, Game Design Psychology, Game Testing and Evaluation, Creature and Character Design for Videogames, Comics, Film, and Animation, Virtual Worlds Design and Development, Composting and Visual Effects, Game Design and Development, Augmented Reality Design and Development, Advanced 3D Character Design, Stop-Motion Animation, Human-Computer Interaction Design Theory, and Game Production.
Graduates of the MAS Programs at Indiana University-Purdue University Indianapolis have been recruited by major studios and companies across the U.S. and around the world. Examples include Blizzard Entertainment, Pixar, Moving Picture Company (MPC), Google-owned Owlchemy Labs, Sony Pictures Imageworks, Treyarch (owned by Activision), Digital Domain, and HTC Corporation.
Indiana University-Purdue University Indianapolis is accredited by the Higher Learning Commission (HLC) of the North Central Association of Colleges and Schools (NCA). Established in 1969, IUPUI serves 27,690 students enrolled in more than 550 degree and certificate programs in 17 degree-granting colleges and schools. With more than 14,000 employees, Indiana University-Purdue University Indianapolis is the 18th largest employer in Indiana.