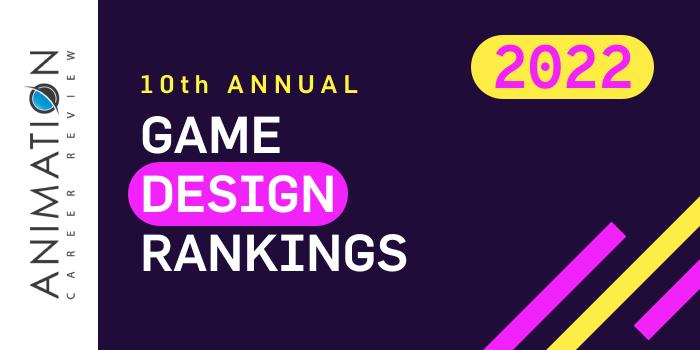 What are the top game design programs in South Carolina for 2022?
Top South Carolina Game Design Schools - 2022 College Rankings

| Ranking | School | City |
| --- | --- | --- |
| 1 | Clemson University | Clemson |
| 2 | University of South Carolina | Columbia |
Our 2022 ranking of the top game design school programs in South Carolina. For an explanation of the ranking criteria, click here.
1. Clemson University, Clemson, South Carolina

Clemson University's College of Engineering, Computing and Applied Sciences houses the School of Computing, home to the Digital Production Arts (DPA) Program and the Division of Visual Computing. Program options across the Division and DPA include Computer Science BA/BS programs, the DPA MFA/MS (MFA DPA/MS DPA), and a fast-track Bachelor's/Master's (BS/MS) in Computer Science. Students can add a Minor in DPA for Animation and Game Design. Offered since 2011, the DPA Minor focuses on Games, Visual Effects, and Computer Animation.
Course examples across programs include 2D Game Engine Construction, 3D Game Programming: Algorithms and Techniques, Game Theory, Artificial Intelligence (AI), Advanced 3D Modeling, Studio Methods for Digital Production, Physical Modeling and Animation, Audio Practicum, and Visual Foundations of Digital Production.
Other Computer Science and DPA highlights include visits from representatives of major studios such as DreamWorks, participation in the SIGGRAPH Conference, access to state-of-the art production studios and facilities, internship opportunities, and study abroad experiences.
Graduates of the Computer Science and DPA Programs at Clemson have gone on to become game designers, animators, technical directors, art directors, 3D graphics programmers, AR/VR designers, and software engineers, among others.
Program alumni have secured positions with companies such as Google, Disney Animation, Electronic Arts (EA), Blur Studio, Sledgehammer Games, IBM, and Crowdstrike.
Clemson University is accredited by the Southern Association of Colleges and Schools Commission on Colleges (SACSCOC). The school opened as Clemson Agricultural College in 1893 with 446 students. Today, Clemson is a public research university that serves nearly 27,350 students enrolled in more than 210 degree programs and 90+ minors.
2. University of South Carolina, Columbia, South Carolina

The College of Arts and Sciences at University of South Carolina (UofSC) is the school's largest college. It houses the School of Visual Art and Design (SVAD), which offers BA and MA degrees in Media Arts, and an 18 credit hour Media Arts Minor. The UofSC College of Engineering and Computing is home to the Department of Computer Science and Engineering, which offers BS, MS, and PhD degrees in Computer Science (CS) and Computer Engineering, and Minor options in Applied Computing and Computer Science.
The SVAD BA and MA degree programs are multidisciplinary, so they appeal to students interested in games design, filmmaking, and animation, among other areas. Course examples across programs include New Media Advanced: Video Game Design, Moving Image Advanced: Animation, Narrative Production, Media Writing Advanced; Manga and Anime, Digital Imaging, Sound Design, and Media Management and Distribution.
SVAD classes are held in an 85,000-square-foot facility known as McMaster College. The facility was designed specifically for the learning and production in the visual arts. Other SVAD features include internship opportunities and the creation of a marketable final project and professional portfolio.
Graduates of the SVAD Media Arts have been hired at Blizzard Entertainment, Nickelodeon, Netflix, HBO Films, and Marvel, among others.
Students in the University of South Carolina CS Programs may add the Minor in Media Arts or select three courses from CS electives and three from another major. Requirements across CS programs include Software Engineering, UNIX/Linux Fundamentals, Digital Logic Design, Computer Architecture, and Programming Languages Structures. 
Computer Science and Computer Engineering students will complete an internship and create a professional portfolio of their work. University of South Carolina CS alumni work in areas such as game design and development, game programming, software design and development, and software engineering.
University of South Carolina is accredited by the Southern Association of Colleges and Schools Commission on Colleges (SACSCOC). Established in 1801 UofSC is the state's flagship university and one of the nation's oldest public universities. The school offers more than 300 areas of study to a population of nearly 35,400 students. Programs at University of South Carolina are housed in 16 colleges and schools.