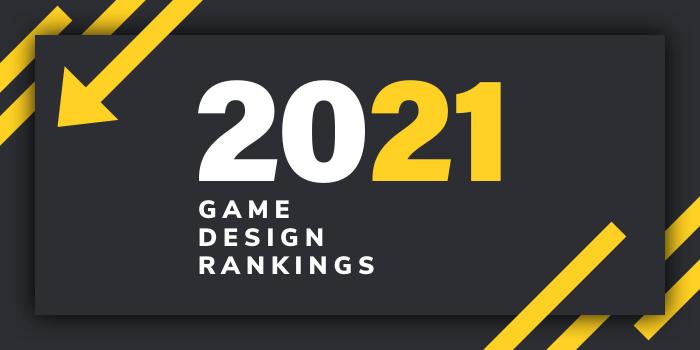 What are the top game design programs in Washington for 2021?
Top Washington Game Design Schools - 2021 College Rankings

| Ranking | School | City |
| --- | --- | --- |
| 1 | DigiPen Institute of Technology | Redmond |
| 2 | University of Washington | Seattle |
| 3 | Academy of Interactive Entertainment | Seattle |
| 4 | Cornish College of the Arts | Seattle |
Our 2021 ranking of the top game design school programs in Washington. For an explanation of the ranking criteria, click here.
1. DigiPen Institute of Technology, Redmond, Washington

Founded in 1988, DigiPen Institute of Technology was the first school in the world to offer a bachelor's degree in Video Game Technology and Development. More than 550 companies have hired DigiPen graduates and the school is located near more than 400 interactive media companies in one of the largest video game centers in the world.
Serving around 1,175 students from across the U.S. and nearly 50 countries around the world, DigiPen has international campuses in Singapore and Spain as well as educational partnerships with Keimyung University in South Korea and Thammasat University in Thailand. 
DigiPen offers nine undergraduate and two graduate program options in five categories: Computer Science, Digital Art and Animation, Engineering, Game Design and Development, and Music and Audio.
Programs for aspiring game designers are offered through the Department of Game Software Design and Production. Pathways include a BA in Game Design, a BS in Computer Science and Game Design, a BS in Computer Science in Real-Time Interactive Simulation (BS in RTIS), a five-year BS in RTIS/MS in Computer Science, an MFA in Digital Arts, and a Minor in Mathematics.
The BA in Game Design includes extensive design coursework coupled with a deep dive into communications, psychology, and user experience. Students in the program will design original games and applications, they will learn how to rapidly prototype ideas, and they sill study human behavior from a "variety of lenses," says the school. Focused subjects include Game Design and Development, Foundational Math and Science, and Humanities and Arts.
The BA also has six specialization tracks including Level Design, Narrative Design, Systems Design, Technical Design, User Experience (UX) Design, and User Research.
The BS in RTIS offers "extensive training in mathematics and physics," and students will "work both individually and collaboratively to learn the fundamentals of Game Design, Production, and Programming. Additionally, they write game design documents and technical design documents, learn how to schedule tools and techniques, and participate in the full production of several games."
DigiPen's MFA in Digital Arts highlights courses such as 3D Concepts and Production, Character Design, Cinematography and The Art of the Story, Game Design, Development and Production, Facial Rigging and Animation, Organic and Hard Surface Modeling, Physics for Animation and Modeling, Scripting for Games, Storyboarding, and Texturing for 3D. A Team Project is part of the program as well as an Internship.
DigiPen student games have won more than 50 Independent Games Festival awards (more than any other school) and DigiPen alumni have been credited on more than 1,000 commercial game titles. Additionally, more than 550 companies around the world have hired DigiPen graduates. Program alumni have gone on to land job titles such as Content Designer, Director, Game Designer, Game Scripter, Level Designer, Technical Artist, Technical Designer, UX Designer, and many others.
2. University of Washington, Seattle, Washington

Established in 1861, the University of Washington (UW) serves more than 54,000 students annually across three campuses in Seattle, Tacoma, and Bothell. The school's 18 colleges and schools offer more than 570 degree options across 300+ programs, with more than 1,800 undergraduate courses alone each quarter.
Serving more than 1,500 undergraduates, the Paul G. Allen School Computer Science & Engineering (CSE) offers a Computer Science Program that allows students to tailor their course of study to their specific interests. The program is also highly interdisciplinary and collaborative, and it allows students to get hands-on experience building software and hardware and choose advanced courses such as Artificial Intelligence, Computational Biology, Computer Graphics and Animation, Computer Networking, Computer Security and Privacy, Data Science, Human-Computer Interaction, Machine Learning, Natural Language Processing, Robotics, and much more.
Allen School degree options include BS degrees in Computer Science and Computer Engineering, a Combined BS/MS, and a PhD or Professional Master's Program (PMP) in Computer Science & Engineering (CSE). All programs offer the opportunity to focus in Graphics, Vision, Games, and Animation or add a Certificate in Game Design offered through UW's Professional & Continuing Education Division.
Students in the BS programs work with faculty and graduate students on research; collaborate with industry partners; tackle complex design and implementation projects in capstone courses; and tailor their degree to meet their interests and goals. Course highlights include Advanced Digital Design, Artificial Intelligence, Computer Animation, Computer Graphics, Data Visualization, and Digital Sound.
Students in all programs have access to three main labs at UW CSE. All are engaged in research spanning the areas of animation, computer game science, graphics, vision, and visualization. Labs include the Graphics and Imaging Lab (GRAIL), the Center for Game Science, and the Animation Research Labs. The GRAIL group is known for "groundbreaking" research in computational photography, says the school, as well as games for science and education, 3-D reconstruction, Internet photo collections, object recognition, human shape and motion analysis, information visualization, and animation.
Researchers at the Center for Game Science use gaming to solve grand challenges, crowdsource human problem-solving to aid scientific discovery, and improve student interest and achievement in mathematics.
The Animation Research Labs is a multi-disciplinary effort that brings together faculty and students from UW CSE, the Department of Architecture, and the Schools of Art, DXARTS, Drama, and Music. The ARL is focused on advancing the state-of-the-art in animation through teaching, research, and computer-animated production in collaboration with experts from Disney Animation Studios, Bungie, Industrial Light & Magic, Microsoft Game Studios, Pixar, and many others.
In addition to the Computer Science and Engineering Programs, University of Washington offers a BFA with a Major in Digital Arts and Experimental Arts (BFA DXARTS) and a PhD in DXARTS. Students in both programs have the opportunity to focus their work in a particular area of experimental arts (computer animation, digital video, digital media art, computer music and sound art, design computing, mechatronics, and so on). Whatever the chosen area, "artists and scholars working at DXARTS engage in teaching, learning, and research within the synergistic, multidisciplinary setting of the center's labs, studios, and classrooms."
Additional programs include a Certificate in Game Design and nine-week courses including Game Studio Roles & Development and Game Mechanics & Systems Design.
3. Academy of Interactive Entertainment, Seattle, Washington

The Academy of Interactive Entertainment (AIE) trains students for employment and career opportunities in 3D Animation, Game Development and related fields. Established in 1996, the school has four campuses in Australia including Adelaide, Canberra, Melbourne, and Sydney, two in the United States including Seattle and Lafayette, and a dedicated Online campus.
Programs for aspiring game designers include an Advanced Diploma of Professional Game Development – Game Art and Animation, Advanced Diploma of Professional Game Development – Game Programming, and Game Design and Production program.
Game Art and Animation students will "work with other artists, designers and programmers to design and create" their "own unique entertainment experience using cutting-edge game technology," says the school. The two-year program covers "all facets of 3D games modelling and animation including character creation, level design, environment modelling, game design, concept art, animation and custom texturing."
Students will graduate from the program with an "extensive showreel of 3D modeling, animation and a complete game level." Potential job titles include 3D Modeler, Level Designer, Technical Artist, and Texture Artist.
The Game Programming option, "takes students through languages and technologies used heavily by the gaming industry, including C, C++, C#, OpenGL, game libraries and version controls as well as developing maths, problem solving, and practical programming proficiency." By the end of the first year, students will be proficient in 3D graphics, Artificial Intelligence, Console Hardware, Networking, Physics & Collision, Profiling, and Managing medium to large-scale software projects.
In the final year, students will complete a real-world project with game design and game art students. They will work their way from "pitching the game idea, through writing game design documents, evaluating technical requirements, managing workload, meeting deadlines, delivering commercial quality artwork and animation, bug-fixing, QA testing and market analysis of the game."
Game Programming graduates are prepared to seek titles such as AI Programmer, Game Engine Programmer, Gameplay Programmer, and Software Engineer, among others.
Game Design and Production students will work on "visualizing ideas, prototyping, learning the fundamentals of 3D content creation and game programming as well as designing game levels, creating user interfaces and crafting game play experiences." The program provides the opportunity to complete an original game in collaboration with game art and game programming students.
GDP students will complete a number of other games that will be showcased in an extensive final portfolio.  Game Design and Production graduates are prepared to seek titles such as Game Designer, Narrative Designer, System Designer, UI Designer, and many others.
4. Cornish College of the Arts, Seattle, Washington

Cornish College of the Arts was founded by teaching artist Nellie Cornish in 1914. The school offers BFA degrees in the performing and visual arts and a Bachelor of Music degree, along with year-round public programs and extension courses. Serving more than 600 students, the school offers a BFA and a Minor in Game Art.  
Offered in the Design Department, the BFA in Game Art "gives the student a solid foundation in concept art, character design, world design, user interface, 3D modeling, and animation," says the school. Students in the program will have the opportunity to create 2D and 3D art for games and user interfaces for app development, websites, and VR/AR. Courses range from Animation to Immersive Games.
Graduates will leave the program with a portfolio of their creations and experience from hands-on training through a possible internship with studios such as Big Fish, Microsoft, Pop Cap, and Valve.