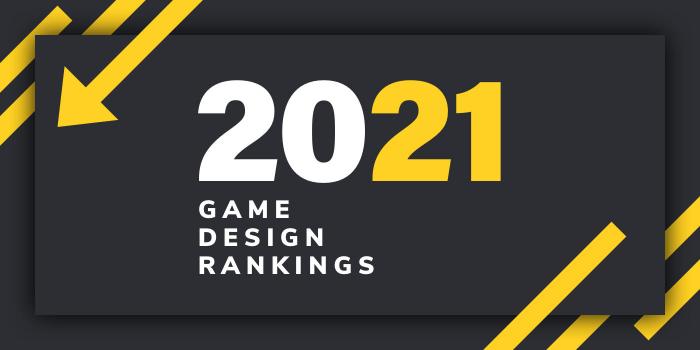 What are the top game design programs in Wisconsin for 2021?
Top Wisconsin Game Design Schools - 2021 College Rankings

| Ranking | School | City |
| --- | --- | --- |
| 1 | University of Wisconsin – Stout | Menomonie |
| 2 | University of Wisconsin – Whitewater | Whitewater |
Our 2021 ranking of the top game design school programs in Wisconsin. For an explanation of the ranking criteria, click here.
1. University of Wisconsin – Stout, Menomonie, Wisconsin
University of Wisconsin – Stout (UW-Stout) was established in 1891 as The Stout Manual Training School. One of just 125 polytechnic universities in the U.S. and the only one in Wisconsin, UW-Stout serves nearly 8,000 students enrolled in 49 undergraduate and 22 graduate degrees, many of which are unique to Stout or are not offered elsewhere in the Midwest.
Programs are offered in three colleges and six schools, including the College of Arts, Communication, Humanities and Social Sciences (CACHSS), which houses the School of Art and Design. Serving more than 1,000 students, the School offers BFAs in Game Design and Development and Entertainment Design, and an MFA in Design.
The School of Art and Design says the undergraduate program is the "first and only BFA in Game Design in Wisconsin, Minnesota, and Iowa." Students in the program gain core skills in art and design such as 3D modeling, animation, and drawing. Program highlights include collaboration with computer science students, courses covering two- and three-dimensional models, animation and visual effects for video games, television, movies, and access to three labs with industry-standard hardware and software, AAA development kits, Intuos Cintiq Displays, HD and 3D projectors, and virtual reality headsets.
UW Stout's cross-disciplinary MFA program consists of study in the areas of Entertainment Design, Game Design, Graphic Design, Interactive Media, Studio Art, and more. Courses for the program are delivered through a variety of methods including on-site courses, online, evening, weekend and intensive summer courses. Graduates of the program will be prepared to pursue roles in the academic community and as design professionals and leaders.
The College of Science, Technology, Engineering, Mathematics and Management (CSTEMM), Department of Mathematics, Statistics and Computer Science offers a BS in Computer Science with Game Design and Development (GDD) and Mobile Applications (MA) Concentrations, and a Computer Science Minor with nine hours of electives.
A charter member of the Higher Education Video Game Alliance, the Game Design and Development Concentration prepares students to design and develop software programs that use digital imagery and physics to create games, simulations or other applications. The school says, these programs can improve healthcare delivery, transform education, strengthen national security, shape public policy and continue to create social networks.
Graduates of the game programs at UW-Stout have landed positions at companies such as Big John Games, Design Ready Controls, Find-It-Faster Online, Pixel Spill Games, and many others.
2. University of Wisconsin – Whitewater, Whitewater, Wisconsin

University of Wisconsin-Whitewater (UW-W) was founded in 1868. The school serves nearly 12,000 students enrolled in more than 50 undergraduate majors and 119 minors, numerous areas of emphasis, and dozens of graduate programs in five colleges and schools. The College of Arts and Communication houses the Department of Art and Design, which offers BA and BS degrees in Gaming Technology and Communication/Gaming, a BA in Media Arts, Game Design and Development (MAGD), and Minors, Communication/Gaming, Gaming Technology, and Media Arts.
BA/BS Gaming Technology students "will develop the programming skills and software development expertise required for cross-platform real-time interactive graphics and game development," says the school. "Students focus on building a solid base of programming skills necessary to take on real-world challenges related to developing games, mobile apps, websites and more."
Course highlights for the programs include Artificial Intelligence, C++ Sequence, Game Engine/Modding, and Graphics Programming. An internship, Special Topics and Independent Study are also part of the program as well as the required Team Project.
Communication/Gaming course highlights include Advanced Audio Techniques, Game Development, Social Media Optimization, Sound and Image, and Video Production. Students in the program will "focus on the role of games in developing culture and communicating messages, intersections and interactions between audio and video, and approaches for the optimization of social media." Practicum courses provide "real-world opportunities for students to hone their skills in a variety of areas, including web video production, motion graphics, composition/scoring, advanced web development and marketing."
Media Arts (formerly Visual Media Design), Game Design and Development "develops aesthetic sensibility and artistic design skills important in the production of original, creative, digital media content for interactive and time-based computer games, animation, websites, video, special effects, the 3D and motion graphic industry, and artistic productions."
Course highlights for the program include Digital Video/Motion Graphics, Graphics and Animation, Graphic Media Imaging as a Web/Interactive Media, and Raster/Vector & 3D Modeling. Students in the Media Arts program may also choose additional elective courses from the Gaming Technology or Communication/Gaming programs.
Two team-based projects courses provide a capstone for the degree programs. In addition, all students may participate in the MAGD Expo—a juried show of interactive entertainment, 2D, 3D, aural, animated and virtual creative work held annually at the University of Wisconsin, Whitewater.
The Minors consist of 24 credit hours of study "mirroring the options in the major." Both the Communication/Gaming and Media Art and Minors "feature the same general core and electives as the majors, while the Gaming Technology Minor was specifically made to pair with a major in Computer Science."
The Computer Science program, which leads to a BA or BS, is offered in the College of Arts and Letters, Department of Mathematical & Computer Science. Artificial Intelligence, Programming Languages, Software Engineering, and Software Testing are a few course highlights. The Department also offers an MS in Computer Science (MSCS) and a CS Minor.