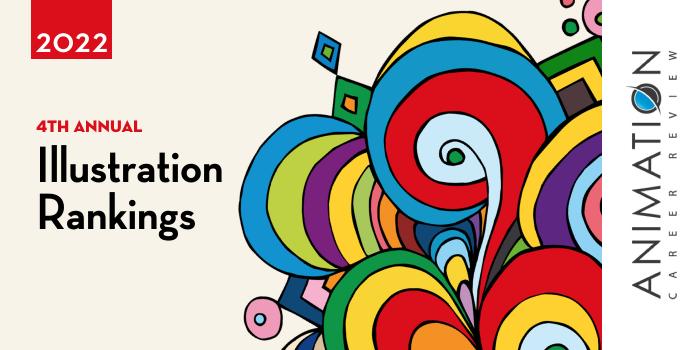 What are the top illustration schools in Illinois for 2022?
Top Illinois Illustration Schools - 2022 College Rankings

| Ranking | School | City |
| --- | --- | --- |
| 1 | Columbia College Chicago | Chicago |
| 2 | University of Illinois at Chicago | Chicago |
| 3 | Northern Illinois University | DeKalb |
| 4 | American Academy of Art College | Chicago |
Our 2022 ranking of the top illustration schools in Illinois. For an explanation of the ranking criteria, click here.
1. Columbia College Chicago, Chicago, Illinois

The Illustration Program at Columbia College Chicago (Columbia) has BA and BFA pathways that explore both traditional and digital illustration, visual storytelling, and business (freelance, salaried, and contract). Students in both programs will develop skills through hands-on client-focused projects. Courses will expose students to cartooning, digital illustration, drawing, typography, figure drawing, and painting. And the mandatory internship offers the chance to obtain real work experience at an advertising agency, design studio or art gallery.
The BFA Program is a professionally focused degree that requires advanced coursework, with few elective options. The BA allows students to add a Minor or Double Major. Minor examples include Animation, Motion Graphics, Game Art, Journalism, Creative Writing, and Graphic Design. Second major examples include Graphic Design, Computer Animation, and Game Art.
Course examples across programs include Illustration Studio I-III, Illustration: Materials & Techniques, Survey of Typography, Cartooning, Figure Drawing, Drawing the Graphic Novel, Digital Illustration, Freelance Illustration, Special issues in Illustration, Visual Culture, Children's Book Illustration, Design Lab, Concept Art, and Design Thinking. All Illustration students will develop a professional portfolio to graduate as the culminating experience for the programs.
The BA and BFA Illustration Programs at Columbia prepare students for positions in industries such as Advertising, Book and Magazine Publishing, Entertainment/Film, Fashion, and Product Packaging.
Examples of career paths for graduates of the Illustration Programs at Columbia College Chicago include animation, film and television, advertising, corporate literature (brochures, magazines, flyers, letterhead, ad artwork), game art, book and magazine publishing, and branding and packaging, among others.
Columbia College Visual Arts alumni have worked with and for Walt Disney Animation Studios, The New Yorker, the Institute of Contemporary Art in Los Angeles, WBEZ Chicago, American Express, VICE Media, House of Vans, Chronicle Books, HBO's Last Week Tonight with John Oliver, and Goose Island Beer Co., TimeOut Magazine, and Juxtapoz Art & Culture Magazine, among others.
Columbia College Chicago is accredited by the Higher Learning Commission (HLC). Founded in 1890 as the Columbia School of Oratory, Columbia serves 7,000 students enrolled in more than 150 majors, minors, and graduate programs. Study areas include Communication and Writing, Media and Digital, Music and Sound, and Business Management.
2. University of Illinois at Chicago, Chicago, Illinois

University of Illinois at Chicago (UIC) houses the College of Applied Health Sciences, home to the Biomedical Visualization MS Program (MS BVIS) and the Life Science Visualization Minor. Both programs are interdisciplinary, allowing students to study art, graphic design, animation, traditional illustration, interactive media, gaming, virtual and augmented reality (VR/AR), and medical illustration. The 16 credit hour Life Science Visualization Minor can be added to any major, including Studio Arts, New Media Arts, and Moving Image, among others.  
The Minor enhances these and other degrees by allowing students to develop skills in this growing field of Science and Medical Illustration, and Traditional and Digital Illustration. Course examples for the program include Life Science Animation, Storytelling, and Storyboarding, Digital Sculpting for Life Science Illustration, Life Science Visualization Techniques I-II, and Serious Games for Life Science Education.
The MS BVIS Program is the largest and second oldest of just four accredited programs of its kind in North America. Students in this program can expect to take courses such as Illustration Techniques, Advanced Illustration Techniques, Surgical Illustration, Animation I-IV, Serious Game Development, Immersive Interactive Visualization, Modeling I-III, 3D Printing with Data Segmentation, Visual Storytelling in Biomedical Visualization, 3D Space II: Animation Maya, Graphic Design, Advanced Graphic Design, Visual Learning & Visual Thinking I-II, and Independent Study. 
Graduates of the MS BVIS and Life Science Visualization Minor Programs at UIC go on to become Digital Illustrators, Traditional 2D Illustrators, Medical Illustrators, Scientific Illustrators, Animators, Game Artists, VR/AR Designers, Interactive Media Designers, and Graphic Designers, among others. 
University of Illinois at Chicago is accredited by The Higher Learning Commission (HLC). The school formed in 1982 when two University of Illinois campuses—the Medical Center campus and the Chicago Circle campus—consolidated. Today, with more than 34,000 students enrolled, UIC is the largest university in the Chicago area. UIC offers 260 degree programs and 66 certificate programs across 14 colleges and the School of Law.
3. Northern Illinois University, DeKalb, Illinois

The College of Visual and Performing Arts (CVPA) at Northern Illinois University (NIU) consists of three schools: Art and Design, Music, and Theater and Dance. The CVPA School of Art and Design has been an institutional member of the National Association of Schools of Art and Design (NASAD) since 1969. Students in the School can earn a BFA in Art Studio and Design, a BA or BS in Art, a BA in Art History, or a BS.Ed. Art and Design Education. The CVPA School of Art and Design also has an Accelerated BA/JD Program that leads to both the Art History BA and JD degrees.
Also within the School of Art and Design is the Illustration Specialization for Art Studio and Design students. Courses for the program are led by accomplished artists in the Illustration and Scientific/Medical Illustration fields. Students will begin the program with three Foundational Studies courses, along with Drawing Foundation I, 2-D Foundation, and 3-D Foundation.
Upon completion of Foundation coursework, students will move on to courses that explore all areas of illustration, color materials and techniques, visual communication, graphic design, digital rendering with raster and vector programs (i.e. Adobe Photoshop and Illustrator), 2D animation, business practices, and professional portfolio development. Students will also have the opportunity to explore digital 3D model making, 3D printing, and 3D animation. The Art Studio and Design BFA culminates with the Senior Project in Illustration.
Graduates of the Art Studio and Design Program at NIU are prepared for graduate study or to pursue positions in Editorial and Book Illustration, Scientific Illustration, Concept Art for Games and Films, Graphic Novels, Illustrations for Comics, and Advertising, among others.
Northern Illinois University is accredited by the Higher Learning Commission (HLC). Chartered in 1895, NIU opened in 1899 as a teachers' school called the Northern Illinois State Normal School. Today, NIU provides more than 100 undergraduate programs and 80+ graduate programs to 16,235 students across 42 schools and departments within seven colleges.
4. American Academy of Art College, Chicago, Illinois

The American Academy of Art College (Academy of Art) has an Illustration BFA Program that requires 122 semester credit hours over eight full-time semesters. Housed in the Illustration Department, the program is designed for students seeking a career in Professional Illustration. Program features include projects based on realistic job situations, independent and team-based projects, workshops, internships, study abroad opportunities, and portfolio development.
Courses for the program are led by professionals in the Illustration field and include Design for Illustration, Digital Illustration, Editorial and Publishing Art, Illustration, Film and Society, Visual Storytelling, Storyboarding, Advertising Art, Concept Art, Survey of American Illustration, and Typography, among others. Studio electives allow students to develop additional skills in other areas of art, design and, Illustration. The program culminates with a final, professional portfolio of the student's best work.
Graduates of the Academy of Art Illustration BFA Program are prepared to pursue advanced degrees in a variety of areas within Illustration and Fine Arts or to seek positions such as Editorial Illustrator, Storyboard Artist, Technical Illustrator, Production Artist, News & Courtroom Illustrator, Art Director, Freelance Illustrator, Interactive Designer, Comic Book Artist, Muralist, Art Instructor, Caricature Artist, Concept Artist, Tattoo Artist, and Presentation Designer, among others.
The American Academy of Art College is accredited by the Higher Learning Commission (HLC). Founded in 1923 as a school for professional artists seeking careers in the fine arts and commercial art fields, Academy of Art serves approximately 169 students enrolled in six programs leading to a BFA degree. Programs include 3D Modeling and Animation, Art Direction, Graphic Design, Illustration, Oil Painting or Watercolor Painting, and Photography.