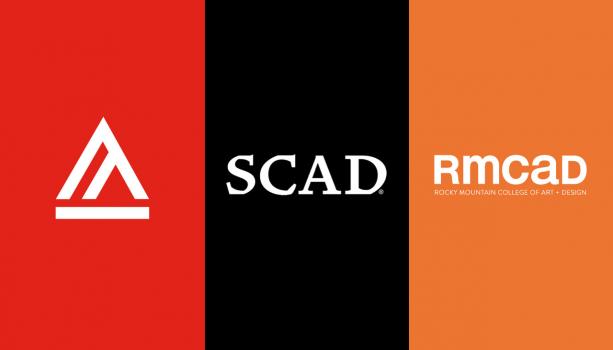 What are the top online schools for illustration?
Top Online Illustration Schools - 2019

| School | State |
| --- | --- |
| Academy of Art University | California |
| Rocky Mountain College of Art and Design | Colorado |
| Savannah College of Art and Design | Georgia |
Our list of the top schools for online illustration training and degrees. The list is in no particular order and is not intended to be a ranking.  

Academy of Art University, San Francisco, California
San Francisco-based Academy of Art University has been in existence since 1929. Family-owned and serving thousands of students, the school is the largest private art and design university in the nation. Academy of Art prepares artists in the fields of design, communication, and the arts, through more than 30 areas of study from Animation & Visual Effects to Writing for Film, Television & Digital Media.
Academy of Art houses 18 schools, including the School of Illustration, which the Academy says "offers an innovative curriculum that blends digital technology with classical training to meet the marketplace's growing need for trained artists in both areas." Those accepted into the School of Illustration will "take a contemporary approach to traditional techniques with an emphasis in drawing, composition, and storytelling." Students will also "develop a keen attention to detail, gaining portrait, clothed figure, and live animal drawing skills and a deep understanding of anatomy and design."
Available programs include AA, BFA, MA and MFA degrees in Illustration. A Certificate is also available. The degree programs are offered 100% online and all are taught by industry professionals. Some Academy of Art instructors have designed backdrops for Carlos Santana and U2, while others have worked with major companies such as Microsoft, DreamWorks, The New York Times, Atlantic Monthly, Universal Studios, Doubleday, Penguin, Bantam,  Houghton Mifflin, Universal/MCA, MGM Studios, 20th Century Fox Studios, Sony Pictures, Warner Bros. Studios, Disney Imagineering, Mattel Toys, and many others.
Online courses for the AA, BFA, MA, and MFA programs are a mix of lecture content, recorded audio, interactive slideshows, video, written content, and hands-on work. Students in the program also engage in discussions and activities through the online platform, online studio environment, social media and real-time streaming of events.
Students can expect to take mix of timely courses such as Blogging: Content Creation & Promotion, Digital Clothed Figure, Digital Media 2: Illustrative Imaging, Editorial Illustration for Apps and Publication, Illustration for Consumer Products & Licensing, Illustrative Vector Art & Motion, Interactive Illustration, Physics for Artists: Light, Sound, and Motion, Social Media Strategies, and The Body As Art: History of Tattoo & Body Decoration.
An Illustration Internship is part of the programs as well as a Collaborative Project, Portfolio Preparation and Self Promotion, and the opportunity to spend a semester abroad in Florence.
Graduates of the Illustration Program at Academy of Art University are prepared to seek positions such as Concept Artist, Children's Book Illustrator, Storyboard Artist, Narrative Illustrator, Book Cover Artist, Freelance Illustrator, Reportage Illustrator, Interactive Illustrator for Apps & Web Publishing, Comic Artist, and Consumer Product & Licensing Illustrator.
Academy of Art alumni have been hired by companies such as The Atlantic, Blizzard Entertainment, Dark Horse, DC Comics, Marvel, National Geographic, The New York Times, the New Yorker, Paramount Pictures, Pixar, Random House, Riot Games, Wired, and many others.
Academy of Art University is accredited by the National Association of Schools of Art and Design (NASAD).

Rocky Mountain College of Art and Design, Denver, Colorado
Rocky Mountain College of Art and Design (RMCAD) was founded in the foothills of Colorado in 1963. Illustrator and Educator Philip J. Steele, the school's founder, said his mission was to "make RMCAD a 'community of creatives' that would instill in all students a passion for creativity, innovation, and a desire for lifelong learning—both in the fine arts and applied arts."
Per RMCAD, Steele "sought to nurture the individual talents of each student, to integrate critical thinking and analysis into their skills, and to contribute in socially responsible ways to the local, global, and professional communities." Today, with more than 1,100 on-campus and online students, RMCAD offers dozens of programs in nine areas of art and design. Among them is a BFA in Illustration. Offered online and on-campus, the program is designed for "self-motivated individuals who thrive in an independent learning environment."
Three focus areas are available including Children's Book, Sequential Art, and Concept Art. The curriculum, including focus areas, "is structured to ensure students receive exceptional online instruction in the technical, conceptual, and business aspects of illustration to build a unique portfolio that demonstrates a strong and diverse skill set." In addition, students will engage in coursework and projects that cover Visual Perception, Materials Exploration, and Human + Animal Anatomy.
Students in the Online BFA in Illustration can expect to receive the same academic and personal support as students in the on-campus program. They receive personal one-on-one instruction, engage in consistent interaction and communication with faculty, and they have access to the same "cutting-edge" software as RMCAD's on-campus students.
Courses for the program are taught by experienced online faculty, who are also working professionals in the field of illustration. Credits include freelance work for Dell, Ballentine, Harper Collins, Sterling Publishing, Doubleday, Scholastic, McGraw Hill, Communication Arts Magazine, and Warner.
In addition to learning the technical aspects of illustration, RMCAD's accomplished instructors help students explore the business practices that will allow them to be successful in the field. And with a network of industry contacts and connections, RMCAD says it will be there every step of the way to help students reach their career goals.
Graduates of the Online BFA in Illustration at RMCAD are making their mark as Magazine Illustrators, Editorial Illustrators, Technical Illustrators, Instructional Illustrators, Architectural and Interiors Illustrators, and more.
Rocky Mountain College of Art and Design is accredited by the National Association of Schools of Art and Design (NASAD).

Savannah College of Art and Design, Savannah, Georgia
Founded in 1978, Savannah College of Art and Design (SCAD) is one of the top art and design schools in the nation. With campuses in Savannah, Atlanta, Hong Kong, and Lacoste, France, SCAD serves nearly 13,000 students with access to 40 majors and 60-plus minors. Among these programs are four degree options for aspiring illustrators—the BA, BFA, MA, and MFA. Two are available online—the MA and MFA.
The MA requires 45 credit hours of study and the MFA requires 90 credit hours of study. Both programs teach students to use new and traditional media to illustrate everything from film sequences to app icons. Students will learn to "work in a professional environment through a program structured like a working studio," and they will "develop a personal style and technique, learning to express (their) own unique vision while forming a well-rounded perspective on design."
Course highlights for the MA program include Media and Techniques, Illustration Markets, Digital Solutions for Illustration, and Illustration Concepts and Composition. Directed Projects in Illustration is also part of the program as well as the Illustration MA Final Project.
The MFA is a terminal degree that offers the opportunity to choose four electives to create an area of focus and students may complete an internship. Course highlights for the program include Advanced Studio Techniques, Illustration for Publications, Art Criticism, Professional Practices in Illustration, and Media and Techniques. Directed Projects in Illustration is also part of the program as well the Illustration MFA Thesis.
SCAD's online courses require no specific meeting times and are accessible 24/7. Students complete assignments by designated due dates and participate in online class sessions, where they assess and critique work and expand upon discussion board postings. There are no required campus visits, and internships and study abroad experiences are readily available, but optional.
Other Illustration Schools to Consider

Sessions College for Professional Design, Tempe, Arizona
Sessions College for Professional Design began in 1997 in New York. Originally named Sessions.edu, the school relocated to Tempe, Arizona in 2009. Now an accredited, degree-granting school, Sessions College serves more than 1,500 students enrolled in Associate of Occupational Studies (AOS) degree programs and eight-month Certificate programs in Graphic Design, Web Design, Digital Media, Illustration, Advertising Design, Digital Photography and Fine Arts.
The Illustration Program, which highlights creative classes, expert instructors, career preparation, and portfolio development, covers illustration in traditional and digital media, utilizing software tools such as Adobe Photoshop and Illustrator. Student illustrators can expect to take courses such as Computer Technology, Digital Photography, Typography, Cartooning and Sequential Art, Digital Illustration, Technical Illustration and Infographics, Watercolor, Commercial Illustration, Portrait Painting, Web 101 HTML and CSS I, and InDesign.
The final semester of the Online Illustration AOS program at Sessions concludes with studies in design business and portfolio building as well as a live online portfolio review and a capstone project. Graduates of the program are prepared to seek positions in areas such as Advertising, Animation, Marketing, Print Media, Promotions, Publishing, Video, and many others.
Sessions College is accredited by the Distance Education Accrediting Commission (DEAC). At the certificate level, the school is accredited by the Middle States Commission on Secondary Schools (MSA-CESS).
Programs to Consider:
Selected Campus Locations:
Animation Career Review Rankings:
Top 50 Nationally for Animation (#11) - 2022
Top 50 Nationally for Game Design (#10) - 2022
Top 50 Nationally for Graphic Design (#33) - 2022
Selected Campus Locations:
Selected Programs:
Animation Career Review Rankings:
Top 25 International Animation Training Programs (#25) - 2022
Selected Campus Locations:
Animation Career Review Rankings:
Top 50 Private Graphic Design Schools in the US (#38) - 2022