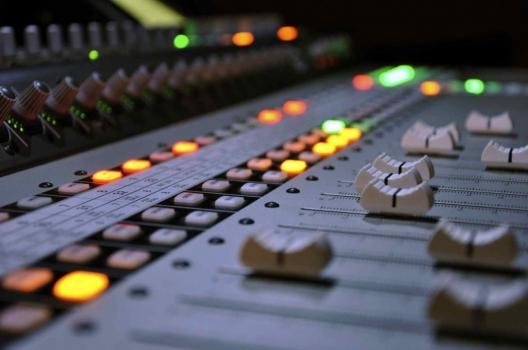 Top Online Schools with Audio Production Degrees in the U.S.

| School | State |
| --- | --- |
| Full Sail University | Florida |
Audio (also sound) engineering is a growing industry that the Bureau of Labor Statistics (BLS) says is fueled by "businesses, schools, and entertainment industries seeking to improve their audio and video capabilities." They will need sound engineers to operate machines and equipment and to record, synchronize, mix, or reproduce music, voices, or sound effects in sporting arenas, theater productions, recording studios, or movie and video productions.
For the 2016-2026 decade, the BLS reposts that employment in the sound engineering field will increase by 8%, which is about as fast as average for all occupations. Earning potential sounds promising as well.
Sound or audio engineers can expect to average around $55,810 annually, up to $85,340 or more, depending on the industry and location. The BLS reports that high performers can expect to earn $125,230 or more annually, depending on industry and location. For example, those working in the Software Publishing industry average $94,570 annually, while those working in the Motion Picture and Video Industries average $92,390 annually.
The top paying states for audio engineers are:
Louisiana: $90,640
Connecticut: $80,890
California: $80,480
New York: $80,390
Washington: $78,650
However, for the most employment opportunities, in addition to California and New York,  aspiring audio production professionals should consider Florida, Texas, or New Jersey.
To get there, you will need a degree from an accredited school. We've identified below a top school that offers several online programs for aspiring audio production professionals. The school, Full Sail University, is popular in both the academic and professional worlds, and it is fully accredited.

Full Sail University, Winter Park, Florida
Full Sail University was established in 1979 as Full Sail Productions. The school offers arts, entertainment, media and technology programs to 15,000 students across 210 acres of campus space, including 110+ studios and labs. Around 93 program options lead to an associate's, bachelor's, or master's degree. Among these programs is a BS in Audio Production that takes 29 months to complete and a five-month online certificate.
Per the school, the Audio Production Program is designed to provide students "with the knowledge, skills, and attitude necessary to conduct business as an independent audio creator. Areas of study range from pop culture and music business fundamentals to production and postproduction techniques – in addition to foundational material like college mathematics and professional writing."
Sample courses for the program include:
Advanced Audio Editing Techniques
Advanced Mixing Techniques
Audio Arts in the Entertainment and Media Industries
Audio Postproduction
Audio Workstations
Contemporary Production Techniques
Creative Presentation
Fundamentals of Music
Fundamentals of Music Business
Game and Audio Production Techniques
History of Recorded Music
Listening Skills for Audio Professionals
Musical Structure and Analysis
Sound Design for Games
Vocal Techniques
Students will also complete seven "Project and Portfolio" courses worth three credits each including Project and Portfolio I: Audio Arts, and Project and Portfolio II-VII: Audio Production.
These unique Project and Portfolio courses combine "hands-on learning experiences with summative and formative portfolio assessments." The courses are taken in addition to an internship, which can be pursued after the student has successfully completed 50% of the required credit hours for the BS program.
Full Sail University is Accredited by the Accrediting Commission of Career Schools and Colleges (ACCSC) and licensed by the Commission for Independent Education (CIE), Florida Department of Education. The ACCSC is listed by the U.S. Department of Education as a nationally recognized accrediting agency.
Sources
"Broadcast and Sound Engineering Technicians." Bureau of Labor Statistics (BLS), U.S. Department of Labor, 02 Aug. 2018. Web. 04 Feb. 2019.
"Sound Engineering Technicians." Bureau of Labor Statistics (BLS), U.S. Department of Labor, 30 Mar. 2018. Web. 04 Feb. 2019.