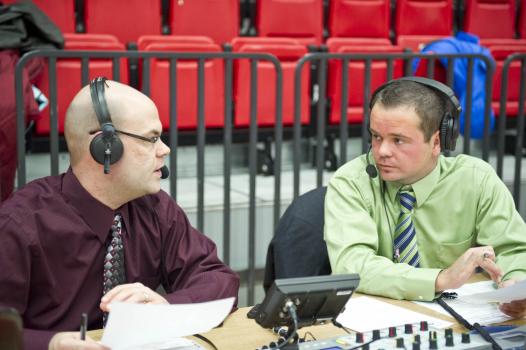 Top Online Schools with Sportscasting Degrees in the U.S.

| School | State |
| --- | --- |
| Full Sail University | Florida |
| Academy of Art University | California |
The North American sports market is worth nearly $72 billion, with a projected $9 billion increase in revenue by 2022. One of most significant forces behind growth in the industry is media rights, which is worth an estimated $20.9 billion today. This segment of the sports industry is expected to exceed gate revenues in the coming years, to become the sports industry's largest revenue generator.
With so much growth in the sports market, it's not surprising that sportscasters are in demand. According to Forbes, "as money pours into media rights, naturally the amount of television and digital coverage increases as more content is needed to sell commercial inventory against." The result is "thousands of new jobs across the sports media spectrum, from broadcasting, analysis, content production, and everything in between."
Though growing, the industry is still competitive. This means to compete, you will need more than a likable personality and extensive sports knowledge. You will also need a degree from an accredited school.
Fortunately, a number of schools offer programs leading to a degree in sportscasting, sports media, or sports communication. And for those seeking flexibility, some are even offered online. We've identified below several accredited schools that offer sportscasting programs with flexible delivery formats for today's busy student. The schools are listed in alphabetical order beginning with Dan Patrick School of Sportscasting at Full Sail University.

Full Sail University, Winter Park, Florida
Established in 1979 as Full Sail Productions, Full Sail University offers arts, entertainment, media and technology programs to 15,000 students across 210 acres of campus space, including 110+ studios and labs. Around 93 program options lead to an associate's, bachelor's, or master's degree. Among these programs is a BS in Sportscasting that takes 29 months to complete, online.
Offered through the Dan Patrick School of Sportscasting, Full Sail says that the program provides students with "constant real-world experience both on camera and behind the scenes." Students will "build a foundation in interviewing, voice work, writing and storytelling, with ongoing guidance from professional mentors who are active in the world of sportscasting." Students will also gain "advanced knowledge in news-gathering, reporting, and multimedia communication, and develop presenting skills for current and emerging technologies – from broadcast, to gaming, to virtual and augmented reality."
Sample courses for the program include:
Advanced Interviewing for Sportscasting
Advanced Reporting Practice
Broadcast for Advanced Technology
Broadcast Writing
Business in the Entertainment and Media Industries
Diversity in Modern Media
Intellectual Property
Introduction to Sportscasting
New Media Formats
New Media Tools
Popular Culture in Media
Professional Writing
Sports Business Models
Sports Digital Production
Vocal Training for Sportscasting
Students will also complete seven "Project and Portfolio" courses worth three credits each including Project and Portfolio I: Business and Marketing, and Project and Portfolio II-VII: Sportscasting.
These unique Project and Portfolio courses combine "hands-on learning experiences with summative and formative portfolio assessments." The courses are taken in addition to an internship, which can be pursued after the student has successfully completed 50% of the required credit hours for the BS program.
In addition to Project and Portfolio courses, BS students will benefit from "guest faculty straight from the industry." Jay Harris (Sports Journalist, ESPN), Sage Steele (Sports Journalist, ESPN), Ed Goren (President, Ed Goren Sports Media, Bill Simmons (Founder and CEO, The Ringer), and Kraig Kann (Sports Journalist, Consultant/Speaker, Golf Channel/NBS I Kann Advisory Group), are just a few. 
Full Sail University is Accredited by the Accrediting Commission of Career Schools and Colleges (ACCSC) and licensed by the Commission for Independent Education (CIE), Florida Department of Education. The ACCSC is listed by the U.S. Department of Education as a nationally recognized accrediting agency.

Academy of Art University, San Francisco, California
Academy of Art University was founded in 1929 and it has been family owned since its beginnings. Serving more than 7,200 students, the school says it is the largest private art and design university in the nation. Academy of Art offers dozens of degree programs from Advertising and Game Design to Communications & Media and Writing for Film, Television & Digital. Programs lead to a Certificate, AA, BA, BFA, MA or MFA.
Programs for aspiring sportscasters are offered through Academy of Art's School of Communications & Media Technology. Options include BA and MA degrees in Communications & Media Technology. Students can choose to focus in Entertainment Broadcasting.
Per the school, in Entertainment Broadcasting, students will work both in-studio and on-location. Students will learn to conduct interviews, write copy, and help script and produce programming. Facilities include "quality sound stages, production rooms, and Urban Knights radio station."
Course highlights include:
Express Yourself: Original Online Production
History of Gaming
Introduction to Radio/Podcasting
Media Station Management
Multimedia Communications: On-Camera Performance
Multiplatform Content Live
Play By Play & Live Field Reporting
Power of Myth and Symbol
Producing Live Media
Respect for Acting
Sports & Media
Storytelling: From Telephone to Transmedia
The Creative Process
The Genius of Appeal
Visual Storytelling: Editing Fundamentals for Short-Form Video Content
Students will also complete several projects including In-Depth Project: The Game Show and Collaborative Project: Branded Content, as well as Internship in Communications and Media Technologies, and Your Media Portfolio: The Resume and Beyond.
In the Portfolio course, "students will market themselves by developing an entire branding strategy, including website, social media messages, resume, and collateral. Materials will incorporate graphics, such as logos and professional name. Students will be interviewed by professional hiring managers. Emphasis is placed on how to form and operate a business."
Graduates of the Communications & Media Technology programs have been hired by Comcast SportsNet, the NFL, CBS Interactive, CNN, Fox Television Studios, Discovery Digital Networks, Pandora, KQED, and more.
As part of Academy of Art University, the Communications & Media Technology programs (both onsite and online) are accredited by the Western Association of Schools and Colleges (WASC) Senior College and University Commission (WSCUC).
Sources
"Are there any master's in sports communication programs?" Mastersincommunications.com, Mastersincommunications.com, 2017-2019. Web. 07 Feb. 2019.
Belzer, Jason. "Sports Broadcasting 101: Breaking Into The Business Of Sports Media." Forbes, Forbes Media LLC., 24 Feb. 2016. Web. 07 Feb. 2019.
"North America sports market size from 2009 to 2022 (in billion U.S. dollars)." Statista, The Statistics Portal, Statista, 2018. Web. 07 Feb. 2019.