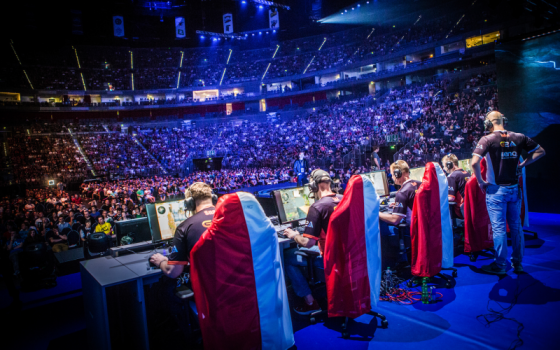 The University of Akron (UA) is so serious about eSports that the school plans to phase out 80 degree programs and add a new eSports facility that it says will be "the largest amount of dedicated eSports space of any university in the world to date." With more than 5,200 combined square feet, the facility will house more than 90 state-of-the-art gaming PCs and 30 next generation consoles.
Director and Head Coach of eSports Programs Michael Fay Jr. said the move will "help eliminate any financial barrier to participating in eSports competitions for UA students, keep them from having to play alone in their residence halls and allow them to pursue mastery in gaming, just like any other extracurricular pursuit here on campus."
UA is the first public university in northern Ohio to create a varsity eSports program and one of its five inaugural eSports teams (launching fall 2018) will be led by the first female collegiate eSports coach.
At a cost of $750,000, the UA University Communications and Marketing Newsroom (UA UCM Newsroom), reports that the combined 5,200-square-foot facility will consist of a:
1,222-square-foot gaming arena located on the first floor of the schools InfoCision Stadium-Summa Field. This will include a hyperwall display for spectators to watch competitions and a studio for broadcasting competitions and events.
2,646-square-foot eSports center located on the first floor of the schools Jean Hower Taber Student Union. This will be home to more than 300 students representing 10 eSports club teams along with a viewing lounge where live eSports broadcasts will be aired throughout the day, and an exclusive training space for varsity teams. Free devices will also be available for recreational use by other members of the student body who are not a member of a club or varsity team.
1,338-square-foot recreational gaming café on the first floor of the Drs. Gary B. and Pamela S. Williams Honors College will be available for all students within good academic standing to access for free. University employees, alumni and community members who are gamers and want to access the café will have to purchase passes.
PlayStation 4 Pro and Xbox One X will be utilized as gaming consoles. The specs of the PCs include GTX 1080 Ti graphics cards and Intel's Core I7 8700 central processing units, among other high-end features, reports UCM News.
UA isn't the only university betting on gaming this year. The University of California, Berkeley (UC Berkeley) opened its new Cal Esports Community Center in August and announced it would be partnering with industry leaders NVIDIA and CORSAIR to provide funding and equipment to support the center. Coupled with the new community center, UC Berkeley says these "groundbreaking" gaming partnerships, will provide "academic, social, wellness, and career opportunities for students."
Sources
Knisely, Alex. "World's largest amount of student esports space opening at UA." The University of Akron
University Communications and Marketing (UA UCM Newsroom), University of Akron, 16 Aug. 2018. Web. 12 Sep. 2018.
Moody, Josh. "Colleges Are Betting Big On The Multimillion-Dollar Esports Market." Forbes, Forbes Inc., 22 Aug. 2018. Web. 12 Sep. 2018.
Ratliff, Adam. "Press Release: Cal Esports Community Center Opens." UC Berkeley, UC Regents, 16 Aug. 2018. Web. 12 Sep. 2018.
Shoot, Brittany. "This School Is Cutting 80 Degree Programs While Building the 'World's Largest' E-Sports Facility." Fortune, Time Inc., 17 Aug. 2018. Web. 12 Sep. 2018.