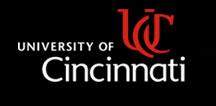 The University of Cincinnati is one of the nation's oldest and most distinguished public institutions, boasting numerous top ranking programs. Its prestigious College of Design, Architecture, Art and Planning (DAAP) offers a variety of acclaimed degree programs. Among them, a Bachelor of Science in Graphic Communication Design allows students to focus on 2D and 3D design through the use of core studies that include courses in typography and kinetic communications. Though admittance is highly competitive, graduates of the program are well placed to enter fields ranging from animation and film effects to advertising and exhibition design. 
With a stunning campus (which incidentally landed a spot on Forbes' 13 Most Beautiful College Campuses in the World in the company of Oxford and Princeton), the university sits amidst a bustling community of design houses, companies and thought-leaders that offer further opportunities for students and alumni alike. We sent a few questions to Adjunct Professor Ian Bellomy, himself a graduate of the program, for our latest spotlight Q&A. He offers insight into the thinking of a great graphic designer, the importance of those foundational studies and even his favorite spot on campus.
This Q&A was done via email. Edits have only been made where necessary for length and clarity. 
ACR: University of Cincinnati's Bachelor of Science in Graphic Communication Design encompasses both Graphic and Digital Design. Students are required to take foundational coursework regardless of their chosen focus. Why are these studies crucial to their development as artists?
IB: No matter their specialty, they'll take foundation classes in print, motion, and interaction design. Even in the event that a student is not interested in doing work in some area, it's entirely likely they will someday be an art director responsible for others with these specialties. It's also rare that a piece of communication, branding, or even a product to exist solely in one arena. Being able to look at the big picture is pretty advantageous. 
ACR:  The field of Graphic Communication has evolved considerably in recent years. Are there skills of artists that remain relevant despite the shifts?
IB:  No matter the medium, a designer needs to be able to look at their work attentively and critically in order to make informed decisions about how to make it better. They also need to have a keen and articulate awareness of what they are trying to accomplish, informed by an understanding and empathy for their audience. This will not change. 
ACR:  Have any recent changes required a new approach to the curriculum or to teaching the subject?
IB:  I'd say the biggest shift is the unification of Digital Design and Graphic Design and the creation of tracks. Designers whose focus is more on print and/or static materials are increasingly expected to have some experience with motion and interaction. On the other hand, Digital Designers used to focus on both interactive and motion which could make developing a strong specialty more demanding than it perhaps should be while limiting the time students could spend on fundamental areas such as typography that graphic designers were traditionally stronger in. These are my personal feelings on the matter at least. 
ACR: Acclaimed graphic designer Tom Geismar has said that communication design requires a problem solving process of identifying the 'problem' and then using artistic invention and imagination to create a solution. Do you agree with this, and if so how do you teach the ability to solve nuanced 'problems' with graphic applications?
IB: Absolutely. Here's a gross example: Let's say I create an otherwise awesome signage system in an airport that very clearly defines how to get to the nearest restroom. Unfortunately, the travelers' real difficulty has been finding their luggage. In this case my design has missed the mark. A more subtle example would be in making a tax form that needs to appear "friendly". The audience is going to influence what that means exactly. A "friendly" tax form for recent college grads might not hold up as such for an octogenarian war vets. Designing for one group or the other, or both, is each a different problem. 
In addition to setting the stage for a useful design, a sharp problem definition can be a tool for making a unique design. Asking a designer for a "music player" might net you an iTunes look alike. Asking them for a "dangerous" music player "found in a pub on the wrong side of the tracks" will probably result in something more interesting. To execute on a problem like this also requires strong skills in the medium at hand. I generally teach classes related to interaction, an area of design complicated by the necessity of programming. I try to help students overcome this hurdle — to make them make things. It might seem obvious to say, but experiencing your designs is really an important step in developing sensitivity to how your decisions affect the final whole. 
ACR: Students are required to have internships during the course of their studies in the program. What are the advantages of working in a real-world environment prior to graduation?
IB: Learning "soft skills", travel, portfolio building, wisdom from people with different backgrounds, working on projects that stretch your comfort zone, seeing your work in the real world, learning what kinds of business cultures you prefer, building connections for after graduation, working alongside practiced designers who inspire you, and lastly… a paycheck. 
ACR: The program is highly competitive, with approximately 15% of applicants being offered admission. What traits and skills should aspiring students possess if they are interested in the program?
IB: It helps to be sharp with a hard work ethic. Test scores and GPA are currently used as the measure of this. There is talk, however, of accepting portfolio submissions in the future to supplement these metrics. 
ACR: The Graphic Communication Design program boasts an enviable list of faculty members with diverse backgrounds in graphic design. As a former undergraduate from the school yourself, Ian, were there a few that had a particular impact on your career?
IB: Whew. I learned a lot from everyone. One particular example was with my first year drawing instructor who helped me understand that to draw wasn't just to make an image, but to practice looking at the world carefully. 
ACR: What did you value most about your degree from UC and what do you enjoy the most about teaching in the program today?
IB: In high school, I had interests in drawing, music, programming, and this "new media" thing. The course catalogue for Digital Design listed classes for all of these and more. It was a pretty fortuitous discovery I think. The addition of co-op only sweetened the deal. Being back as faculty, I really love the opportunity to get other people excited about what I love. I also encountered a number of questions in undergrad that I pursued in my later studies. Bringing back what I've learned to contribute to a new generation of designers is pretty exciting.
ACR: Cincinnati is known for its rich cultural resources. Aside from recently being placed on Forbes' list of most beautiful campuses, are there other advantages that students receive from the campus location?
IB: UC's co-op program, hands down. By the time a student graduates they have a year and a half experience working in the industry. To facilitate this, UC has relationships with numerous companies from Apple to IDEO.
ACR: Anything else you'd like to share?
IB: I've always been fond of our Eisenman building. Roof access on at least three floors, ground access on four different floors, a hallway that goes from the 6000 level to the 4000 level. A completely-fools-you-at-first-look statue of a student on an impossible to reach ledge. Not to mention rooms that seem to appear and disappear when I'm not looking...