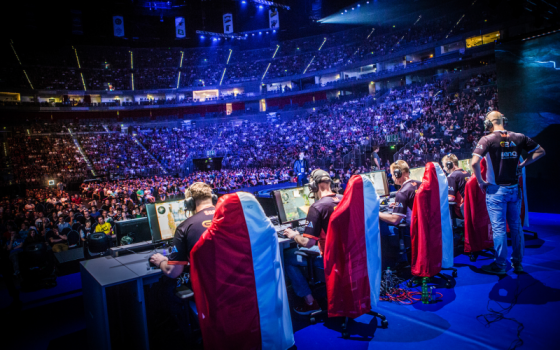 Between 2014 and today, nearly 100 schools across the U.S. and Canada launched eSports programs. This figure is expected to reach 120 by the end of this year, and this rapid growth is expected to continue worldwide for years to come. In China alone, gaming has become a team sport at a staggering 910 universities across the country.
While schools around the world are getting into the eSports game, some might be curious about the effects on their game design programs. Well, we're here to tell you that launching an eSports team has a positive effect on every aspect of the schools that host them. And when it comes to game design, eSPorts helps schools create new or expand existing game design programs. eSports also helps shine the spotlight on some of today's top game design programs.
An excellent example is University of Utah's (The U) Entertainment Arts & Engineering (EAE) program. So for students who are interested in playing on a college eSports team and majoring in game design, EAE at The U is well worth exploring. 
eSports at University of Utah, Salt Lake City, Utah
The University of Utah is one of the larger schools to offer an eSports program, top-ranked game design degrees, and scholarships for gamers under one roof. The school's varsity eSports team competes at the popular and prominent League of Legends competition. The university currently offers players partial video game scholarships, with the future goal of offering full video game scholarships to its gaming teams.
EAE at The U
The game design program at The U consistently ranks among the top 10-20 game design programs by Animation Career Review, Forbes, the Princeton Review, and many others. According to the school, the EAE program was created 10 years ago by faculty from the School of Computing and the Division of Film Studies "to address a growing student population that wanted to study games and game making."
"Students studying computer science and film came together in a handful of shared courses to learn the myriad facets of entertainment technology, as well as gain practice with new technical skills inside a rigorous academic experience. Over the intervening decade the EAE program and its course offerings have grown steadily, and has been successful by any measure."
Now offered through the College of Engineering, the EAE program provides the opportunity to develop and enhance a professional game portfolio through the school's "studio simulation" projects courses. All students in the program will publish a game before they graduate, working in interdisciplinary teams from "pitch to publish." Graduates of the program will have experienced "the entire game development process before entering the industry, making them valuable new hires."
Graduates own all intellectual property rights to the games they publish, which allows them to further develop their projects after graduation. Students have developed games with titles such as Glitchball, Kickshot, Lost Borderline, Overclocked: The Aclockalypse, Project R.A.T. and The Red Moon.
EAE at The U Game Design Degrees
The EAE program at The U offers the following five programs:
BS in Games (BSG)
BS in Computer Science (CS) with an EAE Emphasis
Master of Entertainment Arts & Engineering (MEAE)
Dual MBA/MEAE
Minor in Games
The BSG program prepares students with skills applicable to the development of entertainment software, games-based learning environments for K-12 students, professional task-training tools, serious games for health, and scientific collaboration or other contexts addressing compelling societal needs. This degree provides a technical grounding in mathematics and computational skills, core knowledge in the design and production of digital playable experiences, and specialization options that prepare students for technical supervision, tools development and overall game design. –games.utah.edu
The BS in Computer Science (CS) with an EAE Emphasis is an interdisciplinary program offered in conjunction with the School of Computing. The program consists of courses covering video game design and development, 3D animation, and computer-generated special effects, in addition to the full Computer Science curriculum. Sample courses include Asset Pipeline, Computer Systems, Digital Content Creation, Machina, Serious Game Development, and Traditional Game Development. Graduates of this program go on to become video game engineers, digital media artists, and more.
The Master of Entertainment Arts & Engineering (MEAE) is designed as a cohort model where students remain together throughout the entire two years of the program. Students in the program will take a series of courses focused on their chosen track, along with concentrated electives. Tracks include:
Game Arts – includes design, drawing, 2D and 3D asset creation, animation, and storyboarding for games.
Game Engineering – covers game engines, graphics, artificial intelligence, and novel input devices.
Game Production – students choose game creation or focus on project management, design, business development/marketing or any combination of the three.
Technical Art – includes 3D modeling, rigging, motion capture, and game programming.
Sample courses for the MEAE include Experimental Gameplay, Game Engineering, Rapid Prototyping, Technical Art, and Virtual Worlds.
The Dual MBA/MEAE is an 84-credit-hour program that aims to bridge the divide between game development and the business side of games. Students in the program will design, create, and publish their own game through EAE's studio simulation program and they will gain the business skills necessary to start or run their own game business. Sample business courses include:
Business Ethics
Competitive Strategy
Data Analysis and Decision Making
Financial Accounting
Foundations of Teamwork
Information Systems
Managerial Economics
Managing and Leading Organizations
Market Readiness
Production Operations Management
Sample Game Engineering and Production courses include:
C++ Game Programming
Game Systems Design
Experimental Game Play
Game Engineering I, II & III
Mobile Games Pipeline
Narrative in Game Design
Paper Prototyping for Games
Rapid Prototyping
User Experience
User Interface
Students may also take Business of Games as part of the MEAE program.
The Minor in Games is open to all students interested in studying game development, regardless of major. The program requires 24 credit hours, with a minimum of 12 upper division hours. Students in the program will "learn fundamental skills and theories applicable to a wide range of areas," including entertainment software development, games-based learning for K-12 students, game studies, serious games for health, professional task-training tools, scientific collaboration, and "other contexts addressing compelling societal needs."
Sample courses, including prerequisites, include:
Alternative Game Development
Assets Pipeline
Digital Content Creation
Programming for All
Survey of Games
Traditional Game Development
Prerequisite courses for the Minor in Games are designed to expose students to games, game arts, the game pipeline, and programming.
Graduates of the EAE program at The U have been hired by Apple, Blizzard Entertainment, EA Games, Jam City, Riot Games, Zynga, and many others.
University of Utah Tuition Costs and Current Scholarship Opportunities
The University of Utah has published its estimated 2018-2019 academic year cost of attendance. Tuition is based on 26 credit hours (13 each fall and spring semester). Resident tuition is $8,382. Non-resident tuition is $26,298.
Utah eSports has also announced via Twitter plans to add spots on all of its rosters. The school says that this means more eSports scholarships will be available for 2019. The program plans to add 10 League of Legends players, 12 Overwatch players, 6 Rocket League players, and 6 Hearthstone players.
For more information about eSports at The U, visit the official EAE ESports Page. To learn more about game design at The U visit the official EAE Website. 
Sources
David Eccles School of Business at the University of Utah. University of Utah. 2018. Web. 15 Sep. 2018.
Entertainment Arts and Engineering Program at the University of Utah. University of Utah. 2018. Web. 15 Sep. 2018.
"The Chinese college where students learn by playing video games." South China Morning Post, South China Morning Post Publishers Ltd., 23 Feb. 2018. Web. 15 Sep. 2018.
Utah ESports - @UUtah_esports. University of Utah. 2018. Web. 15 Sep. 2018.