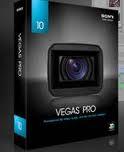 Video editing needs can range from organizing an entire television show to being as simple as creating a short video montage for a relative or loved one. Different types of editing software fill different needs and expect different amounts of expertise and experience, so it's important to do some research before diving into a product that won't meet all of your demands. This Vegas Pro 10 overview will give you enough information to decide on your own.
Vegas Pro 10: System Requirements
Here are the system requirements for Vegas Pro 10:
Microsoft Windows XP 32-bit SP3, Windows Vista 32-bit or 64-bit SP2, or Windows 7.
2 GHz processor (multicore or multiprocessor CPU recommended for HD or stereoscopic 3D)
400 MB hard-disk space for program installation. 1 GB RAM (2 GB recommended)
OHCI-compatible i.LINK connector / IEEE-1394DV card (for DV & HDV capture and print-to-tape)
USB 2.0 connection (for importing from AVCHD, XDCAM EX, NXCAM, or DVD camcorders)
Windows-compatible sound card. DVD-ROM drive (for installation from a DVD only)
Supported CD-recordable drive (for CD burning only) Supported DVD-R/-RW/+R/+RW
Supported BD-R/-RE drive (for Blu-ray Disc burning only)
Microsoft .NET Framework 3.0 (included on application disc)
Apple QuickTime 7.1.6 or later. Internet Connection (for Gracenote MusicID Service)
Since it's a very powerful program, it's important you meet all of the requirements. Once you purchase the product you will also be asked to register it online within 30 days.
Vegas Pro 10 Features
Originally published by Sonic Foundry, Sony Vegas is another top of the line solution for those seeking a powerful NLE. Having been used to edit countless movies, television shows, and even music videos, Vegas Pro is constantly being updated each year to meet users' every demand. The newest version – Vegas Pro 10 – was released in October of 2010 to include stereoscopic 3D editing, as well as plenty of other new features:
Natively supports 4K (frame sizes up to 4096x4096) and RED ONE .r3d files.
Add text, titles, and custom backgrounds to your projects, with custom presets available.
Keyframe video effects, 2D / 3D video transitions, and level of effect enhancement options.
Use image stabilization technology to reduce jitter and shaky video footage.
Apply video and audio effects at the media level, event level, track level, or the entire project.
Customize the Vegas Pro editing environment & keyboard commands to maximize productivity.
Collapse and group tracks in your timeline, and also nest Vega (.veg) projects to your timeline.
View the Vegas Pro timeline on both an internal monitor and an external device (or secondary display) simultaneously. Great for office and studio environments.
Several enhancements have been made to the closed captioning (CEA608, CEA708, HD-SDI, AJA, Blackmagic Design cards) support in Vegas Pro 10.
3D footage auto correct, and can snap (and color code) to events on any track.
Integrated support for CineForm Neo3D files, and can create 3D motion effects with Z depth.
Supports full resolution 24-bit 192 kHz files. Can record, monitor, & mix audio from external devices via input buses. Assign audio effects at master output, bus level, track or event level.
New multicore and hyper-threading support increases performance and max number of tracks.
Convert HDCAM, DVCPRO 100 video, or live feeds to MPEG-2  conforming to the MXF standard.
Edit native HDSLR footage independently or mixed with other formats
Users with a CUDA-enabled NVIDIA video card can use GPU accelerated rendering.
Create DVD and Blu-ray menus using backgrounds, motion menus, buttons, text, and effects.
You can download a free Vegas Pro trial demo here. Sony Creative Software is even kind enough to also provide free demos for ACID Pro, ACID Music Studio, ACID Music Xpress, Sound Forge Pro, Sound Forge Audio Studio, DVD Architect Pro, Vegas Pro Production Assistant, Mayhem Plugin for Vegas Pro, Vegas Movie Studio HD Platinum, Vegas Movie Studio HD Platinum Production Suite, Vegas Movie Studio HD, DVD Architect Studio, CD Architect, Photo Go, Jam Trax Xpress, and even DirectX Plugins for Noise Reductions, XFX 1, XFX 2, XFX 3, ExpressFX 1, and ExpressFX 2. You can download the free trial demos for the other Sony Creative Software products here.
Before deciding on which version of Vegas Pro you would like, please view the official Vegas comparison sheet here.