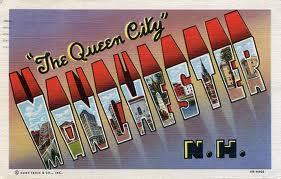 The city of Manchester, New Hampshire is home to well over a hundred thousand people, as many as 12,000 companies and about a hundred professionally employed graphic designers.  Businesses in Manchester regularly hire graphic design experts to perform a never ending variety of visual communications tasks.
Manchester Schools and Training Programs for Graphic Design
At least a dozen colleges and Universities in New Hampshire offer degree programs in graphic design.  Popular Manchester design schools include Hesser College, New Hampshire Community College and Southern New Hampshire University.  Other Manchester graphic artists earn their degrees online.  Among the largest design colleges offering online degree programs in communications design are The Art Institutes, ITT Tech, University of Phoenix and DeVry.  Each of these fine schools also features physical locations in virtually every U.S. state.
Graphic artists in Manchester, New Hampshire generally major in visual media or fine arts.  A typical course load might include drawing, photography, typography, printmaking and more advanced topics like interactive media and environmental design.
Working as a Graphic Designer in Manchester, New Hampshire
Some graphic designers residing in Manchester, New Hampshire work for leading local advertising firms like Car Advantage Magazine, Pappas Associates and Millennium Integrated Marketing, among others.  Some local artists design film credits and promotional materials for Manchester motion picture producers like Legal Media Service, Preferred Video Productions and Amoskeag Edit Suite.  Other Manchester communications designers work for universities, art galleries, newspapers, community groups, software developers, internet start-ups and many other commercial businesses.  Local design jobs for Manchester artists include brand logos, clinical charts, educational diagrams, instruction manuals, book covers, web pages, product packaging and more. 
More than 280,000 graphic designers currently hold paid positions at commercial businesses inside the U.S.  Starting salaries for Manchester, New Hampshire graphic designers may vary depending on education, experience and skill level, among other factors.  On average, the annual salary for a professional communications designer employed in the state of New Hampshire is around $42,640, with an mean hourly rate of about $20.50.  About half of America's graphic designers earn between $30,000 and $60,000 a year. 
Skills of a Graphic Designer
Professional graphic designers must have patience, consistency and sharp attention to detail, as well as advanced verbal and written communication skills.  Aside from that, graphic design work requires much training.  Important visual / mechanical qualifications for professional graphic design work include familiarity with software applications and some web design ability, as well as the always-indispensable professional-level expertise in drawing and typography.