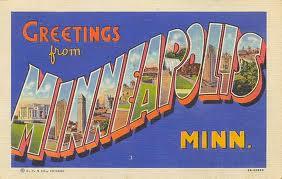 With a resident population of more than 382,000 and as many as a hundred thousand commercial businesses, the city of Minneapolis, Minnesota is ideally suitable for local artists seeking professional work in communications design.  Companies throughout Minneapolis hire graphic designers for a wide range of visual tasks.
Minneapolis Schools and Training Programs for Graphic Design
Quite a few excellent Minneapolis colleges and Universities offer degree programs in graphic design.  Popular local design schools include Academy College, Capella University, Minneapolis College of Art & Design, Dunwoody College of Technology and University of Minnesota.  Some local artists earn professional degrees online.  Among the largest schools offering online degree programs in graphic design are The Art Institutes, ITT Tech, University of Phoenix and DeVry.
Aspiring graphic designers at Minneapolis colleges typically focus their attention on visual communications or fine arts.  Required course work may include website design, digital art, traditional media, photography, animation, technical drawing, typography, printmaking, mass marketing, psychology and other relevant topics.
Working as a Graphic Designer in Minneapolis, Minnesota
Graphic designers in Minneapolis remain in continuous demand.  Available local design jobs include company logos, product descriptions, promotional artwork and educational materials, as well as book covers, web pages, product packaging, street signs, home interiors, textiles, assembly instructions and more. 
Many designers in Minneapolis, Minnesota work for leading local advertising agencies.  Highly regarded Minneapolis advertising firms include JT Mega Marketing, Karwoski-&-Courage, Moco, Riley-Hayes and RMG Connect, for example.  Other local graphic artists design film credits and promotional artwork for top Minneapolis motion picture producers like Aurora Pictures, Free-Style Productions, Greatapes Media, Reelworks Animation, Stonearch Creative and hundreds more. 
Minneapolis graphic designers might also work for art galleries, news syndicates, patent offices, software developers, colleges, book publishers, retailers, equipment manufacturers, industrial contractors, architects, real estate agents, internet start-ups and other commercial businesses. 
Hundreds of thousands of graphic designers are currently employed by U.S. companies.  Starting salaries depend mainly on education, expertise and professional-level experience.  Employers review design portfolios to compare the artist's style with the nature of the task.  A design portfolio is a book of pictures meant to represent the designer's best work.  About half of all graphic designers in America earn from $30,000 to $60,000 a year.  However, this figure does not consider the unreported incomes of self employed individuals.
Skills of a Graphic Designer
Graphic design is primarily determining, manipulating and arranging the size, color, location, orientation and motion of elements within a precisely defined area, also known as a page.  Much graphic design work deals with page layout – the manipulation of visual features and their backgrounds.
Graphic designers learn visual arts, psychology, marketing and technology to understand how to juxtapose images, how colors affect moods or how the physical features of a word can alter its meaning.  Graphic designers communicate decisive messages with visual forms, leaving the viewer no lines to read between.