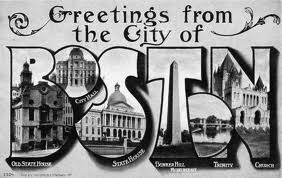 Businesses in the city of Boston, Massachusetts maintain a vigorous demand for local high tech professionals with expertise in mobile app development.  Many million users use apps to send messages, navigate with compasses, find houses for sale, enter contests and a million other little tasks, some more pointless than others.  There's even an app that blows a tiny puff of air, perhaps designed for folks unable to extinguish their own candles.  In any case, app development is now among the hottest new career choices in today's work force.
Boston Schools and Training Programs for App Developers
App developers in training often study subjects like computer programming, digital graphics and communications design at various local schools.  Accredited Boston colleges offering courses useful to app developers include Boston University, Northeastern University, Suffolk University, Wentworth Institute of Technology and University of Massachusetts.  
At the same time, quite a few Boston-based app developers obtain professional qualifications online.  Successful accredited online schools of computers include Everest University, Grantham University, ITT Tech, Keller Graduate School of Management and University of Liverpool, to name a few. 
Working as a Mobile App Developer in Boston, Massachusetts
Boston businesses hire app developers for numerous commercial projects.  Local app experts occasionally work for computer programming businesses like Icon Consulting Group, Virtual Strategy, Win Interactive, Thoughtcoda and Code Red Incorporated, for example.  Some local app experts design products for prepackaged software corporations like Roam Data, Actability, Applied Computer Engineering, Event Monitor or Boston Software Collaborative.  Other Boston-based commercial enterprises that might be recruiting app developers include video producers, Universities, medical service organizations, website consultants and motion picture companies.
The Bureau of Labor Statistics recently issued reports indicating that businesses in the city of Boston, Massachusetts support roughly 17,300 full time professional app developers.  They claim an average individual annual salary of about $98,820 and a mean hourly rate of roughly $47.50.  Independent app developers who produce and sell their own mobile applications can make – not to mention lose – a lot more money than their steadily employed colleagues.  Due to potentially high start up fees, freelancers are smart to begin the development process with a coherent business plan that includes a careful cost analysis. 
Skills of Mobile App Developers
Professional app developers are experienced computer programmers with extensive interactive design experience.  Their technical abilities also include website construction, graphic design and advanced infrastructural knowledge.  Skills pertinent to post-production of mobile apps involve marketing, networking, sales and distribution.  Especially important throughout development are solid project management skills.