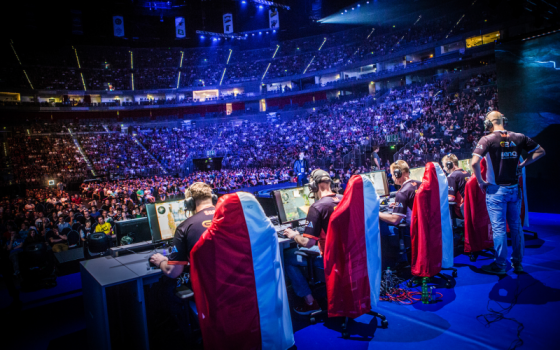 Which Schools Offer eSports Scholarships?

| College | City | State |
| --- | --- | --- |
| Ashland University | Ashland | Ohio |
| Boise State University | Boise | Idaho |
| Columbia College | Columbia | Missouri |
| Hawaii Pacific University | Honolulu | Hawaii |
| Kent State University | Kent | Ohio |
| Miami University | Oxford | Ohio |
| Robert Morris University | Chicago | Illinois |
| Schreiner University | Kerrville | Texas |
| University of Akron | Akron | Ohio |
| University of Pikeville | Pikeville | Kentucky |
| University of Utah | Salt Lake City | Utah |
| University of California-Berkeley | Berkeley | California |
| University of California-Irvine | Irvine | California |
| Western Kentucky University | Bowling Green | Kentucky |
| West Virginia Wesleyan College | Buckhannon | West Virginia |
Now that eSports has moved well beyond being the next big thing in intercollegiate varsity sports, the availability of scholarships has skyrocketed. In fact, eSports scholarships grew an astonishing 480% last year, and the trend is expected to continue.
Although eSports scholarships have experienced explosive growth in the last year, varsity scholarships for eSports have actually been around since 2014 when Robert Morris University (RMU) in Chicago, Illinois became the first university in the nation to offer substantial scholarships for members of the schools inaugural Varsity eSports League of Legends team. Qualified gamers earn scholarships of up to 50% tuition and 50% room and board. Scholarships.com reports that this totals up to $19,000 a year (or up to $76,000 over four years).
Since then, nearly 100 schools across the U.S. and Canada have begun offering official eSports programs. The number of schools offering the program is expected to reach (or possibly exceed) 120 by the end of this year, and we're willing to bet that many of these schools will be eager to attract talent, meaning scholarship awards will likely be part of the package.
For now, Scholarships.com reports that more than 30 U.S. colleges and universities offer considerable scholarships for gamers. Leading the way are schools such as the University of Utah—one of the largest schools to offer scholarships for gamers, University of California-Irvine—the first public college to build a gaming arena, and Stephens College—the first women's college to sponsor a varsity team and offer video game scholarships for women.
These and other schools hope that playing on eSports teams will encourage students to engage in all areas of the gaming world from art, design, and development to marketing and management, graphic design, production, and more.
Schools that Offer eSports Scholarships
Alma College, Alma, Michigan
Ashland University, Ashland, Ohio
Barton College, Wilson, North Carolina
Bay State College, Boston, Massachusetts
Becker College, Worcester, Massachusetts
Bellevue University, Bellevue, Nebraska
Benedictine University, Mesa, Arizona
Bethany Lutheran College, Mankato, Minnesota 
Bloomfield College, Bloomfiend, New Jersey
Brescia University, Owensboro, Kentucky
Boise State University, Boise, Idaho
Cazenovia College, Cazenovia, New York
Coker College, Hartsville, South Carolina
Columbia College, Columbia, Missouri
Concordia University-St. Paul, St. Paul, Minnesota
Cornell College, Mount Vernon, Iowa
Daemen College, Amherst, New York
Edinboro University, Edinboro, Pennsylvania
Full Sail, Winter Park, Florida
Georgia Southern University, Statesboro, Georgia
Hawaii Pacific University, Honolulu, Hawaii
Indiana Tech, Fort Wayne, Indiana
Juniata College, Huntingdon, Pennsylvania
Kansas Wesleyan University, Salina, Kansas
Kent State University, Kent, Ohio
King University, Bristol, Tennessee
Lees McRae College, Banner Elk, North Carolina
Lourdes University, Sylvania, Ohio
Marquette University, Milwaukee, Wisconsin
Maryville University, St. Louis, Missouri
Miami (Ohio) University, Oxford, Ohio
Midland University, Fremont, Nebraska
Milwaukee School of Engineering, Milwaukee, Wisconsin
Misericordia University, Dallas, Pennsylvania
Missouri Valley College, Marshall, Missouri
Newberry College, New Berry, South Carolina
New England College, Henniker, New Hampshire
NYU Tisch School of the Arts, New York, New York
Ohio Northern Universiy, Ada, Ohio
Ohio State University, Columbus, Ohio
Robert Morris University, Chicago, Illinois
Schreiner University, Kerrville, Texas
Southern New Hampshire University, Manchester, New Hampshire
Southwest Baptist University, Bolivar, Missouri
Southwestern College, Winfield, Kansas
Stephens College, Columbia, Missouri
St. Thomas University, Miami Gardens, Florida
Thomas College, Waterville, Maine
Tiffin University, Tiffin, Ohio
Trine University, Angola, Indiana
University of Akron, Akron, Ohio
University of California - Irvine, Irvine, California
University of Jamestown, Jamestown, North Dakota
University of Mount Union, Alliance, Ohio
University of Missouri, Columbia, Missouri
University of North Texas, Denton Texas
University of Pikeville, Pikeville, Kentucky
University of Southern California, Los Angeles, California
University of Texas at Dallas, Richardson, Texas
University of Utah, Salt Lake City, Utah
University of Providence, Great Falls, Montana
Valparaiso University, Valparaiso, Indiana
Western Kentucky University, Bowling Green, Kentucky
West Virginia Wesleyan College, Buckhannon, West Virginia
What Schools Look For
ESports scholarships typically follow the same rules as other scholarships, so academics and merit are major considerations. Like other athletic scholarships, eSports scholarships also consider athletic ability (player skill), the ability to communicate, open positions on the team, etc.
Scholarship Amounts and Deadlines
Scholarship amounts and deadlines vary by school. For example, Ashland University is offering up to $4,000 per year in eSports scholarships beginning fall 2018 and, as mentioned, Robert Morris University offers one of America's most substantial eSports scholarships, totaling up to $76,000 over four years. Schools such as Schreiner University offer scholarship opportunities totaling up to $40,000 over four years, and scholarships at other schools such as Missouri Valley College total $60,000 over four years.
As a way to stay competitive with other universities, Miami University began offering partial scholarships for the first time this fall for varsity eSports. It joins the list of several dozen other schools that currently offer partial scholarships. As their programs grow, many of these schools say they will begin offering full scholarships.
For current scholarship award amounts and deadlines, during your search for a program (see our list below), check with the school's admissions or financial aid office.
NCAA Division I: Highest level of intercollegiate athletics sanctioned by the National Collegiate Athletic Association (NCAA) in the United States.
NCAA Division II: Intermediate-level division of competition in the NCAA.
NCAA Division III: NCAA's largest division with around 450 member institutions.
NAIA: National Association of Intercollegiate Athletics (NAIA).
NJCAA: National Junior College Athletic Association (NJCAA).
Sources
Chu, Susan. "24 Esports Scholarships for Gamers." Tun.com, The University Network, May 2018. Web. 22 Aug. 2018.
"Colleges roll out scholarships to varsity video game players." CBS.com, CBS News, MoneyWatch, 27 Nov. 2017. Web. 22 Aug. 2018.
"Esports Scholarships / Scholarships for Gamers." Scholarships.com. Scholarships.com, 2018. Web. 20 Aug. 2018.
Kissell, Margo. "Game on: Esports maintains a growing presence at Miami." Miami University. Miami University, 03 Jul. 2018. Web. 20 Aug. 2018.
Koetsier, John. "Esports: The New Football Scholarship? Gaming Scholarships For College Grew 480% Last Year." Forbes, Forbes Media LLC., 12 May 2018. Web. 22 Aug. 2018.
Moody, Josh. "Colleges Are Betting Big On The Multimillion-Dollar Esports Market." Forbes, Forbes Media LLC., 12 May 2018. Web. 23 Aug. 2018.
Morrison, Sean. "List of varsity esports programs spans North America." ESPN.com, ESPN Internet Ventures, a division of ESPN Inc., 15 Mar. 2018. Web. 23 Aug. 2018.
"Providence looks to join 'the cutting edge' with addition of eSports." Great Falls Tribune, USA Today Network, 16 Jan. 2018. Web. 22 Aug. 2018.
Robison, Neal. "Esports Is The New College Football." Forbes, Forbes Media LLC., 30 Jan. 2018. Web. 16 Sept. 2018.
Ruediger, Troy. "17 colleges with varsity esports programs: The rise of collegiate gaming." blog.starters.com, Starters, 23 Mar. 2017. Web. 22 Aug. 2018.