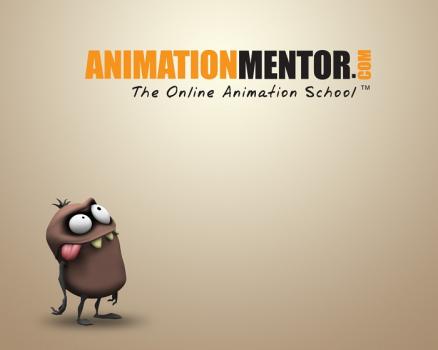 Matt Estes joins us from our friends at Animation Mentor. He currently serves as their Software and Technical Support Coordinator and is also a graduate of the school's Character Animation Program. Matt stops by ACR to share his animation journey, his return to campus, and all the exciting things going on at Animation Mentor.
I was just a day away from graduating college with a sweet BFA in Media and Animation. I had a job lined up as a Junior Animator on a big project and I was feeling good. But the next day at my portfolio show, I received a jarring piece of news — the project had been cancelled. Crestfallen but still feeling confident, I struck out into the city looking for work. I'd been hired once, I could do it again … right? Well, it didn't turn out to be so simple. The show getting cancelled had flooded the market with animators much more experienced than myself. I was applying for everything but I always found myself second in line. I knew I had to step up my game. 
I heard about Animation Mentor
I wasn't sure about online schools, but I started doing some research and it turned out that a lot of the people who had beaten me for those jobs (and a lot of leads around town) were Animation Mentor alumni. Maybe this school wasn't such a bad idea after all. After more research, a few phone calls with Admissions, and emails with alumni — I bit the bullet and applied … and I got in!
I cried
Now I'm not sure what it was that tipped off my mentor (a Lead Animator at Pixar Animation Studios no less), but in my very first critique — he tore my shot apart. I sat alone in my apartment and I cried, I think mostly because I was embarrassed that I'd lost sight of how much better my instructors were. How much I could learn from them. I immediately set myself to the task of working in all of the feedback and nine hours later, I submitted my revision.
I spent the next week working on my second assignment, counting the hours until our Q&A where I would hang quietly in the background, knowing that my class had seen the thorough beat down my shot received. The lecture was great! The class watched clips from our mentor's most recent project and he gave us advice on our shots.
I watched all of my classmates' critiques first and there was this friendly sort of banter and sage advice. Their revisions were all well received and they got some really great feedback. Now I had to watch my own shot. I was expecting some terrible apocalypse of critique. But my mentor queued up my revision, watched it once, and said, "Good work." He immediately moved on to my next shot and gave me the same sort of jolly, kind-old-wizard advice the rest of my class had enjoyed.
The light switched on
If this was really going to work, if this was going to be worth my time and effort, I had to come in with a clear mind and a clean slate. I couldn't strut around being proud of myself for having gone to college, I had to approach this curriculum as if I had never animated before because I was going to be learning from some of the best people in the field. To presume that I was anywhere near their level was to profoundly limit what I could possibly take away from these classes. I checked my ego at the door and never came back for it. It was the best decision I ever made.
It's not easy, but the support was always there
Class One flew by. Class Two was hard. Three got harder. It can't get harder than Four! Five did. My Dad was in the hospital, I wanted to go home. I didn't know how to balance my personal life and my absurd work schedule (with three jobs, I had figured out a way to get in 16 hours of animating a week when my classmates were putting in a solid 40 or more). I was certain I'd have to drop.
Then I received a message from my mentor. He told me that he believed in me, and told me of how he dealt with a similar situation when he was my age. I read that letter over and over, and I did everything it said. I passed, my Dad survived, and it was on to Class Six! I still had three jobs and was moving three weeks before the final. I thought I was sunk. There was no way I could finish and I thought about a Leave of Absence.
Then I got an email from my mentor. Again, he believed in me. Again, he told me about a similar time, how he got through it, how he grew. I read it over and over, and I did everything it said. I passed, I graduated, I started looking for work again.
This time, it was different
Studios were writing back and were really interested in what I was showing them. I graduated in December 2010 and just a few short weeks later, I started a pretty amazing two-year run in studio animation:
Bent Image Lab in Portland, Oregon. It wasn't consistent work, but it was my first real job as an animator.
SuperGenius Studios in Oregon City, Oregon. The first place where I really had an opportunity to grow. SuperGenius was also the first studio where I was directly challenged to step up my game. I worked on several very fun projects, including the games Marvel Superhero Squad, Jurassic Park, and The Family Guy.
HIVE-FX in Portland, Oregon. The wildest 10-month-long-roller-coaster I've ever found myself on. I made Lead Animator for season two of Grimm and I couldn't get enough.
There was something more I could be doing — "Something Big"
Grimm continued to gain in popularity as we had 10 million viewers or more every week. Working on such a high-profile project was thrilling. But as the hours got longer, I found myself feeling that there was something more I could be doing with my education and ability. I went to the CTN-X event in Burbank to explore my options within the industry. I spoke to many studios about feature work and the positive response was exciting, but I was hooked when I started talking to Animation Mentor about "Something Big" in the school's future.
Animation Mentor and visual effects
Animation Mentor was creating a whole visual effects (VFX) curriculum and they needed somebody to support the new software and technologies. They found me uniquely qualified for the position with my experience in the industry and having attended Animation Mentor. I decided to make the leap and took the job.
Since December 2012, I've been the Software and Technical Support Coordinator for Animation Mentor. I have been feeling particularly fulfilled with this work, as I am able to pass on everything that I learned in the last 10 years to current students, alumni, and mentors on a daily basis. I am able to offer advice and training to people who are struggling with their animations, or are being blocked from working due to a bug or software issue.
Something greater
My position also allows me to host Q&A sessions with students where we can discuss whatever issues might be on their mind at the time, with topics ranging from technical issues, animation theory, how to succeed in the industry as a young animator, and more. What is truly stirring, though, is seeing the students that I work with push closer to achieving their goals and dreams. At Animation Mentor, we are creating the future of filmmaking — and to see the next generation of filmmakers so eagerly pursuing their passions is inspiring.
Every student who gets hired at a studio, every student whose film is selected for a festival, and every success story serve as encouragement to all of us here at Animation Mentor to keep doing what we're doing. We are fully committed to providing our students with the tools they need to achieve their dreams and to keep moving forward to something greater.
About Animation Mentor
Animation Mentor is an online school focused on animation and VFX classes taught by industry professionals. Animation Mentor's instructional design emphasizes collaboration within a production as enabled through its state-of-the-art, patent-pending AMP™ studio production pipeline. This design replicates the current industry trend of making films within a fully-distributed pipeline. Learn more at www.animationmentor.com.