How can my school get exposure and promote our program on AnimationCareerReview.com?
1. Feature your school in our "Find a School" Directory 
In our Find a School directory we offer schools the opportunity to be listed as Featured Schools above the normal results. 
How it works:
If your school is campus based (as opposed to delivered online):
- Your school is featured in the Find a School directory above the main listings for program offerings in your State, placing your school front and center at the exact best spot to be when prospective students are searching our site for an appropriate program.
Example: "California Animation Academy" is based in Los Angeles and offers a BFA and MFA in Animation. Prospective students searching the directory for Animation programs in California would find California Animation Academy as a featured school above the regular directory listings.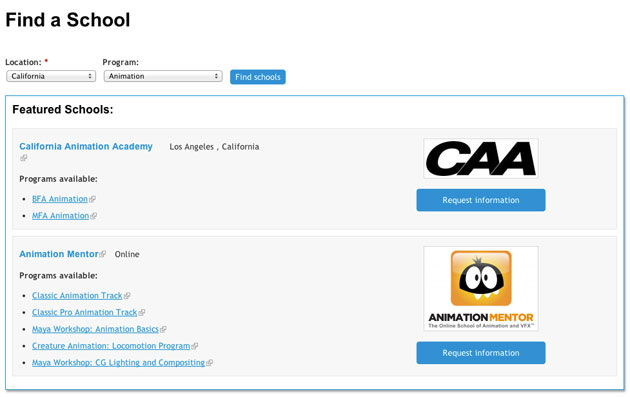 If your school is an online school:
The same process applies as noted above except your school would be featured across all States for your associated programs.   
Fees: Featured placement fees are charged on either a referral (lead) basis or flat fee basis. Cost varies depending on type of program (campus versus online) as well as your location. If you would like more details on getting your program featured placement, please contact us.