Find a school near you!
Animation? Design? Game Art?
The Best Animation Programs in the Northeast: Our Top 20 in the Northeastern U.S. Region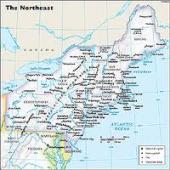 More and more students flock to animation degree and certification programs in hopes of landing their dream job. While entertainment remains high on the list, a slew of industries require the insight and skillset of animators with many more applications on the horizon. That's why it's imperative to find the right animation program for your career goals, whether they be in arts and entertainment or research and development.
To make the search slightly less daunting, we've been compiling lists of some of the best loved and most respected programs in the country and the world. On tap today is our top 20 list for northeastern animation programs (the region runs north to south from Maine to Washington DC and east to west from the seaboard to Pennsylvania). We've consulted school reviews by major surveyors like Princeton Review and US News Best Colleges, student and faculty reviews and our own (very unscientific) surveys of the animators and studios that we frequently interview. We've also taken into account the varying degrees offered, reflecting the changing tides of the industry and the diversity of student needs. While no list can ever be complete, we believe these 20 Northeastern animation programs all deserve a closer look for budding animators and for those looking for a career change.
And without further ado, here they are in reverse order:




20. The Art Institute of Boston at Lesley University, Boston, MA. As you'll soon discover, it's hard to beat Beantown when it comes to stellar animation programs. Ushering in our list is the Art Institute of Boston at Lesley College. Sitting in the Fenway side of town just blocks from the Charles River, it beckons animation students from around the northeast for more reasons than location. AIB has put together a BFA in Animation and a minor in the study along with a two year intensive Advanced Professional Certificate program geared towards professionals with existing Bachelor degrees seeking a career change into animation. The BFA program offers students a rich experience and storytelling and drawing skills build with each subsequent semester. A range of electives round out the education in areas like stop motion and animation for the web.

Tuition (at time of publication): $29,200 USD (Full time year)



19. Massachusetts College of Art & Design, Boston, MA. From experimental animation to conventional, MassArts' animation program has it covered. With a focus on problem-solving skills, graduates are ready for anything that comes their way in the ever-evolving animation industry landscape. Students receive ample one-on-one time with the working faculty members, all of whom have enviable experience and accolades. Diversified coursework in 2D and 3D animation is rounded out by a student-produced project and a portfolio course that amps up soon-to-be-graduates demo reel and industry calling card.
One of the best parts of MassArts is that it is, in fact, a publicly funded art school. That means that Massachusetts residents save on the hefty art school price tags found elsewhere. Not a Bay State native? That's still OK, as the non-resident tuition can be as much as half the price of others.

Tuition (at time of publication): $9,700 USD (full time in-state); $26,400 USD (full time out-of-state)



18. Hampshire College, Amherst, MA. Hampshire College may be one of the five colleges, a consortium of Massachusetts colleges, but it's about as far a departure from its fellow Mass universities as one could possibly get. Founded in the 1970s as a small, experimental private college, Hampshire College has retained its eclectic mix of students and academic programs to this day. Its Animation & Digital Art program is no different in its unique pedagogical approach. Rather than having numerous required courses, curriculums are tailored to the students' interests and centered on a cross-discipline philosophy.

Rather than run on a quarterly or semester system, Hampshire students are divided into three divisions that challenge them to work independently, take courses related to their concentration and create a personal project. While pursuing the animation degree, students have the opportunity to learn from faculty members in architecture, sculpture, media arts, technology and more. Local independent production house Bit Films collaborates closely and offers internship opportunities to some students. Notable alumni have gone on to animate on some pretty fun stuff including South Park, the Cartoon Network and more. And perhaps most interesting is Hampshire College's unique position of having a majority of its alumni go on to graduate programs (56%). This is one animation program that may not be for everyone, but is certainly a top choice for independent creative types looking to push the bounds.

Tuition (at time of publication): $43,500 USD (Full time year)


17. Mount Ida College, St. Newton, MA. Mount Ida's program is career focused while maintaining the integrity of a liberal arts education at its core. The Bachelor of Science in Computer Animation is a CG-focused program for the math whizzes that are anxious to leverage their unique animation skills for an increasing number of industries reliant on animators. Students build on visual, conceptual and technical skills while learning the in's and out's of the CG trade from modeling and texturing to special effects and compositing.

A B.S. in Computer Animation offers graduates a unique career opportunity. From education to medical, governmental to scientific, there is no shortage of applications for CG animators and the list keeps growing. Of course, many aspiring CG artists have their sights set on the video game industry and that's ok, too… you'll have developed the skills necessary to have a serious leg up with a Bachelor's degree over the competition.

Tuition: $25,600 USD (Full time undergraduate year)



16. Boston University Center for Digital Imaging Arts, Waltham MA & Washington D.C.- Boston University offers no shortage of degrees for aspiring animators including one within its top-ranked Computer Sciences Department that allows undergrads to concentrate on Games & Animation through a series of top-notch courses. More uniquely, the university offers the Center for Digital Imaging Arts (CDIA) with a host of certificate programs in various graphic art forms including 3D Animation and Digital Filmmaking.

The CDIA's 3D Animation certificate program is about as comprehensive as you'll find compared to other similar programs, going well beyond other software-centric certificate offerings. The career-oriented curriculum integrates both 2D and 3D animation and requires healthy doses of modeling, texturing, lighting, rendering and other elements typically reserved for 4-year programs. Better yet, courses are taught by top-flight instructors like veteran working animator Brian Deans-Rowe. Working closely with its many industry and local connections, CDIA developed a Practicum program which pairs students with a non-profit partner project to experience real world working collaborations while delivering defined projects.

The 3D Animation and Game Art programs, offered on both a full and part time basis, are housed in two BU campuses- one in Waltham, Massachusetts, and a second in the heart of Washington DC's Georgetown neighborhood, making the program accessible to a wider base of students. And if you're a teenager with visions of animation in your head, the CDIA's High School Summer Programs are not to be missed.

Tuition (at time of publication): Not Available
More: Check out our interview with BU's Center for Digital Imaging Arts' own Program Director Liz Hollerman and the Q&A we did with one of its animation instructors Brian Deans-Rowe!



15. The University of the Arts, Philadelphia, PA. For the #15 spot, we venture outside of Massachusetts to the state of Pennsylvania. While some schools choose to focus on commercially-oriented animation and others on the avant-garde experimental form of the craft, the UArts animation program believes both elements are attainable with the right pedagogy. A large and diverse faculty list ensures that no stone is left unturned for students who may be interested in far-reaching areas including game visualization, cartoon art and movement for performance. Adherent to its place within the Film school at UArts, animation students take a variety of performance-based coursework that includes close collaboration with actors, developing narrative and client-driven projects.

Another unique attribute of the program is that it offers a minor in Animation along with a BFA, which may be particularly appealing to film students looking to expand their repertoire or broaden their background in preparation for an MFA.

Tuition (at time of publication): $34,840 USD (Full time year)



14. School of the Museum of Fine Arts, Boston, MA. This private visual arts school is distinguished in many respects, not least because it allows students relative flexibility when it comes to designing their own curriculum. Besides, where else can you take courses inside a museum on a campus attached to a Museum of Fine Art (Boston)? For students of the Film & Animation discipline, there is a diverse array of interesting courses that frequently change but may include the likes of Sound for the Moving Image, Critical Screening and Collage for Animation.

Individual projects are the norm at SMFA, however, where students are encouraged to be self-starters. They should also be ready for the semester review board, in which faculty and fellow students critique their work from the given semester. Though not for the faint of the heart, this critique session is very indicative of the professional experience faced by animators day in and day out. When you have some free time, there's no shortage of creative opportunities in Boston to discover with fellow artists and SMFA colleagues.

Tuition (at time of publication): $32,000 USD (Full time studio discipline year)



13. Emerson College, Boston, MA. Emerson's BA and BFA in Animation & Motion Media encompasses computer and film animation, visual effects, compositing and motion graphics. But one of the best aspects of the animation program at Emerson is its integrated approach to the craft. With a liberal arts core, students utilize a variety of mediums to express their voice as is evidenced in compelling student films (like this short animation by then-student Sam Molleur). Other graduates of the program have found significant acclaim and industry recognition for their work that can be seen most recently in films like DreamWorks's MegaMind.

Students at Emerson also have the ability to take courses at other leading Boston institutions thanks to the ProArts Consortium. When not creating, they have the Theater District at their fingertips not to mention the newly purchased and renovated old Paramount Theater which the college has made into a mixed use theater, soundstage, screening room, classrooms and adjacent residence hall.

Tuition (at time of publication): $32,600 USD (Full time undergraduate year)



12. Drexel University, Philadelphia, PA. Drexel's Animation & Visual Effects major includes the full spectrum of necessary skills from design to storytelling and ample 3D courses. But that's not the only thing the degree has going for it. The university is noted for its unique cooperative education program, considered among the best in the nation, which enables students to alternate classroom work with professional (and often paid) experience. Thanks to its location in the northeast hub of Philly, animation majors have access to a variety of internship possibilities in a wide field of industries that make use of the craft. Better yet, about one third of all co-op students are offered permanent positions with their co-op employers making it a boon for those eager to get a head start on job hunting.

With about 11,000 undergraduates, many of whom are off-campus during their co-op work at any given time, the urban campus feels smaller to some than it really is. Animation students will find a vibrant community of fellow artists, designers and media students in the Westphal College of Media Arts & Design, to which the animation major belongs. A nice flow of guest lectures, open houses and other creative outlets allows students to explore the many facets of the craft while collaborating closely with mentors, faculty and students.

Tuition (at time of publication): $34,505 USD (for full-time year)



11. Rensselaer Polytechnic Institute, Troy, NY. Once you get past learning to spell the name, Rensselaer will challenge the best and brightest in its Electronic Arts (Visual Arts & Animation) major. This is heavy on the tech end of the spectrum… expect healthy doses of calculus and biology. But for students who are game to step up to the challenge, you'll be ready for anything your career throws at you and readily able to adapt to the growing number of industries that seek out animators. There is perhaps no other curriculum with such a diverse array of required credits for animation majors, making these students among the most well-rounded.

Upper class credits are reserved for the heavy lifting of the craft of animation that includes a variety of electives in the major for both 2D and 3D. From sculpture and painting to digital imaging and game design, Rensselaer's Electronic Arts major has your bases covered. Better yet, the school boasts sophisticated digital labs fit for animators and engineers alike. Of course, this program isn't cut out for every aspiring animator and Rensselaer's overall acceptance rate of just 40% is a good indicator. It consistently ranks in the top lists of national universities and its principle of bringing science into everyday life is echoed in the animation curriculum.

Tuition (at time of publication): $42,700 USD (full time year)