We recently spoke to Josh Knutson, Head esports Coach at the University of Jamestown about their program, a surprising victory over Berkeley and how academics and team cooperation are emphasized at Jamestown.
Animation Career Review: What are the esports in which your school participates?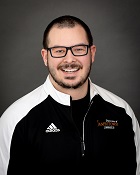 Josh Knuston: Overwatch, League of Legends, Hearthstone
ACR: Tell us about any esports scholarships you offer.
JK: We offer scholarships for all 3 titles that we offer here at UJ. We take an esports award and stack it on top of a student's academic scholarship that is based off of their ACT/SAT and GPA scores. Typically this total package is between 1/3 to ½ of our total sticker price.
ACR: Please fill us in on your recruiting efforts.  How are potential students identified? What are the key statistics and what type of students are you seeking? 
JK: We recruit student athletes from all around the country. We use a variety of platforms to identify students such as BeRecruited, NCSA, Recruit Rivals, Discord servers, and an online recruiting form on our athletics website. Also, our admissions counselors also make direct contact with potential students when they do their travel.  
ACR: What can a student do to connect with your program?
JK: Follow us on Twitter (@ujesports), fill out our recruiting form on www.jimmieathletics.com, get in touch with an admissions counselor at www.uj.edu/admission or email me at [email protected]
ACR: Esports are new to everyone.  Please share with us the story of how your program came to fruition.
JK: UJ was invited to the first summit of the National Association of Collegiate Esports in the summer of 2016. Our representative came back with the recommendation that we explore esports more – citing the potential to boost enrollment as the main reason why we would begin a team. From there, I was approached, alongside a few others that the school, to do more research and ultimately make the recommendation to administration of starting our program.
ACR: As esports are so new, what are the common misconceptions people have about them? 
JK: I think the biggest misconception is that esports aren't as tough as real sports. People don't understand how hard the student athletes who are on my team and across the country work. We're practicing 5 days a week, going over film, practicing set plays, scrimmaging other schools, playing our regular season games, and going to school at the same time. It's a lot more than just sitting in a dark room playing video games.
ACR: What are the common concerns you hear from parents/guardians regarding esports participation?
JK: Parents are often times just worried that their son/daughter will just be playing video games all day and not stay on track academically.
ACR: Tell us about the season.  What other schools are in your division and conference?  How many opportunities are there to compete for a student athlete? 
JK: Our seasons vary in length depending on what game you play. Overwatch has a short preseason in the fall, followed by a pretty intense 20+ game regular season in the early spring. League of Legends has a 6 game regular season starting in January, followed by post season conference tournaments or a nationwide tournament similar to the NIT in basketball (not as glamorous as the main March Madness) if you don't qualify. Hearthstone has two regular seasons – one in the fall, one in the spring – both around 7-12 games, followed by playoffs. Most players will be active in a regular season for 2 to 3 months overall. As far as other schools that we compete against, the cool thing with esports is that you can play almost anyone. We are in the North Division geographically, so we play schools like Robert Morris, Boise State, University of Minnesota, and many others – along with the potential to play anyone across the US and Canada because we play online and don't have to travel.
ACR: What can an esports student athlete expect in terms of time commitment?  How many hours of play, practice, travel? 
JK: The cool thing with esports is that we can play all these games and not have the added stress of travel and missing school. However, we do practice anywhere from 10-15 hours a week, and with games included the overall time commitment each week can be up around 20 hours very easily. We function almost exactly like an athletic team, so we tell our recruits and players that they should expect a large part of their college experience to revolve around esports.
ACR: What are the academic expectations?  Are there minimum GPA requirements? Do you offer study tables or other programs to support the student athletes?
JK: Academics are our very first priority here at UJ. My goal as the Head Coach is not to turn college players into pros, but to make sure that every single one of my student athletes graduates on time and is ready for life after college. We have a minimum GPA requirement of a 2.0 to be able to start/participate when we have games, and our goal every semester is a 3.0 GPA average across the team. We take Thursdays off of normal practice to do a study table for the duration of what our normal practice would be. Tutoring and other study groups are often utilized if necessary as well.
ACR: Share with us how your team is doing this season.
JK: We are at the tail end of our year for 2018-19. We've seen some really great successes this year, including 4 winning seasons, 4 playoff appearances, and 5 playoff wins. Our Hearthstone team has qualified for spring playoffs, and they will compete again in the opening round on April 6th.
ACR: Tell us about your coaching staff.
Josh Knutson is the Head Coach for UJ, he is full time in the Marketing and Communications department and does esports as well. Josh handles all day-to-day operations of the esports program including recruiting, scheduling, in-game coaching, developing practice plans, and much more.
Chris Hoke is the Technology Director for UJ Esports, he is the full time Chief Information Officer and leader of the IT department here at Jamestown as well. Chris handles software and hardware maintenance, coordinates our work study students and responsibilities, is the point person for purchasing new equipment, and is in charge of the UJ Twitch channel.
ACR: Tell us about your esports practice and/or competition facilities. 
Our facility here at UJ is named the "Lair." In the early 2000s it was a Student Media Center located in the basement of our library. In 2016 when esports launched here at UJ, we renovated the space and it now houses our practices/games/and other team activities. We have 24 stations, dedicated internet, a film room, TVs for viewing, and storage "lockers" for our players.
ACR: Please share any unique qualities of your program (first one in state, emphasis on team)
JK: We were the first program in North Dakota to offer scholarships, and one of the first 20 nationwide to sign on with NACE. We pride ourselves on taking a team-first approach to our playstyle, and that we give all kinds of players a chance to grow and thrive in a team setting.
ACR: What advice do you have for prospective students wanting to pursue esports, as well as those specifically seeking esports scholarships at your program?
JK: Advice I would give to prospective students would be to keep learning the game you play at a high level, make sure you are taking care of business in the classroom, and if you are really serious about playing at the next level, create a profile on recruiting websites like BeRecruited or Recruit Rivals so college coaches can find you easier.
ACR: In what ways do participants in collegiate esports programs benefit? 
JK: Some of the greatest benefits to being involved with collegiate esports are team building, communication skills, critical thinking, and it gives students who might not have a chance to compete athletically a competitive outlet and chance to represent the school.
ACR: Tell us about your goals for your program. (Do you expect to add more sports, scholarships, etc)
JK: Our goals for the program are to grow the roster and sustain it at around 32 student athletes from year to year, graduate every player that comes through our program, and work towards winning conference and national championships.
ACR: From a competitive esports standpoint, what is the single most significant moment or accomplishment that stands out in your program's brief history?
JK: Our most memorable moment so far in our history is when our Hearthstone team beat the #3 team in the country, Univ. of California Berkley, on the official PlayHearthstone Blizzard Twitch channel in front of 5,000 viewers.
Check out more interviews at Animation Career Review's Interview Series.