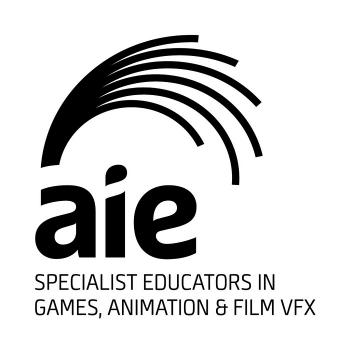 The Academy of Interactive Entertainment (AIE) was one of the world's first schools to offer advanced degrees in Video Game Programming and Game Art & Design when it was founded in 1996. Based in Australia with three campuses Down Under, the school recently crossed the Pacific to open two additional campuses in the United States.
Chris Erhardt serves as AIE's Head of School for its new American locations and explained to us some of the unique benefits of AIE's Bachelor of Science in Digital Entertainment and Virtual Worlds (BSDEV), including an accredited degree that works in both the U.S. and Australia. Though students are often attracted to working in the Game and Entertainment industries, Erhardt explains how other fields pose additional avenues to explore for those possessing acute knowledge of virtualization and 3D modeling.
(We spoke to Erhardt via email. This interview has been edited where necessary for length and clarity).
ACR: Reputable as an Australian institution, AIE opened two American campuses in Seattle and Lafayette, LA, in 2011. What was the impetus for the cross-Pacific expansion?
CE:  We have been so successful for the last 15 years in Australia and wanted to give students in the USA the opportunity to study from a not-for-profit private college in digital media, animation, and programming. With 15 years of workforce education experience in Australia, we also wanted to give exposure to this material to people that cannot afford the larger schools.
ACR:  Tell us a little about your Seattle location which sits in Seattle Center, the former site of the 1962 Seattle World's Fair and home to a multitude of interactive museums and events.
CE:  Seattle as a location allows our students an opportunity to have cultural experiences that few other locations could have offered.  We are literally within walking distance of the ballet, Pacific Science Center, SIFF, EMP as well as the easy accessibility of our monorail and local transportation systems.  Being truly at the 'city center' was critical in our decision making.
ACR:  Things are always evolving within the gaming industry. What recent changes and trends have you noticed that AIE has directly responded to with new course offerings or programs?
CE:  The primary one is that since 2008 there has been a departure from entry level animators going into 'AAA' titles and (instead) going more into the casual and social games with 2D animation.  Our agile and flexible workforce education thrust has allowed us to modify the course content to increase growth in these areas without watering down our 3D course content.
We pay attention to our industry-directed curriculum committee in not only game studios but also cartoon, movie animation and digital special effects. Now it is critical that graduates have a solid foundation in 2D prior to doing high end rigged 3D animations.  We balance traditional animation fundamentals with cutting edge techniques.
ACR:  Let's discuss those fundamentals for a moment. What foundational studies can students of AIE's 2-year programs expect?
CE:  Students spend 20 hours a week of face time (1,600 hrs in 2 yrs) with working professionals in the industry. We gradually take them through gesture drawing, storyboarding, traditional animation of the core principles of movement, character design and concept art, professional animation process, character & environment modeling, meshes, textures, rigging and Flash-based practices. Most importantly, they learn to think in a fashion that teaches them how to convey depth and quality in their material.
ACR:  Those instructors are crucial to the education AIE students receive.  What kind of insight do they impart?
CE:  Full time faculty at the AIE-USA are obliged to be working in their field commercially or as professional pro bono work. That means instructors are shipping animations, cartoons, shorts and games. This allows students to feel comfortable that they are learning topical and viable material from people getting beaten up in the real world. The classes are also conducted as closely as possible to a genuine studio production environment.
ACR:  While many AIE graduates pursue careers in the gaming industry, there are other career tracks where their skills in visual effects and animation can shine. What others fields make effective use of AIE graduates' skills?
CE:  Wow-  everything from medical imaging systems to paramedic training simulations and modeling for industrial safety issues. You'd be surprised how much people hate having limbs cut off for training purposes! Plus, a lot of cartoon work down south and introductory jobs in feature length animation.  Because it's a dual degree program in both Australia and America, there are employment options in Australia for our graduates. Animation is not limited to games or films anymore, especially in the areas of medical, forensic and online social gaming.
ACR:  In addition to a full-time two-year degree program at your Seattle location, AIE also hosts summer workshops and online courses. Fill our readers in on who is a good candidate for these options.
CE:  We host summer cyber camps at both US studios for ages 15 to 18 in C# programming and 2D and 3D animation techniques.  They are week-long courses and offer students a chance to 'try before you buy' a full college education.  Currently, we also offer an online C++ programming course but that will be changing in 2012.  
ACR:  Chris, thanks for filling us in on AIE's latest offerings in the U.S.!
CE:  Thank you!
Check out more interviews at The Animation Career Review Interview Series.