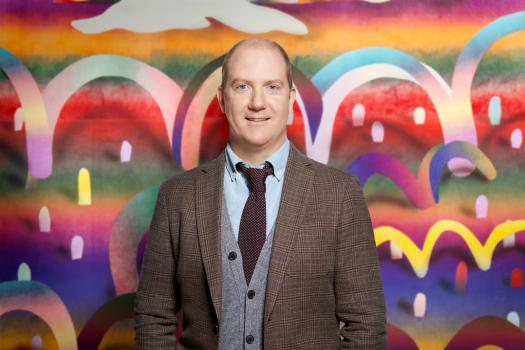 Chris Gallagher is the Chair of Animation at SCAD
"The ability to collaborate in an academic setting is one hundred percent transferable to working in a major studio," says Chris Gallagher, chair of the animation at Savannah College of Art and Design (SCAD). With thriving locations in Savannah and Atlanta, and an award-winning eLearning program, SCAD continues to put an emphasis on animation, the university's most popular degree program.
Launched under Gallagher's leadership in 2019, SCAD Animation Studios provides students with the preparation necessary for creative careers in animation, visual effects, motion media design, and interactive design and game development. "What we're doing with SCAD Animation Studios is part of the larger vision of the university," Gallagher explains of SCAD's career-focused approach.
ACR connected with Gallagher to talk about the creating the future of the animation in real time at SCAD.
ACR: Before you came to SCAD, what were you doing professionally?
CG: When I joined SCAD in 2017 as the new head of our animation department, I'd spent the previous decade working as a technical director, first at Sony Pictures on projects including I Am Legend, Spider-Man 3, and Surf's Up, then at Walt Disney Animation Studios on Academy Award winning films Zootopia, Big Hero 6, and Frozen as well as smash hits including Moana and Wreck-It Ralph.
The students I teach here at SCAD grew up watching those movies, so that connection empowers our process. I believe it's helped make animation the most popular degree program at SCAD. The other important connection is that I'm a SCAD alumnus myself. I'd studied graphic design as an undergraduate before coming to SCAD to earn my master's degree in computer animation in 2001. Twenty years later, here we are.
ACR: How does that lead to the creation of SCAD Animation Studios in 2019?
CG: Having worked at Sony and Disney, I knew I needed to create that same studio experience for my students. I wanted to build something that was open to involvement for all SCAD students, not only those studying animation but students majoring in sound design, visual effects, and dramatic writing. SCAD Animation Studio is the ultimate collaborative experience. It is larger than an individual course and it elevates students to their true potential. I'm proud to say that we are the first full run university animation studio in the country.
For context, I want to point out that SCAD Animation Studios follows on from the creation of SCAD Casting Office, an initiative created by Andra Reeve-Rabb, former director of prime-time casting for CBS-TV and currently dean of the SCAD School of Entertainment Arts. As the only university-run casting office in the U.S., SCAD Casting Office provides the opportunity for performing arts students to be cast in feature film and television projects filmed in Georgia.
We created SCAD Animation Studios to make sure that our students are graduating and entering the industry having already experience the working conditions of a professional animation studio. With SCAD Animation Studios, we aren't making quote-unquote make student films, we're making award-winning professional-level work.
ACR: Has that mission started to reach fruition?
CG: Absolutely. The first film created by SCAD Animation Studios was Bearly, a musical short which debuted at SCAD AnimationFest 2020. The work of a team of nearly sixty SCAD students, Bearly won multiple Southeast Student Emmy Awards. Bearly was co-produced by then-student Cameron Brown, who in 2021 earned his B.F.A. in animation with a focus on production management. Upon graduating, Brown was immediately hired full-time at Disney Television Animation. Cameron is a great communicator and collaborator, a big reason why Disney snapped him up right away.
ACR: That's interesting that you emphasize Cameron Brown's soft skills. How come?
CG: There's no question our students have the technical skills to do exceptional work. Soft skills are the secret sauce. When I worked at Walt Disney, it was the most collaborative experience possible. That means speaking your mind, listening, and taking notes. I see those things as really one thing, which is being in tune with your team. That's the heart of effective collaboration.
Building on the success of Bearly, SCAD Animation Studios currently has numerous projects in the pipeline, include the 2D animated short The Pope's Dog. At this year's all-virtual AnimationFest, SCAD Animation Studios debuted our new 3D film Hex Limit. A futuristic take on a steampunk broom race, Hex Limit again demonstrates the collaborative power of SCAD Animation Studios. I hosted a great panel discussion with the film's creators, including director Jordan Fleming (B.F.A., animation) and producer Dejanna Price (B.F.A., animation) just a couple weeks ago at SCAD AnimationFest 2021. Hex Limit is a showcase of SCADs talent at its best. As the second film produced by SCAD Animation Studio, it blends 2D hand drawn effects with cutting edge 3D animation.
ACR: What was the experience like making Hex Limit?
CG: You know, when the pandemic hit, we were already working on our first SCAD Animation Studio film, Bearly. We had to pivot to working fully virtually to get it done. Hex Limit was also created almost entirely through virtual workspaces. This meant all our students had to understand how to communicate effectively in the virtual realm and transcend the traditional classroom setting. Our emphasis was on communicating ethically and professionally. The paradigm became, let's work as a true production studio. Keep your camera on, don't look at Discord or play video game on another monitor, and engage your fellow students, who are your future peers in the industry, so that collaboration can happen in real-time.
To be part of SCAD Animation Studios, students must submit their portfolio or be recommended by a professor. The only barrier to participation is the quality of your work. A first quarter first year student can be involved, as can a graduate student with one quarter left. Of course, sometimes a student has the desire but they're not yet ready. We might tell students to come back in six months and show their new work; that gives them the incentive to push themselves to their point where they're ready to collaborate in a studio setting.
ACR: Do you feel like your students relate to you? Do you see a younger version of yourself in them?
CG: It would be impossible not to. I think what helps having been in their shoes is they implicitly understand the importance of respecting people with experience. When I tell them that that'll stand them in good stead throughout their careers, well, I'm the proof. One thing about our SCAD faculty is that we have a lot of professional experience working in the field on massive projects. Learning from someone who has more experience than you do is actually a huge part of making collaboration possible. We will show you how we accomplished what we did, which provides students with a better base to work from. It makes heavy lifting feel lighter.
ACR: Last year SCAD AnimationFest went fully virtual, obviously out of necessity. What was it like conducting the festival virtual again this year?
CG: I'd say we have now perfected the virtual presentations and the virtual engagement to make sure everyone is as captivated as possible. The level of engagement has exceeded our expectations and we now reach a global audience. Anyone, anywhere who is interested in animation can be a part of SCAD AnimationFest.  AnimationFest is exciting because it provides a platform for our incredible students to be able to interact directly with so many industry visionaries. This year we had presentations and interactive panels featuring industry leaders from Nickelodeon, Fox Animation, Bento Box, Disney+, Paramount+, Stoopid Buddy, and more. That means students and fans were able to hear from and interact with the makers of Star Trek: Prodigy (Paramount+), The Harper House (Paramount+) and Marvel's M.O.D.O.K (Hulu), and the executive producer of the new anime anthology series, Star Wars: Visions (Disney+).
I want to mention as well that our honoree this year for Excellence in Animation award, Everett Downing, Jr., was wonderful to have with us. Everett comes from a deep background as a storyboard artist all the way back to the VeggieTales franchise. In 2019, he co-directed the Oscar winner for Best Animated Short, Hair Love, one of the most important short films of the past generation. He's the real deal. I think when our students are able to hear from Everrett, hear his story, it makes their own aspirations more attainable.
ACR: Last question, though in a sense you've been answering it throughout our conversation. Why do you think animation is the most popular major at SCAD? 
CG: The SCAD animation program is regarded globally as best-in-class for preparation in a growing field that encompasses film, television, interactive media and video games. That speaks for itself. That said, I think on a deeper level, animation is one of the most incredible things we can experience as human beings. It transcends generations, race, nationality, and gender identity. It's powerful, intimate, and playful. At the same time animation is fun, ever changing, and evolving. And there's no better place in the world to prepare for a career in animation than SCAD.
Check out more interviews in Animation Career Review's Interview Series.